Why Vestinda
Track your
Crypto Portfolio

Copy Crypto trading
strategies

Build trading strategies
with no code
Backtest trading strategies
on Crypto, Forex, Stocks, etc.

Demo Trading
Risk-free Paper Trading

Automate trading strategies
with Live Trading
Quantitative Strategies & Backtesting results for IDEX
Here are some IDEX trading strategies along with their past performance. You can validate these strategies (and many more) for free on Vestinda across thousands of assets and many years of historical data.
Quantitative Trading Strategy: Short Term Scalping on IDEX
According to the backtesting results statistics for the trading strategy from September 19, 2023, to October 19, 2023, the profit factor stands at 2.19, indicating a favorable return on investment. The annualized ROI achieved is 19.45%, suggesting a consistent and satisfactory performance. With an average holding time of 4 days and 7 hours, the strategy demonstrates an active approach. The average trades per week amount to 0.46, reflecting a conservative approach. The number of closed trades is 2, highlighting limited activity during the specified period. It is noteworthy that 50% of trades resulted in a win, indicating a balanced outcome. Additionally, this strategy outperformed the buy and hold approach, generating excess returns of 10.45%.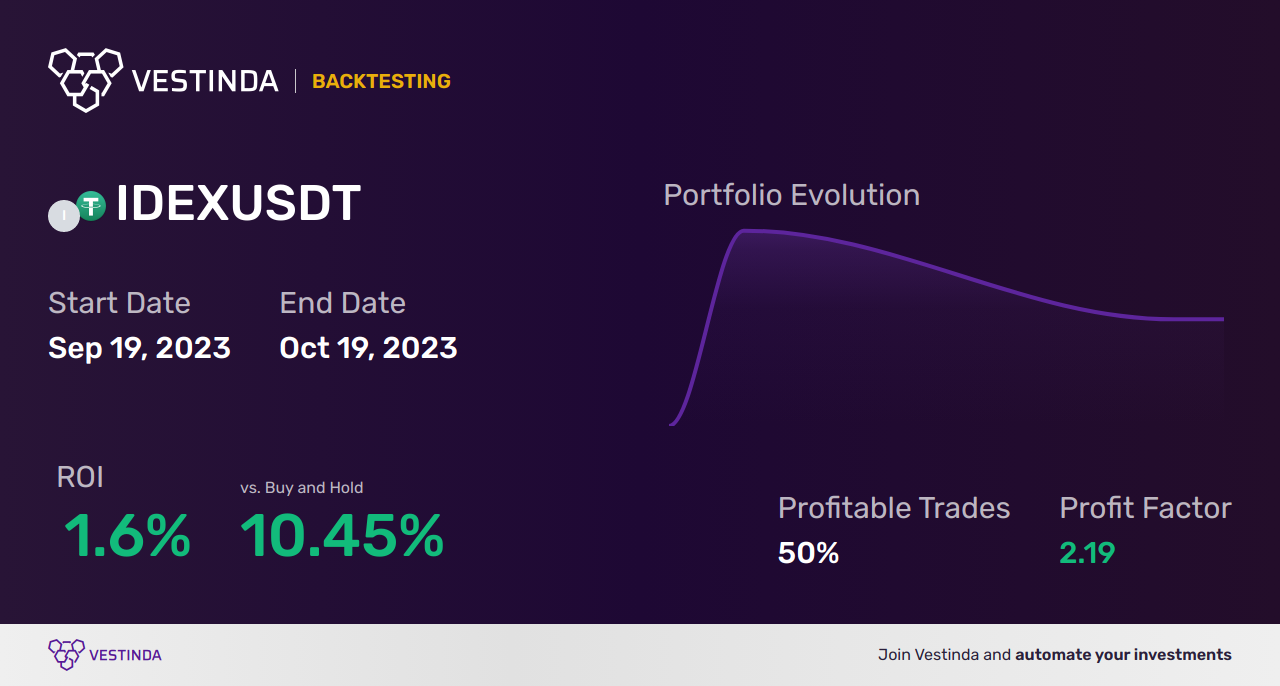 Quantitative Trading Strategy: Follow the trend on IDEX
Based on the backtesting results for the trading strategy conducted from October 19, 2022, to October 19, 2023, several key statistics emerged. The strategy showcased a profit factor of 1.07, indicating a slight positive result. The annualized return on investment (ROI) stood at 5.47%, demonstrating a moderate growth rate. On average, the holding time for trades within this strategy was approximately 1 week, with only 0.28 trades per week. In total, 15 trades were closed during the testing period. Notably, the winning trades percentage was 26.67%, suggesting a relatively lower success rate. Nonetheless, the strategy outperformed the buy and hold approach, generating excess returns of 43.13%.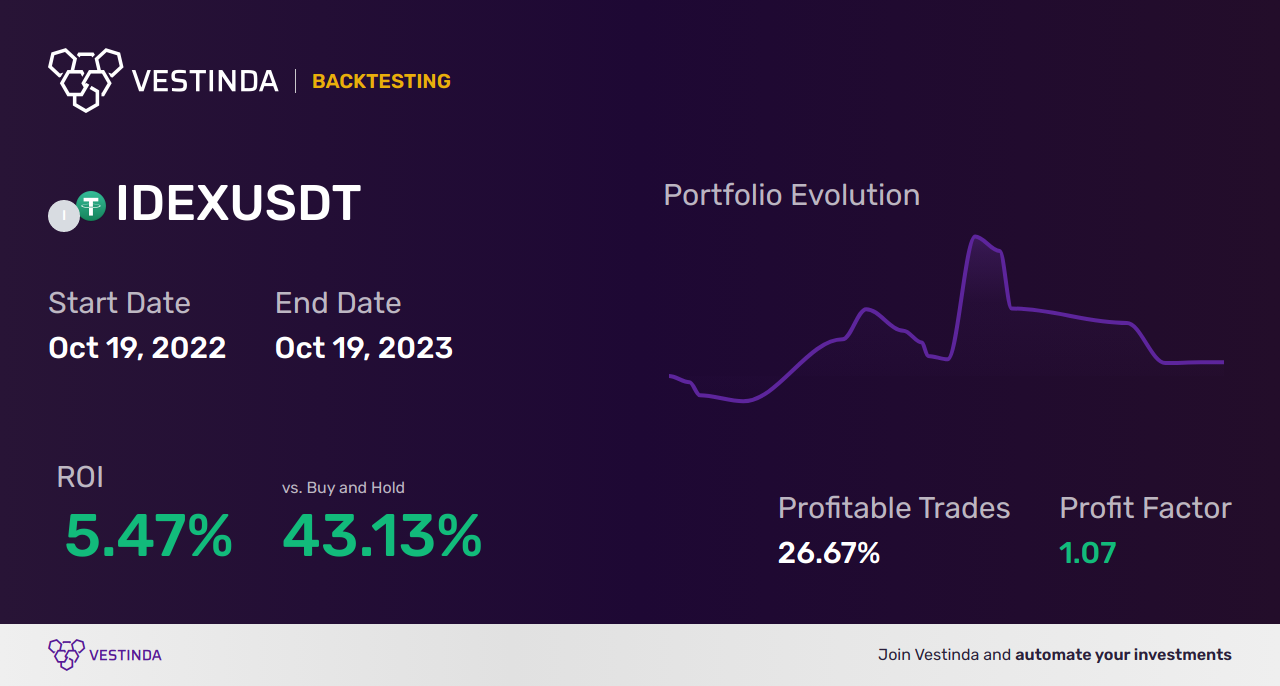 Quantitative Trading Strategy: Lagging Span and Ichimoku Cloud Crossover on IDEX
Based on the backtesting results statistics for the trading strategy conducted from September 9, 2021, to October 19, 2023, it is evident that the strategy has performed exceptionally well. The profit factor stands at an impressive 32.97, indicating a significant profit generation during the period. The annualized return on investment (ROI) is an impressive 71.05%, showcasing the strategy's ability to consistently generate returns. On average, the holding time for trades was approximately 4 weeks and 3 days, with an average of 0.03 trades executed per week. The strategy closed a total of 4 trades, and 75% of them were successful, highlighting the strategy's proficiency. Furthermore, the strategy outperformed the buy and hold approach, generating excess returns of an impressive 2287.89%. Overall, these backtesting results highlight the strategy's effectiveness and potential for profitable trading.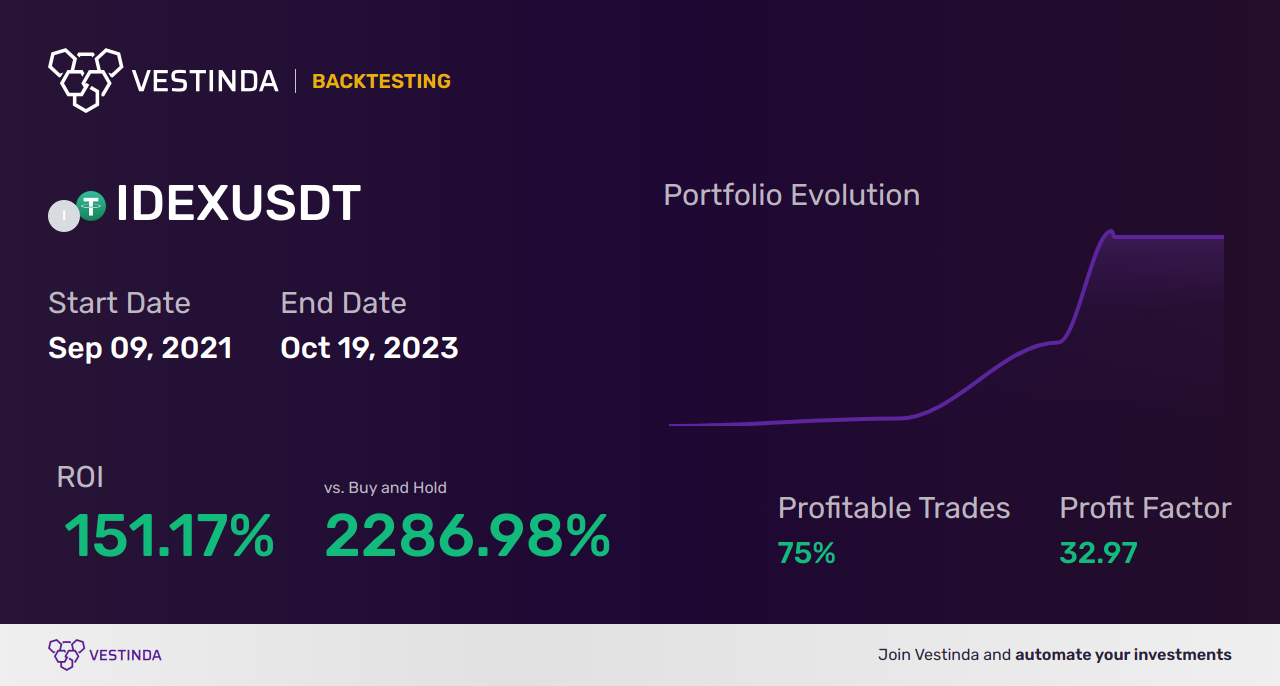 Exploring the Unique World of IDEX
IDEX is an exciting cryptocurrency asset that has caught the attention of many traders. What sets IDEX apart is its focus on decentralized exchanges, allowing users to trade directly from their wallets. This unique feature provides a higher level of security and control over one's funds. With its growing popularity, the price of IDEX has seen fluctuations, creating opportunities for traders to make profits. It's important to note that the crypto market can be volatile, so it's essential to approach trading with caution and conduct thorough research. Stay updated on the latest news and trends in the cryptocurrency world to make informed decisions. By understanding the underlying technology, market trends, and having an effective trading strategy, you can maximize your chances of success in trading IDEX.
Protecting Your IDEX Investment: Risk Management
Risk management is a crucial aspect when trading IDEX or any other cryptocurrency. It entails taking necessary steps to protect your investment and minimize potential losses. One effective strategy is setting stop-loss orders, which automatically sell your IDEX if its price drops below a certain level. This helps limit losses in case of sudden market fluctuations. Another approach is diversifying your portfolio by investing in different cryptocurrencies to spread the risk. Additionally, it's essential to stay updated with market trends, news, and regulatory changes that could impact the value of IDEX. By staying informed and implementing risk management strategies, you can navigate the volatile nature of the crypto market more effectively and safeguard your investment. Remember, trading always carries risks, and it's essential to only invest what you can afford to lose.
Price Determinants: Understanding IDEX Market Forces
The price of IDEX, like any cryptocurrency, is influenced by several factors. Firstly, market demand plays a significant role. If there is high demand for IDEX, its price tends to increase, and vice versa. News and developments related to IDEX and the broader cryptocurrency market can also impact its price. Positive news such as partnerships or technological advancements can lead to price appreciation. Conversely, negative news or regulatory changes can cause price fluctuations. Additionally, macroeconomic factors like overall market sentiment and investor behavior influence IDEX price. It's important to stay informed and consider these factors when making trading decisions. Conducting thorough research and monitoring market trends can help you understand and anticipate potential price movements in the IDEX market. However, it's crucial to remember that cryptocurrency markets are highly volatile, and prices can change rapidly, so it's essential to approach trading with caution and a long-term perspective.
Insights for IDEX Trading: Technical Analysis Essentials
Technical analysis tools can be valuable resources for traders looking to make informed decisions when trading IDEX. One commonly used tool is candlestick charts, which provide insights into price patterns and trends. By analyzing patterns such as bullish or bearish engulfing, doji, and hammer, traders can identify potential entry and exit points. Moving averages are another useful indicator, helping to smooth out price fluctuations and identify trends. Additionally, oscillators like the Relative Strength Index (RSI) can indicate overbought or oversold conditions, assisting traders in timing their trades. It's important to note that technical analysis should be used in conjunction with other forms of analysis and not as the sole basis for trading decisions. The interpretation of these tools requires practice and experience. By learning and applying technical analysis tools effectively, traders can enhance their understanding of market trends and potentially improve their trading outcomes in the IDEX market.
Automate & Backtest IDEX strategies on...
Frequently Asked Questions
What are the best automated trading strategies for crypto in general?
The best automated trading strategies for crypto in general vary depending on individual goals. Momentum strategy involves capitalizing on price trends and market patterns. Mean reversion strategy focuses on assets returning to their average price. Breakout strategy aims to identify significant price movements. Arbitrage strategy takes advantage of price differences on different exchanges. Market making strategy involves providing liquidity by placing buying and selling orders. Additionally, trend following strategy entails trading based on market trends. It's crucial to develop a strategy that aligns with your risk tolerance, market knowledge, and investment objectives. Regularly monitoring and adjusting strategies is essential for successful automated trading.
What is leverage trading?
Leverage trading refers to the practice of borrowing funds to amplify the potential returns from an investment. It allows traders to control larger positions in the market with a smaller amount of capital. With leverage trading, you can open positions that exceed the available balance in your trading account. While leverage can increase profits, it also magnifies potential losses. Therefore, it is important to fully understand the risks involved in leverage trading and carefully manage your trades to avoid significant losses. Proper risk management, education, and experience are crucial when engaging in leverage trading.
Can technical analysis be used on crypto trading, why?
Yes, technical analysis can be used in crypto trading as it helps analyze historical price and volume data to predict future price movements. By studying charts and patterns, traders can identify trends, support, and resistance levels. Technical indicators, such as moving averages and relative strength index (RSI), can provide insights into market conditions. However, it's important to note that technical analysis is not foolproof and is just one tool among many. Fundamental analysis, market sentiment, and external factors should also be considered for a comprehensive trading strategy in the volatile crypto market.
Which crypto trading strategy is best for beginners?
For beginners in crypto trading, a simple and effective strategy is the buy and hold approach. This strategy involves purchasing a cryptocurrency and holding onto it for the long term, regardless of short-term price fluctuations. By focusing on well-established and reputable cryptocurrencies, beginners can mitigate some risks. It is important to conduct thorough research and consider factors like market capitalization, utility, and adoption. Additionally, setting clear investment goals and practicing disciplined portfolio management can contribute to long-term success. This strategy allows beginners to benefit from potential long-term growth in the crypto market while avoiding the complexities of frequent trading.
What are the best-automated trading strategies for IDEX?
The IDEX exchange operates differently from traditional centralized exchanges. It is a decentralized exchange (DEX) that runs on smart contracts. While automated trading strategies can be implemented on IDEX, it is important to note that DEXs have their unique characteristics. Strategies such as limit orders, stop-loss orders, and dollar-cost averaging can be used on IDEX to automate trades. However, due to the nature of DEXs and potentially lower liquidity, it is essential to carefully monitor trades and consider the impact of gas fees. Additionally, staying updated with changes and improvements in the DEX ecosystem is crucial for implementing successful automated trading strategies on IDEX.
Conclusion
In conclusion, trading IDEX can be a rewarding yet challenging endeavor. To navigate this dynamic market successfully, it is crucial to develop effective trading strategies, implement risk management techniques, and stay informed about market trends. Technical analysis tools can provide valuable insights for making informed trading decisions, while understanding the factors that influence IDEX's price is essential for anticipating market movements. Remember, trading cryptocurrencies involves risks, and it's important to invest wisely and only what you can afford to lose. With proper education, careful analysis, and a disciplined approach, you can enhance your chances of success when trading IDEX in 2023 and beyond.