Uniqueness of DOGE: A Fun Cryptocurrency
Dogecoin (DOGE) stands out in the cryptocurrency world with its distinctive logo featuring a Shiba Inu dog. Initially created as a lighthearted joke, DOGE has gained a dedicated community and widespread acceptance. It has become known for its ease of use and low transaction fees. The price of DOGE is subject to market fluctuations, influenced by various factors such as market demand and investor sentiment. As a result, trading DOGE can be both exciting and challenging, requiring careful analysis and strategic decision-making. Let's explore some effective trading strategies to help you navigate the DOGE market in 2023.
Effective DOGE Trading Techniques
Common DOGE Trading Strategies
When it comes to trading DOGE, there are several common strategies that traders employ to maximize their potential returns. One such strategy is trend trading, where traders analyze the price movements of DOGE over a specific period to identify trends and make trading decisions based on them. Another popular approach is swing trading, where traders take advantage of short-term price fluctuations to buy low and sell high.
Technical analysis is another widely used strategy in DOGE trading. Traders analyze charts, patterns, and various indicators to predict future price movements and make informed trading decisions. This includes studying support and resistance levels, moving averages, and oscillators to identify potential entry and exit points.
In addition to these strategies, some traders also utilize automated trading strategies. These programs use predefined algorithms and parameters to automatically execute trades on behalf of the trader.
However, no matter which strategy you choose, it is essential to prioritize risk management. This involves setting stop-loss orders to limit potential losses and using proper position sizing to manage risk levels effectively.
It's important to note that no trading strategy guarantees profits, as the cryptocurrency market can be volatile and unpredictable. Therefore, it's crucial to stay updated on market news and adapt your strategies accordingly. With diligence, practice, and a well-thought-out approach, you can enhance your chances of making successful trades with DOGE.
Testing DOGE Trading Techniques
Backtest Trading Strategies for DOGE
Backtesting is a valuable tool that allows traders to evaluate the performance of their trading strategies using historical data. When it comes to trading DOGE, backtesting can help you analyze the effectiveness of your strategies without risking real money.
To backtest a DOGE trading strategy, you need to follow a structured process. First, define your trading strategy, including entry and exit rules, risk management parameters, and any other relevant factors. Then, gather historical price data for DOGE from a reliable source.
Next, use backtesting software or platforms that provide this functionality to input your strategy and the historical price data. The software will simulate your trading strategy and generate results based on how it would have performed in the past.
Analyze the outcome of the backtest, considering factors such as profitability, drawdowns, and other relevant metrics. This analysis will help you understand the strengths and weaknesses of your strategy and make any necessary improvements.
Keep in mind that while backtesting can provide valuable insights, it does not guarantee future results. Market conditions can change, and the past performance of a strategy may not necessarily translate to future success. However, backtesting allows you to identify and fine-tune strategies that have demonstrated promising performance in the historical data.
By incorporating backtesting into your trading routine, you can gain confidence in your DOGE trading strategies and make more informed decisions based on historical evidence.
Backtesting results for DOGE
Here are some examples of strategies on DOGE with the backtesting results. You can always try out for FREE all these strategies on thousands of assets and many years of historical data.
Strategy 1: Template Parabolic SAR EMA
The backtesting results statistics for the trading strategy from March 15, 2020, to March 15, 2021, are highly encouraging. The profit factor stands at an impressive 1.86, showcasing the strategy's ability to generate profits. The annualized return on investment (ROI) stands at a remarkable 189.64%, indicating substantial gains during the specified period. On average, the strategy holds trades for approximately 13 hours and 44 minutes, showcasing its efficient execution. With an average of 1.45 trades per week and a total of 76 closed trades, the trading strategy demonstrates consistency and discipline. Although the winning trades percentage is relatively modest at 30.26%, the overall performance of the strategy remains commendable.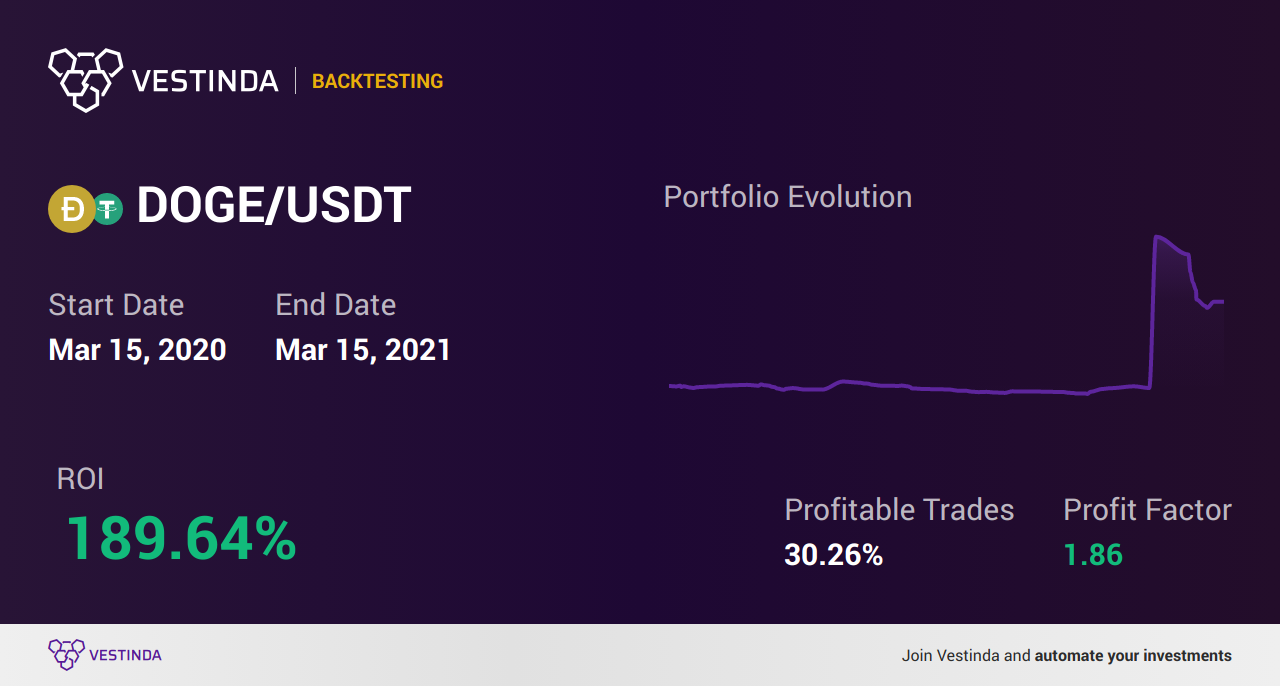 Strategy 2: Template - Breakout of last 20 days
During the backtesting period from March 15, 2020, to March 15, 2021, the trading strategy exhibited promising statistics. The profit factor was recorded at 0, indicating a breakeven performance. However, the annualized return on investment stood at an impressive 48.38%, suggesting a potentially lucrative strategy. On average, the holding time for trades spanned over 9 weeks and 2 days, showcasing a patient approach. The strategy executed an average of 0.03 trades per week, indicating a selective and cautious trading style. With a total of 2 closed trades, all of them resulted in profitable outcomes, boasting a 100% winning trades percentage, further validating the strategy's effectiveness.
Backtesting results
Profit Factor
All your trades are profitable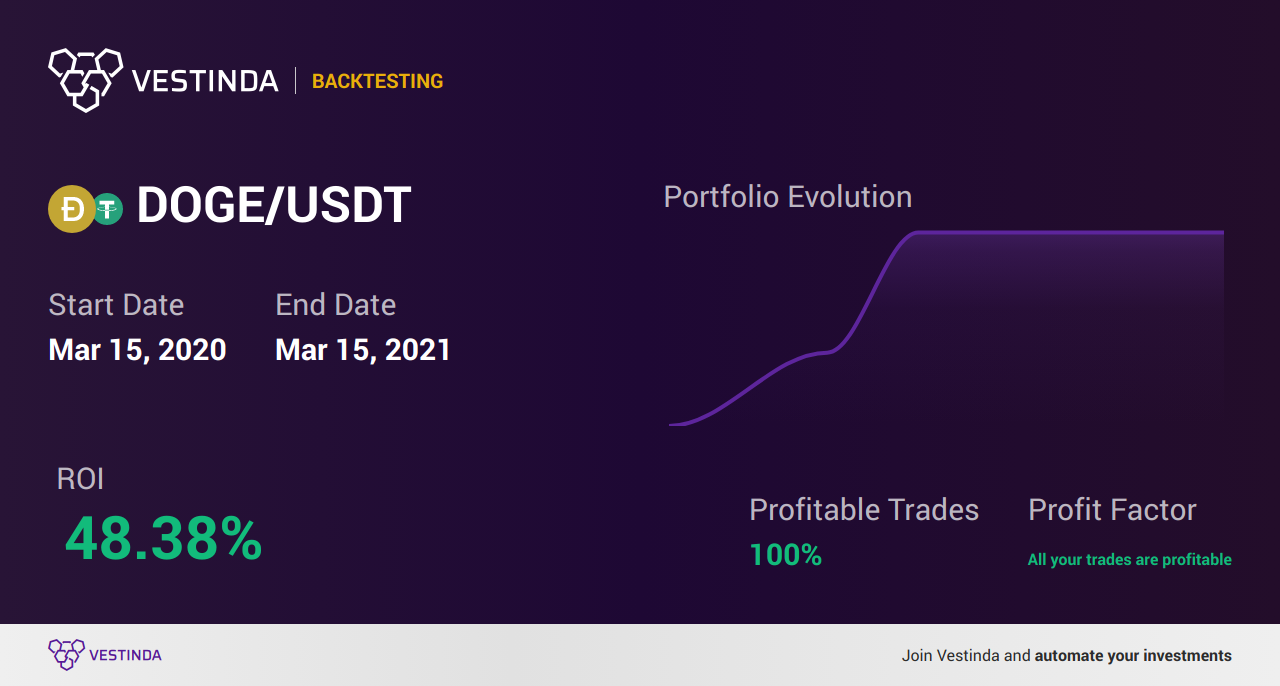 Strategy 3: Play the breakout
During the backtesting period from March 15, 2020, to March 15, 2021, the trading strategy demonstrated impressive statistics. The profit factor reached an exceptional 83.11, highlighting the strategy's ability to generate significant profits. The annualized return on investment (ROI) stood at an astounding 1191.42%, signaling its high profitability over the tested timeframe. The average holding time for trades was approximately 5 weeks and 2 days, indicating a medium-term approach. Despite its selective nature with an average of 0.09 trades per week, the strategy achieved a remarkable winning trades percentage of 80%. These statistics underscore the strategy's potential as a successful trading approach during the specified period.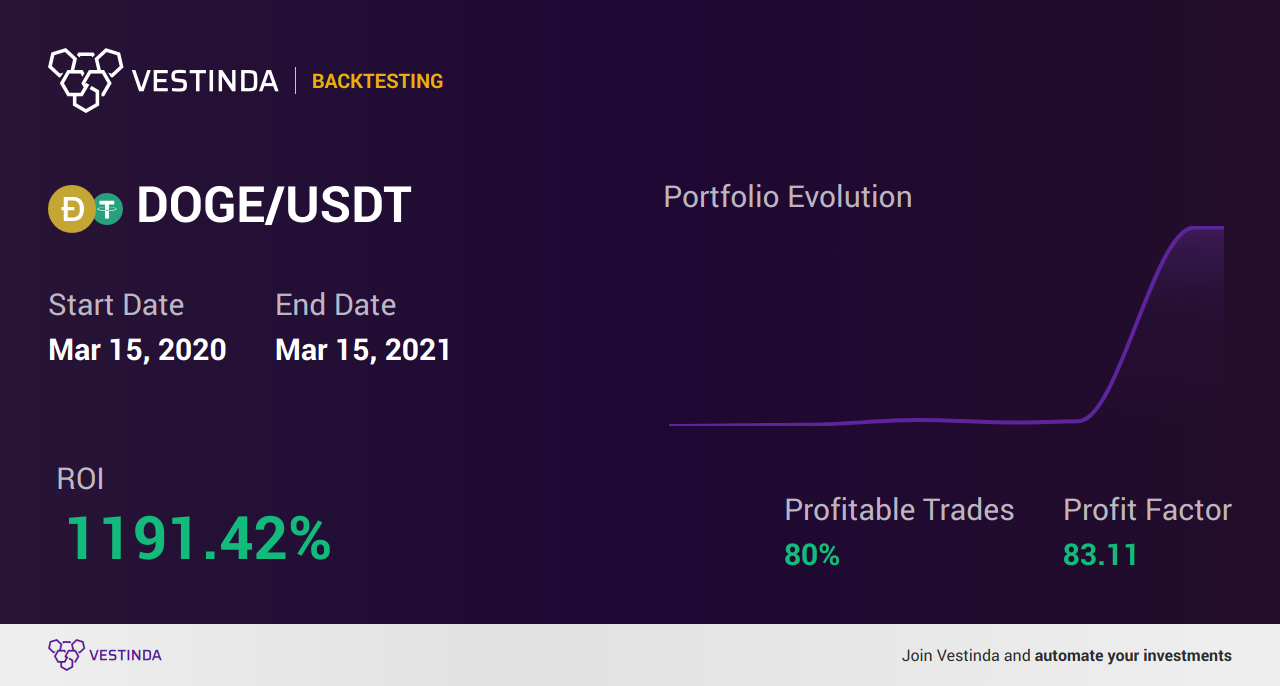 Frequently Asked Questions
What is the lack of crypto trading strategy?
The lack of a crypto trading strategy refers to not having a well-defined plan for buying and selling cryptocurrencies. It means not having a clear set of rules or guidelines to follow when entering or exiting trades. Without a strategy, traders may make impulsive decisions based on emotions or market rumors, which can lead to poor investment choices. A lack of strategy can also result in inconsistent trading patterns and difficulty in managing risk effectively. Having a solid trading strategy is crucial to success in the crypto market as it provides direction and discipline for making informed trading decisions.
What are some potential uses of smart contracts?
Smart contracts have various potential uses. They can be utilized for automating and enforcing the terms of agreements, such as in financial transactions, real estate, and supply chain management. With smart contracts, parties can eliminate the need for intermediaries and rely on secure, decentralized systems. They enable trust and transparency by automatically executing predefined actions once the conditions are met. Smart contracts can also be used for creating decentralized applications (DApps) and decentralized autonomous organizations (DAOs), allowing for the development of innovative and efficient digital solutions. Overall, smart contracts have the potential to revolutionize various industries by increasing efficiency, reducing costs, and enhancing security.
Where do you trade DOGE and other crypto?
DOGE and other cryptocurrencies can be traded on various online platforms known as cryptocurrency exchanges. These exchanges act as digital marketplaces where users can buy, sell, and trade different cryptocurrencies. Some popular cryptocurrency exchanges include Binance, Coinbase, Kraken, and Bittrex. To trade DOGE or any other crypto, users need to create an account on one of these exchanges, deposit funds, and then place buy or sell orders based on their trading preferences. It's important to research and choose a reputable exchange that offers the desired cryptocurrencies and provides strong security measures to protect user assets.
What's the most popular cryptocurrency trading strategy?
There isn't a single most popular cryptocurrency trading strategy as it depends on individual preferences and goals. However, some commonly used strategies include trend following, where traders analyze price patterns and try to ride the market trends for potential profit. Another strategy is swing trading, where traders aim to capture shorter-term price movements within a larger trend. Additionally, some traders engage in day trading, seeking to profit from intraday price fluctuations. It's important to note that successful trading strategies require thorough research, risk management, and continuous adaptation to market conditions.
Can I start crypto trading under $100?
Yes, you can start crypto trading with less than $100. Many cryptocurrency exchanges allow users to trade with small amounts of money. You can purchase fractions of a cryptocurrency, such as Bitcoin or Ethereum, with your budget. It's advisable to research and choose an exchange that offers low trading fees and supports trading with small amounts. Remember to consider the risks involved in crypto trading, such as market volatility. It's important to start with a small amount and gradually increase your investment as you gain experience and confidence in your trading abilities.
Conclusion
In conclusion, trading DOGE requires careful consideration and the implementation of effective strategies. By understanding the unique nature of DOGE and utilizing common trading techniques such as trend trading, swing trading, and technical analysis, traders can navigate the DOGE market with greater confidence. Backtesting strategies using historical data can also provide valuable insights to improve trading performance. It is important to remember that the cryptocurrency market can be volatile and unpredictable, and there are no guarantees for profits. However, with proper risk management and continuous learning, traders can increase their chances of success when trading DOGE. Stay informed, adapt strategies, and approach DOGE trading with patience and discipline.