Unveiling TRX: A Unique Crypto Revolution
TRX, also known as Tron, is a popular cryptocurrency that was created in 2017 by Justin Sun. It operates on its own blockchain and aims to revolutionize the entertainment industry. TRX is used as a medium of exchange within the Tron ecosystem which includes decentralized applications (dApps) and content-sharing platforms. With a growing community and strong partnerships, TRX has gained widespread recognition in the crypto market. Being a digital asset, TRX is highly volatile, making it an attractive option for traders looking to capitalize on price fluctuations and generate profits.
Smart TRX Trading: Mastering Algorithmic Strategies
Algorithmic Trading Strategies for TRX
Algorithmic trading, also known as automated trading, is a popular approach for traders seeking to capitalize on market opportunities. By using computer programs and predefined rules, algorithmic trading can execute trades based on specific parameters and market conditions.
When it comes to TRX trading, algorithmic strategies can be highly effective. These strategies rely on data analysis and technical indicators to make informed trading decisions. One popular approach is trend following, which aims to ride the upward or downward trends in TRX's price.
Another strategy is mean reversion, which assumes that the price of TRX will eventually revert to its average. This can be used to identify potential buying or selling opportunities when TRX deviates from its average price.
Additionally, volatility breakout strategies can be employed. These strategies aim to identify periods of high volatility and initiate trades when TRX breaks out of its trading range.
Risk management is crucial when implementing algorithmic trading strategies. Setting stop-loss orders and regularly monitoring the performance of the strategy can help mitigate potential losses.
It's important to note that while algorithmic trading can be a powerful tool, it requires proper research, testing, and monitoring to ensure its effectiveness. Traders should also stay updated with market trends and news that may impact TRX's price to fine-tune their strategies.
By leveraging algorithmic trading strategies, traders can enhance their decision-making process and potentially achieve more consistent results in the exciting world of TRX trading.
The TRX Price Puzzle: Key Influencing Factors
Factors Influencing TRX Price
The price of TRX is driven by a variety of factors that can have a significant impact on its value in the crypto market. Understanding these factors can help traders make informed decisions when buying or selling TRX.
One key factor that influences TRX price is overall market sentiment. Positive news or market trends in the cryptocurrency industry can drive up demand for TRX, pushing its price higher. Conversely, negative sentiment or market fluctuations can lead to a decline in TRX price.
The development and progress of the Tron ecosystem, which TRX is an integral part of, also play a crucial role. Major updates, partnerships, and the launch of new decentralized applications can positively influence TRX price by boosting confidence and attracting investors.
Regulatory developments and government policies related to cryptocurrencies can have both positive and negative effects on TRX price. Favorable regulations that promote adoption and increase mainstream acceptance can drive up demand and boost TRX price. On the other hand, regulatory restrictions or negative sentiment can weigh down TRX's value.
Moreover, investor sentiment and market speculation can impact TRX price. FOMO (Fear of Missing Out) and FUD (Fear, Uncertainty, and Doubt) can drive irrational buying or selling behavior, causing price volatility.
Lastly, broader economic factors like inflation, interest rates, and geopolitical events can indirectly affect TRX price. Economic stability and investor confidence can prompt capital flow into cryptocurrencies, including TRX, driving its value up.
By considering these factors and staying informed about market developments, traders can better analyze and predict TRX price movements, improving their trading strategies.
Backtesting results for TRX
Here are some examples of strategies on TRX with the backtesting results. You can always try out for FREE all these strategies on thousands of assets and many years of historical data.
Strategy 1: Template - Ichimoku Base Line
Based on the backtesting results for the trading strategy from March 15, 2020 to March 15, 2021, the statistics indicate promising performance. The profit factor stands at 1.73, suggesting that the strategy generated 1.73 times more profit than losses. The annualized return on investment is an impressive 254.93%, indicating substantial growth over a year. On average, each trade was held for about 4 days and 23 hours, reflecting a short to medium-term trading approach. The strategy generated an average of 0.72 trades per week and closed a total of 38 trades during the given period. Notably, the strategy achieved a winning trades percentage of 60.53%, further underscoring the strategy's potential for success.
Strategy 2: Long Term Investment
Based on the backtesting results statistics for the trading strategy conducted from March 15, 2020, to March 15, 2021, several noteworthy findings emerge. The strategy exhibits a profit factor of 3.6, indicating that the total profit made by winning trades is 3.6 times the loss incurred from losing trades. The annualized return on investment (ROI) stands at an impressive 26.23%, suggesting a solid performance for the strategy during the analyzed period. On average, trades were held for approximately one week. With an average of 0.07 trades per week, the strategy remains relatively conservative, likely focusing on high-quality opportunities. Over the course of the backtesting, there were four closed trades, with 75% of them resulting in a profit.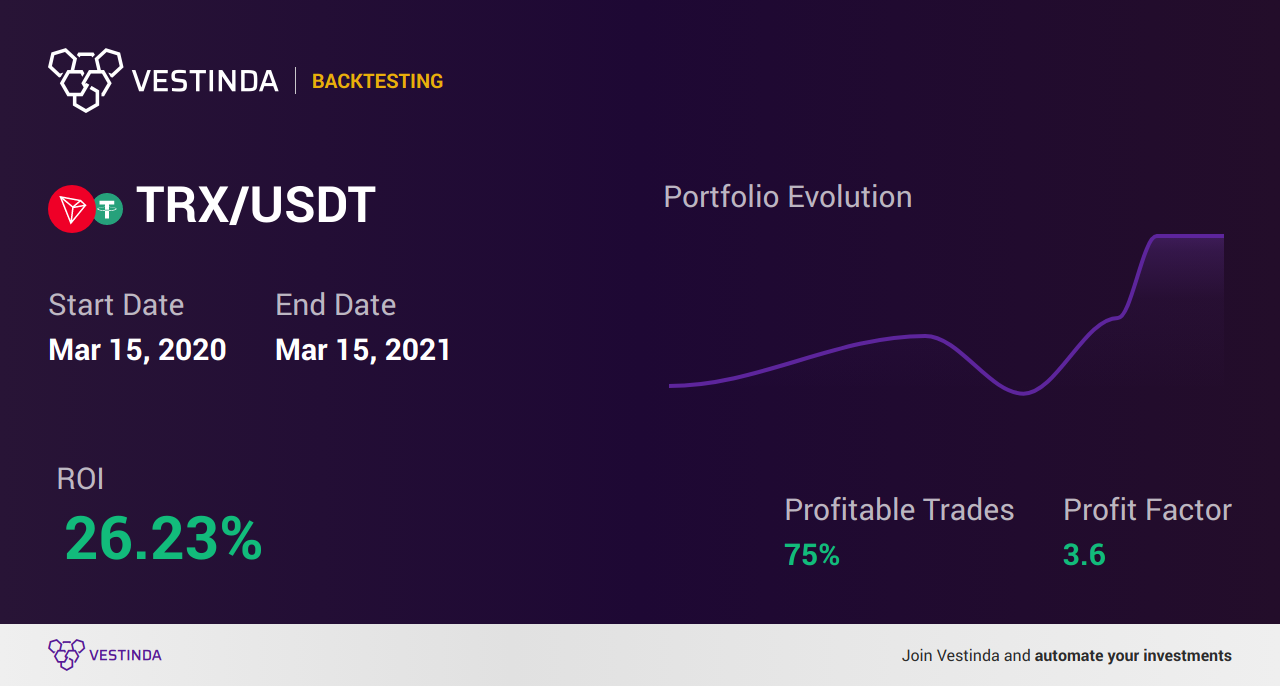 Frequently Asked Questions
What are the best-automated trading strategies for TRX?
One of the best-automated trading strategies for TRX is the trend following strategy. It involves analyzing the price movement of TRX and placing trades in the direction of the dominant trend. This strategy aims to capture profits as the price continues to move in the same direction. Another strategy is mean reversion, which assumes that the price of TRX will eventually return to its average value after deviating. This strategy involves selling when the price is high and buying when it is low. These strategies can be implemented using technical indicators and automated trading software.
What is the best indicator for crypto technical analysis?
One of the best indicators for crypto technical analysis is the moving average. This indicator calculates the average price of a cryptocurrency over a specified period and displays it on a chart as a line. It helps traders identify the direction of the trend and potential support or resistance levels. Another useful indicator is the Relative Strength Index (RSI), which measures the speed and change of price movements. It can indicate when a cryptocurrency is overbought or oversold, helping traders identify potential reversal points. These indicators can provide valuable insights when analyzing crypto market trends.
How to trade cryptocurrency daily with 100 dollars?
To trade cryptocurrency daily with $100, it's important to start with a plan. First, research and choose a reliable cryptocurrency exchange. Then, select a few cryptocurrencies with potential and study their price charts and news. Set a budget for each trade, such as $10-20, to diversify risks. Place buy orders when the price is low and set sell orders to take profits when the price rises. Consider using limit orders to avoid unnecessary fees. Always practice risk management and avoid investing more than you can afford to lose. Regularly monitor the market and adjust your strategy accordingly.
How do smart contracts work?
Smart contracts are self-executing contracts with the terms of the agreement written into code. They work by automatically executing predefined actions once the predetermined conditions are met. The code and terms of the contract are stored on a blockchain, providing transparency and security. When the specified conditions are fulfilled, the contract is enforced without the need for intermediaries. This enables trustless and decentralized transactions. Smart contracts can be programmed to handle various scenarios, such as transferring funds, issuing tokens, or triggering events based on real-world data. They are a key feature of blockchain technology and enable the automation of agreements.
Conclusion
In conclusion, trading TRX can be a rewarding venture when armed with the right strategies and market knowledge. By understanding the factors that influence TRX's price, utilizing algorithmic trading techniques, and implementing common trading strategies, traders can enhance their chances for success in the dynamic crypto market. It's essential to stay informed, conduct proper research, and adapt to market conditions to make informed trading decisions. Remember, no strategy can guarantee profits, and risk management is crucial. With dedication, practice, and a solid trading plan, you can navigate the TRX market with confidence and strive for profitable outcomes. Happy trading!