Exploring the Unique World of ADA
ADA, short for Cardano, is a well-known cryptocurrency that has gained significant popularity in recent years. It is known for its advanced technology and innovative approach to blockchain. ADA operates on a decentralized platform that allows for secure and transparent transactions. Unlike other cryptocurrencies, ADA focuses on sustainability, scalability, and interoperability, making it a unique asset in the crypto market. With a growing community and dedicated team, ADA continues to show promise for future growth and adoption. Understanding the intricacies of ADA is key to developing effective trading strategies in 2023.
Analyzing ADA: Essential Technical Tools
When it comes to trading ADA, having a solid understanding of technical analysis tools can be incredibly valuable. These tools help traders make informed decisions by analyzing past price patterns and predicting future movements. One commonly used tool is moving averages, which smooth out price fluctuations and identify trend directions. Another useful tool is the Relative Strength Index (RSI), which measures the momentum and strength of price movements. Additionally, chart patterns like support and resistance levels can indicate potential buying or selling opportunities. By utilizing these technical analysis tools, traders can enhance their ADA trading strategies and increase their chances of success. However, it's important to note that technical analysis should not be used in isolation. It is advisable to combine it with other forms of analysis and practice proper risk management to make well-rounded trading decisions. Stay tuned for more insights on ADA trading strategies in our future blog posts.
Boosting ADA Trading: Automated Strategies Unleashed
If you want to take your ADA trading to the next level, automated trading strategies can be a game-changer. These strategies involve using algorithms and pre-set conditions to execute trades automatically. One popular approach is the use of trading bots, which can analyze market data, monitor price movements, and execute trades based on predefined rules. This saves time and eliminates emotional decision-making. Another automated strategy is the use of stop-loss and take-profit orders, which automatically close positions when certain price levels are reached, helping to manage risk effectively. It's important to note that while automated strategies can be powerful tools, they should be used with caution. Proper testing and monitoring are essential to ensure that the strategies are working as intended. Additionally, it's crucial to stay updated with market conditions and make any necessary adjustments to the automated strategies. With the right approach, automated trading strategies can enhance your ADA trading experience and potentially improve your profitability. Stay tuned for more insights on ADA trading strategies in our future blog posts.
Unveiling ADA Value Drivers
When trading ADA, it's crucial to consider the various factors that can influence its price. One significant factor is market sentiment, as positive or negative news and developments about the cryptocurrency industry can impact ADA's value. Additionally, investor demand and market liquidity play a role in determining ADA's price. Factors such as regulatory changes, technological advancements, and competition can also influence ADA's value. Furthermore, general market conditions, economic indicators, and even geopolitical events can have an indirect impact on the price of ADA. By staying informed and monitoring these factors, traders can make more informed decisions and adjust their trading strategies accordingly. Remember, it's important to combine these considerations with technical analysis and risk management to navigate the volatile cryptocurrency market successfully. Stay tuned for more insights on ADA trading strategies in our future blog posts.
Backtesting results for ADA
Here are some examples of strategies on ADA with the backtesting results. You can always try out for FREE all these strategies on thousands of assets and many years of historical data.
Strategy 1: Template - Ichimoku Base Line
The backtesting results for the trading strategy for the period from March 15, 2020, to March 15, 2021, exhibit promising statistics. The profit factor stands at 1.73, indicating that for every dollar risked, a profit of $1.73 was generated. The annualized return on investment (ROI) is an impressive 602.34%, reflecting substantial gains over the course of a year. On average, each trade was held for approximately 5 days and 19 hours, suggesting a medium-term approach. With an average of 0.78 trades per week, this strategy maintains a cautious and selective approach. Out of a total of 41 closed trades, 51.22% were profitable, showcasing a relatively balanced success rate.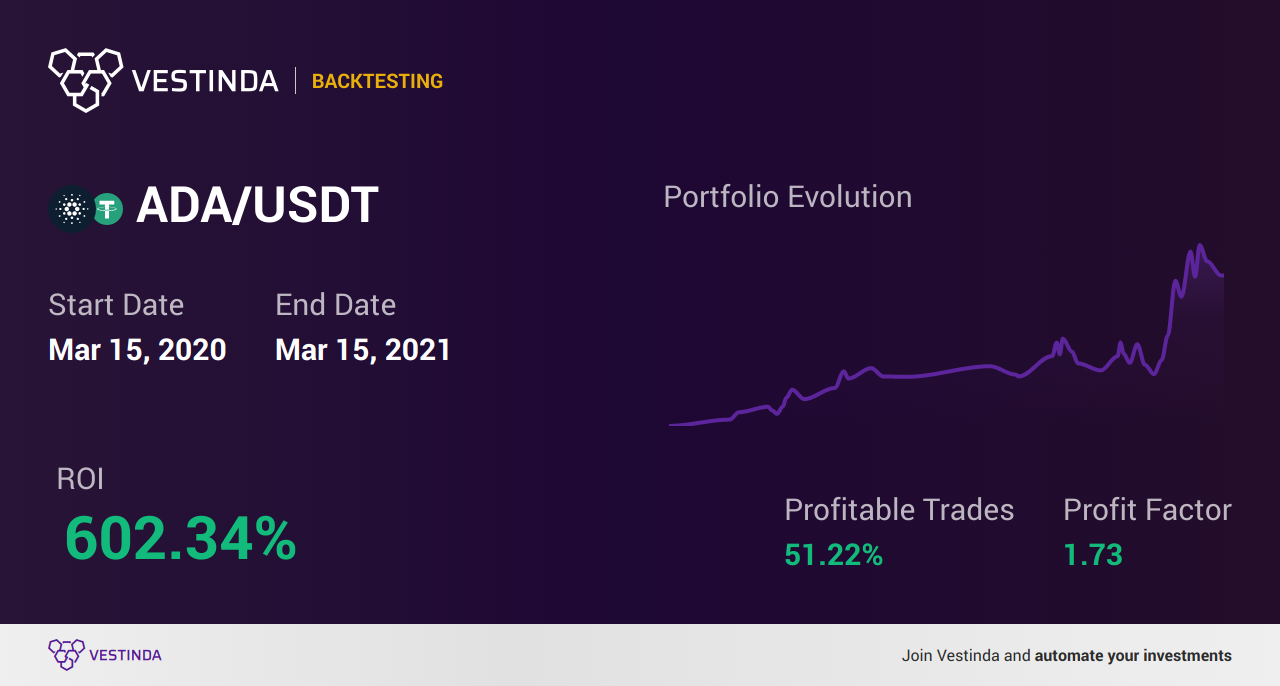 Strategy 2: Long Term Investment
Based on the backtesting results for the trading strategy conducted between March 15, 2020, and March 15, 2021, several key statistics have been observed. The profit factor is calculated to be 2.81, indicating a profitable outcome. The annualized return on investment (ROI) stands at an impressive 38.68%, suggesting significant growth over the tested period. On average, trades were held for a duration of 1 week and 3 days, portraying a relatively short-term approach. With an average of 0.09 trades per week, the strategy can be regarded as rather infrequent. The total number of closed trades amounted to 5. Furthermore, an impressive 80% of the trades yielded positive results, indicating a high percentage of winning trades.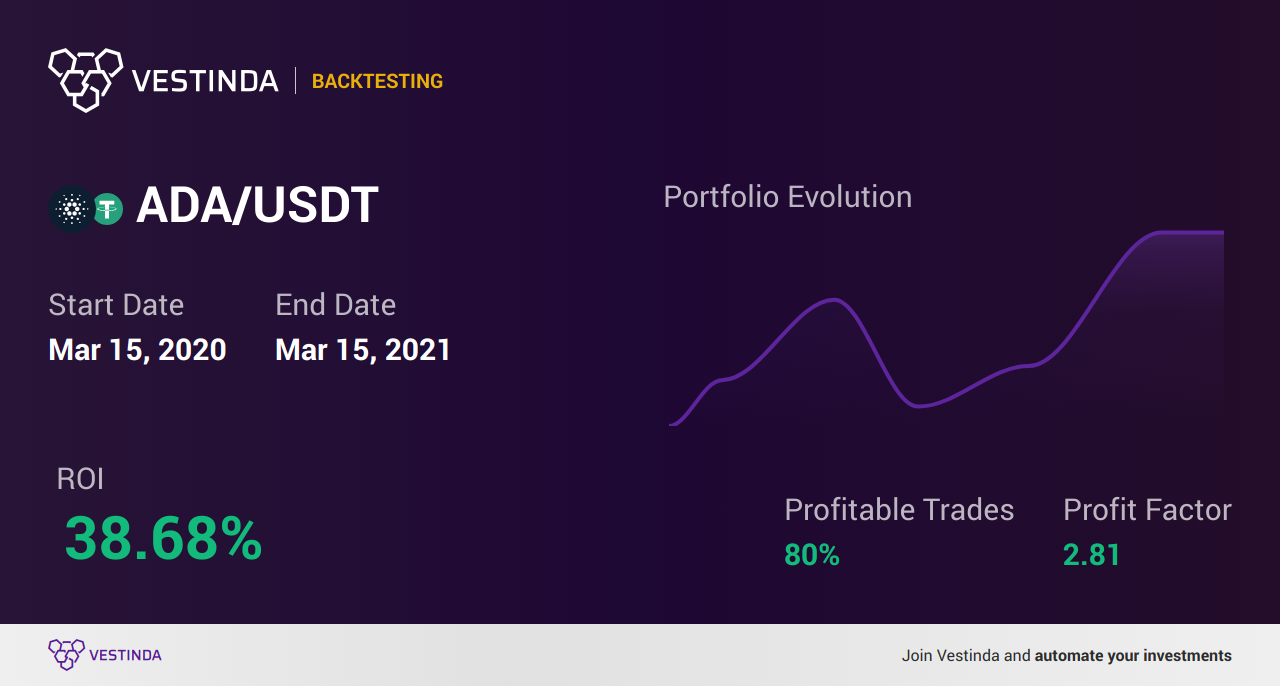 Strategy 3: Lock and keep profits
The backtesting results for the trading strategy conducted from March 15, 2020, to March 15, 2021, reveal promising statistics. With a profit factor of 4.22, the strategy indicates a strong potential for generating profitable trades. The annualized return on investment stands at an impressive 132.84%, highlighting the strategy's ability to generate substantial gains within the given time frame. On average, trades were held for approximately 10 weeks and 1 day, indicating a longer-term approach. With an average of 0.03 trades per week, it suggests a more selective and strategic trading approach. Despite only 2 closed trades, a 50% winning trades percentage implies a balanced and consistent performance overall.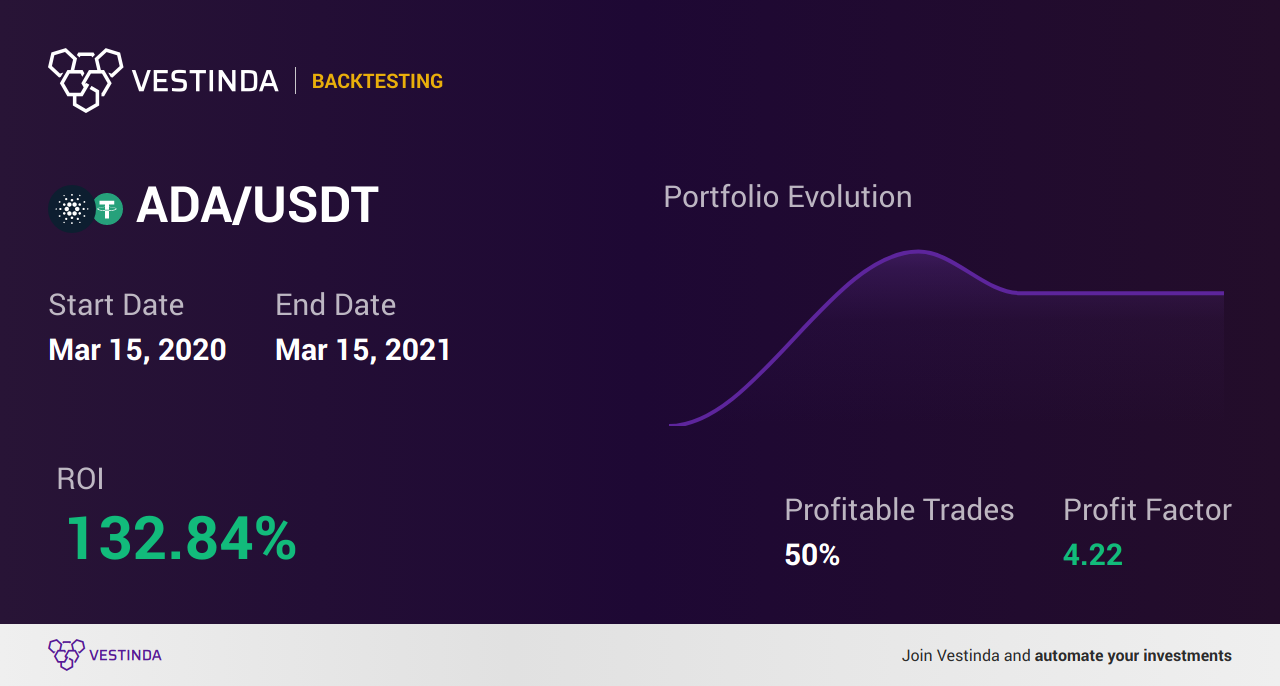 Frequently Asked Questions
What are trading strategy parameters?
Trading strategy parameters are specific variables or inputs that traders use to outline their trading plans. They are defined values that determine how and when to enter or exit trades. These parameters typically include factors such as the time frame for trading, the type of financial instruments to trade, the size of each trade, and the risk tolerance level. By defining these parameters, traders can establish a systematic approach to their trading activities, helping them make informed decisions and manage their trades effectively.
How to grow and trade a small crypto account?
To grow and trade a small crypto account, you can follow several steps. First, educate yourself about cryptocurrencies and understand their risks and potential rewards. Next, start with a small amount of capital that you can afford to lose. Then, devise a trading plan and set clear goals. Identify potential entry and exit points based on technical or fundamental analysis. Implement risk management strategies, such as setting stop-loss orders. Continuously monitor the market and make informed trading decisions based on your plan. Finally, be patient and disciplined, as crypto trading can be volatile and requires a long-term approach to achieve growth.
What is the lack of crypto trading strategy?
The lack of a crypto trading strategy refers to the absence of a well-defined plan or approach when trading cryptocurrencies. Without a strategy, traders may make impulsive and irrational decisions, leading to potential losses. It becomes challenging to gauge when to buy or sell cryptocurrencies, which can result in missed opportunities or excessive risk-taking. A lack of strategy also means traders may not have clear goals, risk management techniques, or an understanding of market analysis. Developing and implementing a trading strategy is crucial for achieving consistency and profitability in crypto trading.
What's the most popular cryptocurrency trading strategy?
The most popular cryptocurrency trading strategy is known as trend following. This strategy involves identifying and following the direction of a prevailing trend in the cryptocurrency market. Traders using this strategy aim to buy when the price is trending upwards and sell when it is trending downwards. They often rely on technical analysis indicators, such as moving averages or trend lines, to spot trends and make trading decisions. Trend following can be effective in capturing significant price movements and riding the momentum of a cryptocurrency, especially in trending markets. However, it is important to validate trends with other indicators to minimize false signals.
What is leverage trading?
Leverage trading is a technique commonly used in financial markets, including cryptocurrency trading. It involves borrowing funds from a broker or an exchange to amplify the potential profits (or losses) of a trade. Traders can open larger positions than what their capital allows by utilizing leverage. For example, with 10x leverage, a trader can control a position size ten times larger than their invested capital. While leverage can enhance profits in favorable trades, it also magnifies the risks, as losses are also multiplied. It is crucial for traders to exercise caution and employ proper risk management when engaging in leverage trading.
Conclusion
In conclusion, trading ADA can be an exciting and potentially profitable venture. By understanding the unique qualities of ADA, such as its sustainable approach to blockchain, and utilizing technical analysis tools and automated trading strategies, traders can navigate the market with confidence. Factors that influence ADA's price, including market sentiment and investor demand, should be carefully considered. Remember to practice effective risk management and stay informed about market conditions. Trading ADA requires a blend of knowledge, analysis, and adaptability. With the right strategies in place, you can seize opportunities and make informed trading decisions in the ever-evolving world of ADA trading.