Understanding Polkadot: A Unique Crypto Asset
DOT, also known as Polkadot, is a cryptocurrency that has gained significant popularity in recent years. It is a unique asset that operates on a blockchain network aimed at enabling interoperability between different blockchains. This means that DOT allows for seamless communication and transfer of data between multiple blockchain networks. DOT has its own native token, which can be bought and traded on various cryptocurrency exchanges. With its innovative technology and potential for growth, DOT presents an exciting opportunity for traders to participate in the crypto market and potentially generate profits.
Strategies for Successful DOT Trading
Common DOT Trading Strategies
When it comes to trading DOT, there are several strategies that can help you make informed decisions and potentially maximize your profits. Let's explore some popular trading strategies:
1. Buy and Hold: This strategy involves buying DOT and holding onto it for a longer period, anticipating its price to increase over time. It requires patience and a long-term perspective.
2. Breakout Trading: This strategy focuses on identifying key levels of support and resistance. Traders aim to buy DOT when it breaks above a resistance level or sell when it drops below a support level, in anticipation of a significant price movement.
3. Trend Following: Traders using this strategy analyze the overall trend of the DOT market. They aim to buy when the trend is upward and sell or short when the trend is downward.
4. Range Trading: Range trading involves identifying levels of support and resistance within which the price of DOT oscillates. Traders buy near support and sell near resistance, profiting from the price fluctuations within the range.
5. Scalping: This short-term strategy involves making numerous small trades to capture small price movements. Traders will enter and exit positions quickly, aiming to accumulate small profits throughout the trading day.
Remember, each trading strategy has its own risks and rewards. It's important to conduct thorough research, use technical analysis tools, and implement proper risk management measures when employing these strategies. The key is to find the strategy that suits your trading style and risk tolerance. Happy trading!
Analyzing DOT: Essential Trading Tools
Technical Analysis Tools for DOT Trading
To make informed trading decisions when dealing with DOT, it's essential to utilize technical analysis tools. These tools help traders analyze historical price data and identify patterns and trends. Here are some commonly used technical analysis tools for DOT trading:
1. Moving Averages: By calculating the average price over a specific period, moving averages help identify trends and potential support and resistance levels.
2. Relative Strength Index (RSI): The RSI measures the speed and change of price movements. It indicates whether DOT is overbought or oversold, helping traders anticipate potential reversals.
3. Fibonacci Retracement: This tool uses Fibonacci ratios to identify potential levels of support and resistance, based on the price movements of DOT.
4. Bollinger Bands: Bollinger Bands consist of a moving average line and two standard deviation bands. They help traders identify periods of high volatility and potential price reversals.
5. Volume Analysis: Monitoring trading volume helps traders understand the strength of price movements, confirm trends, and potentially predict upcoming price actions.
By using these technical analysis tools, traders can gain insights into the historical performance and potential future movements of DOT. It's important to combine multiple tools and indicators to make well-informed trading decisions. However, no tool guarantees absolute accuracy, so it's crucial to use them as part of a comprehensive trading strategy and exercise caution.
Backtesting results for DOT
Here are some examples of strategies on DOT with the backtesting results. You can always try out for FREE all these strategies on thousands of assets and many years of historical data.
Strategy 1: Math vs. the market
Based on the backtesting results of our trading strategy for the period from March 15, 2020 to March 15, 2021, we have observed promising statistics. The profit factor stands at 1.69, indicating that for every unit of risk, we achieved a profit of 1.69 units. With an annualized ROI of 46.17%, our strategy has outperformed the market. On average, the holding time for trades was approximately 1 day and 18 hours. With an average of 0.55 trades per week, our strategy maintained a consistent trading frequency. Throughout this period, we executed 29 closed trades, with a notable winning trade percentage of 68.97%. This reinforces the effectiveness and reliability of our trading strategy.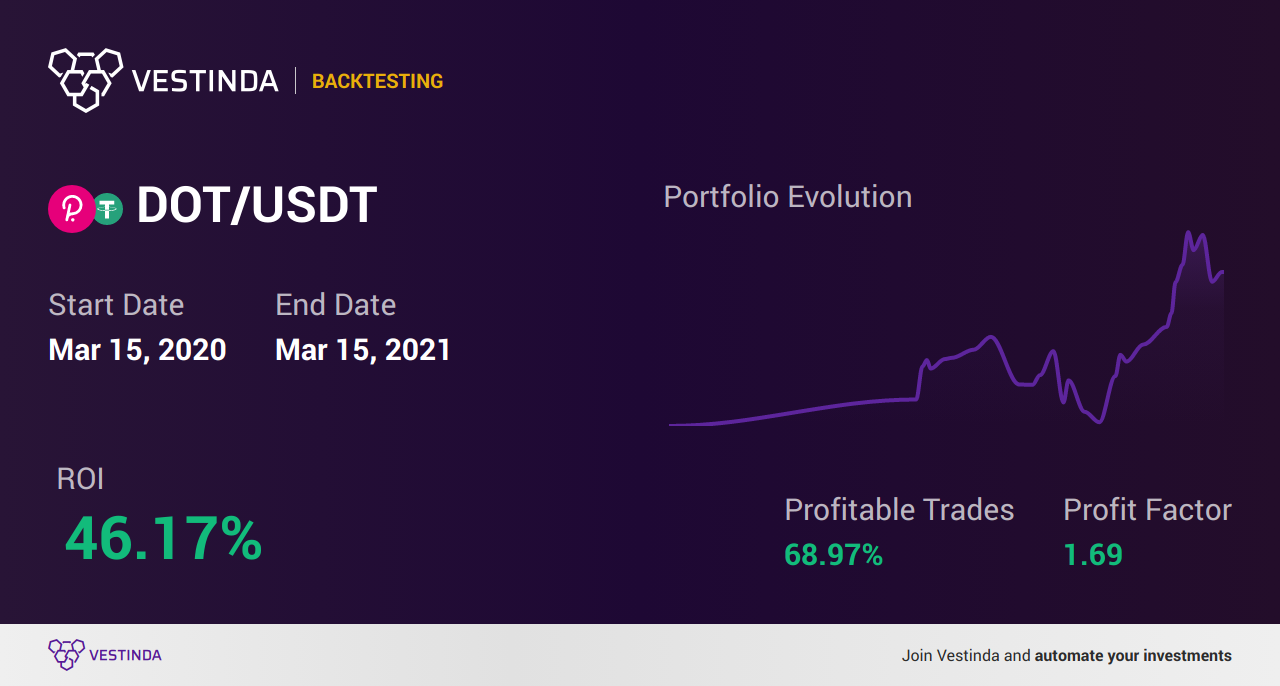 Strategy 2: Template BB RSI
Based on the backtesting results for the trading strategy, conducted from March 15, 2020, to March 15, 2021, several key statistics have emerged. The profit factor has been calculated at 1.59, indicating that for every dollar invested, $1.59 has been gained. The annualized return on investment (ROI) stands at an impressive 15.82%, suggesting that the strategy yielded consistent profitability over the observed period. On average, positions were held for approximately 14 hours and 32 minutes, showcasing a relatively short-term approach. With an average of 0.24 trades executed per week, the strategy exhibited a cautious and selective trading style. Out of a total of 13 closed trades, a notable 69.23% were winning trades, validating the strategy's effectiveness.
Frequently Asked Questions
Why are stop-losses important when trading crypto?
Stop-losses are crucial in crypto trading. They help manage risk by automatically selling an asset when its price reaches a predetermined level. This protects traders from potential losses if the market suddenly turns against them. Active management of stop-loss orders ensures protection of investment capital. By setting stop-loss levels, traders can limit their potential losses and make informed decisions. It's important to remember that cryptocurrency prices are volatile, so stop-losses are valuable tools to avoid significant financial setbacks. They provide peace of mind and give traders more control over their investments.
How to get new and profitable strategies in crypto trading?
To acquire new and profitable strategies in crypto trading, traders can utilize several approaches. Firstly, it's advisable to stay updated with reliable news sources and analysis platforms that provide insights into market trends. Additionally, studying historical data and observing price patterns can help identify potential profitable strategies. Engaging with the crypto community, attending webinars, and joining trading forums can provide valuable knowledge sharing. It's essential to thoroughly research and backtest any new strategies before implementing them. Remember, continuous learning and adapting to market conditions are key to discovering profitable trading approaches.
What is position trading in cryptocurrency?
Position trading in cryptocurrency refers to a long-term trading strategy where traders hold their positions for an extended period, such as weeks or months. This approach aims to profit from significant price movements and trends in the market. Position traders focus on analyzing fundamental factors, market trends, and overall market sentiment to make informed decisions. They aim to capture larger price fluctuations rather than smaller, short-term fluctuations. Position trading requires patience and a thorough understanding of the market, and it is suitable for traders who prefer a more hands-off approach and are willing to withstand potential fluctuations in the market.
What is the best cryptocurrency trading toolset?
The best cryptocurrency trading toolset can vary depending on individual preferences and needs. However, there are some widely used and effective tools that traders often find beneficial. These include charting platforms, which provide visual representations of price movements and technical indicators. Another essential tool is a reputable cryptocurrency exchange that offers a user-friendly interface, reliable security measures, and a diverse range of tradable assets. Additionally, news aggregators and analysis websites can help stay updated on market trends. It's important to evaluate different tools based on their features, ease of use, and credibility to find the ones that suit your trading style and goals.
How to trade cryptocurrency daily with 100 dollars?
When trading cryptocurrency daily with $100, it's crucial to plan and manage risk effectively. Start by choosing a reputable cryptocurrency exchange that allows trading with small amounts. Focus on low-cost, high-potential cryptocurrencies with strong market liquidity. Conduct thorough research and analysis to identify potential trading opportunities. Divide your capital into smaller portions for each trade, ensuring to set stop-loss orders to limit potential losses. Use technical analysis tools and indicators to identify entry and exit points. Regularly monitor the market and adjust your strategy accordingly. Remember, risk management, patience, and continuous learning are key to success in daily cryptocurrency trading with a limited budget.
Conclusion
In conclusion, trading DOT can be an exciting venture in the ever-evolving crypto market. By understanding the unique characteristics of DOT, implementing effective trading strategies, and utilizing technical analysis tools, you can enhance your trading journey. Remember to conduct thorough research, exercise caution, and manage risks wisely. Whether you choose to buy and hold, engage in breakout trading, trend following, range trading, or scalping, finding the right strategy that aligns with your goals and risk tolerance is crucial. Stay updated with the latest market trends, practice discipline, and continue learning to achieve success in your DOT trading endeavors. Happy trading!