Automate & Backtest AVAX strategies on...
Automated Strategies and Backtesting results for AVAX
Here are some AVAX trading strategies along with their past performance. You can validate these strategies (and many more) for free on Vestinda across thousands of assets and many years of historical data.
Automated Trading Strategy: Long Term Investment on AVAX
During the period from March 15, 2020, to March 15, 2021, a trading strategy displayed promising performance. With a profit factor of 2.27, it suggests that the strategy was capable of generating 2.27 times more profit compared to its losses. The annualized return on investment for the strategy is an impressive 28.64%, indicating steady growth over the year. On average, positions were held for about 3 days and 2 hours, displaying a moderately short holding period. Despite this, the strategy only executed an average of 0.05 trades per week. Out of a total of 3 closed trades, an encouraging 66.67% were profitable. Overall, these statistics reflect a strategy worth considering for potential investment.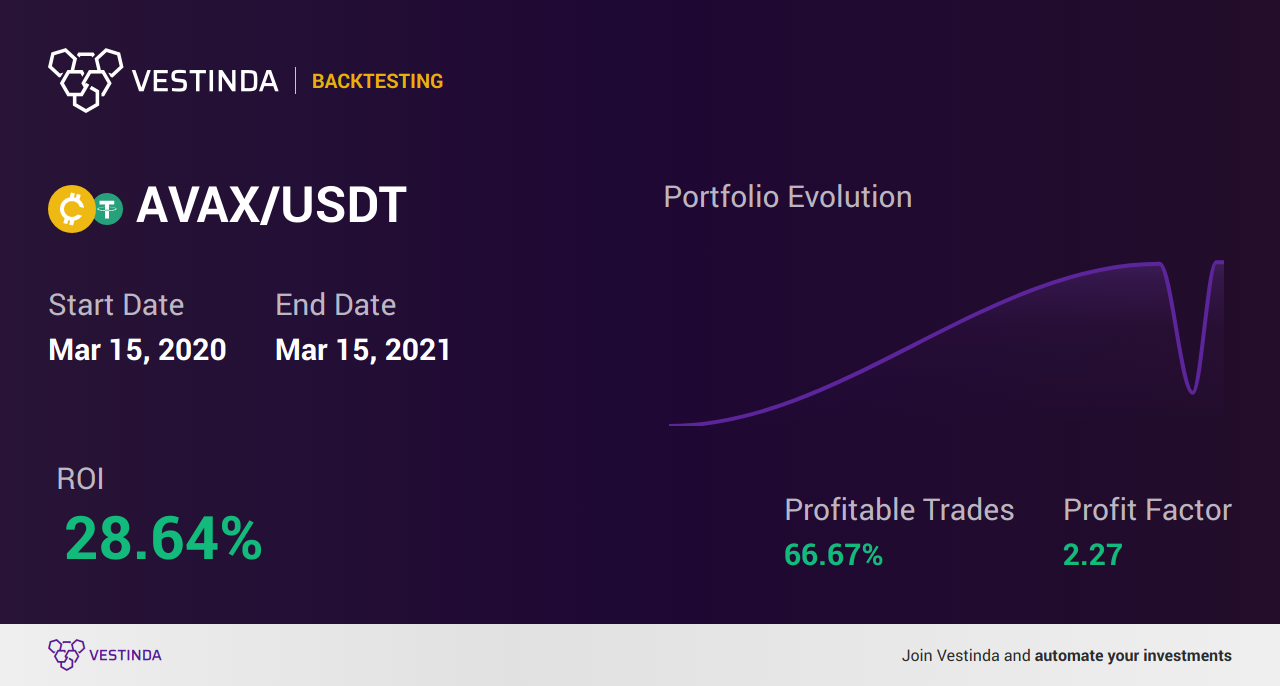 Automated Trading Strategy: Follow the trend on AVAX
The backtesting results for the trading strategy conducted from March 15, 2020, to March 15, 2021, reveal impressive statistics. The strategy exhibits a high profit factor of 15.3, indicating its ability to generate significant profits in relation to the losses incurred. The annualized return on investment stands at an astounding 455.83%, indicating a remarkable growth of the initial investment over the period. On average, the strategy holds positions for around 1 week and 1 day, contributing to its success. With an average of 0.13 trades per week, it demonstrates a patient and selective approach. Despite the limited number of closed trades, standing at 7, the strategy boasts a winning trades percentage of 28.57%, underscoring its efficacy.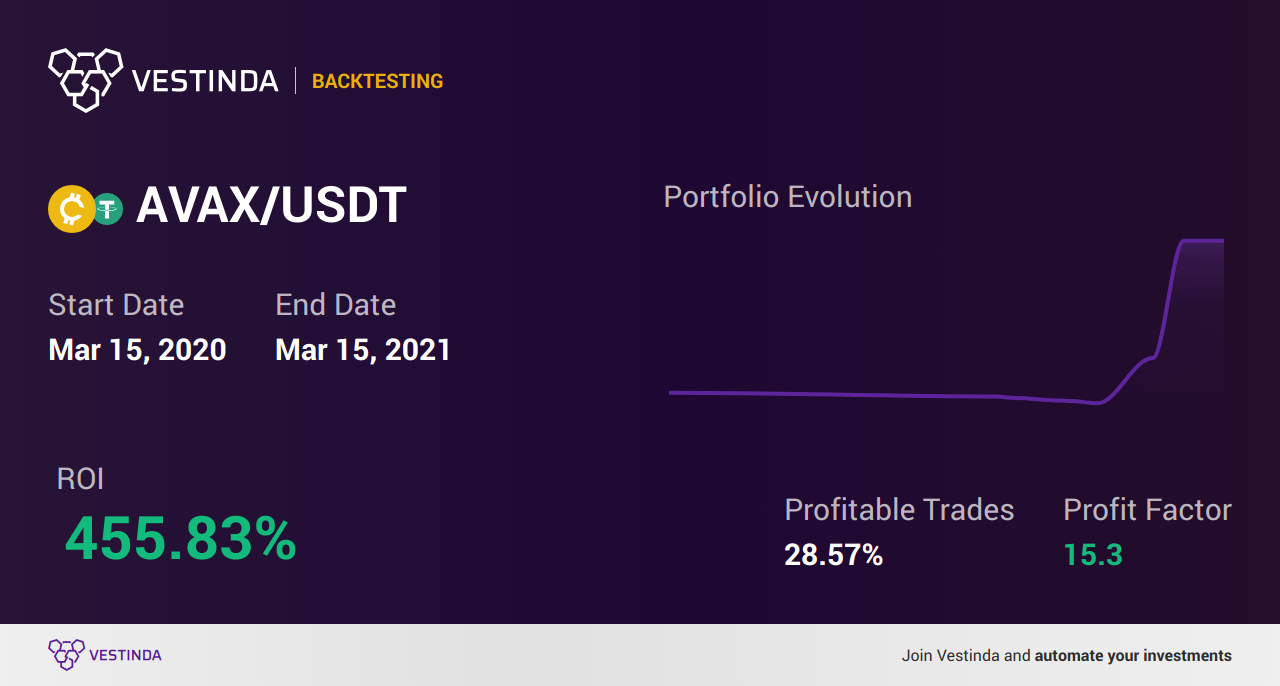 Automate AVAX Trading with Algorithms
Algorithmic trading can be a valuable tool for trading AVAX in an automated and efficient manner. With algorithmic trading, traders can take advantage of pre-programmed instructions to execute trades automatically, based on predetermined trading strategies. This approach eliminates the need for manual intervention and allows for faster order execution. By using algorithms, traders can analyze market data, such as price movements and indicators, to make informed trading decisions. Algorithmic trading also helps minimize emotional decision-making, as trades are executed based on predefined rules. This can enhance trading accuracy and consistency. Additionally, algorithmic trading allows for backtesting strategies on historical data to evaluate their effectiveness before deploying them in live trading. By leveraging the power of algorithms, traders can potentially improve their trading outcomes in the AVAX market.
Exploring AVAX: A Unique Cryptocurrency Perspective
AVAX, also known as Avalanche, is a digital asset with unique features that sets it apart in the crypto market. As a cryptocurrency, AVAX operates on its own decentralized platform, offering users secure and efficient transactions. With AVAX, users can enjoy fast transaction confirmations and low fees, making it an attractive choice for trading and investment purposes. The underlying technology behind AVAX is Avalanche, a consensus protocol that enables high scalability and throughput. This means that AVAX can handle a large number of transactions at once, ensuring a seamless trading experience. Additionally, AVAX supports the creation of decentralized applications (dApps) and smart contracts, further expanding its utility. Overall, AVAX presents an exciting opportunity for traders and investors to participate in a cutting-edge cryptocurrency that offers speed, security, and scalability.
Maximizing AVAX Trading Efficiency with Automation
Advanced Trading Automation For AVAX
Automating your AVAX trading can unlock a world of possibilities for traders looking to optimize their strategies. Advanced trading automation tools offer features that can enhance your trading experience and potentially increase your profits. These tools utilize advanced algorithms and technical analysis indicators to make informed trading decisions on your behalf. By setting specific entry and exit points, you can efficiently execute trades without the need for constant monitoring. Additionally, advanced trading automation tools often offer risk management features, allowing you to set stop-loss and take-profit levels to protect your investment. Some platforms even provide backtesting capabilities, enabling you to test your strategies using historical data before deploying them in live trading. With the power of advanced trading automation, you can effectively manage your AVAX trades, save time, and take advantage of market opportunities around the clock. Ultimately, embracing this technology can give you a competitive edge in the dynamic AVAX market, allowing you to trade with confidence and efficiency.
Mastering AVAX Day Trading Tactics
Day Trading Strategies for AVAX
Day trading AVAX requires a well-defined strategy to capitalize on short-term price fluctuations. Here are a few effective day trading strategies to consider. Firstly, momentum trading focuses on identifying stocks with rapidly increasing prices and high trading volumes. Traders jump in to ride the momentum and exit when it slows down. Secondly, range trading involves identifying key support and resistance levels and trading within that range. Buying near support and selling near resistance can be profitable in a sideways market. Lastly, breakout trading involves monitoring price levels and entering trades when the price breaks above significant resistance or below significant support. It's important to combine these strategies with proper risk management techniques, such as setting stop-loss orders to limit potential losses. With diligent practice and careful analysis, day trading AVAX can be a rewarding endeavor. Remember to stay disciplined and adapt your strategies to changing market conditions.
Enhancing AVAX Trading with Automation
Automated Trading Strategies for AVAX
Utilizing automated trading strategies can greatly enhance your AVAX trading experience. These strategies make use of advanced algorithms and predefined rules to execute trades automatically. One popular approach is trend following, where the algorithm identifies and trades in the direction of the prevailing trend. Another strategy is mean reversion, which takes advantage of price deviations from their average to predict potential reversals. Additionally, range trading algorithms can identify support and resistance levels to execute trades within a specific price range. By automating your AVAX trading, you can eliminate emotional biases and execute trades based on data-driven signals. It's important to backtest and optimize these strategies using historical data to ensure their effectiveness. Implementing proper risk management techniques, such as setting stop-loss orders, is also crucial. With automated trading strategies, you can potentially increase efficiency and take advantage of market opportunities in the fast-paced AVAX market.
Trusted by Traders Worldwide
Frequently Asked Questions
What are some tips for day trading AVAX?
When day trading AVAX, it's important to have a strategy in place. First, conduct thorough research on the project and its market trends. Set specific profit targets and stop-loss levels to protect yourself from significant losses. Use technical analysis indicators like moving averages and candlestick patterns to identify entry and exit points. Keep an eye on market news and events that could impact AVAX's price. Implement proper risk management by only investing what you can afford to lose, and consider using leverage cautiously. Regularly review your trades to improve your skills and adjust your strategy if necessary.
Which trading strategy is best for beginners?
For beginners, a simple yet effective trading strategy is to focus on long-term investing. This strategy entails buying and holding assets for an extended period. It allows beginners to avoid the complexities associated with short-term trading and reduces exposure to daily market fluctuations. Start by diversifying your portfolio and investing in well-established assets with a proven track record. Set realistic financial goals and have the patience to wait for your investments to grow over time. Regularly review your portfolio and make adjustments as needed, based on market conditions and your investment objectives.
How to get new and profitable strategies in crypto trading?
To discover new and profitable strategies in crypto trading, there are a few steps you can follow. First, stay updated with industry news and analysis through reputable sources. Engage in online communities and forums to learn from experienced traders. Experiment with different indicators and technical analysis tools to identify potential trends and patterns. Backtest your strategies using historical price data to assess their effectiveness. Consider learning from successful traders and studying their approaches. Finally, keep a journal of your trades and regularly evaluate your performance to refine your strategies over time.
How to grow and trade a small account?
Growing and trading a small account requires careful planning and risk management. Start by setting realistic goals and expectations. Focus on high-probability trades with favorable risk-to-reward ratios. Use proper risk management techniques, such as setting stop losses and limiting your position sizes. Consider starting with lower leverage to minimize potential losses. Regularly analyze your trades and learn from your mistakes. Gradually increase your position sizes as your account grows. Stay disciplined and avoid emotional trading. Continuously educate yourself by reading books, taking courses, and following reputable traders. Patience and consistency are key in growing a small account over time.
Conclusion
In conclusion, AVAX provides an exciting opportunity for traders seeking to venture into the crypto market. By implementing various trading strategies, whether through algorithmic trading, day trading, or utilizing advanced automation tools, traders can optimize their AVAX trading experience. It is crucial to conduct thorough research, practice risk management, and adapt strategies to changing market conditions. With its unique features, AVAX offers speed, security, and scalability, making it an attractive asset to trade. Whether you're a beginner or an experienced trader, exploring and implementing different trading strategies can enhance your chances of success in the dynamic and evolving AVAX market.