If you are a crypto trader, you know how demanding crypto assets trading can be. In order to keep up with the highly volatile crypto market you either follow the charts 24/7 or you pay the opportunity cost. Even if you have a high degree of expertise, time is actually the most important asset you have to invest to turn profitable. So you may want to consider to automate your crypto trading strategies.
In order to spot market movements, you scan huge piles of information from various sources, perform different analyses using technical indicators, use on chain market intelligence or watch for signals. It calls for 100% concentration in entering and exiting positions at the right time. And for mastering emotions like a pro.
But why spend all that time when there is a better way to trade crypto? 
You can automate your crypto trading strategy to save yourself most of the hustle and get extra perks: 
earn more money than you would earn when trading manually 

and get back your time
This article will help you understand what automated crypto trading is, how to choose the best crypto trading platform, and how to automate your crypto strategy. 
So, let's get started.
What is Automated Crypto Trading?
Automated crypto trading refers to the use of a software, also known as a trading platform, to automate your positions in the crypto assets market with the purpose of making a profit and never miss out on an opportunity. 
What Can Automated Crypto Trading Platforms Offer?
Some give you the possibility to build your own conditions and automate those for entering and exiting the market. 

Other software also have embedded algorithms that analyze the market to find out if the right conditions for buying or selling crypto assets are met. These then go ahead to either buy or sell the crypto assets autonomously or provide the trader with a signal.
Types of Crypto Trading Automation Platforms
Most automated crypto trading platforms act as intermediaries and trade on your behalf on any of the integrated Crypto Exchanges. This is done in a secure way; you connect your credentials from different Exchanges and allow the platform to place orders for you. 

Some trading platforms offer both an Exchange and a quant zone where traders can build their own strategies.

Other automated crypto trading platforms offer downloadable trading bots that can be managed locally or on a server. These bots are also referred to as crypto trading robots and can be activated or deactivated anytime.
How Does Automated Crypto Trading Work?
We'll focus on how to automate using a platform that works on your behalf in your Exchange account.
Step 1
You start by finding your preferred automated crypto trading platform and creating an account.
Step 2
In order to automate your crypto trading, you first have to build a trading strategy.
Step 3
Once you create your strategy, you validate it through heavy backtesting.
Step 4
As an optional step, you can run your strategy in Demo Trading until you are confident enough to commit real money.
Step 5
Connect your preferred Crypto Exchange and start automating. The platform will take it from there and run your strategy day and night, without you having to watch the market continuously.
There is a last step: You take your time back and enjoy life. :)
Advantages of Using a Platform to Automate Crypto Trading Strategies
Using an automated crypto trading platform offers the following advantages:
Saves time

– You can free up the countless hours you would otherwise spend analyzing the market to find optimal opportunities for opening and closing positions in the market.

No emotional trading

– Robots do not have emotions (yet) and will therefore not place revenge trades or let emotions mess up the plans of winning in the market. 

Sticks to the plan

– Since the automated trading platforms use software, they are able to stick to the set trading parameters no matter the conditions or outcomes unless the parameters are changed to new ones. This allows you to stick to your trading strategy, while you enjoy your life.

Helps boost trading skills

– You can use automated trading platforms to quickly test and validate or invalidate your trading strategies and find out what works and what doesn't more quickly than if you were to do that manually. This also allows for an iterative process that enables you to fine-tune your trading strategies.

Faster response to market conditions

– Automated crypto trading uses a software to analyze the market and place trades. Therefore, the trades are opened and closed faster than if they were being opened or closed manually. This is a huge advantage since crypto assets prices are very volatile and delays in opening or closing trades, after conditions in your trading strategy are met, could lead to lower profits or in a worst-case scenario, losses.
Automate crypto trading
Join Vestinda Private Beta
Things to Consider Before Using an Automated Crypto Trading Platform
Before settling to use a specific automated crypto trading platform, you should consider the following things:
Technical issues may occur with the Exchanges you're trading on or within the automation platform. Choose a platform with focus on building the best product. Make sure there is a good team behind and technology is always up to date.

You need experience in order to build good strategies that give you a positive alpha. But this goes for manual trading also :) On some platforms you can choose ready-made strategies or you can copy trade other traders out there.

Make sure you don't get caught in the dreams of getting rich fast. An automation platform is about … well, automating your current trading strategies. And we all know there is no getting-rich-fast strategy. Or maybe it is? 
How to Choose the Best Platform to Automate Your Crypto Trading Strategies
When choosing an automated crypto trading platform, you should consider the following:
Flexibility –

Can you control the entire life cycle of your trading plan? Can you build strategies that cover most of your ideas? Can you combine different data points and use different tick intervals for your indicators?

Backtesting – Can you test your assumptions on historical data? 
Demo trading

– Can you simulate your strategy before using it?

User fees

– Some automated crypto trading platforms require you to pay a certain amount of fees to access the platform's services. Make sure you pay for the right amount of features.

Compatible Crypto Exchanges – Some crypto trading automation platforms are integrated with a specific list of Crypto Exchanges. Look up and see if your preferred Exchanges are on the list. Does it also offer crypto portfolio tracking?
Nature of the automated crypto trading platform

– Some provide external trading signals for you to use in placing and closing orders while others go ahead and autonomously place and close the trades without any intervention. If you want full control over creating your own trading strategy and rules, there are also options for you. Just make your choice.

The assets that you intend to trade

– Some automated crypto trading platforms only support a bunch of the assets out there. 

Security

– check if the platform follows security standards and how good the technical team is. 

Customer support

– How easy is it for you to get your questions answered? Choose a platform that offers fast support and the team is always trying to improve their product.
Why Choose Vestinda to Automate Your Crypto Trading Strategies?
Vestinda allows both beginners and experienced traders to automate trading strategies. Our promise is to help you take back your time and experience life while we take care of delivering high quality automation execution on your strategies. 
Below are some of the reasons that makes Vestinda one of the must-try automated crypto trading platforms out there:
Easy to use – You simply drag and drop various tools like technical indicators to build trading strategies. Implementing your trading ideas will become a breeze. In time, you will feel like you're doing it with your eyes shut.

Backtesting – It allows you to validate your ideas using past market prices. You can go as far back as the asset was listed on the Exchange and you get advanced statistics on how your strategy would have performed.

Demo trading – Still not confident after Backtesting? You can try paper trading your strategy on the current market conditions for a while before staking real money.

Very flexible – You can build any trading strategy by combining different custom indicators, each with different tick intervals. Logical conditions, math equations or indicator compounding, you name it. All inside our Strategy Builder.

Accurate automation and execution – Any condition in your trading rules is evaluated in a snap. Then the order reaches the Exchange in a few milliseconds to make sure you get the best possible execution.

Most popular Crypto Exchanges are integrated within the platform. Choose your preferred one and start automating.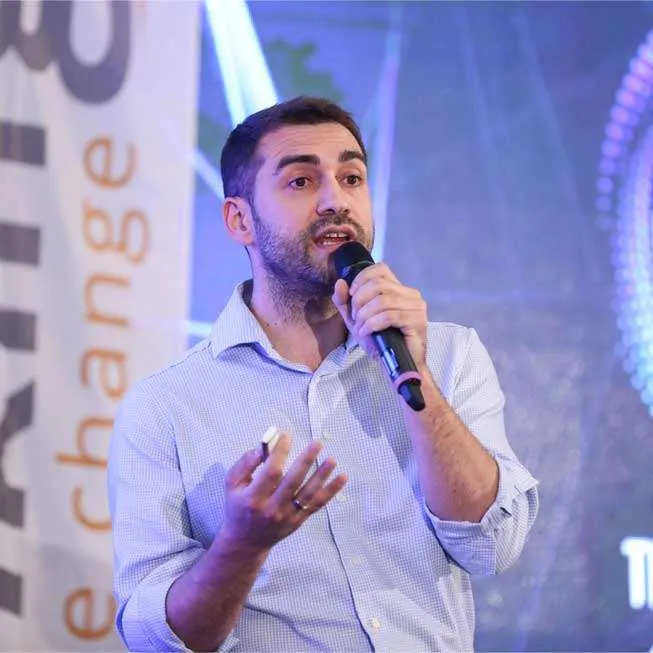 Founder & CEO of Vestinda.
Compacting years of investment portfolio building into just a few minutes.
https://www.vestinda.com/wp-content/uploads/2021/02/VESTINDA-How-to-automate-your-crypto-trading-strategy.png
423
1210
Alin Breabăn
https://www.vestinda.com/wp-content/themes/vestinda/img/v-logo-header-color.svg
Alin Breabăn
2021-08-16 15:00:20
2022-10-13 12:08:59
How to Automate Crypto Trading Strategies