Vestinda partnered with Alex Hobincu
Get access to his automated trading strategies
Tell us who is Alex Hobincu and what drives him to create content about the crypto ecosystem

Basically, Hobincu is one of the many traders who struggled at the beginning of the crypto trading space in Romania. By the time my company went bankrupt, I decided to start crypto trading and suddenly it all became clear to me that this is what I'm gonna do for the rest of my life. I started from the bottom as many would say, with only the dream of living carefree and without the issues that I used to have having my own company. The problem was that by the time I started trading, there were so few people that were really aware of the fact that you can turn this into a daily job so I needed a community. So after checking a lot of Romanian communities and being totally disappointed by the level of the people over there I decided to do something and gather only the high perspective people into my own community by creating YouTube Video content and keeping it at a high trading level so that only people who were particularly interested in trading would join. So that's what I did and here I am today with almost 20.000 people followers on all the social platforms.
Who is Alex besides being a key opinion leader in the crypto space? 

First of all, Alex is always direct and sincere with his followers. I really hated that kind of marketing videos with Lamborghini's and Ferrari's and people selling fake perspectives upon the trading area like it's some kind of easy game and everyone can do it. I wanted to present the reality, the struggle from behind starting from scratch. A lot of people joined my community by complaining about the losses they got for trusting so many fake people out there. Unfortunately being so direct and sincere about the fact that crypto trading is really hard and you need a lot of discipline to become one of the 10% that are actually winning in this game, didn't really get the maximum attention compared to the Lamborghini influencers, but it's ok, at least mine are smart. 
How did you come up with a trading course and why do you offer it for free?

Well, a short time after I started trading in YouTube Live videos, lots of people asked me to teach them.  It really was an easy task to spend time with my community in the first part of my Influencer life, because there weren't many people that were following me. The problem started when literally thousands of people asked me to teach them Crypto Trading. And it was taking me so much personal life that I barely had my own trading time. So, for a short period of time, I asked them all to just wait because they will have a full course on my website, which will be free and which will teach you all the stuff that I learned being a full-time trader. 

But where did I start? I had no idea how I learned all this stuff, I had studied continuously for over 2 years by the time I decided to release the course. So the idea that I had by that time was brilliant, I gathered a mentorship group on which I focused for over 200 hours of online trading, and they showed me what it's like to be a beginner again. So yeah, mostly I learned from them as much as they learned from me. That's how I built up my whole course based on the actual learning experiences of my successful students. 
What is your trading style? What indicators or formations do you use? Tell us a few tips and tricks :)

I don't really rely on indicators, to be honest. I always thought the indicators are lagging so much that by the time they show you the moment to initiate the action, most probably the action is at the end of it. Instead, I loved the price action part of the trading. That really caught my eye. What's happening over there? Who is in control? Will buyers take action? Will the price bounce back? … trying to understand the market psychology and the key level zones was really fascinating for me. The problem was that keeping in mind so much information of this kind was a struggle so I developed my own trading style based on institutional orders which are really amazing and easy to use. I think at this moment is the most reliable way of trading considering the current bizarre fluctuations of the market. 
How do you see blockchain impacting the world moving forward?

This is a great technology. I've met so many companies who switched their old system to blockchain technology and doing such an amazing job. Imagine you can practically attach a smart contract to anything now. People are earning crypto in so many forms that previously we were doing for free, gaming, chatting, watching videos, participating in events, it's an incredible way of living your freedom at this moment. I love it! 
If you could hold only 3 crypto projects for the next 5 years, which one would those be and why?

Unfortunately, I'm a trader. Being a trader means that basically every project that is released at this moment has a bottom and a top. My job here is to make sure that I'm buying as close as I can to the bottom and selling as close I can to the top. I'm not gonna lie to you, most of the time I don't even care what a project does … I'm not an investor, I usually don't lock up my money for more than a few days and very few times I'm going into the weekly timeframe. There's always a correction to wait for and an impulse to take. :)  But if I would really have to expose my favorite projects, those would obviously be Bitcoin, Ethereum and Shiba. Why? Because of the hype. Where all the

people are putting their money, it means that the project is supported by trust. And this basically creates fluctuations which I always benefit from by taking the right actions at the right time.
What are your top 3 tips that you would give to an inexperienced crypto investor? Why?

Tip number 1:  If you see a Lambo in a commercial regarding crypto learning space … run. That Lambo is most probably bought with your money.
Tip number 2:  Trading is hard, that's the reality. You can win a ton of money, and I literally mean that. But you need to work harder than the 90% of the people that are losing.
Tip number 3:  Don't be greedy, rather than trying to buy the bottom and sell the top take into consideration the compound way of doing money. You're gonna be amazed by its power.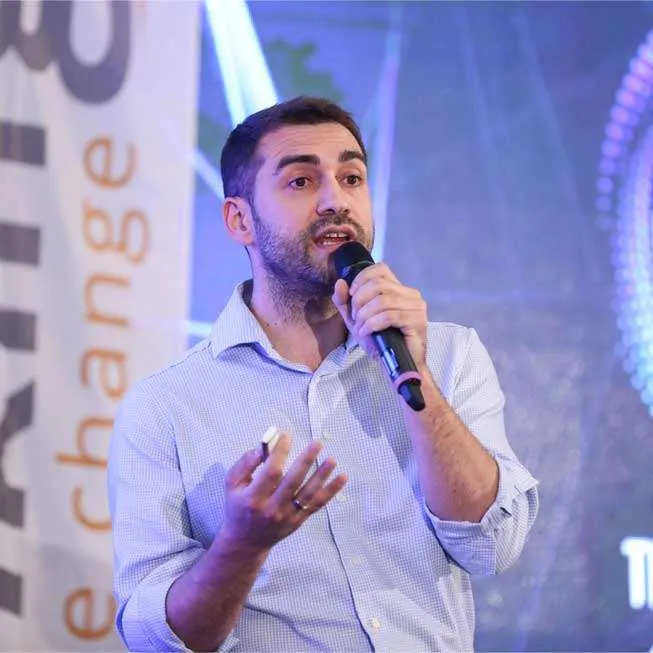 Founder & CEO of Vestinda.
Compacting years of investment portfolio building into just a few minutes.
https://www.vestinda.com/wp-content/uploads/2022/04/Blog-posts-cover-image-33.png
423
1210
Alin Breabăn
https://www.vestinda.com/wp-content/themes/vestinda/img/v-logo-header-color.svg
Alin Breabăn
2022-04-01 10:02:25
2022-10-18 08:51:41
Alexandru Hobincu on how he developed his own trading style