Start earning fast & easy
Create
account

Build trading strategies
with no code

Validate
& Backtest

Connect exchange
& start earning
Quantitative Strategies & Backtesting results for XUS U
Here are some XUS U trading strategies along with their past performance. You can validate these strategies (and many more) for free on Vestinda across thousands of assets and many years of historical data.
Quantitative Trading Strategy: Invest for the long term on XUS U
During the period from October 15, 2019, to October 27, 2023, a backtesting analysis was conducted on a trading strategy, revealing promising statistics. The strategy demonstrated a profit factor of 1.03, indicating that for each dollar invested, $1.03 was generated in profit. The annualized return on investment (ROI) of the strategy amounted to 0.37%, ensuring a steady and consistent growth rate. With an average holding time of 19 weeks and 4 days, this strategy showed a patient approach to trading. Furthermore, an average of only 0.03 trades per week suggests a cautious and selective approach. Although the winning trades percentage stood at 25%, the overall return on investment reached a respectable 1.47%.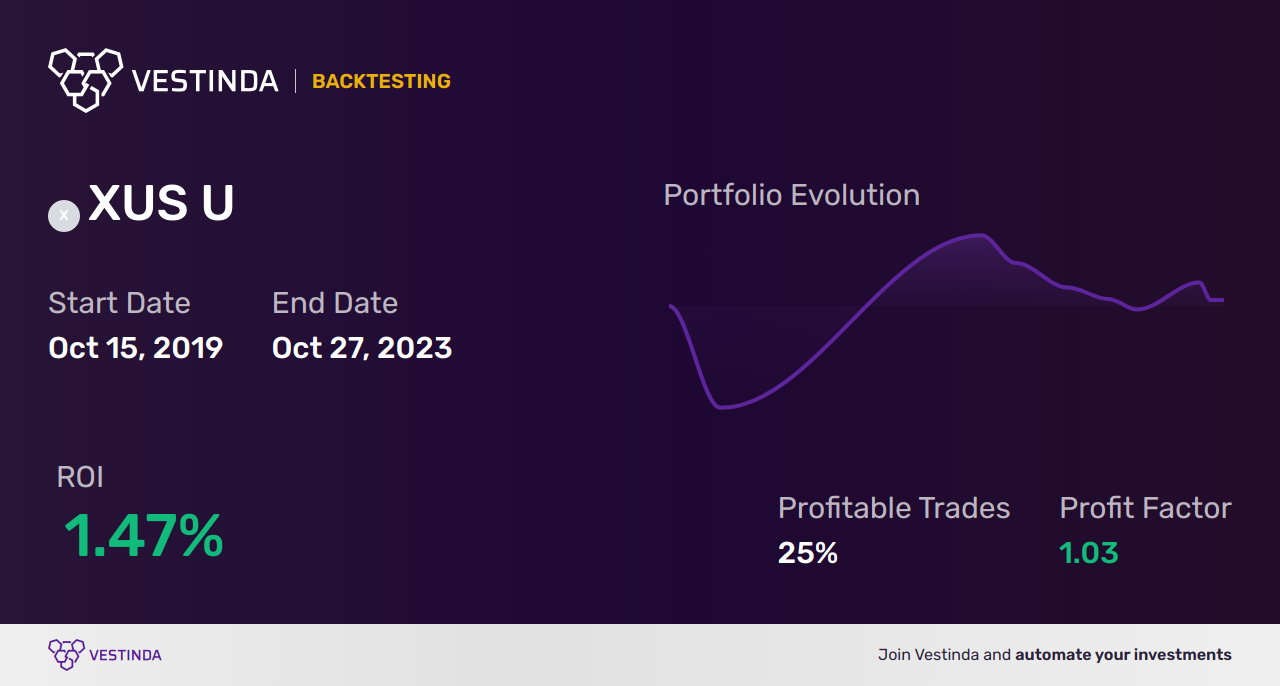 Quantitative Trading Strategy: Follow the trend on XUS U
The backtesting results for a trading strategy conducted from October 27, 2022 to October 27, 2023 reveal promising statistics. The strategy achieved a profit factor of 2.95, indicating that for every dollar risked, the strategy generated $2.95 in profit. The annualized return on investment (ROI) stands at 7.54%, which suggests a steady and consistent growth over the evaluated period. On average, the holding time for trades was around 7 weeks, highlighting a longer-term outlook. With an average of 0.09 trades per week, the strategy exhibits a conservative approach. Out of a total of 5 closed trades, 40% were profitable, showcasing potential for improvement in the win rate. Overall, these results provide a solid foundation for further refinement and implementation of the trading strategy.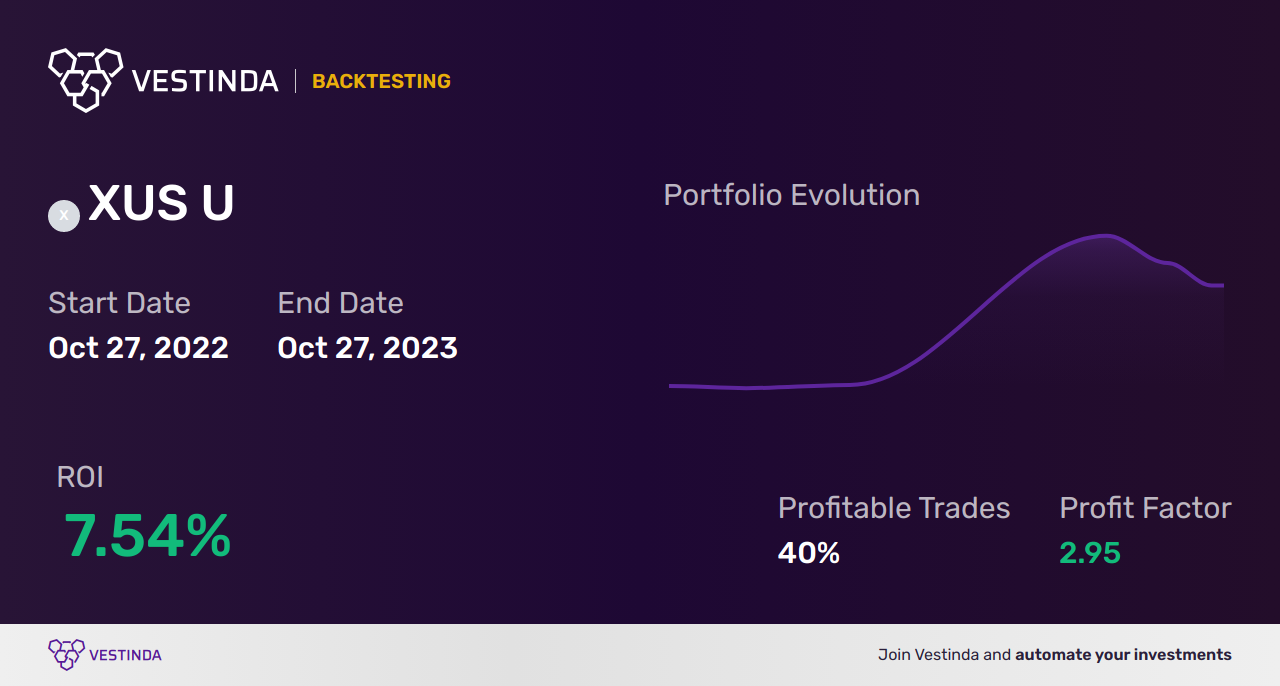 Automating XUS U Trading: The Power of Quant
Quantitative trading is a strategy that utilizes mathematical models and statistical analysis to make trading decisions. In the context of XUS U trading, it enables investors to automate their trading process. By using quantitative tools and algorithms, investors can analyze historical data, identify patterns, and develop trading strategies that can be executed automatically. This approach takes emotions out of the equation and allows for systematic decision-making based on predetermined rules. Quantitative trading can help traders take advantage of market opportunities quickly and efficiently. It offers the potential to optimize entry and exit points, manage risk, and increase consistency in trading. By employing quantitative trading techniques for XUS U, investors can enhance their trading process, improve efficiency, and potentially achieve better investment results.
Unveiling XUS U: The S&P 500 Index ETF
XUS U, or the iShares Core S&P 500 Index ETF, is a unique asset that provides investors with exposure to the performance of the S&P 500 Index. This ETF trades on major stock exchanges and aims to replicate the index's returns. It holds a diversified portfolio of stocks from large U.S. companies across various sectors. XUS U allows investors to participate in the potential growth of the U.S. stock market without needing to purchase individual stocks. As an ETF, it offers the advantage of liquidity and transparency. Investors can easily buy or sell shares throughout the trading day, and the fund's holdings are disclosed on a regular basis, ensuring transparency. XUS U is a popular choice for those seeking broad-based equity exposure, diversification, and a cost-effective way to invest in the U.S. stock market.
Tailoring Trading Success: Customized Strategies
Developing Customized Trading Strategies
Developing customized trading strategies can be a powerful approach for achieving success in the market. By tailoring strategies to your specific goals and risk tolerance, you can increase your chances of making profitable trades. The first step in creating a customized strategy is to clearly define your objectives and understand your preferred trading style. Are you looking for short-term gains or long-term investments? Are you comfortable with high-risk trades or do you prefer a more conservative approach? Once you have a clear vision, you can start identifying the key factors that influence your asset of choice, such as XUS U. Consider conducting thorough research and analysis to uncover patterns, trends, and indicators that can inform your strategy. It's important to stay up to date with market news and events that may impact the asset's performance. From there, you can evaluate different trading techniques and indicators, such as moving averages, support and resistance levels, or momentum indicators, to shape your strategy. Remember to test your strategy using historical data or paper trading to assess its effectiveness. Adjustments may be necessary as market conditions change. Developing customized trading strategies allows you to take a proactive approach and adapt to the ever-changing market landscape. It empowers you to make informed decisions based on your unique objectives and risk appetite.
Increasing Efficiency: Auto Strategies for XUS U
Automated Trading Strategies for XUS U
Automated trading strategies can be a game-changer when trading XUS U. These strategies utilize cutting-edge technology to execute trades automatically based on predefined rules and criteria. By leveraging algorithms and quantitative analysis, investors can take advantage of market opportunities with speed and precision. Automated trading eliminates human emotion and bias, ensuring consistent and disciplined execution. Investors can set parameters for entry and exit points, risk management, and position sizing. This approach allows for efficient and round-the-clock trading, even when the investor is not actively monitoring the market. To develop an automated trading strategy for XUS U, it's essential to define clear objectives and establish a robust set of rules. This includes selecting the appropriate indicators, such as moving averages or trend lines, and determining the conditions for trade execution. Backtesting and optimization with historical data can help refine the strategy's performance. It's crucial to monitor and evaluate the strategy's effectiveness regularly, adapting and making improvements when needed. Automated trading strategies provide a systematic and efficient way to trade XUS U, saving time and potentially increasing trading success. However, it's vital to continually review and adjust the strategy as market conditions evolve.
Why Vestinda
Track your
Crypto Portfolio

Copy Crypto trading
strategies

Build trading strategies
with no code
Backtest trading strategies
on Crypto, Forex, Stocks, etc.

Demo Trading
Risk-free Paper Trading

Automate trading strategies
with Live Trading
Frequently Asked Questions
What's the most popular trading strategy?
The most popular trading strategy is a systematic approach to investing that aims to buy low and sell high. This strategy involves analyzing various indicators, charts, and patterns to make informed trading decisions. Traders often use technical analysis tools, such as moving averages and relative strength index (RSI), to identify trends and potential entry/exit points. This strategy is popular because it offers a structured approach to trading and helps remove emotions from decision-making. Many traders also combine fundamental analysis, considering factors like earnings, news, and economic indicators, to enhance their trading strategy.
What is the best time to trade XUS U?
The best time to trade XUS U is during the hours when the U.S. stock market is open. This is typically from 9:30 am to 4:00 pm Eastern Time. During these hours, there tends to be higher trading volume and increased liquidity, making it easier to buy or sell XUS U shares at desired prices. Traders often prefer to trade when there is higher market activity, as it can lead to better price opportunities and narrower bid-ask spreads. Outside of market hours, XUS U may still be traded, but with lower liquidity, which can impact execution quality.
Conclusion
In conclusion, trading XUS U can be approached with a variety of strategies to suit different trading styles and objectives. Whether utilizing quantitative approaches, automated trading systems, or developing customized strategies, it's important to understand the unique characteristics of XUS U and the factors that influence its price. By staying informed, conducting thorough research, and implementing risk management techniques, investors can navigate the market more effectively. Trading XUS U requires continuous evaluation and adaptation to changing market conditions. With the right strategies and a disciplined approach, investors can potentially enhance their trading outcomes and achieve their financial goals. Happy trading!