Start earning fast & easy
Create
account

Build trading strategies
with no code

Validate
& Backtest

Automate
& start earning
Algorithmic Strategies & Backtesting results for XAU
Here are some XAU trading strategies along with their past performance. You can validate these strategies (and many more) for free on Vestinda across thousands of assets and many years of historical data.
Algorithmic Trading Strategy: Lock and keep profits on XAU
Based on the backtesting results from October 25, 2016, to October 25, 2023, the trading strategy demonstrated a profit factor of 1.54. This indicates that for every dollar risked, the strategy generated a profit of $1.54. The annualized return on investment (ROI) stood at 2.03%, showcasing a modest but positive growth rate over the period. The average holding time for trades was approximately 10 weeks and 2 days, implying a longer-term investment approach. With an average of 0.04 trades per week, the trading frequency was relatively low. Despite the limited number of trades, the strategy recorded a 44.44% winning trades percentage, resulting in a return on investment of 14.52% and closing a total of 18 trades.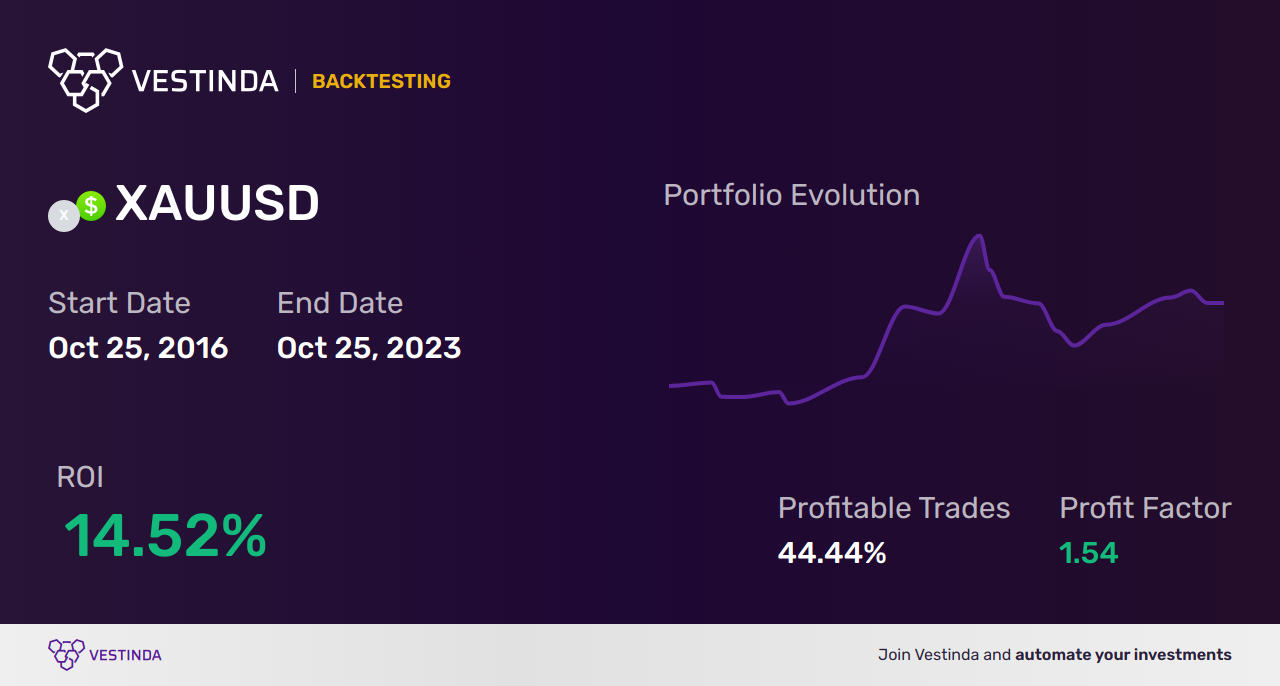 Algorithmic Trading Strategy: Strategy for the long term portfolio on XAU
The backtesting results for the trading strategy conducted from October 25, 2016 to October 25, 2023 reveal some interesting statistics. The profit factor, an indicator of profitability, stands at 1.54, suggesting a favorable outcome. The strategy exhibits an annualized return on investment of 2.03%, showcasing steady growth. On average, the holding period for trades is around 10 weeks and 2 days, indicating a moderately long-term approach. The strategy generates an average of 0.04 trades per week, indicating a low trade frequency. With 18 closed trades, the return on investment stands at 14.52%, signifying successful trading. The winning trades percentage measures at 44.44%, indicating a need for improvement in capturing profitable opportunities.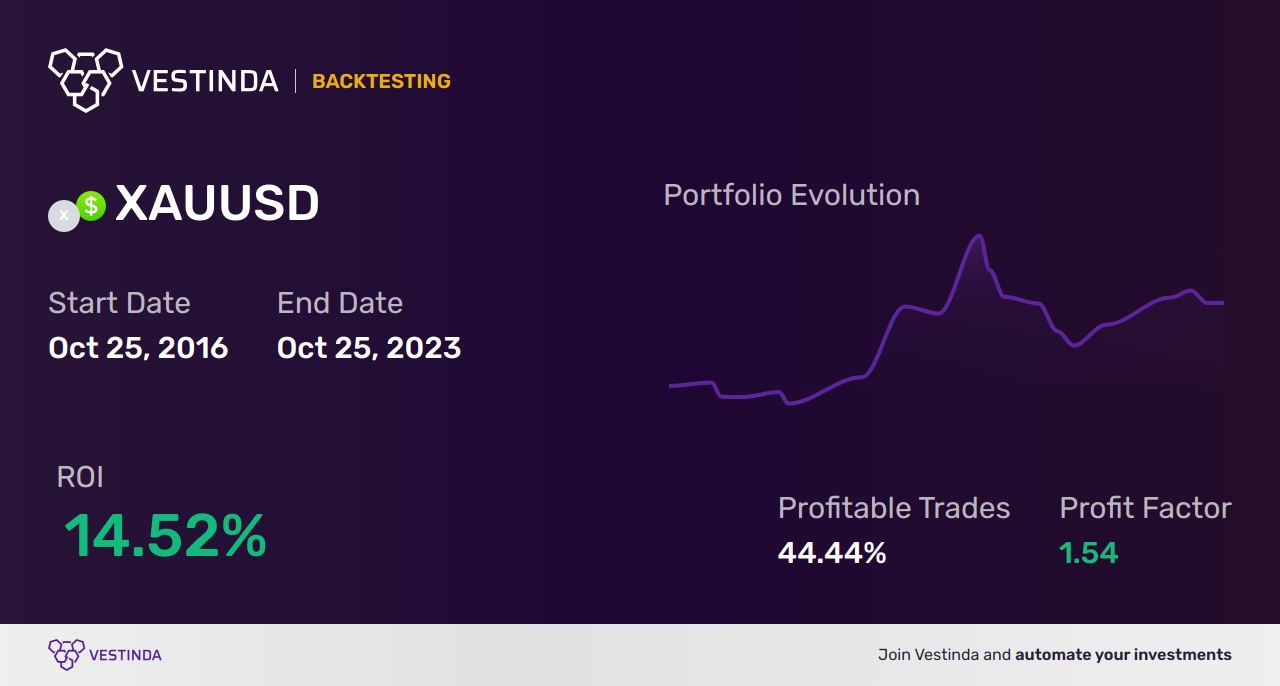 Algorithmic Trading Strategy: Medium Term Investment on XAU
During the period from September 25, 2023, to October 25, 2023, backtesting results for a trading strategy indicated promising statistics. The profit factor stood at 1.67, indicating that for every dollar invested, $1.67 was gained. The annualized return on investment (ROI) reached 7.17%, demonstrating a favorable growth rate for the strategy. On average, a holding period of 1 day was observed for the trades, showcasing the strategy's agility. With an average of 0.7 trades per week, there were a total of 3 closed trades during this time frame. The return on investment stood at 0.59%, while 66.67% of the trades were winners, indicating a significant success rate.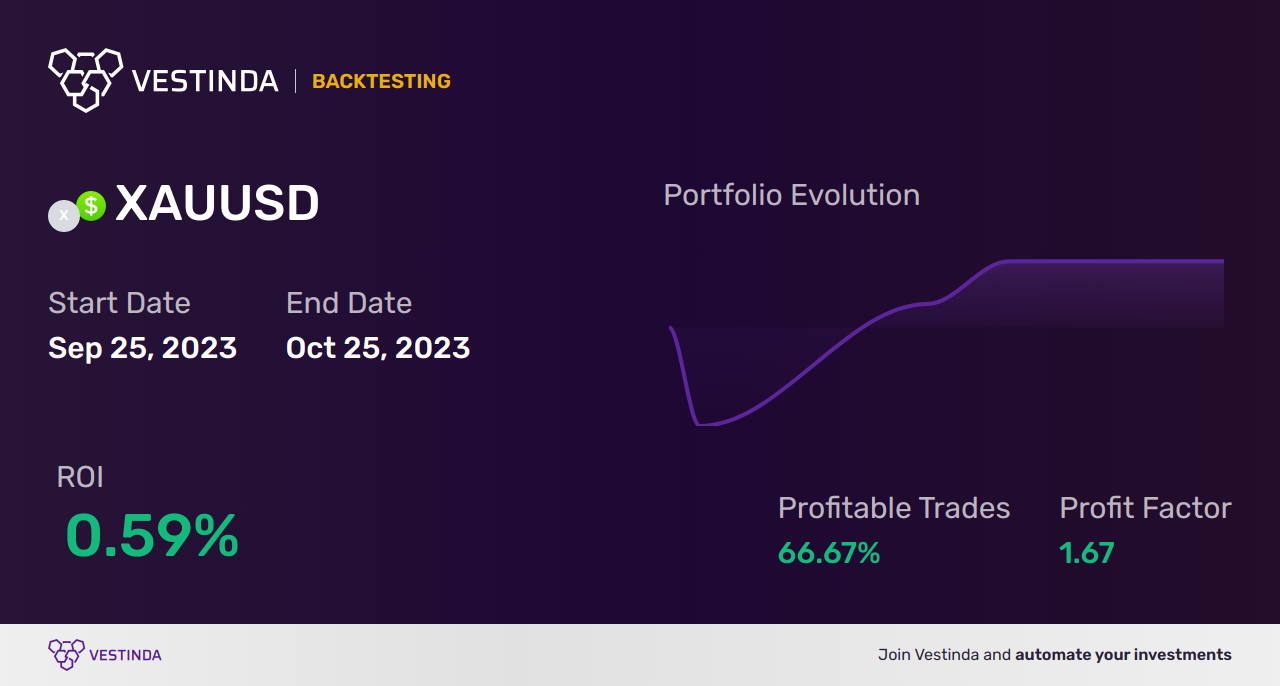 Automated Strategies for XAU Trading
Algorithmic trading can greatly assist traders in automating their market strategies, including those specifically related to XAU trading. By utilizing algorithms, traders can define specific criteria and rules to automatically execute trades based on market conditions, price movements, and other factors. Algorithmic trading takes advantage of speed and precision, enabling traders to enter and exit positions quickly, potentially minimizing risks and maximizing profits. Through automated analysis and decision-making processes, algorithmic trading eliminates emotional biases and human errors often associated with manual trading. Traders can benefit from continuous monitoring of the XAU market and execute trades automatically, even when they are not actively monitoring the market. Overall, algorithmic trading provides traders with a powerful tool to implement efficient and systematic trading strategies for XAU and other assets.
The Value of XAU: Exploring Gold
XAU, also known as gold, is a valuable and widely traded asset in the financial markets. It holds a special place in the investment world due to its historical significance and universal appeal. XAU is considered a safe-haven asset, meaning that during times of economic uncertainty or market volatility, investors often turn to gold as a store of value. Its stability and long-term appreciation potential make it a popular choice for diversifying investment portfolios. XAU's value is influenced by various factors such as global economic conditions, inflation rates, geopolitical tensions, and investor sentiment. It is traded on the FOREX market, allowing traders to speculate on its price movements. Understanding the dynamics of XAU and its relationship with these factors is crucial for developing effective trading strategies. By closely monitoring market indicators and employing technical analysis, traders can identify potential entry and exit points to make informed decisions when trading XAU.
Mastering XAU Day Trading: Strategies for Success
Day Trading Strategies for XAU
When it comes to day trading XAU (gold), having a solid strategy in place is crucial. Here are a few strategies that can help you navigate the volatile nature of gold markets.
First, trend trading involves identifying and following the prevailing trend in XAU's price movement. By focusing on the direction of the trend, you can enter trades in alignment with the market momentum.
Second, breakouts can be profitable. This strategy involves monitoring key levels of support and resistance and entering trades when the price breaks out of these levels. Breakouts can indicate potential shifts in market sentiment and offer profitable trading opportunities.
Another strategy is range trading. This involves identifying periods of consolidation in XAU's price action and trading within the established range. Range traders aim to buy near support levels and sell near resistance levels, taking advantage of predictable price patterns.
Lastly, scalping can be used for quick profits. Scalpers aim to take advantage of small price movements in a short period, usually within minutes or even seconds. This strategy requires quick decision-making, strict risk management, and constant monitoring of XAU's price fluctuations.
Remember, day trading is fast-paced and requires discipline and risk management. It's important to develop a plan, set realistic profit targets, and adhere to strict stop-loss levels to protect your capital. By employing these strategies and adapting them to the current market conditions, you can enhance your chances of success when day trading XAU.
Safeguarding Your XAU Investments: Effective Risk Management
Risk Management for XAU
When trading XAU (gold), effective risk management is essential for preserving your capital and ensuring long-term success. Here are some key strategies to consider:
First and foremost, set a stop-loss order for every trade. By defining the maximum amount of loss you are willing to tolerate, you can protect yourself from large, unexpected losses. Stick to your predetermined stop-loss levels and avoid emotional decision-making.
Next, consider position sizing. Determine the appropriate amount of capital to allocate to each trade based on your risk tolerance and overall portfolio. Avoid putting all your eggs in one basket and diversify your trades across different assets.
In addition to stop-loss orders, consider implementing trailing stops. This technique adjusts the stop-loss level as the price of XAU moves in your favor, allowing you to lock in profits while still giving the trade room to breathe.
Regularly review and analyze your trades. Assess your performance, identify patterns, and learn from both your winning and losing trades. Develop and refine your strategies based on this analysis to improve your risk-adjusted returns.
Lastly, stay informed about market news and events that may impact XAU's price. Be aware of economic reports, geopolitical developments, and central bank decisions. This information can help you make informed trading decisions and manage risk effectively.
Remember, risk management is about preserving capital and minimizing losses. By applying these strategies and maintaining discipline in your trading approach, you can mitigate risks and increase your chances of success when trading XAU.
Trusted by Traders Worldwide
Frequently Asked Questions
Can I start trading under $100?
Yes, you can start trading XAU under $100. Trading XAU, also known as trading gold, can be done with a small amount of money. Many brokers offer the option to trade gold using leverage, which allows you to control larger positions with a smaller amount of capital. However, keep in mind that trading gold involves risks and it is important to manage your risk effectively. It is recommended to start with a demo account first and gain sufficient knowledge and experience before trading with real money.
Is algo trading easy?
Algo trading, also known as algorithmic trading, can be challenging for beginners. It involves using automated systems and computer algorithms to execute trades in the financial markets. While algo trading has its advantages, such as speed and efficiency, it requires a solid understanding of programming and market strategies. Developing effective algorithms and managing risk can be complex. It is important to have a strong grasp of technical and fundamental analysis, as well as backtesting and optimization techniques. Beginners are advised to start with simple strategies and gradually build their skills and knowledge in algo trading.
Is algorithmic trading profitable?
Algorithmic trading can be profitable, but it is not a guaranteed source of income. Success in algorithmic trading depends on various factors, including the effectiveness of the trading strategy, market conditions, and risk management skills. Profitability is determined by the performance of the algorithm over time. It is important to backtest and optimize your algorithms, monitor their performance, and make necessary adjustments. It is also crucial to stay updated with market trends and adapt your strategies accordingly. Profitability in algorithmic trading requires continuous learning, testing, and improvement to stay ahead in the ever-changing markets.
Which trading strategy is best for beginners?
For beginners in trading, it is advisable to start with a simple and straightforward strategy. A popular strategy for beginners is trend following, where you identify and follow the direction of the market trend. This involves buying when prices are rising and selling when prices are falling. Another beginner-friendly strategy is support and resistance, where you identify key levels where price tends to bounce or reverse. This can help in making trading decisions. It is important for beginners to focus on understanding and implementing these basic strategies before exploring more complex trading techniques.
What are the best automated trading strategies for XAU?
There are several automated trading strategies that can be effective for XAU. One popular strategy is mean reversion, which involves identifying periods of overbought or oversold conditions and expecting price to revert back to its average. Another strategy is breakout trading, where you aim to capture price movements when XAU breaks out of a significant support or resistance level. Furthermore, trend following strategies can be used to automate trading decisions based on the direction of the gold market trend. It's important to backtest and optimize these strategies to ensure their effectiveness in trading XAU.
Conclusion
In conclusion, trading XAU can be an exciting endeavor for traders looking to capitalize on the opportunities in the gold market. By understanding the unique characteristics of XAU, implementing effective trading strategies, leveraging algorithmic trading, and managing risks, traders can navigate the market with confidence. Remember to stay informed about market trends, continuously analyze your trades, and adapt your strategies to changing market conditions. With a disciplined and systematic approach, you can unlock the potential for profitable trading in XAU. So, take the time to develop your skills, practice, and trade responsibly to achieve success in the world of XAU trading.