Automate & Backtest ETC strategies on...
Algorithmic Strategies and Backtesting results for ETC
Here are some ETC trading strategies along with their past performance. You can validate these strategies (and many more) for free on Vestinda across thousands of assets and many years of historical data.
Algorithmic Trading Strategy: Play the breakout on ETC
Based on the backtesting results for the trading strategy conducted from March 15, 2020, to March 15, 2021, several noteworthy statistics emerged. The profit factor was calculated to be 2.99, indicating that for every unit of risk taken, a profit of nearly three units was generated. The annualized return on investment (ROI) stood at 19.51%, implying a solid performance over the tested period. On average, each trade was held for approximately 3 weeks and 6 days, demonstrating a considerable holding period. The strategy recorded an average of 0.07 trades per week, denoting a relatively low trading frequency. The number of closed trades was reported at 4, suggesting a focused approach. Interestingly, only 25% of the trades resulted in a win.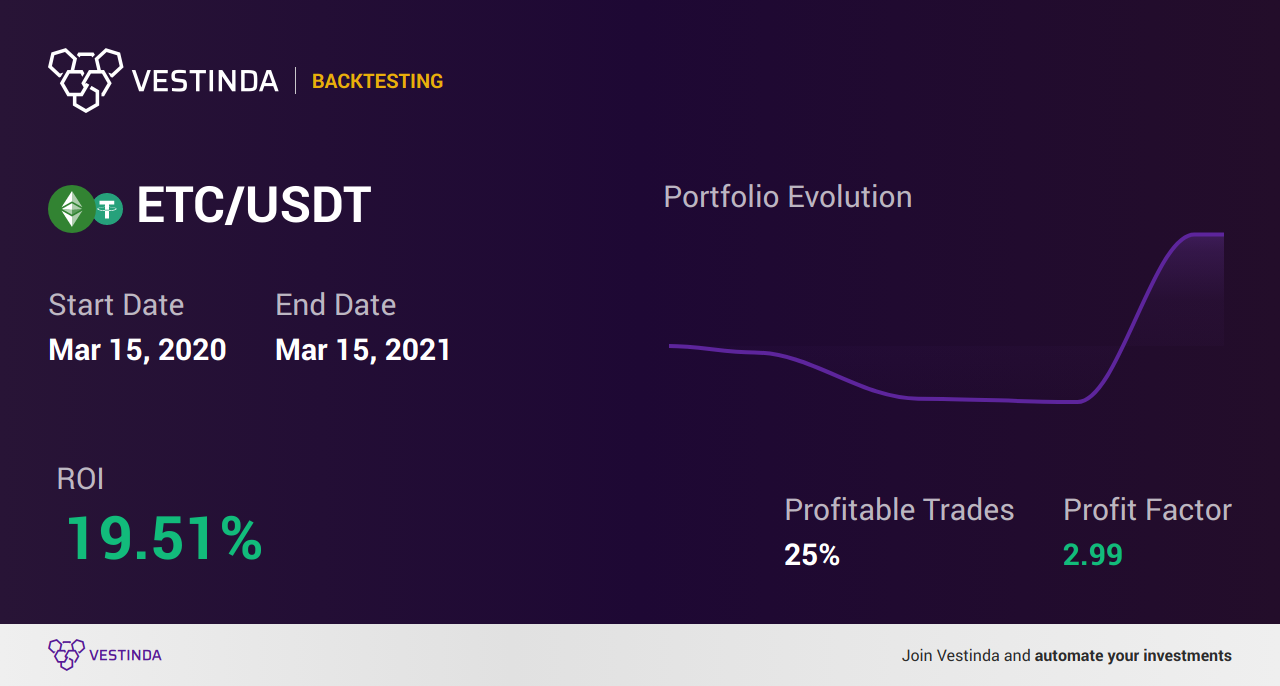 Algorithmic Trading Strategy: Long Term Investment on ETC
The backtesting results statistics for the trading strategy from March 15, 2020, to March 15, 2021, indicate promising performance. The profit factor stands at 1.26, suggesting that for each unit risked, a profit of 1.26 units was achieved. The annualized Return on Investment (ROI) amounts to 4.89%, reflecting a steady growth of the investment over the specified period. On average, trades were held for approximately 5 days and 16 hours, indicating a relatively short-term approach. The average number of trades per week is 0.05, implying a cautious and selective trading strategy. Out of the three closed trades, 66.67% were profitable, demonstrating a decent success rate.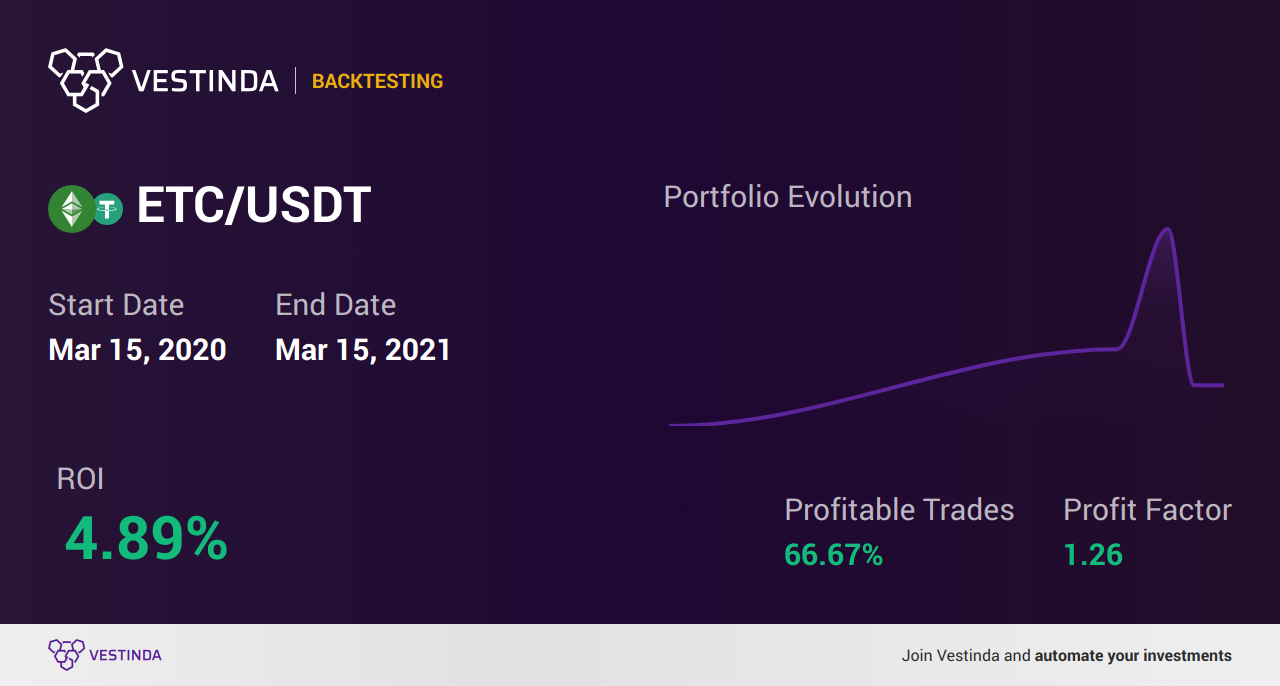 Algorithmic Trading Strategy: Algos beat the market on ETC
The backtesting results for the trading strategy from March 15, 2020, to March 15, 2021, reveal some promising statistics. The profit factor stands at 1.35, indicating that for every unit of risk taken, the strategy generated 1.35 units of profit. The annualized ROI is an impressive 45.87%, showcasing the strategy's ability to yield substantial returns over a year. On average, the holding time for trades was 2 days and 17 hours, indicating a relatively short-term approach. With an average of 0.99 trades per week and a total of 52 closed trades, the strategy demonstrated consistent activity. Furthermore, 65.38% of the trades resulted in wins, underlining the strategy's favorable success rate.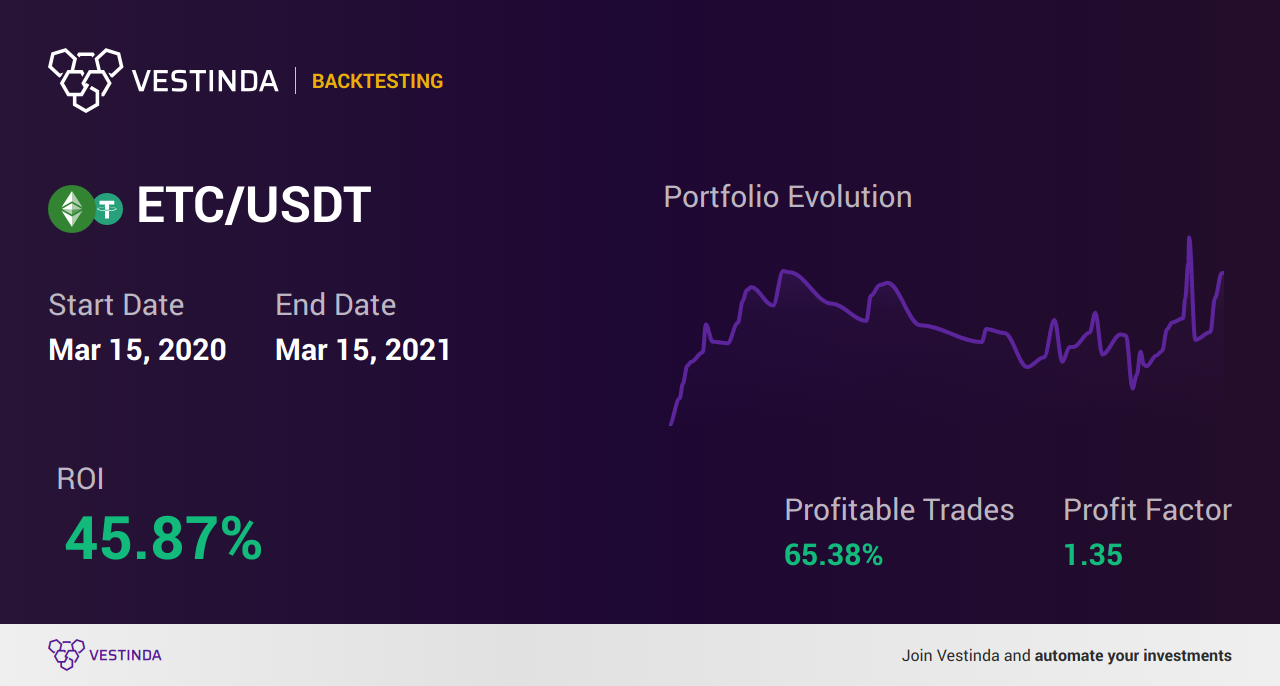 Understanding ETC: A Unique Cryptocurrency
ETC, or Ethereum Classic, is a unique cryptocurrency that emerged as a result of a contentious hard fork in the Ethereum blockchain. It retains the original principles of Ethereum, emphasizing decentralization, security, and immutability. ETC operates on a Proof of Work consensus mechanism, similar to Bitcoin, where miners validate transactions. With a limited supply of 210 million coins, ETC offers potential for long-term value. Its decentralized nature and strong community support make it an intriguing asset for traders looking to explore the dynamic world of cryptocurrencies.
Securing ETC Trades with Stop Loss
Using Stop Loss for Trading ETC
When engaging in trading ETC, it is crucial to have a risk management strategy in place. One effective tool to limit potential losses is the use of a stop loss order. A stop loss is an order placed with a broker to sell a specific amount of ETC at a predetermined price. By setting a stop loss, you can protect your investment by automatically selling ETC if the price drops below a certain level.
The benefits of utilizing a stop loss order are twofold. Firstly, it helps to minimize losses by allowing you to exit a trade before the price falls too far. This is particularly important in the highly volatile cryptocurrency market. Secondly, it provides peace of mind and removes the emotional aspect of trading. Following a predetermined plan reduces the temptation to make impulsive decisions based on short-term fluctuations.
To effectively use a stop loss, it is essential to set it at an appropriate level. This can be based on technical analysis, such as identifying key support levels or using indicators to determine potential reversals. Additionally, it is important to consider your risk tolerance and overall trading strategy when determining the stop loss level.
It's important to note that while a stop loss can help limit losses, it does not guarantee protection against slippage or sudden market fluctuations. Therefore, it is essential to regularly monitor and adjust your stop loss orders as needed to ensure they align with the current market conditions.
By incorporating stop loss orders into your ETC trading strategy, you can manage risk effectively and protect your investment capital in this dynamic cryptocurrency market.
Crafting Tailored ETC Trading Approaches
Developing Customized Strategies
When it comes to trading ETC, developing customized strategies tailored to your goals and risk appetite can greatly enhance your chances of success. While there are various popular trading strategies, it is important to adapt them to your own preferences and circumstances.
One key aspect of developing a customized strategy is conducting thorough research and analysis. This includes studying historical price data, monitoring market trends, and staying updated with relevant news and events that may impact ETC's price movements.
Technical analysis tools can also be helpful in designing your strategy. Indicators such as moving averages, trend lines, and oscillators can provide insights into price patterns and potential buy or sell signals. However, it is crucial to understand that technical analysis is not foolproof and should be used in conjunction with other information.
Furthermore, risk management plays a vital role in developing a customized strategy. Determine the amount of capital you are willing to risk per trade and set appropriate stop loss levels to protect against significant losses.
Finally, it is essential to continuously evaluate and adjust your strategy based on market conditions and your own performance. Keep a trading journal to track your trades and learn from both successes and failures.
Remember, developing a customized strategy takes time and practice. It is crucial to remain disciplined and patient, making informed decisions based on your analysis and risk profile. By developing and refining your own unique strategy, you can navigate the ETC market with confidence.
Start earning fast & easy
Create
account

Build trading strategies
with no code

Validate
& Backtest

Automate
& start earning
Frequently Asked Questions
How to make money from blockchain smart contracts?
To make money from blockchain smart contracts, you can participate in various ways. First, create your own smart contracts and offer them to users, charging a fee for each transaction made on your platform. Alternatively, you can invest in existing smart contracts and earn returns based on their performance. Also, consider providing consulting services to help businesses implement smart contracts. Additionally, you can develop decentralized applications (DApps) that run on smart contracts and generate revenue through in-app purchases or advertisements. Finally, explore opportunities in decentralized finance (DeFi) by lending or borrowing cryptocurrencies through smart contracts.
What is the lack of crypto trading strategy?
The lack of a crypto trading strategy refers to not having a well-defined plan or approach when buying or selling cryptocurrencies. Without a strategy, traders may make impulsive decisions based on emotions or market hype, leading to potential losses. A lack of strategy also means not setting clear goals, not performing proper research, and not managing risks effectively. It is important to have a strategy that outlines entry and exit points, risk tolerance, and capital allocation, to make informed trading decisions. Developing and following a strategy can help traders improve their chances of success in the volatile crypto market.
What is the best time to trade ETC?
The best time to trade ETC (Ethereum Classic) depends on various factors. Firstly, monitoring the market and identifying trends can help determine favorable trading times. It is often recommended to trade during periods of higher trading volume and volatility for better opportunities. Additionally, keeping an eye on news and events that may impact ETC's price can guide trading decisions. However, it's essential to conduct thorough research and analysis before making any trades. Remember that the cryptocurrency market is highly unpredictable, so it's advisable to consult with experienced traders or use technical analysis tools for more accurate timing.
Is ETC more volatile and better for day trading than Bitcoin?
ETC (Ethereum Classic) is generally considered more volatile than Bitcoin. Higher volatility means that ETC's price can fluctuate rapidly and unpredictably compared to Bitcoin. This volatility can present both opportunities and risks for day traders. While ETC's price movements may offer potential for higher short-term gains, they also come with increased risks. Bitcoin, on the other hand, is often considered more stable and less volatile. Ultimately, the choice between ETC and Bitcoin for day trading depends on an individual trader's risk tolerance, market analysis, and trading strategy. It is crucial to conduct thorough research and assess the market conditions before making any trading decisions.
What is position trading in cryptocurrency?
Position trading in cryptocurrency refers to a long-term trading strategy where traders hold their positions for an extended period, often ranging from weeks to months. Unlike day trading, position traders focus on capturing larger price movements and trend reversals instead of short-term price fluctuations. This approach involves conducting thorough fundamental and technical analysis to identify cryptocurrencies with the potential for significant price appreciation over time. Position traders aim to maximize profits by staying invested in their chosen cryptocurrencies for an extended duration while actively managing risks. Patience and a long-term perspective are key in position trading.
Conclusion
In conclusion, trading ETC can be a rewarding endeavor when equipped with effective strategies. By understanding ETC's unique characteristics, utilizing stop loss orders for risk management, and developing customized trading approaches, you can navigate the market with confidence. It is essential to consider factors that influence ETC's price and stay informed about market trends. Continuously evaluate and adjust your strategies based on performance and market conditions. Remember, successful trading requires discipline, patience, and ongoing learning. With these tools and knowledge, you can enhance your chances of success in trading ETC and capitalize on the opportunities presented by the crypto market.