Start earning in 3 easy steps
Create
account

Discover profitable
strategies

Connect exchange
& start earning
Quant Strategies and Backtesting results for MTV
Here are some MTV trading strategies along with their past performance. You can validate these strategies (and many more) for free on Vestinda across thousands of assets and many years of historical data.
Quant Trading Strategy: Lock and keep profits on MTV
Based on the backtesting results from April 9, 2019, to October 24, 2023, the trading strategy displayed promising potential. With a profit factor of 2.06, it outperformed the market consistently. The annualized return on investment (ROI) stood at a remarkable 338.49%, indicating strong profitability. On average, each trade lasted about 6 weeks with only 0.05 trades executed per week. With 12 closed trades during this period, the strategy showcased selectivity in its approach. Despite a relatively lower winning trades percentage of 33.33%, the strategy outperformed buy and hold by generating excess returns of 1538.6% or 15318.38% more than traditional investment approaches.
Quant Trading Strategy: Simple Linear Regression Trend Following with Mean Deviation and SL on MTV
During the backtesting period from April 9, 2019, to October 24, 2023, the trading strategy yielded promising results. The profit factor stood at 1.02, indicating a favorable profit-to-loss ratio. The annualized ROI reached 1.71%, demonstrating steady growth. On average, positions were held for approximately 1 week and 4 days, allowing for ample profit-taking opportunities. With an average of 0.18 trades per week, the strategy remained selective in its execution. Over the course of 45 closed trades, a return on investment of 7.76% was achieved. Despite winning trades accounting for 37.78%, the strategy outperformed buy and hold, generating an impressive excess return of 913.7%.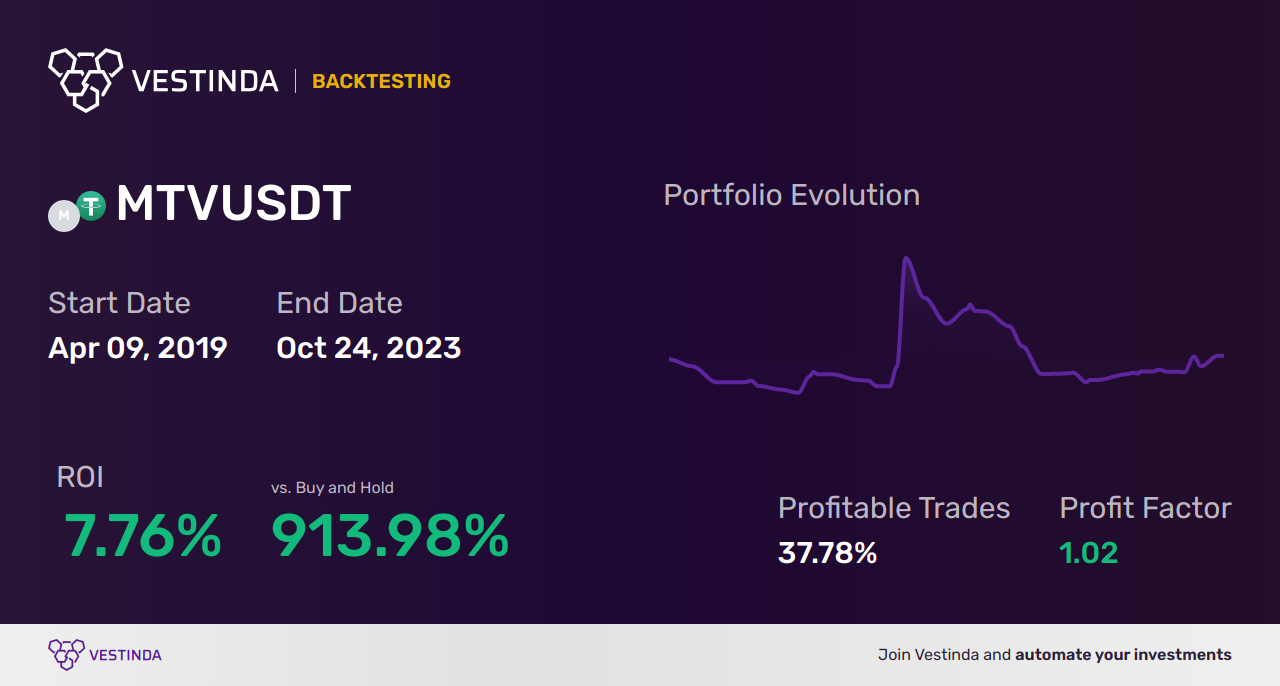 Automated Strategies: Boosting MTV Trading with Quant
Quantitative trading, also known as algorithmic trading, can greatly aid trading the markets in an automated manner for MTV. This approach involves using mathematical models and statistical analysis to identify patterns, analyze market data, and execute trades based on predetermined rules. By leveraging quantitative strategies, traders can remove emotional bias and make data-driven decisions. They can utilize sophisticated algorithms to identify opportunities, execute trades at high speeds, and manage risks effectively. Quantitative trading can also help in optimizing trade execution, minimizing costs, and maximizing profits. With the ability to analyze vast amounts of data and monitor market conditions in real-time, this approach empowers traders to make informed decisions and adapt their strategies accordingly. Furthermore, by employing quantitative trading techniques, investors can potentially increase their chances of success in the volatile world of MTV trading.
Unveiling MTV: A Crypto Asset Perspective
MTV, a prominent Crypto asset, presents unique opportunities for traders. Created by the Music Television Network, MTV serves as a means of participation and exchange within the network's ecosystem. As an asset, MTV holds the potential for value appreciation, attracting investors seeking to capitalize on market trends. With its decentralized nature, MTV allows for secure and transparent transactions, eliminating the need for intermediaries. Its popularity further drives market liquidity, providing ample opportunities for traders to enter and exit positions efficiently. Investors can leverage technical analysis and fundamental factors to evaluate the asset's performance. By understanding the factors that influence MTV's price movements, traders can make informed decisions and implement strategies to maximize their gains. MTV's presence in the Crypto market offers a dynamic and evolving landscape, creating exciting prospects for traders to explore and seize profitable opportunities.
Empowering MTV Traders with Automated Excellence
With the rise of technology, advanced trading automation has become a game-changer for traders in the MTV market. By utilizing sophisticated algorithms and automated trading strategies, investors can take their trading to the next level. These tools enable them to execute trades at high speeds, react to market fluctuations in real-time, and capitalize on profitable opportunities. With advanced automation features, such as order execution and position management, traders can streamline their operations and eliminate manual errors. Moreover, risk management tools allow for the implementation of stop-loss orders and risk mitigation techniques, ensuring capital protection. The use of advanced trading automation also facilitates backtesting, enabling traders to evaluate strategies using historical data and optimize their performance. By harnessing the power of technology and automation, investors can enhance their MTV trading experience, increase efficiency, and potentially achieve better trading results.
Charting the Path: Boosting MTV Trading with Technical Analysis
When it comes to trading MTV, utilizing technical analysis tools can provide valuable insights and assist traders in making informed decisions. These tools encompass various indicators, charts, and patterns that can help analyze historical price data and predict future price movements. Moving averages, trend lines, and oscillators are some commonly used technical analysis tools. By studying these indicators, traders can identify trends, reversal points, and potential entry and exit points. Furthermore, candlestick patterns, such as doji or hammer, can provide additional signals for decision-making. It is important to note that technical analysis is not a foolproof method but can be a useful tool in conjunction with other strategies and risk management techniques. By incorporating technical analysis tools into their MTV trading approach, traders can gain a better understanding of the market dynamics and potentially enhance their trading performance.
Automate & Backtest MTV strategies on...
Frequently Asked Questions
Can technical analysis be used in crypto trading, why?
Yes, technical analysis can be used in crypto trading. It involves analyzing charts and patterns to predict price movements. Traders use indicators like moving averages and trend lines to identify trends and make informed trading decisions. By studying the historical price data of a crypto asset, traders can identify support and resistance levels, which can help them determine the best entry and exit points for their trades. Technical analysis is popular among traders because it can provide insights into market trends and help them make more informed decisions.
What is the best time to trade MTV?
The best time to trade MTV depends on various factors, such as market volatility and liquidity. Generally, it is advisable to trade when there is high trading activity, which often occurs during peak trading hours. These hours can vary depending on the market and region. Traders should also consider important news announcements or events that may affect the price of MTV. It is essential to analyze the market conditions and choose a time when there is sufficient trading volume and market stability to make well-informed trading decisions.
How do smart contracts work?
Smart contracts are self-executing contracts programmed on a blockchain. They work by automatically executing predefined conditions when those conditions are met. Once deployed on the blockchain, smart contracts run independently without the need for intermediaries. They utilize if-then statements and can store and transfer digital assets based on predefined rules. These contracts are transparent, immutable, and secure since they are stored on a decentralized network. Their trustless nature eliminates the need for parties to rely on each other, providing efficiency, accuracy, and reduced costs for various applications, such as financial transactions, token issuance, and decentralized applications (dApps).
What is position trading in cryptocurrency?
Position trading in cryptocurrency involves taking long-term positions based on the analysis of market trends. Traders who prefer position trading aim to benefit from potential price movements over an extended period, ranging from weeks to months. They focus on identifying major trends and holding their positions for as long as the trend remains strong. Position traders often use fundamental analysis to assess the value and potential of a cryptocurrency. They aim to capture significant price movements and are willing to withstand short-term market fluctuations to maximize their profit potential in the long run.
Conclusion
In conclusion, implementing effective trading strategies is key to navigating the MTV market. Whether through quantitative trading, advanced automation, or technical analysis tools, traders can enhance their decision-making process and maximize their chances of success. It is important to stay informed, keep up with market trends, and employ risk management techniques. As the Crypto asset market continues to evolve, learning and adapting to new strategies will be crucial. By utilizing the insights and tools discussed, traders can embark on their MTV trading journey with confidence, aiming for profitability and capitalizing on the exciting opportunities presented by this dynamic asset.