Why Vestinda
Track your
Crypto Portfolio

Copy Crypto trading
strategies

Build trading strategies
with no code
Backtest trading strategies
on Crypto, Forex, Stocks, etc.

Demo Trading
Risk-free Paper Trading

Automate trading strategies
with Live Trading
Quantitative Strategies and Backtesting results for HOT.U
Here are some HOT.U trading strategies along with their past performance. You can validate these strategies (and many more) for free on Vestinda across thousands of assets and many years of historical data.
Quantitative Trading Strategy: Fisher Transform Oscillations with Ichimoku Conversion and Shadows on HOT.U
The backtesting results for the trading strategy, conducted from October 26, 2022, to October 26, 2023, reveal an annualized return on investment of -2.34%. The average holding time for trades was approximately 2 weeks and 2 days, noting a low frequency of trades with an average of 0.01 trades per week. Only one trade was closed during the observed period. Unfortunately, no winning trades were achieved, resulting in a winning trades percentage of 0%. However, despite the overall negative ROI, this strategy outperformed the traditional buy and hold approach, generating excess returns of 65.39%, suggesting the possibility of potential improvements or adjustments to enhance future profitability.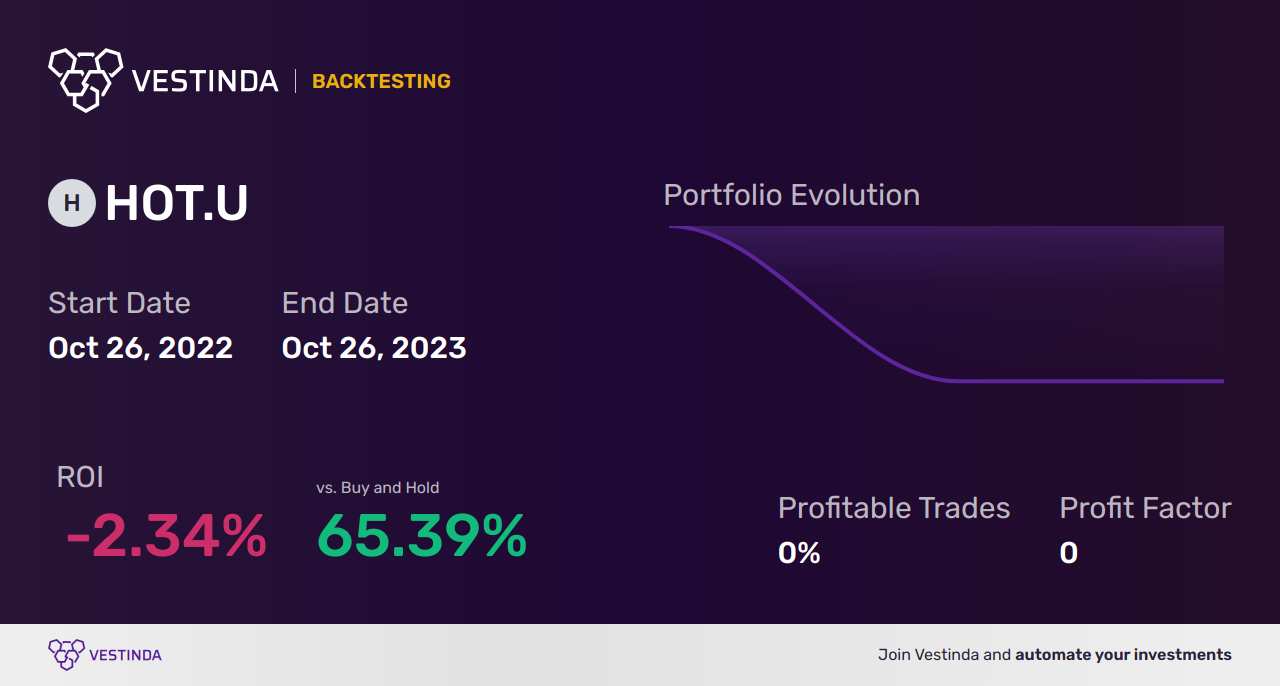 Quantitative Trading Strategy: Fisher Transform Oscillations with VWAP and Shadows on HOT.U
The backtesting results for the trading strategy from October 26, 2022, to October 26, 2023, reveal an annualized return on investment (ROI) of -3.41%. During this period, the average holding time for each trade was approximately 1 day and 4 hours. With an average of only 0.01 trades per week, the strategy seemed relatively inactive. Out of the total number of trades closed, only one was recorded. Surprisingly, there were no winning trades, resulting in a 0% winning trades percentage. However, despite these outcomes, the strategy outperformed the buy and hold approach, generating excess returns of 63.58%. Overall, the strategy showcased potential for improvement in order to achieve better results.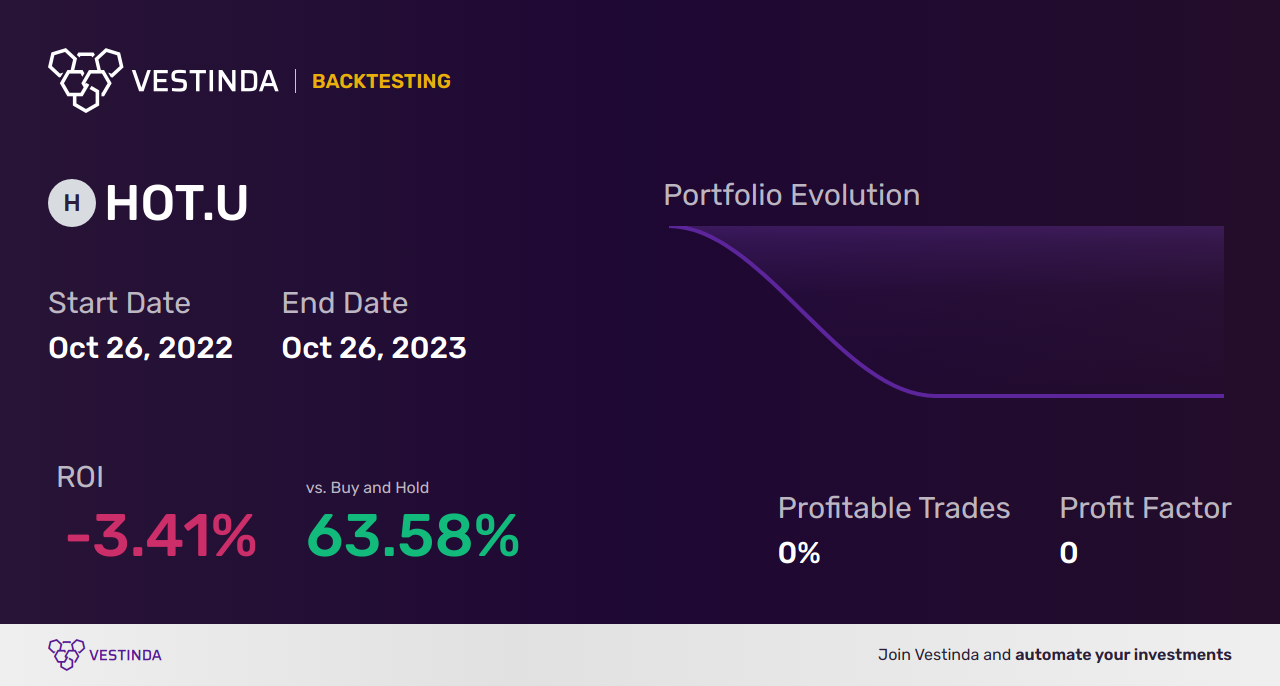 The Power of Quant Trading with HOT.U
Quantitative trading, also known as quant trading, can be a powerful tool in trading HOT.U and other assets. It involves using mathematical models and statistical analysis to make trading decisions. With quant trading, traders can automate their strategies, taking advantage of the speed and accuracy of computers. By analyzing vast amounts of data, including historical prices, market trends, and financial indicators, quant traders can identify profitable trading opportunities and execute trades automatically. This approach minimizes emotional biases and human errors that may impact manual trading. Quantitative trading strategies for HOT.U can include factors such as moving averages, momentum indicators, and mean reversion. By utilizing quantitative models, traders can gain a systematic and disciplined approach to trading HOT.U, potentially improving their chances of success in the market.
Exploring the HOT.U Asset
HOT.U, which stands for American Hotel Income Properties, is an asset worth exploring in the trading world. This investment opportunity revolves around hotel properties in the United States. With HOT.U, investors can gain exposure to the hospitality industry, tapping into the potential for income generation through hotel operations. It is considered a real estate investment trust (REIT) and can provide regular distributions to shareholders. By investing in HOT.U, traders can participate in the growth and profitability of the hotel market, which can be influenced by factors like tourism trends, economic conditions, and hotel industry performance. In addition to potential capital appreciation, HOT.U offers the benefits of diversification in a portfolio by adding exposure to the real estate sector. However, it's important to carefully analyze market conditions and conduct thorough research before considering HOT.U as an investment option.
Personalized Trading Approach for HOT.U
Developing customized trading strategies can greatly enhance your success in trading HOT.U. By tailoring your approach to fit your individual needs and risk tolerance, you can create a unique trading strategy that aligns with your goals. Start by defining your trading objectives and understanding the factors that can influence the HOT.U market. Then, consider using technical analysis tools like moving averages, indicators, and chart patterns to identify potential entry and exit points. Experiment with different timeframes to adapt to changing market conditions. Additionally, incorporate risk management techniques to protect your capital and limit potential losses. Stay adaptable and continuously evaluate and refine your strategy based on market developments. Remember, what works for one trader may not work for another, so it's crucial to personalize your approach to trading HOT.U.
Testing HOT.U Trading Strategies
Backtesting trading strategies for HOT.U is a crucial step in ensuring their effectiveness before risking your capital. By using historical market data, backtesting allows you to simulate trades and evaluate how a strategy would have performed in the past. This analysis provides valuable insights into the strategy's potential profitability and helps you identify any flaws or areas for improvement. To backtest a strategy for HOT.U, you can use trading software or even spreadsheet programs to input the strategy's rules and simulate trades. By analyzing the results, you can fine-tune your approach and make necessary adjustments. It's important to remember that past performance is not a guarantee of future success, but backtesting can significantly increase your confidence in a trading strategy and enhance your decision-making process. While backtesting is a useful tool, it's crucial to remain critical and adapt your strategy based on evolving market conditions to optimize your trading approach for HOT.U.
Influential Factors for HOT.U Price
Several factors can influence the price of HOT.U, and understanding them is crucial for successful trading. One such factor is the overall performance of the hotel industry. Economic conditions, consumer demand, and tourism trends can affect how well hotels perform, directly impacting HOT.U's price. Additionally, factors like interest rates, inflation, and changes in real estate market conditions can influence the attractiveness of investing in HOT.U. Other variables, such as specific hotel performance metrics, occupancy rates, and revenue per available room (RevPAR), can also impact the price of HOT.U. Monitoring news related to the hospitality industry, economic indicators, and announcements from HOT.U itself can provide valuable insights into potential price movements. By staying informed and conducting thorough analysis, traders can make more informed decisions regarding their HOT.U investments.
Start earning fast & easy
Create
account

Build trading strategies
with no code

Validate
& Backtest

Connect exchange
& start earning
Frequently Asked Questions
Can I start trading under $100?
Yes, you can start trading with less than $100. Many online brokers provide the option to open trading accounts with a minimum deposit as low as $10 or $50. This allows beginners to get started with a small amount of money. However, it's important to note that trading with a small amount may limit your ability to diversify investments or participate in certain trading strategies. It's wise to consider the fees associated with trading and make sure you're aware of any account minimums or restrictions imposed by the broker you choose.
What is the 1% trading strategy?
The 1% trading strategy refers to a risk management technique where you limit the amount of capital you risk on each trade to 1% or less of your total trading account. This approach helps to protect your account from significant losses and allows you to spread your risk across multiple trades. For example, if you have $1000 in your trading account, you would only risk $10 on any single trade. By adhering to this strategy, you can manage your risk and increase the probability of long-term trading success.
What are some potential uses of smart contracts?
Smart contracts offer various potential uses in different industries. They can be used for automating and enforcing agreements in sectors like real estate, supply chain management, and insurance. For example, in real estate, smart contracts can facilitate secure and transparent property transactions, ensuring that payments are made only when predefined conditions are met. In supply chain management, smart contracts can track and verify the movement of goods, reducing fraud and improving accountability. Additionally, smart contracts can streamline and automate processes in areas such as financial services, healthcare, and intellectual property management, bringing efficiency and trust to these industries.
Is algorithmic trading profitable?
Algorithmic trading has the potential to be profitable, but it's not a guarantee. The profitability depends on various factors such as the effectiveness of the trading strategy, market conditions, and the quality of the algorithm used. While algorithms can take advantage of market inefficiencies and execute trades with speed and accuracy, they can also be subject to potential risks and unexpected market movements. It's essential to carefully design and test algorithms, and regularly monitor and adjust them to adapt to changing market conditions in order to increase the chances of profitability.
Can quants become millionaires?
Quants, or quantitative analysts, have the potential to become millionaires through their work in finance and investment. Their skills in mathematics, statistics, and computer programming allow them to develop sophisticated trading models and strategies. Successful quants who can consistently generate high returns on investments may accumulate significant wealth. However, it's important to note that not all quants will achieve millionaire status. Market fluctuations, competition, and other factors can impact their earnings. Additionally, becoming a millionaire requires a combination of knowledge, experience, risk management, and a bit of luck.
Conclusion
In conclusion, trading HOT.U can be an exciting opportunity for investors looking to explore the hotel industry. By employing quantitative trading strategies, traders can automate their decisions and potentially improve their chances of success. Developing customized trading strategies and backtesting them allows for personalized approaches and increased confidence in trading HOT.U. Understanding the factors that influence HOT.U's price, such as economic conditions and hotel industry performance, is vital. By staying informed and adapting to market conditions, traders can make well-informed decisions. Remember to practice risk management and continuously evaluate and refine your trading strategies. With dedication and knowledge, trading HOT.U can be a profitable endeavor.