Unveiling the Uniqueness of EOS
EOS is a cryptocurrency that stands out due to its innovative features. It aims to provide a scalable and user-friendly platform for decentralized applications (dApps). The technology behind EOS allows for fast and efficient transactions, making it a preferred choice for developers. With a focus on governance, EOS also offers a unique voting system where token holders can participate in decision-making processes. This decentralized approach contributes to the overall security and stability of the EOS network. By understanding these distinctive attributes, traders can better grasp the potential opportunities and risks associated with trading EOS in 2023.
Mastering EOS with Algorithmic Trading
Algorithmic Trading Strategies for EOS
Algorithmic trading strategies can be powerful tools for trading EOS and other cryptocurrencies. These strategies utilize computer programs that automatically execute trades based on predetermined rules and algorithms. By removing the emotional factor from trading decisions, algorithmic trading can help traders capitalize on market opportunities with speed and precision.
One common algorithmic trading strategy is trend following. This strategy involves analyzing historical price data to identify and follow the direction of the prevailing trend. By buying when the price is rising and selling when it's falling, traders can potentially profit from the momentum of the market.
Another strategy is mean reversion, which assumes that the price of an asset will eventually revert to its average. Traders using this strategy would sell when the price is above the average and buy when it's below, anticipating a return to the mean.
Arbitrage is also a popular algorithmic trading strategy. This approach involves taking advantage of price differences between different exchanges or markets. Traders can simultaneously buy at a lower price and sell at a higher price, profiting from the price discrepancy.
It's important to note that algorithmic trading strategies require careful planning and continuous monitoring. Additionally, risk management is crucial to mitigate potential losses. Traders should always ensure that their algorithms are well-tested and regularly updated to adapt to changing market conditions.
By implementing algorithmic trading strategies, traders can automate their trading activities and potentially increase their chances of success in the EOS market.
Crafting Personalized EOS Trading Strategies
Developing Customized Strategies
When it comes to trading EOS, developing customized strategies can give traders a competitive edge. While algorithmic trading offers pre-built strategies, creating your own tailored approach can align with your specific trading goals and risk appetite.
To develop a customized strategy, start by defining your objectives and understanding the dynamics of the EOS market. Conduct thorough research and analysis to identify patterns, indicators, and factors that may influence the price of EOS. This can include studying historical data, monitoring market news, and following expert opinions.
Once you have gathered the necessary information, outline your strategy. Determine your entry and exit points, position sizing, and risk management parameters. Consider incorporating both fundamental and technical analysis to provide a comprehensive view. Regularly backtest and evaluate your strategy to refine and optimize its effectiveness.
Keep in mind that developing a customized strategy requires discipline and continuous monitoring. Be prepared to adapt your approach based on market conditions and volatility. Consider using tools and platforms that facilitate strategy testing and automation.
Customized strategies allow traders to align their trading decisions with their unique preferences and market insights. By tailoring your approach to EOS trading, you can gain a deeper understanding of the asset and potentially enhance your overall trading performance.
Backtesting results for EOS
Here are some examples of strategies on EOS with the backtesting results. You can always try out for FREE all these strategies on thousands of assets and many years of historical data.
Strategy 1: Template - Ichimoku Base Line
Based on the backtesting results for the trading strategy conducted from March 15, 2020, to March 15, 2021, several key statistics emerged. The strategy exhibited a profit factor of 1.14, indicating that for every dollar risked, there was a return of $1.14. The annualized return on investment stood at an impressive 29.32%, reflecting the strategy's ability to generate consistent profits. On average, positions were held for approximately 6 days and 12 hours, suggesting a relatively short-term approach. With an average of 0.46 trades per week, the strategy demonstrated moderation in its trading frequency. Out of a total of 24 closed trades, the winning trades accounted for 45.83%, indicating a moderate success rate. Overall, the strategy showcased promising results during the specified period.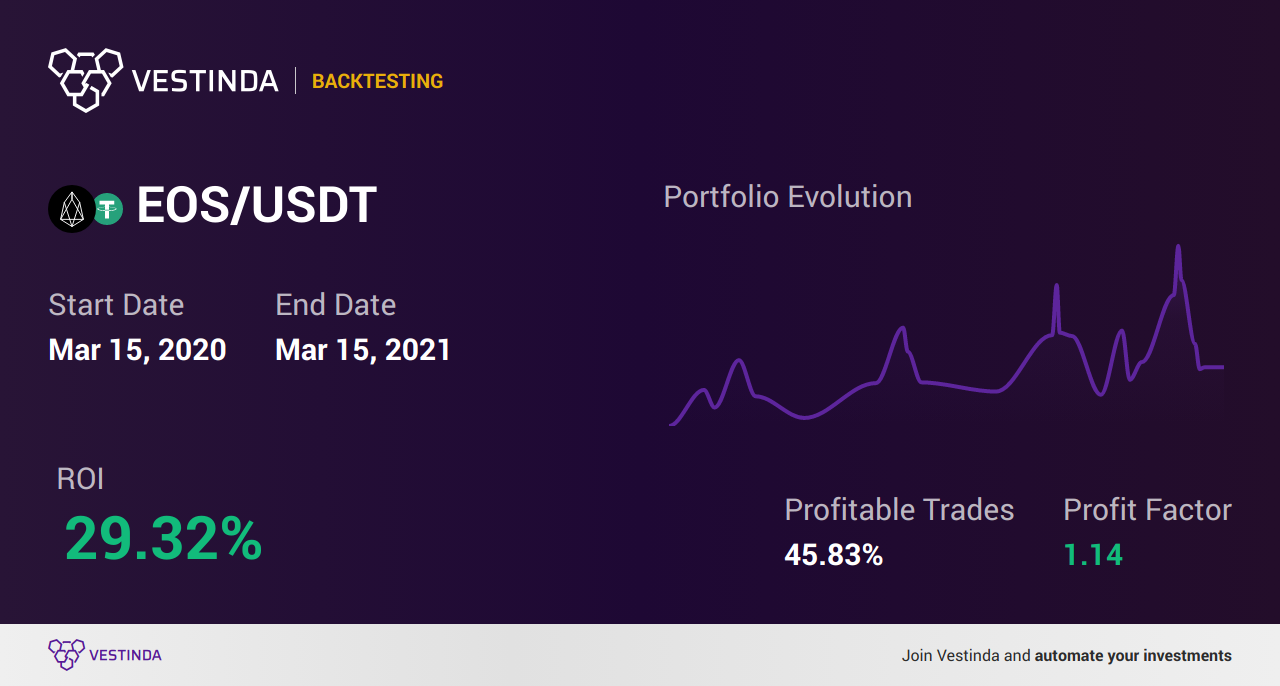 Strategy 2: Math vs. the market
Based on the backtesting results statistics, the trading strategy implemented from March 15, 2020, to March 15, 2021, was quite successful. The profit factor of 1.47 indicates that the strategy generated more profit than loss overall. The annualized return on investment (ROI) amounted to an impressive 123.69%, showcasing the strategy's ability to grow wealth consistently. On average, trades were held for approximately 2 days and 12 hours, reflecting a short-term approach. With an average of 1.51 trades per week and a winning trades percentage of 63.29%, the strategy displayed a disciplined and successful execution. Additionally, it outperformed the buy and hold strategy by generating excess returns of 11.57%.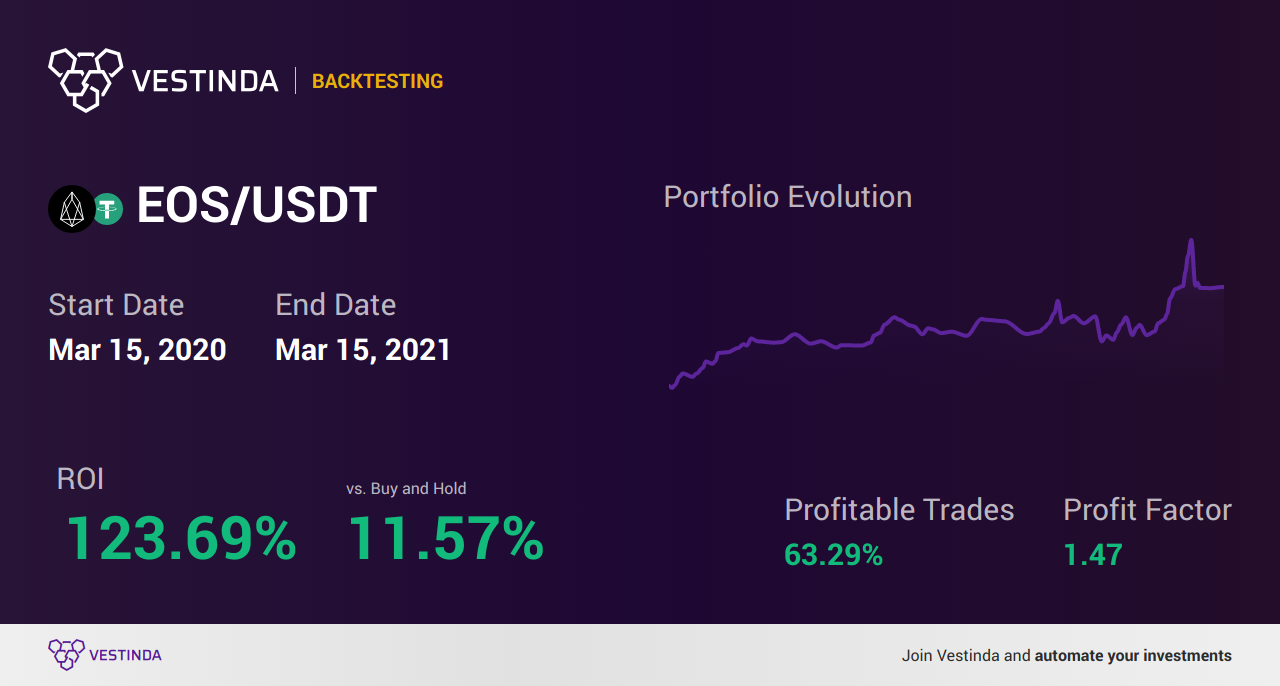 Frequently Asked Questions
What is the easiest strategy to profit from crypto trading?
The easiest strategy to profit from crypto trading is to buy low and sell high. This means purchasing cryptocurrencies at a low price and selling them when their value increases. It is important to conduct research and analyze the market to identify potential opportunities. Additionally, setting a clear profit target helps to secure gains. It is crucial to manage risks by using stop-loss orders to limit potential losses. Continuously monitoring the market and staying up-to-date with news and trends is key to successful crypto trading.
How to get new and profitable strategies in crypto trading?
To discover new and profitable strategies in crypto trading, here are some steps you can take:
1. Conduct thorough research on various cryptocurrencies and their market trends.
2. Analyze historical data and charts to identify patterns and potential opportunities.
3. Stay updated with news, events, and announcements that might impact crypto prices.
4. Join online forums and communities to learn from experienced traders and exchange ideas.
5. Utilize technical analysis tools and indicators to assess market trends and make informed decisions.
6. Practice risk management by setting stop-loss orders and diversifying your portfolio.
7. Experiment with different strategies and constantly evaluate their effectiveness.
What is the best cryptocurrency trading toolset?
The best cryptocurrency trading toolset consists of several important elements. Firstly, a reliable and user-friendly cryptocurrency exchange platform is crucial for buying and selling cryptocurrencies. Additionally, real-time market data and charts help in making informed decisions. Technical analysis tools, such as indicators and oscillators, assist in understanding market trends. Some traders also find trading bots helpful for automating certain trading activities. Finally, a secure digital wallet is essential for storing and managing cryptocurrencies. It's important to choose tools that align with your trading goals and preferences, ensuring ease of use and reliability.
What is leverage trading?
Leverage trading is a strategy where traders borrow funds to increase their trading position. It allows them to trade with more capital than they actually possess. By using leverage, traders can potentially maximize their profits from small market movements. However, it's important to note that leverage trading also magnifies losses, increasing the risk involved. Traders need to be cautious and understand that while leverage can enhance gains, it can also lead to substantial losses. It's essential to have a solid risk management plan in place when engaging in leverage trading to protect against potential downsides.
What is the lack of crypto trading strategy?
The lack of a crypto trading strategy refers to the absence or inadequate planning and decision-making approach when engaging in cryptocurrency trading. Without a strategy, traders may make impulsive and emotionally-driven decisions, leading to inconsistent results and potential losses. It is crucial to have a clear plan outlining entry and exit points, risk tolerance, profit targets, and risk management techniques. A well-defined strategy helps traders stay disciplined, take calculated risks, and make informed decisions based on analysis and research. Having a strategy in place increases the chances of successful and profitable trading in the volatile crypto market.
Conclusion
In conclusion, trading EOS can be a lucrative endeavor when equipped with the right strategies. Whether you choose to utilize algorithmic trading, develop customized approaches, or backtest your strategies, it's crucial to understand the unique attributes of EOS and the dynamics of the crypto market. By staying informed, conducting thorough analysis, and prioritizing risk management, traders can increase their chances of success. Remember, trading involves risk, and it's important to start with a solid foundation of knowledge and continuously adapt to changing market conditions. With the right tactics and a disciplined approach, aspiring traders can navigate the world of EOS trading with confidence.