Why Vestinda
Track your
Crypto Portfolio

Copy Crypto trading
strategies

Build trading strategies
with no code
Backtest trading strategies
on Crypto, Forex, Stocks, etc.

Demo Trading
Risk-free Paper Trading

Automate trading strategies
with Live Trading
Automated Strategies & Backtesting results for CH1135202096
Here are some CH1135202096 trading strategies along with their past performance. You can validate these strategies (and many more) for free on Vestinda across thousands of assets and many years of historical data.
Automated Trading Strategy: OBV Reversals with Ichimoku Base Line and Candlesticks on CH1135202096
Based on the backtesting results statistics for the trading strategy from October 28, 2022, to October 28, 2023, the annualized return on investment (ROI) was calculated as 2.75%. The average holding time for trades was 1 week, with an average of only 0.01 trades made per week. During this period, there was a total of 1 closed trade. Remarkably, all of the trades were successful, resulting in a winning trades percentage of 100%. Additionally, compared to a simple buy and hold strategy, the trading strategy outperformed significantly, generating excess returns of 138.41%. These results highlight the effectiveness of the strategy in generating consistent and profitable returns.
Backtesting results
Profit Factor
All your trades are profitable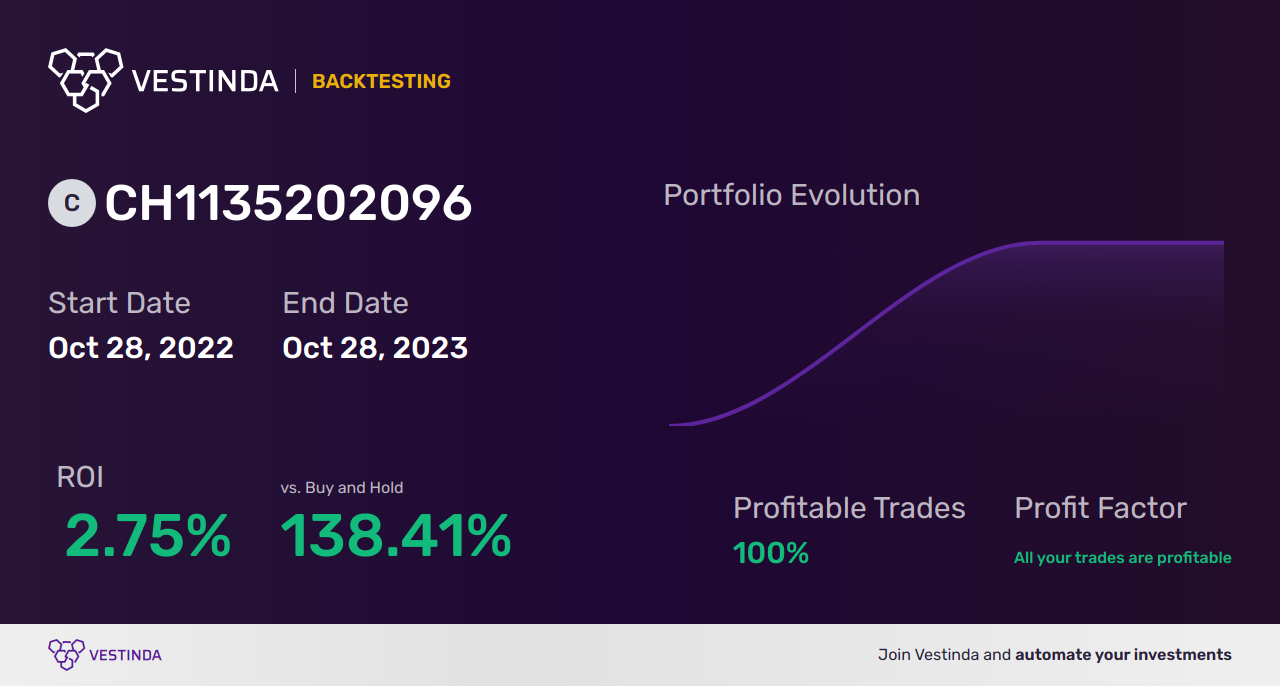 Automated Trading Strategy: Algos beat the market on CH1135202096
Based on the backtesting results for the trading strategy from October 28, 2022, to October 28, 2023, several key statistics stand out. The profit factor of 0.38 indicates that the strategy generated less profit than the amount of risk taken. The annualized ROI of -43.6% signifies a significant loss over the period. On average, trades were held for around 1 week and 1 day, and there were approximately 0.32 trades per week. With 17 closed trades during this period, the winning trades percentage was relatively high at 58.82%. Impressively, the strategy outperformed the buy and hold approach, generating excess returns of 30.85%. Despite the overall negative ROI, the strategy showed some promise in beating the market.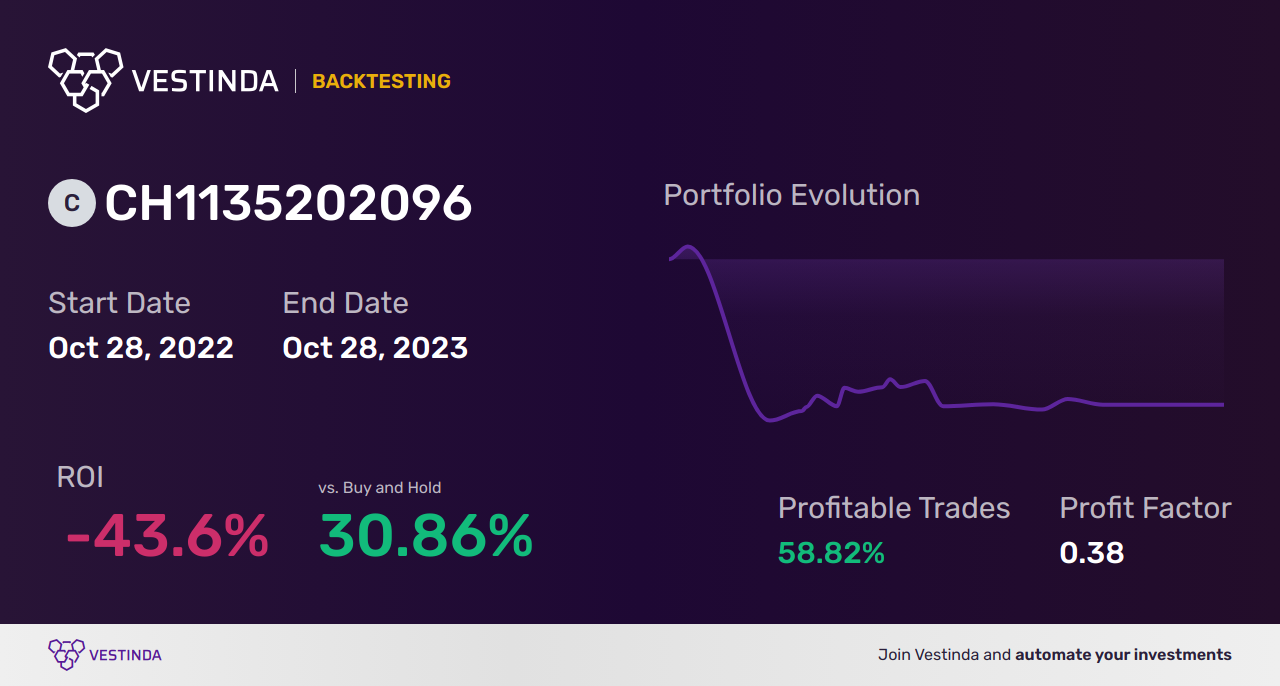 Automated Trading Strategies for CH1135202096
Quantitative trading, also known as quant trading, offers an automated approach to trading the markets, including assets like CH1135202096. With quant trading, traders utilize computer algorithms to analyze vast amounts of market data and execute trades based on predefined strategies. These strategies are developed using mathematical models and statistical techniques, aiming to identify patterns, trends, and pricing inefficiencies. By employing quant trading, traders can remove emotional biases from their decision-making process and take advantage of market opportunities in a systematic way. This automated approach enables faster execution, improved accuracy, and the ability to analyze multiple variables simultaneously. Moreover, quant trading allows traders to backtest their strategies using historical data, assess their performance, and make necessary adjustments to optimize results. With its data-driven and systematic nature, quant trading provides traders with a powerful tool to enhance their trading strategies for assets like CH1135202096.
Exploring CH1135202096: A DeFi Investment Opportunity
CH1135202096, also known as 21Shares Uniswap ETP, is a unique asset that offers investors exposure to the decentralized finance (DeFi) ecosystem. DeFi refers to a range of financial applications built on blockchain technology, aiming to provide open and permissionless access to financial services. CH1135202096 tracks the performance of the Uniswap decentralized exchange, which allows users to trade a variety of tokens directly from their digital wallets. As the DeFi space continues to grow, CH1135202096 provides an opportunity for investors to participate in the potential growth of this innovative sector. With the increasing popularity of blockchain technology and the adoption of DeFi platforms, CH1135202096 presents an intriguing asset to explore within the context of trading strategies and investment opportunities.
Proven Trading Strategies for CH1135202096
When it comes to trading CH1135202096, there are several common strategies that traders employ. One popular approach is trend following, where traders identify the direction of the asset's price movement and enter positions that align with the prevailing trend. Another strategy is range trading, which involves identifying price levels where CH1135202096 tends to oscillate and executing trades based on those boundaries. Breakout trading is yet another technique, where traders aim to take advantage of significant price movements beyond key levels of support or resistance. Additionally, some traders may use mean reversion strategies, capitalizing on the tendency of CH1135202096 to revert back to its average price over time. It's important for traders to understand the nuances of these different strategies and choose one that aligns with their trading goals, risk tolerance, and market conditions. By employing a well-defined trading strategy, individuals can enhance their chances of success when trading CH1135202096.
Protecting Capital: CH1135202096 and Stop Loss Orders
Using stop loss orders is a crucial risk management technique when trading CH1135202096. A stop loss is a predetermined level at which a trader sets an order to automatically exit a position if the price moves against their favor. By implementing a stop loss, traders can limit potential losses and protect their capital. It's important to determine the appropriate level for the stop loss based on factors such as the asset's historical volatility, support and resistance levels, and personal risk tolerance. By setting and adhering to stop loss orders, traders can effectively manage their risk and minimize potential downside when trading CH1135202096.
Analyzing CH1135202096: Backtesting Strategies for Success
Backtesting trading strategies is an essential step when trading CH1135202096. Backtesting involves testing a trading strategy using historical market data to determine how it would have performed in the past. By simulating trades and analyzing the results, traders can gain insights into the strategy's strengths and weaknesses. Backtesting allows traders to assess the profitability, risk, and performance metrics of their chosen strategy. It helps traders refine their approach, identify potential improvements, and make informed decisions about deploying the strategy in real-time trading. Additionally, backtesting can provide valuable data to evaluate the strategy's compatibility with CH1135202096's price patterns, market conditions, and overall effectiveness. By backtesting their trading strategies for CH1135202096, traders can make more informed decisions and increase their chances of success in the ever-changing market.
Start earning in 3 easy steps
Create
account

Discover profitable
strategies

Connect exchange
& start earning
Frequently Asked Questions
What's the most popular trading strategy?
The most popular trading strategy in the crypto market is known as trend following. This strategy involves identifying and following the direction of a trend in the market. Traders aim to capitalize on the momentum of the trend by buying when prices are rising and selling when prices are falling. Trend following strategies rely on technical indicators and chart patterns to determine when to enter or exit trades. It's important to note that no strategy guarantees success, so it's advisable to thoroughly research and backtest any strategy before implementing it in your trading activities.
What are the best automated trading strategies for CH1135202096?
The best automated trading strategies for CH1135202096 would depend on various factors and individual preferences. Two common strategies that can be considered are trend following and mean reversion. Trend following strategies attempt to capitalize on the momentum of the asset by buying when the price is rising and selling when it's falling. Mean reversion strategies, on the other hand, rely on the assumption that the price will eventually revert back to its average. It's advisable to thoroughly research and backtest different strategies to find the one that aligns with your trading goals and risk tolerance.
What is the best technical analysis indicator for Stocks?
Determining the best technical analysis indicator for stocks is subjective and can vary depending on individual trading styles and preferences. Some commonly used indicators that traders find useful include moving averages, relative strength index (RSI), and MACD (moving average convergence divergence). Moving averages help identify trends and potential support or resistance levels. RSI measures the strength of price movements and identifies overbought or oversold conditions. MACD combines moving averages to identify potential buy and sell signals. It is recommended to experiment with different indicators and find the ones that work best for your trading strategy and timeframe.
What is leverage trading?
Leverage trading is a trading method that involves borrowing funds in order to increase the potential returns on an investment. With leverage, a trader can control a larger position in the market with a smaller amount of capital. The borrowed funds act as a loan and enable traders to amplify their profits if the trade is successful. However, it's important to note that leverage trading also increases the potential losses if the trade goes against them. It is a high-risk strategy and requires careful risk management and understanding of the associated risks before engaging in leveraged trading.
Conclusion
In conclusion, trading CH1135202096 can be approached with various strategies to enhance success in the market. quantitative trading provides an automated and data-driven approach, while traditional strategies like trend following and range trading offer different perspectives. Implementing risk management techniques such as using stop loss orders is essential to protect capital. Backtesting trading strategies using historical data helps evaluate their effectiveness and identify improvements. By understanding the unique nature of CH1135202096 and employing these trading strategies, traders can navigate the market with more confidence and increase their chances of achieving profitable outcomes. Remember, continuous learning and adaptation are vital for successful trading endeavors in the CH1135202096 market.