Start earning fast & easy
Create
account

Build trading strategies
with no code

Validate
& Backtest

Connect exchange
& start earning
Algorithmic Strategies & Backtesting results for BAT
Here are some BAT trading strategies along with their past performance. You can validate these strategies (and many more) for free on Vestinda across thousands of assets and many years of historical data.
Algorithmic Trading Strategy: Follow the trend on BAT
The backtesting results for the trading strategy conducted from March 15, 2020, to March 15, 2021, reveal some interesting statistics. The strategy displayed a profit factor of 1.14, indicating that for every dollar invested, there was an average return of $1.14. The annualized return on investment (ROI) stands at 11.08%, which suggests that over the course of a year, the strategy yielded a significant return. On average, each trade was held for approximately 5 days and 22 hours, while the strategy generated an average of 0.53 trades per week. With a total of 28 closed trades, the winning percentage reached 21.43%, showcasing its potential for profitability.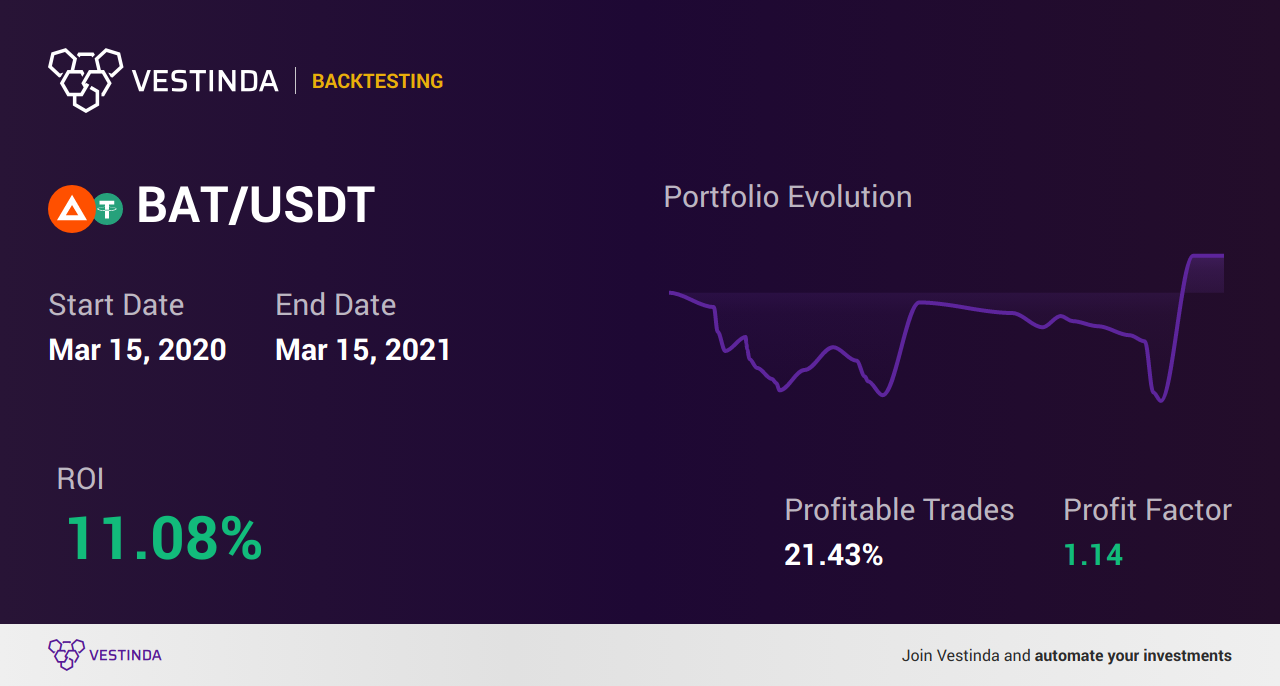 Algorithmic Trading Strategy: Play the breakout on BAT
During the period from March 15, 2020, to March 15, 2021, the backtesting results for a trading strategy yielded promising statistics. The profit factor stood impressively high at 14.74, indicating a solid profitability. The annualized return on investment (ROI) reached an impressive 125.94%, showcasing a substantial increase in capital over the tested period. On average, the strategy held positions for approximately 6 weeks and 3 days, suggesting a longer-term perspective. The frequency of trades was relatively low, with an average of 0.07 trades per week. Despite the limited number of trades, the strategy generated a notable return, with a 75% winning trades percentage. Overall, these findings exhibit the potential effectiveness of the trading strategy during the assessed timeframe.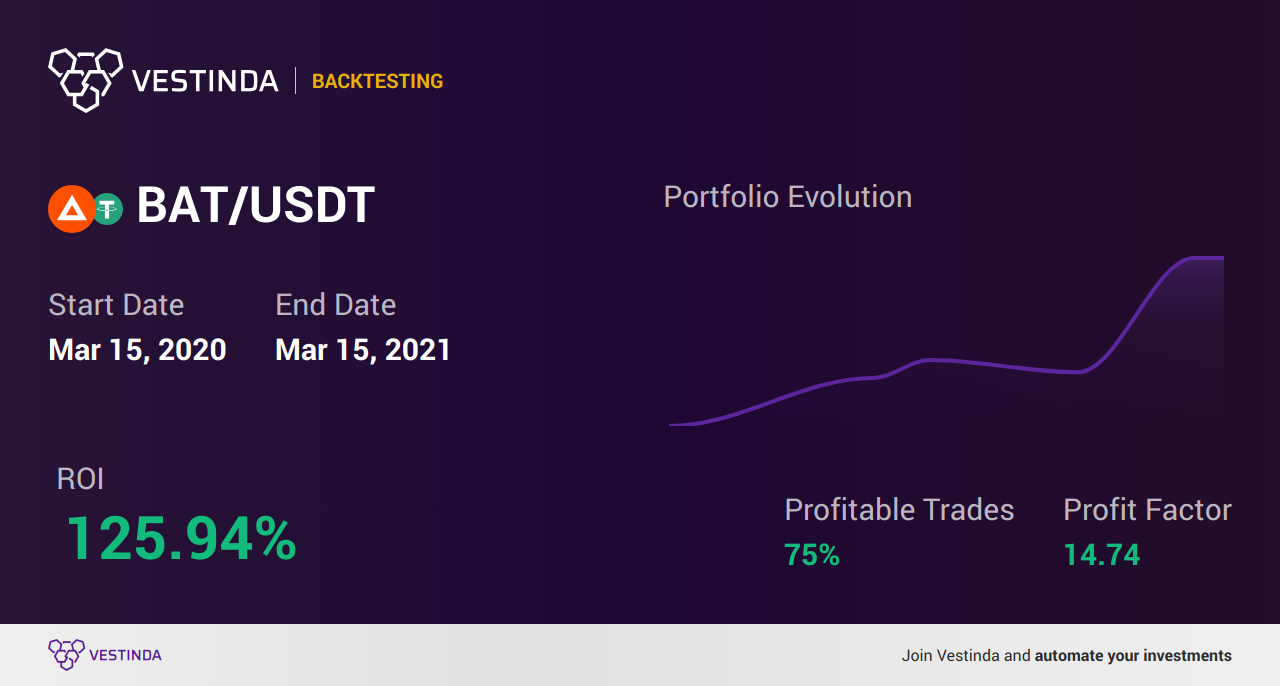 Unveiling the Unique BAT Ecosystem
Basic Attention Token (BAT) is a digital asset that aims to disrupt the online advertising industry. It operates on the Ethereum blockchain, providing a decentralized platform for digital advertising. BAT is unique because it rewards users for their attention. As users browse the web using the Brave browser, they can opt-in to view privacy-respecting ads. In return, they receive BAT tokens as a form of compensation. This innovative approach benefits both advertisers and users, creating a more transparent and efficient ecosystem for digital advertising. With its growing popularity, understanding BAT and trading strategies can potentially offer profitable opportunities in the crypto market.
Testing BAT Trading Strategies for Success
Backtesting trading strategies for BAT can be a valuable exercise before entering the live market. It allows you to evaluate the performance of your strategies using historical data. To backtest a BAT trading strategy, you need to select a specific time frame and gather relevant price data. Then, you can simulate your strategy using this historical data to see how it would have performed in the past. This process helps you identify the strengths and weaknesses of your strategy without risking real money. It also enables you to make any necessary adjustments and improvements before implementing the strategy in a live trading environment. By backtesting your BAT trading strategies, you can gain valuable insights into their potential effectiveness and refine your approach based on historical performance. This can increase your confidence when it comes to executing trades and improve your overall trading profitability.
Streamline BAT Trading with Automation
Automated trading strategies can be a game-changer when it comes to trading BAT. These strategies use algorithms and predefined rules to execute trades automatically, taking advantage of market opportunities without requiring constant manual monitoring. To implement automated trading strategies for BAT, you can use specialized software or platforms that support algorithmic trading. These tools allow you to set various parameters, such as entry and exit points, stop-loss levels, and profit targets. By leveraging automation, you can eliminate emotional biases and ensure swift execution based on your predetermined trading plan. However, it's important to thoroughly test and optimize your automated strategy to ensure its effectiveness. Additionally, regular monitoring is vital to ensure that it adapts to changing market conditions. With the right automated trading strategy for BAT, you can potentially take advantage of market movements and optimize your trading outcomes without constant manual intervention.
Protecting Your BAT Investment: Risk Management Made Easy
Effective risk management is crucial when trading BAT or any other asset. It involves strategies to protect your investment and minimize potential losses. One commonly used risk management technique is setting stop-loss orders. These orders automatically trigger selling BAT at a predetermined price, preventing further losses in case the market moves against you. Additionally, diversification is key. By spreading your investments across different assets and markets, you reduce the impact of a single loss. Alongside diversification, proper position sizing is important. It entails determining the appropriate amount of BAT to purchase based on your risk tolerance and overall portfolio. Regularly monitoring and adjusting your risk management strategies as market conditions change is also essential. Remember, successful trading is not just about winning trades, but also effectively managing risk to preserve capital in the long run.
Backtest BAT & Stocks, Forex, Indices, ETFs, Commodities
100,000 available assets New

years of historical data

practice without risking money

Frequently Asked Questions
How to improve your crypto trading strategies?
To improve your crypto trading strategies, there are a few key steps you can take. Firstly, educate yourself on the basics of cryptocurrency and trading techniques. Stay updated on the latest news and trends in the crypto market. Set clear goals and develop a trading plan. Practice risk management by setting stop-loss orders and managing your position sizes. Utilize technical analysis tools to identify patterns and trends. Learn from your trades, both successful and unsuccessful, and adapt your strategies accordingly. Finally, remain disciplined and avoid emotional decision-making. With time and experience, your crypto trading strategies will improve.
How to get new and profitable strategies in crypto trading?
To discover new and profitable strategies in crypto trading, there are a number of effective approaches you can take. Start by conducting thorough research and analysis of the market. Follow experienced traders and learn from their strategies. Utilize different technical indicators and chart patterns to identify potential trends. Backtest your strategies using historical data to evaluate their profitability. Experiment with different trading strategies with small amounts of capital. Keep track of your trades and analyze your results to refine your strategies. Remember, continuous learning and adaptability are key in finding success in crypto trading.
What is the best time to trade BAT?
The best time to trade BAT (Basic Attention Token) can vary due to market conditions, but there are a few general factors to consider. Keep an eye on the trading volume and liquidity of BAT, as higher activity can result in better price movements. Monitor the overall market trends and news that may impact the value of BAT. Additionally, pay attention to any specific events or announcements related to BAT that could impact its price. It is recommended to conduct thorough research and analysis to make informed decisions about the best time to trade BAT.
Where do you trade BAT and other crypto?
You can trade BAT and other cryptocurrencies on various platforms called cryptocurrency exchanges. Some popular exchanges include Coinbase, Binance, and Kraken. These exchanges provide a platform for users to buy and sell different cryptocurrencies, including BAT. To trade, you will need to create an account on one of these exchanges, complete the verification process, and deposit funds. Once your account is set up, you can place buy or sell orders for BAT or any other crypto supported on the exchange. Remember to do thorough research and choose a reputable exchange with good security measures in place.
Conclusion
In conclusion, developing and implementing effective trading strategies for BAT can be a lucrative endeavor in the ever-evolving crypto market. Whether you choose to rely on technical analysis, automated trading strategies, or a combination of both, careful analysis and risk management are essential. By understanding the unique attributes of BAT, backtesting strategies, leveraging automation, and implementing sound risk management techniques, you can position yourself for success. Keep in mind that trading always carries risks, and no strategy guarantees profits. Stay informed, adapt to market conditions, and continuously assess and refine your trading approach to navigate the exciting world of BAT trading with confidence.