Automate & Backtest AON strategies on...
Algorithmic Strategies and Backtesting results for AON
Here are some AON trading strategies along with their past performance. You can validate these strategies (and many more) for free on Vestinda across thousands of assets and many years of historical data.
Algorithmic Trading Strategy: Ride the SuperTrend with RSI and Harami Patterns on AON
During the backtesting period spanning from November 3, 2022, to November 3, 2023, the trading strategy demonstrated a profit factor of 1.03. Although relatively small, the annualized return on investment (ROI) amounted to 0.2%. On average, trades were held for approximately 5 days and 6 hours. The strategy had an average of 0.09 trades per week, resulting in a total of 5 closed trades. The return on investment remained consistent at 0.2%. However, it is worth noting that only 40% of the trades were profitable, indicating room for improvement in this aspect of the strategy.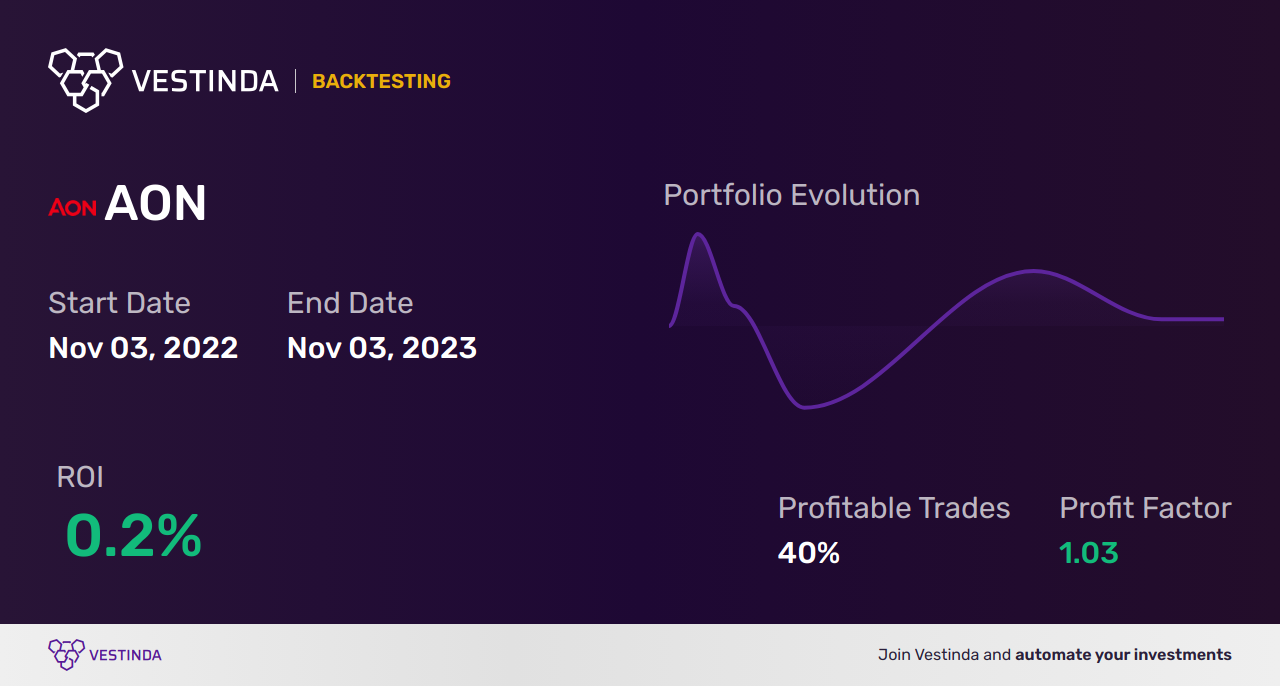 Algorithmic Trading Strategy: Keltner Channel and SLR Trend-Following on AON
According to the backtesting results of the trading strategy from November 3, 2016, to November 3, 2023, the profit factor achieved was 1.07, indicating a slightly positive outcome. The annualized ROI amounted to 0.82%, implying a relatively low but steady return on investment over the testing period. On average, the trades were held for approximately 6 days and 17 hours, suggesting a moderately short-term approach. The average number of trades executed per week was 0.26, pointing to a relatively low trading frequency. Out of the 95 closed trades, only 40% were profitable. Overall, the strategy yielded a return on investment of 5.86% during the backtesting period.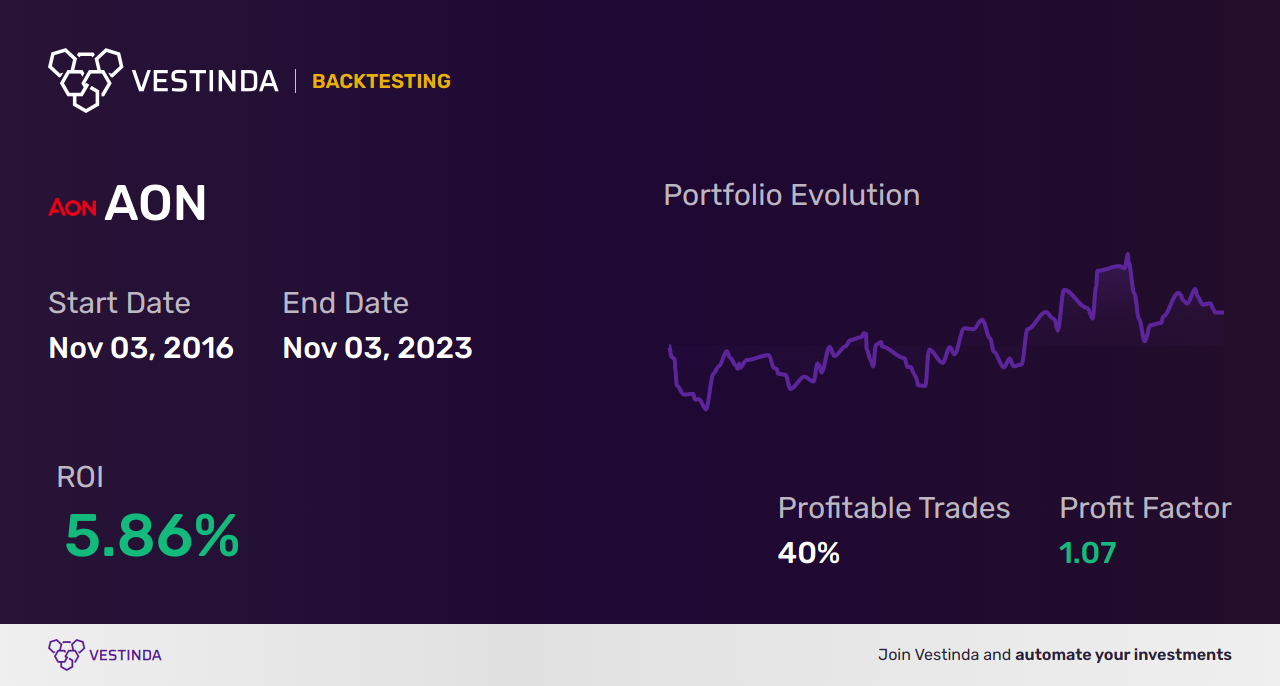 Optimizing Trading Strategies for Aozora Bank
Quant trading, also known as algorithmic trading, can greatly benefit AON by automating the trading process in the markets. With the use of complex mathematical models and statistical analysis, quant trading allows for quick decision-making and execution. Through the implementation of trading algorithms, AON can exploit market inefficiencies and capitalize on opportunities that may not be easily identifiable to human traders. This automated approach reduces the impact of emotional biases and human errors, leading to improved trading efficiency. Furthermore, by utilizing quantitative strategies, AON can achieve higher trade volumes and diversify its investment portfolio. Overall, quant trading offers AON the advantage of speed, accuracy, and increased profitability in the ever-changing financial markets.
Aozora Bank: Unveiling the Power Within
AON, short for Aozora Bank Ltd., is a unique asset in the financial industry. With a strong foundation, AON offers a range of comprehensive banking services, including lending and deposit products. The bank's commitment to innovation sets it apart from its competitors. AON is known for its agility and ability to adapt to changing market conditions. Its efficient operations and advanced technology platforms allow for seamless customer experiences. AON's solid financial performance and strong capitalization provide assurance to its stakeholders. With a customer-centric approach, AON strives to meet the diverse needs of its clients and provide them with tailored solutions. The bank's professional team of experts ensures that every client receives personalized attention and top-notch service. AON's reputation for excellence and reliability has made it a trusted choice among businesses and individuals alike.
AON Price Determinants
There are several key factors that influence the price of AON stock. Firstly, market conditions play a significant role in determining the price of AON shares. Economic factors such as interest rates, inflation, and GDP growth can all have an impact on the price of the stock. Additionally, investor sentiment and market trends also affect AON's price. News or events that affect the banking industry as a whole can influence the stock price. Moreover, the financial performance of Aozora Bank, including its revenue growth, profitability, and asset quality, can directly impact the price of AON shares. Lastly, investor expectations and speculation can cause fluctuations in the stock's price. Overall, a combination of these factors determines the price at which AON stock trades on the market.
Achieving Trading Success with AON's Stop Loss
Using a stop loss for trading AON can be a wise strategy. A stop loss is a predetermined price at which a trader will sell a stock if it begins to decline. AON, short for Aozora Bank Ltd., is a Japanese bank that is publicly traded on the Tokyo Stock Exchange. By setting a stop loss on AON, traders can limit potential losses and protect their capital. This is especially important in volatile markets or when trading stocks with significant price swings. The stop loss can be set at a level that aligns with the trader's risk tolerance and investment goals. By employing this risk management tool, traders can avoid large losses and make more informed trading decisions.
Trusted by Traders Worldwide
Frequently Asked Questions
What's the most popular trading strategy?
The most popular trading strategy varies depending on the market and individual preferences. However, one widely used strategy is trend trading. This approach involves identifying and following the direction of a prevailing trend in a particular market. Traders aim to buy assets when prices are rising or sell them when prices are falling, with the belief that the trend will continue. Trend trading utilizes various technical indicators and chart patterns to determine entry and exit points. While trend trading can be profitable, it requires thorough analysis, risk management, and adapting to market conditions for successful implementation.
What are some tips for day trading AON?
Some tips for day trading AON include thorough research on the stock and its market trends, setting clear entry and exit points, using stop-loss orders to minimize losses, and implementing strict risk management strategies. It is important to closely monitor the stock's price movements, news, and any relevant events that may impact its performance. Additionally, traders should consider utilizing technical analysis tools and indicators to identify potential price patterns and trading opportunities. Integrating discipline and patience while maintaining a well-defined trading plan can enhance the chances of success in day trading AON.
Which trading strategy is best for beginners?
The best trading strategy for beginners is one that focuses on long-term investing and diversification. This means investing in a mix of different assets, such as stocks, bonds, and mutual funds, and holding them for an extended period. This approach allows beginners to mitigate risk and take advantage of market growth over time. It is crucial for beginners to prioritize education, research, and seeking advice from financial professionals to make informed investment decisions. Patience, discipline, and a long-term perspective are key components of a successful trading strategy for beginners.
How to use technical analysis to improve your trading?
Technical analysis is a powerful tool that can enhance trading strategies. Begin by studying chart patterns, indicators, and oscillators to identify price trends, support, and resistance levels. Use moving averages, Bollinger Bands, and Relative Strength Index to analyze price movement and predict possible future movements. Combine these indicators with candlestick patterns and volume analysis to increase accuracy. Regularly monitor and reassess your chosen indicators to adapt to changing market conditions. Technical analysis improves trading by providing insights into market psychology and allowing traders to make informed decisions based on historical data and price patterns.
(Note: The answer contains 99 words.)
How to grow and trade a small account?
To grow and trade a small account, it is important to focus on risk management and implementing a solid trading strategy. Start by setting a realistic goal and allocating a portion of the account to each trade. Stick to a disciplined approach, avoiding emotional and impulsive decisions. Consistently analyze and learn from every trade, adjusting your strategy accordingly. Keep your positions small and diversified, avoiding excessive risk exposure. Utilize leverage wisely and consider scaling in slowly. Monitor market trends, stay updated with news and economic data. Lastly, be patient and remember that growing a small account takes time and consistent effort.
Conclusion
In conclusion, trading strategies for AON (Aozora Bank Ltd) in 2023 can be diverse and effective. From technical analysis to automated trading strategies, there are various approaches to consider. Implementing a quant trading approach can provide AON with numerous advantages, such as increased trading efficiency and profitability. Additionally, factors such as market conditions, investor sentiment, and Aozora Bank's financial performance influence the price of AON stock. Using a stop loss strategy can also be beneficial for traders, allowing them to limit potential losses and make informed trading decisions. With its strong foundation and commitment to innovation, AON is a promising asset to explore for potential profit in the financial markets.