Trusted by Traders Worldwide
Quantitative Strategies and Backtesting results for ALNY
Here are some ALNY trading strategies along with their past performance. You can validate these strategies (and many more) for free on Vestinda across thousands of assets and many years of historical data.
Quantitative Trading Strategy: DEMA Crossover on ALNY
Based on the backtesting results statistics for the trading strategy, which were conducted from November 3, 2016, to November 3, 2023, several key findings emerged. The profit factor stood at 1.14, indicating that for every dollar risked, a profit of $1.14 was generated. The annualized ROI, at 4.46%, signified a steady growth rate over the testing period. On average, holdings were maintained for approximately 2 weeks and 6 days, while the strategy generated an average of 0.16 trades per week. The total number of closed trades amounted to 59. Notably, the return on investment yielded an impressive 31.88%, with 45.76% of the trades being profitable.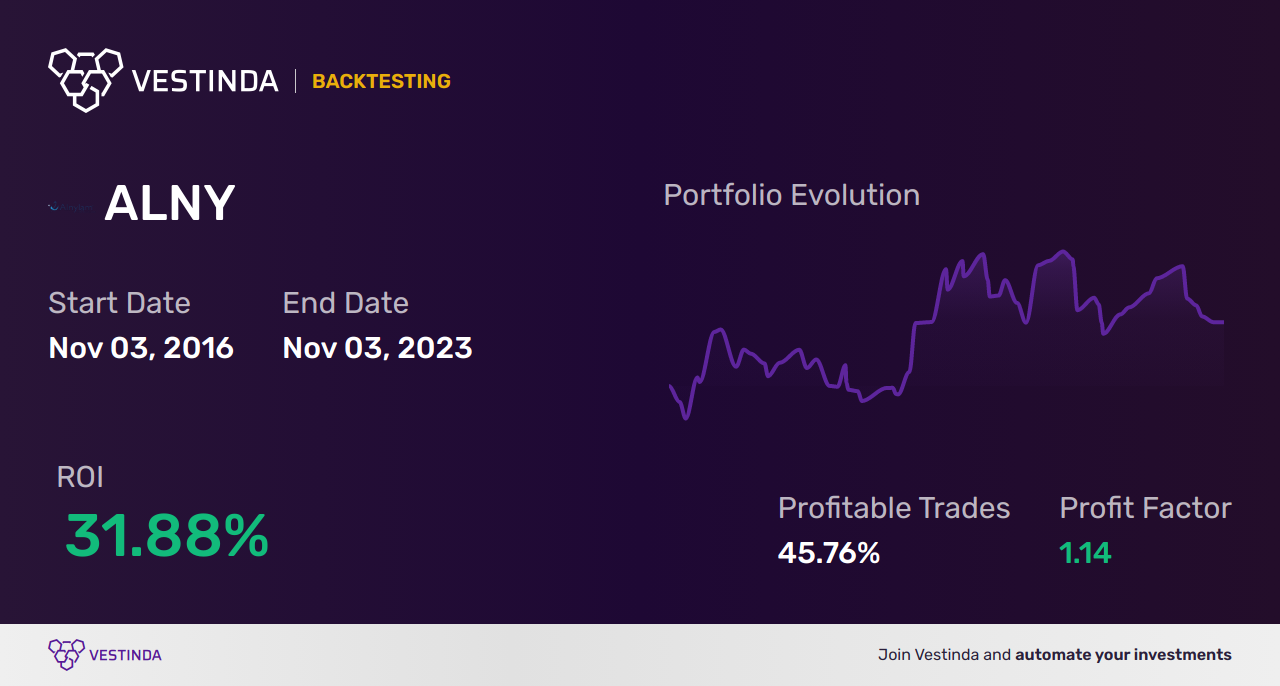 Quantitative Trading Strategy: VWAP and FT Reversals on ALNY
According to the backtesting results statistics from November 3, 2016, to November 3, 2023, the trading strategy achieved a profit factor of 1.02. This implies that for every dollar risked, the strategy generated a profit of $1.02. The annualized return on investment (ROI) amounted to a modest 0.13%, indicating slight growth over the specified period. On average, the holding time for trades was approximately 1 week and 1 day, while the frequency of trades stood at 0.03 per week. In total, there were 12 closed trades within the period, with a winning trades percentage of 33.33%. Overall, the strategy generated a return on investment of 0.92%.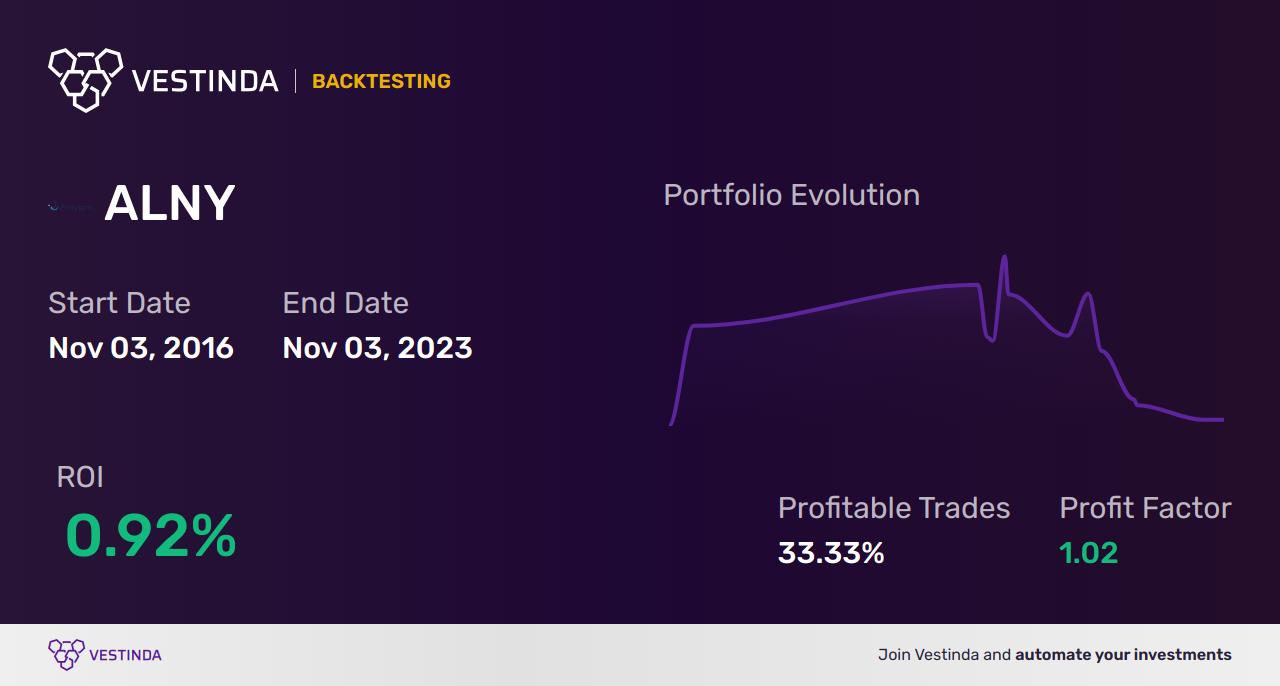 ALNY: Harnessing Quantitative Trading Strategies
Quantitative trading, also known as algorithmic trading or automated trading, can greatly benefit ALNY in its market transactions. By utilizing complex mathematical models and statistical analysis, quantitative trading allows for faster and more accurate trade execution. This approach enables ALNY to leverage large volumes of historical and real-time data to make informed trading decisions. Through automation, quantitative trading can swiftly analyze market conditions and execute predetermined strategies, eliminating human errors and biases. ALNY can leverage quantitative trading to optimize its trading performance, minimize risks, and maximize profits. With the help of quantitative trading, ALNY can efficiently adapt to ever-changing market conditions and execute trades in real-time, ensuring it stays competitive in the highly dynamic and fast-paced financial markets.
The Essence of ALNY: Unveiling a Pharmaceutical Powerhouse
ALNY, short for Alnylam Pharmaceuticals Inc., is a groundbreaking asset in the biotechnology sector. It has garnered attention for its innovative RNA interference-based therapies. Alnylam's mission is to develop transformative medicines that address unmet medical needs. Leveraging its proprietary platform, ALNY has successfully introduced treatments for rare genetic diseases and other maladies. With a focus on precision medicine, ALNY's therapies target specific genes, altering the disease at its root. Through its commitment to scientific excellence, ALNY is revolutionizing the way diseases are treated, bringing hope to countless patients worldwide. As a leader in RNA interference, ALNY continues to push boundaries and generate excitement in the medical community. Embracing cutting-edge technology, ALNY is pioneering a new era of personalized medicine, transforming lives along the way.
ALNY Automated Trading Strategies: Maximize Investment Opportunities
Automated trading strategies can be utilized for ALNY to enhance investment performance. These algorithms are based on mathematical models that analyze vast amounts of data to identify patterns and make predictions. By automating the decision-making process, traders can quickly enter and exit positions, capitalize on potential opportunities, and mitigate risks. These strategies use various tools such as technical indicators, trend analysis, and machine learning algorithms to generate trading signals. With ALNY, an automated strategy could focus on factors like earnings announcements, FDA decision dates, and clinical trial results. However, it's important to note that while automated trading can offer potential benefits, it also carries risks, including technical glitches and unforeseen market events. Therefore, it is essential to carefully select and monitor automated trading strategies and exercise caution when deploying them for ALNY or any other stock.
ALNY Trading Strategies: Top Techniques for Success
Common ALNY trading strategies involve a mix of technical and fundamental analysis to identify potential entry and exit points in the stock. Traders often track key technical indicators such as moving averages and RSI to gauge the stock's momentum. They also keep a close eye on news and developments related to the company's pipeline, partnerships, and regulatory updates. Some traders prefer to buy ALNY on dips or after a significant pullback, while others aim to take advantage of short-term price fluctuations for quick profits. Long-term investors may focus on accumulating ALNY shares based on their belief in the company's strong fundamentals and future growth potential. It's essential for traders to have a well-defined trading plan and risk management strategy in place to navigate the volatility that can be associated with biotech stocks like ALNY.
Start earning in 3 easy steps
Create
account

Discover profitable
strategies

Connect exchange
& start earning
Frequently Asked Questions
What are trading strategy parameters?
Trading strategy parameters are specific settings or variables that traders use to define and execute their trading strategies. These parameters can include indicators, time frames, entry and exit rules, risk management techniques, and position sizing rules. By adjusting these parameters, traders can adapt their strategies to different market conditions, time horizons, and risk tolerance levels. These parameters act as guidelines and help traders make objective decisions based on their predefined rules rather than relying solely on emotions or market sentiment.
What are the best automated trading strategies for ALNY?
The best automated trading strategies for ALNY (Alnylam Pharmaceuticals, Inc.) involve a combination of technical analysis and fundamental factors. Firstly, incorporating moving averages and trend indicators can help identify significant price movements and optimize entry and exit points. Secondly, monitoring key events such as earnings reports, FDA approvals, and clinical trial results can provide valuable insights for making informed trading decisions. Additionally, implementing risk management techniques such as stop-loss orders and trailing stops can protect against potential losses. Ultimately, a successful automated trading strategy for ALNY should be adaptable and continually updated to reflect the changing market dynamics of the biopharmaceutical industry.
Can I start trading under $100?
Yes, you can start trading with $100. Many online brokers offer low-cost or commission-free trading options that allow you to start with a small investment. However, it's important to understand the risks involved in trading and that the returns may vary. With a conservative investment strategy and careful analysis of market trends, it is possible to make profits even with a small amount. Consider starting with a practice account or investing in low-priced stocks to better manage your initial investment while gaining experience in trading.
How to use technical analysis to improve your trading?
To use technical analysis effectively in trading, start by studying price charts and identifying patterns, trends, and support/resistance levels. Use indicators like moving averages, MACD, and RSI to validate these observations. Employ various chart patterns such as head and shoulders, double tops/bottoms, or bullish/bearish engulfing to predict potential market movements. Additionally, utilize candlestick patterns to enter or exit trades strategically. Combine these techniques with risk management strategies, such as setting stop-loss orders and trailing stops, to minimize losses and maximize profits. Continuously educate yourself and practice technical analysis regularly to refine your trading skills.
Which trading strategy is best for beginners?
One of the best trading strategies for beginners is the buy and hold approach. This strategy involves purchasing stocks or other assets with the intention to hold them for an extended period, typically years. Buy and hold allows beginners to avoid the complexity of short-term trading and market timing. It provides an opportunity to learn about the basics of investing and gain long-term investment returns. However, it's crucial for beginners to thoroughly research their investments and diversify their portfolio to mitigate risk.
Conclusion
In conclusion, trading strategies for ALNY (Alnylam Pharmaceuticals Inc) should focus on utilizing quantitative trading and automated trading strategies to optimize performance and minimize risks. ALNY, as a leader in the biotechnology sector, offers exciting investment opportunities with its innovative RNA interference-based therapies. However, traders should also consider combining technical and fundamental analysis to identify the best entry and exit points. With a well-defined trading plan and risk management strategy, traders can navigate the volatility that comes with investing in biotech stocks like ALNY and make informed trading decisions.