Automate & Backtest AION strategies on...
Quant Strategies & Backtesting results for AION
Here are some AION trading strategies along with their past performance. You can validate these strategies (and many more) for free on Vestinda across thousands of assets and many years of historical data.
Quant Trading Strategy: Detrended Price Oscillations with Keltner Channel and Shadows on AION
Based on the backtesting results for the trading strategy from October 14, 2022, to October 14, 2023, the statistics reveal promising performance. The profit factor stands at 1.68, indicating a favorable ratio of winning trades to losing trades. The annualized return on investment (ROI) is calculated at 49%, implying strong growth over the testing period. On average, the holding time for trades is about 1 day and 1 hour, demonstrating a relatively short-term strategy. With an average of 0.53 trades per week and 28 closed trades in total, the strategy exhibits moderate activity. Interestingly, the winning trades percentage is at 50%, suggesting a balanced outcome. Additionally, the strategy outperforms the buy and hold approach, generating excess returns of 440.48%. These results signify the effectiveness and potential profitability of the trading strategy during the analyzed period.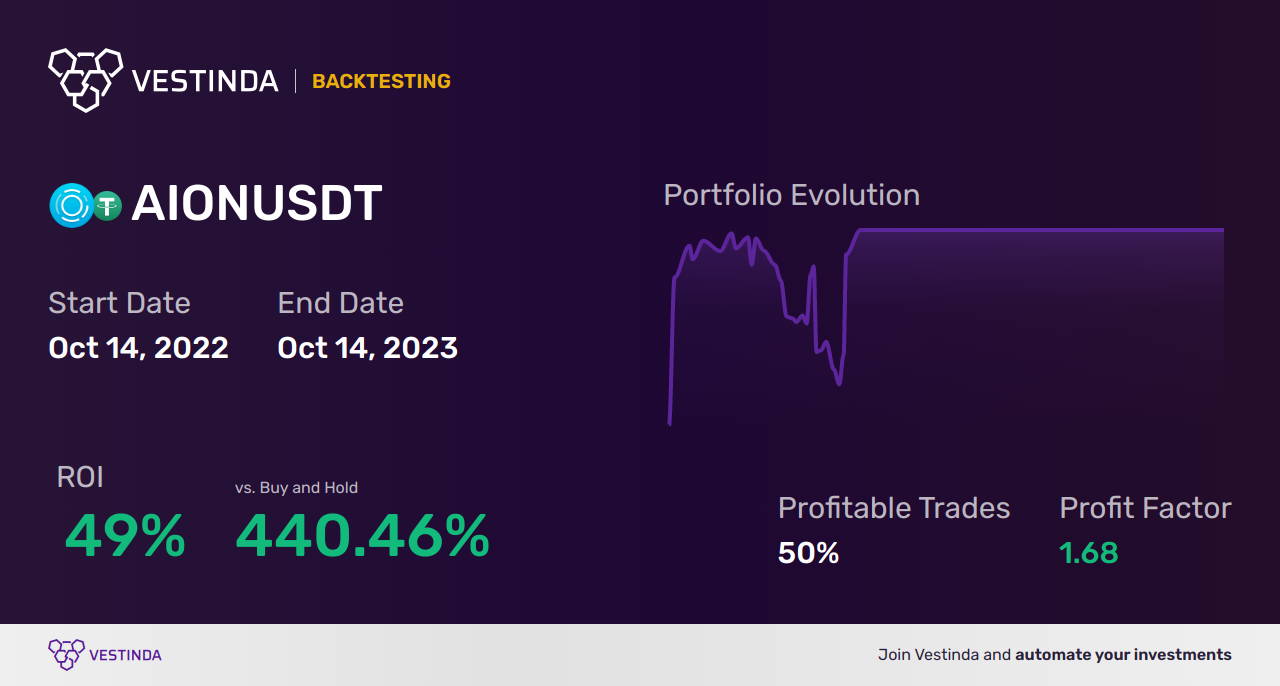 Quant Trading Strategy: MACD Trend-Following with PSAR and Dojis on AION
Based on the backtesting results statistics for a trading strategy from October 14, 2022, to October 14, 2023, the strategy has shown promising performance. The profit factor stands at 1.12, indicating a relatively favorable risk-to-reward ratio. Additionally, the strategy has generated an annualized ROI of 14.59%, showcasing its ability to generate consistent returns. On average, the holding time for trades spans around 1 day and 11 hours, suggesting a relatively short-term approach. The strategy has yielded an average of 0.59 trades per week, demonstrating a cautious and selective trading approach. With a total of 31 closed trades, the overall winning trades percentage is 32.26%. Importantly, the strategy has outperformed the buy-and-hold approach, generating excess returns of 315.71%.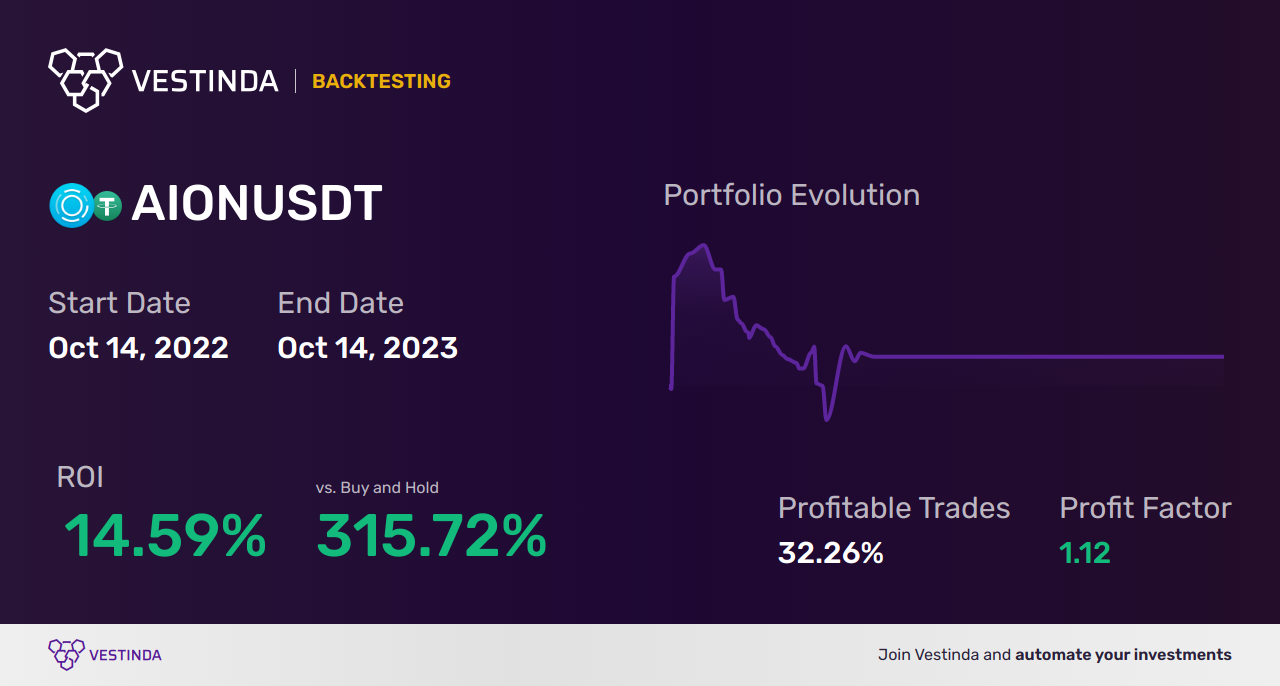 AION: Unlocking Blockchain Interoperability
AION is a digital asset that operates on its own blockchain network. It offers a decentralized platform that focuses on improving interoperability between various blockchain networks. This unique characteristic sets AION apart from other cryptocurrencies in the market. It enables seamless communication and transfers of data and value across different blockchains. AION's innovative technology makes it an attractive asset for traders looking to capitalize on the potential growth and value in the crypto market. With its emphasis on interoperability, AION presents exciting opportunities for investors and traders alike.
Boost Your AION Trading with Automation
Advanced Crypto Trading Automation For AION
Automated trading strategies have become increasingly popular in the crypto market, and AION traders can also benefit from this advanced approach. By utilizing automated trading bots or algorithmic software, traders can execute trades based on pre-defined parameters and indicators without the need for constant monitoring.
One advantage of using automation in AION trading is the ability to react swiftly to market conditions. These trading bots can scan the market, analyze price movements, and execute trades in real-time, ensuring that traders don't miss out on potential profit opportunities.
Another benefit is the elimination of emotional decision-making. Human emotions, such as fear and greed, can often cloud judgment, leading to poor trading choices. Automated trading strategies remove this element, as they operate solely on predetermined rules and conditions, allowing for consistent and disciplined trading.
Risk management is also a crucial aspect of trading automation. Traders can set various risk parameters, such as stop-loss orders and take-profit levels, to mitigate potential losses and secure profits. This helps in minimizing the impact of market volatility and protecting investment capital.
However, it is essential to exercise caution when utilizing automated trading strategies. Traders should thoroughly understand the software they are using and regularly monitor their performance. It is also advisable to start with a small investment and gradually increase exposure as confidence in the chosen strategy grows.
With advanced crypto trading automation for AION, traders can potentially enhance their trading outcomes by leveraging the power of algorithmic strategies while minimizing emotional bias and ensuring effective risk management.
Secure Your AION: Risk Management Tips
Risk Management for AION
When it comes to trading AION or any other cryptocurrency, effective risk management is crucial for long-term success. Here are some key principles to consider:
1. Diversification: Avoid putting all your eggs in one basket. Diversify your AION holdings among different cryptocurrencies or other asset classes to reduce the impact of any single investment.
2. Stop-loss Orders: Set predetermined stop-loss levels to limit potential losses. These orders automatically trigger a sell order if the price of AION reaches a specific point, protecting against significant downturns.
3. Research and Analysis: Stay informed about AION's market trends, news, and technological developments. Conduct thorough research and utilize technical analysis tools to make informed trading decisions.
4. Position Sizing: Determine the appropriate size of each trade based on your risk tolerance and the market conditions. Avoid overexposing yourself to AION or any single asset, as it can lead to excessive risk.
5. Emotional Discipline: Emotions can cloud judgment and lead to impulsive decisions. Stick to your trading plan and avoid making trades based on fear, greed, or the fear of missing out (FOMO).
6. Risk-Reward Ratio: Before entering a trade, assess the potential profit versus the potential loss. A favorable risk-reward ratio ensures that even if not all trades are successful, overall profitability can be maintained.
By incorporating these risk management strategies into your AION trading approach, you can mitigate potential losses and increase the likelihood of successful trades. Remember, trading always carries risks, but careful planning and risk management can improve your chances of long-term success.
Start earning fast & easy
Create
account

Build trading strategies
with no code

Validate
& Backtest

Automate
& start earning
Frequently Asked Questions
What are the best automated trading strategies for crypto in general?
One of the best automated trading strategies for crypto is trend following. It involves identifying and following the direction of the market trend. When the market is on an uptrend, buy and hold for profit. Conversely, during a downtrend, sell or short to profit from price declines. Another effective strategy is mean reversion, which looks for situations where prices deviate significantly from their average. Traders aim to capitalize on the price returning to its average. Additionally, breakout trading can be profitable by buying or selling when the price moves above or below a predefined level.
How to trade cryptocurrency daily with 100 dollars?
To trade cryptocurrency daily with 100 dollars, start by choosing a reliable cryptocurrency exchange. Sign up and create an account. Next, deposit your 100 dollars into your account. Research and select a cryptocurrency that aligns with your investment goals. Analyze the market trends and price movements. Use technical indicators and chart patterns to identify potential entry and exit points for your trades. Set your stop-loss and take-profit levels to protect your investment and secure profits. Execute your trades by buying or selling the chosen cryptocurrency. Monitor the market regularly for any changes that may affect your trades.
Which crypto trading strategy is best for beginners?
For beginners, a simple and effective crypto trading strategy is dollar-cost averaging. This strategy involves buying a set amount of cryptocurrency at regular intervals, regardless of its price. By spreading out your purchases over time, you can mitigate the impact of market volatility. Another beginner-friendly strategy is long-term investing, where you buy and hold cryptocurrency for an extended period. It allows you to ride the long-term upward trend in the market. Additionally, using stop-loss orders can help limit potential losses by automatically selling the cryptocurrency if it reaches a certain predetermined price point.
How to grow and trade a small crypto account?
To grow and trade a small crypto account, start by setting clear goals and establishing a solid trading plan. Focus on risk management by only risking a small portion of your account on each trade. Choose a reliable cryptocurrency exchange and research different cryptocurrencies to find potential opportunities. Use technical analysis tools and indicators to identify entry and exit points. Regularly monitor the market for any news or events that may impact your trades. Consider starting with low-risk strategies like trend following or dollar-cost averaging. Continuously educate yourself about crypto trading and adjust your strategies accordingly.
What is leverage trading?
Leverage trading is a method in which traders borrow funds from a cryptocurrency exchange or broker to increase their trading position. It allows traders to control a larger amount of cryptocurrency than they actually own. With leverage, even a small capital can be used to open larger positions, potentially amplifying both profits and losses. Traders need to understand that while leverage can magnify gains, it can also lead to significant losses. Therefore, it is important to use leverage cautiously and have proper risk management strategies in place.
Conclusion
In conclusion, trading AION in 2023 can be an exciting endeavor with numerous opportunities. By implementing effective trading strategies, conducting thorough analysis, and considering automation tools, traders can enhance their chances of success in the crypto market. It is crucial to prioritize risk management and diversify investments to minimize potential losses. Staying informed about market trends and utilizing technical analysis can also contribute to making informed trading decisions. Whether you are a beginner or an experienced trader, understanding the unique characteristics of AION and employing the right strategies can help maximize profits and navigate the dynamic world of cryptocurrency trading.