Start earning in 3 easy steps
Create
account

Discover profitable
strategies

Connect exchange
& start earning
Quant Strategies and Backtesting results for AAON
Here are some AAON trading strategies along with their past performance. You can validate these strategies (and many more) for free on Vestinda across thousands of assets and many years of historical data.
Quant Trading Strategy: CCI Trend-trading with KCM and Shadows on AAON
During the November 2, 2022 to November 2, 2023 period, the backtesting results of a trading strategy demonstrated promising statistics. The strategy recorded a profit factor of 1.42, indicating that for every unit of risk taken, 1.42 units of profit were generated. The annualized return on investment stood at an impressive 18.28%. On average, the strategy held positions for approximately 3 days and 8 hours, showcasing a relatively short holding time. Additionally, the strategy executed an average of 0.57 trades per week and closed a total of 30 trades during the period. While the percentage of winning trades stood at 40%, it outperformed a traditional buy and hold strategy, generating excess returns of 36.38%.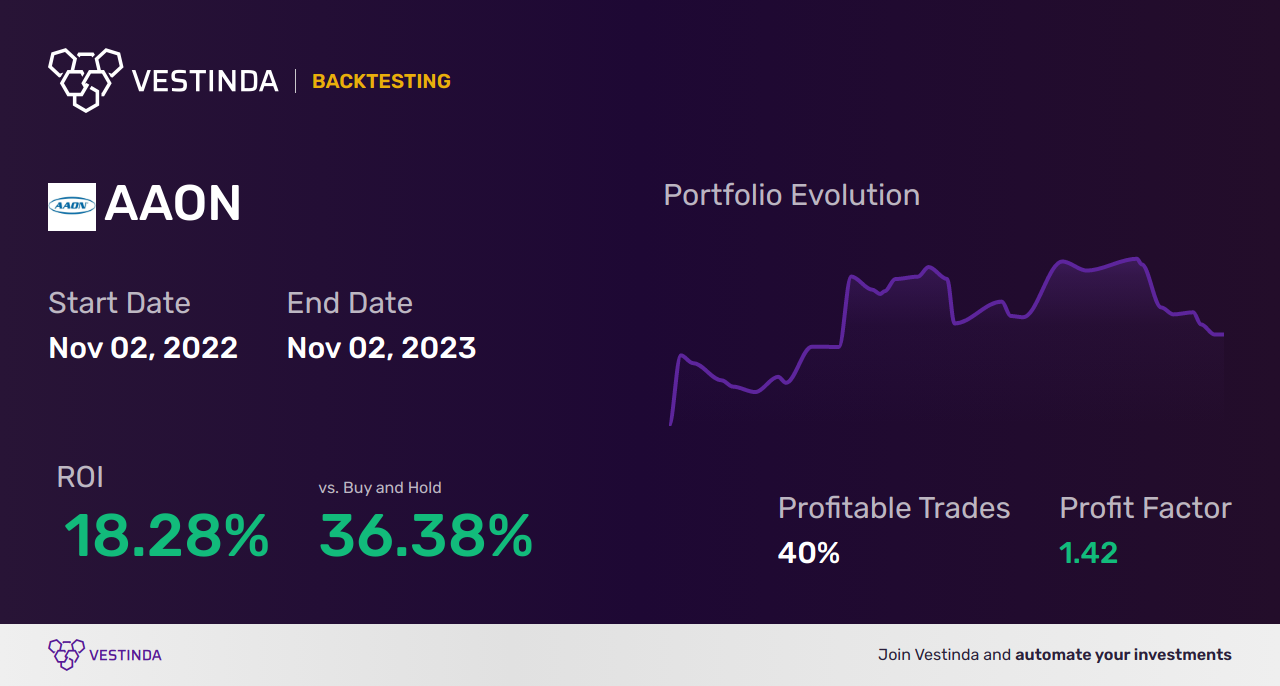 Quant Trading Strategy: CMO Reversals with VWAP and Engulfing Patterns on AAON
The backtesting results for the trading strategy from November 2, 2022, to November 2, 2023, show promising statistics. The profit factor stands at an impressive 3.21, indicating a favorable ratio of profits to losses. The annualized return on investment (ROI) is 12.09%, affirming the strategy's ability to generate consistent returns over the observed period. On average, the holding time for trades is 1 day and 5 hours, while the strategy executes approximately 0.17 trades per week. With a total of 9 closed trades, the strategy showcases a winning trades percentage of 66.67%. Notably, it outperforms the buy-and-hold strategy, delivering excess returns of 29.24%.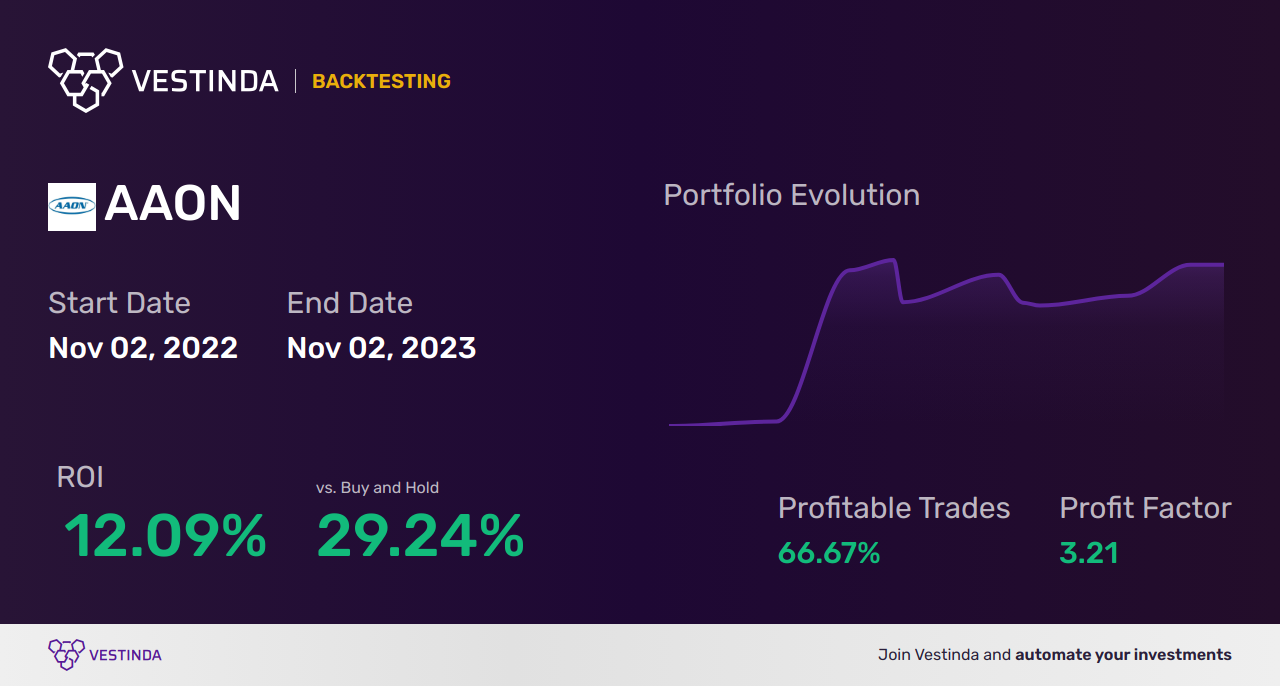 Enhancing Profits: Quant Trading for AAON
Quant trading, also known as quantitative trading, can greatly benefit AAON Inc. by automating the process of trading in the markets. With quant trading, AAON can utilize mathematical models and algorithms to analyze vast amounts of data and make trading decisions based on predefined rules and criteria. This automated approach eliminates human emotions and biases, leading to more objective and consistent trading strategies. By leveraging quant trading, AAON can rapidly execute trades and react to market changes in real-time, maximizing profit potential while reducing the risk of human error. Additionally, quant trading allows AAON to take advantage of complex trading strategies and explore diverse markets and asset classes. With the help of quant trading, AAON can enhance its trading efficiency and potentially achieve better investment performance.
AAON: Unveiling a HVAC Industry Pioneer
AAON Inc., commonly referred to as AAON, is a leading manufacturer of heating, ventilation, and air conditioning (HVAC) systems. With over 30 years of experience in the industry, AAON has built a strong reputation for their innovative and energy-efficient products. Their custom-built systems are known for their reliability and superior performance. The company's dedication to quality is evident in their state-of-the-art manufacturing facilities and rigorous testing procedures. AAON serves a wide range of industries, including commercial, industrial, educational, and healthcare sectors. The company's commitment to customer satisfaction is reflected in their exceptional service and support. As a publicly traded company, AAON has consistently shown strong financial performance, providing investors with a solid opportunity for long-term growth. With their focus on innovative technology and commitment to excellence, AAON continues to be a trusted name in the HVAC industry.
AI-Driven Trade Strategies for AAON Stock
Automated trading strategies can provide a competitive edge for AAON investors. These strategies involve using computer algorithms to execute trades based on predefined rules. They can analyze vast amounts of data and react to market conditions instantly. By removing emotions from the decision-making process, automated trading can make faster and more precise trades. For AAON, this means taking advantage of short-lived opportunities and maximizing profits. By setting predefined rules for buying and selling AAON stock, investors can automate their trading strategies and eliminate the need for constant monitoring. This allows investors to focus on other aspects of their investment strategy while the automated system does the work. Overall, implementing automated trading strategies for AAON can enhance trading efficiency and potentially increase returns.
Tailoring AAON's Trading Strategies with Precision
Developing customized trading strategies is crucial for investors looking to maximize their profits. By tailoring strategies to their individual trading style, risk tolerance, and market outlook, traders can gain a competitive edge in the market.
When developing customized trading strategies, traders should consider factors such as their time horizon, desired level of diversification, and preferred asset classes. They should also analyze historical market data and technical indicators to identify patterns and trends.
One example of a customized trading strategy is the AAON trend-following strategy. It involves buying AAON shares when the price breaks above a certain moving average and selling when it falls below another moving average. This strategy aims to capture long-term trends in the AAON stock price while cutting losses when the price declines.
Overall, developing customized trading strategies allows investors to align their trading decisions with their specific goals and risk appetite, potentially improving their investment performance in the market.
Backtest AAON & Stocks, Forex, Indices, ETFs, Commodities
100,000 available assets New

years of historical data

practice without risking money

Frequently Asked Questions
What are some potential uses of smart contracts?
Smart contracts have several potential uses in various industries. They can be utilized for financial transactions such as automated payments, lending, and insurance claims, eliminating the need for intermediaries and reducing costs. Moreover, smart contracts can ensure the transparency and integrity of supply chain management by automating processes like product tracking and authentication. They can also be applied to the legal sector for tasks like property transfers and will executions. Additionally, smart contracts have implications in healthcare systems, voting procedures, and intellectual property rights management, enhancing efficiency, security, and trust in these domains.
What's the most popular trading strategy?
The most popular trading strategy largely depends on individual preferences and market conditions. However, some commonly used strategies include trend following, mean reversion, breakout trading, and momentum trading. Trend following involves identifying and capitalizing on market trends, while mean reversion focuses on exploiting the return of prices to their average values. Breakout trading involves buying when a price surpasses a specific level of resistance or selling when it falls below a support level. Momentum trading relies on the belief that trends tend to continue in the same direction. Ultimately, the popularity of a particular strategy may vary over time as markets evolve and new approaches and technologies emerge.
What is quantitative trade?
Quantitative trade is a strategy that involves using data analysis and mathematical models to make trading decisions in financial markets. Traders utilizing quantitative methods rely on statistical analysis, algorithmic trading systems, and computer programs to identify trading opportunities and execute trades. These strategies aim to exploit short-term market inefficiencies and generate profits based on quantitative indicators and signals. By leveraging technology and data-driven approaches, quantitative trade seeks to remove human bias and emotion from decision-making and increase the efficiency and effectiveness of trading activities.
Which trading strategy is best for beginners?
For beginners, a simple and effective trading strategy is to focus on long-term investing in diversified assets. This strategy involves buying and holding a variety of stocks or exchange-traded funds (ETFs) to spread the risk across different industries and sectors. Additionally, beginners should prioritize fundamental analysis to evaluate the strength and potential of companies. By gradually learning about the market and building a diversified portfolio, beginners can reduce the risks associated with short-term trading and take advantage of long-term growth opportunities.
Where do you trade AAON?
AAON is publicly traded on the NASDAQ stock exchange under the ticker symbol "AAON." As a result, investors and traders can buy and sell AAON shares through any brokerage account that provides access to the NASDAQ market. Numerous online trading platforms and traditional brokerage firms offer the ability to trade AAON stock, allowing individuals to participate in the market and take advantage of potential investment opportunities. It is crucial to conduct thorough research and consider various factors before engaging in any trading activity.
What are the best automated trading strategies for AAON?
Some of the best automated trading strategies for AAON could include momentum trading, mean-reversion trading, and event-driven trading. In momentum trading, the algorithm identifies stocks that are currently trending upwards and enters a trade to capitalize on the momentum. Mean-reversion trading looks for stocks whose price has deviated from its average, aiming to profit from the price returning to its mean. Event-driven trading involves monitoring news and events related to AAON, such as earnings announcements or new product releases, and making trades based on the impact of those events on the stock price.
Conclusion
In conclusion, trading strategies for AAON Inc. can greatly enhance your trading experience and potentially improve investment performance. From automated trading strategies to customized approaches, there are various ways to maximize profits and manage risk. Quantitative trading eliminates emotions and biases, allowing for objective and consistent decision-making. Automated trading strategies provide a competitive edge by reacting to market changes in real-time. Customized trading strategies tailored to individual trading styles and risk tolerance can align trading decisions with specific goals. By exploring and implementing these strategies, investors can navigate the AAON market with confidence and potentially achieve better results.