Trusted by Traders Worldwide
Algorithmic Strategies & Backtesting results for YIQG
Here are some YIQG trading strategies along with their past performance. You can validate these strategies (and many more) for free on Vestinda across thousands of assets and many years of historical data.
Algorithmic Trading Strategy: Template - Breakout of last 20 days on YIQG
The backtesting results for the trading strategy, spanning from July 14, 2017, to October 27, 2023, reveal promising statistics. The profit factor stands at a solid 2.14, indicating that the strategy generated positive returns. The annualized return on investment (ROI) amounts to 2.81%, demonstrating a consistent growth rate. On average, each position was held for approximately 10 weeks and 6 days, implying a relatively longer-term approach. The strategy produced 16 closed trades during this period, amounting to an average of 0.04 trades per week. Out of these, 56.25% were winning trades. Importantly, the strategy outperformed a buy and hold approach by generating excess returns of 44.54%.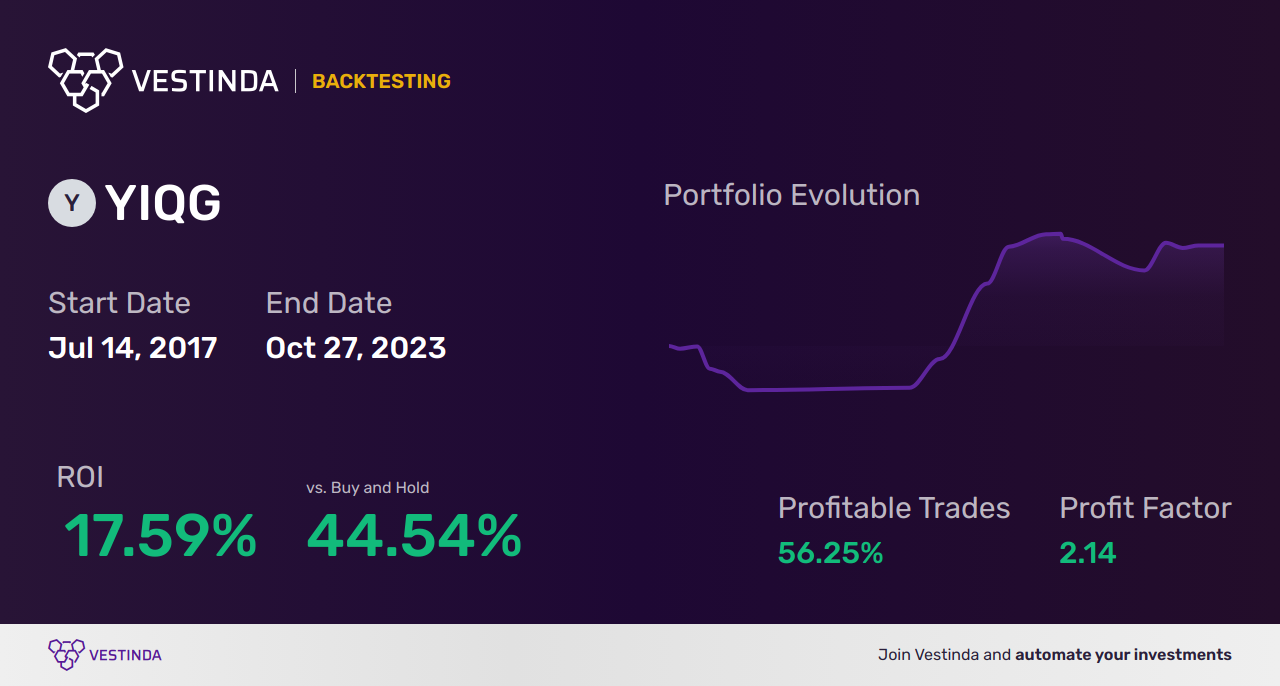 Algorithmic Trading Strategy: Long term invest on YIQG
Based on the backtesting results from July 14, 2017, to October 27, 2023, the trading strategy exhibited a profit factor of 6.72. An annualized return on investment (ROI) of 4.24% was achieved, which translates to excess returns of 26.53%. The average holding time for trades was approximately 25 weeks and 3 days. Despite a low average of 0.02 trades per week, a winning trades percentage of 28.57% was attained. With a performance better than buy and hold, this strategy generated excess returns of 55.52%. Overall, these statistics indicate a successful and profitable trading strategy over the given period.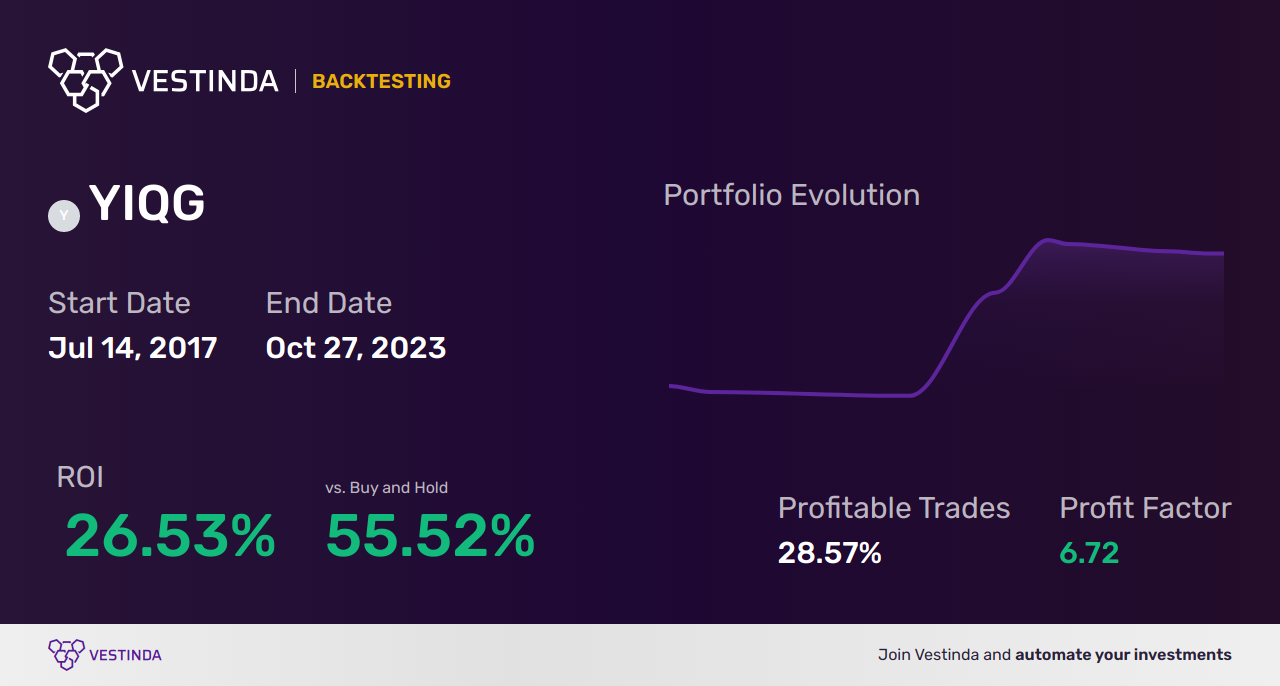 Automated YIQG Trading Strategies with Algorithms
Algorithmic trading can be a valuable tool when trading YIQG in an automated way. With algorithmic trading, traders can utilize computer programs to execute trades based on predetermined rules and conditions. This technology eliminates the need for manual execution and allows for quicker responses to market movements. Algorithmic trading utilizes advanced mathematical models and algorithms to analyze market data and identify trading opportunities. By employing this method, traders can benefit from faster execution, reduced human error, and the ability to capitalize on even small fluctuations in the market. It also enables traders to backtest strategies and make data-driven decisions. Algorithmic trading can enhance the efficiency and effectiveness of YIQG trading by providing opportunities for increased profitability and risk management.
Exploring YIQG: Barclays Bank Trading Asset
YIQG is an asset that represents Barclays Bank PLC. In the world of trading, it is essential to understand the unique characteristics of the asset you are trading. YIQG offers traders an opportunity to invest in one of the leading banking institutions, Barclays Bank. By trading YIQG, investors can gain exposure to the stock performance of Barclays and potentially benefit from its financial stability and market influence. The asset's value can be influenced by various factors such as economic conditions, industry trends, and company performance. Traders who choose to trade YIQG should stay updated on relevant news, conduct technical analysis, and consider market sentiment to make informed trading decisions. Understanding YIQG and its underlying dynamics can provide traders with valuable insights to execute successful trading strategies.
Managing Risks in YIQG Trading
Risk management plays a crucial role when trading YIQG. It involves strategies and techniques aimed at minimizing potential losses. One important aspect of risk management is diversification. By spreading investments across different assets, traders can reduce exposure to a single company or industry. Setting stop-loss orders is another effective risk management tool. These orders automatically sell a position if the price reaches a predetermined level, limiting losses. Additionally, it's essential to stay informed about market conditions and conduct thorough research before making trading decisions. By understanding the potential risks associated with YIQG and implementing appropriate risk management practices, traders can protect their capital and increase the likelihood of successful trades. Remember, in trading, managing risk is just as important as maximizing profits.
Enhancing YIQG Trading with Advanced Automation
Advanced trading automation can greatly enhance your YIQG trading experience. By harnessing the power of technology, traders can employ sophisticated algorithms and automated trading strategies to optimize their trades. One approach is using artificial intelligence and machine learning algorithms to analyze vast amounts of data and make informed trading decisions. These algorithms can adapt to changing market conditions and identify patterns that may not be evident to human traders. Additionally, using automated trading systems can provide speed and efficiency in executing trades, eliminating emotions from the decision-making process. However, it's crucial to carefully design and test these advanced automated strategies to ensure they align with your trading goals and risk tolerance. With the right combination of advanced trading automation and proper risk management, you can maximize your potential for success in YIQG trading.
Start earning fast & easy
Create
account

Build trading strategies
with no code

Validate
& Backtest

Connect exchange
& start earning
Frequently Asked Questions
How to use technical analysis to improve your trading?
To use technical analysis for improving your trading, start by studying price charts to identify patterns and trends. Look for support and resistance levels to determine entry and exit points. Use indicators like moving averages and oscillators to confirm signals and make more accurate predictions. Analyze volume to gauge market interest and momentum. Set clear risk management rules to protect your capital. Regularly review and adjust your strategies based on market conditions and indicators. Continuously educate yourself on technical analysis techniques and stay updated with market news and events that may affect your trades.
Is algo trading easy?
Algo trading, or algorithmic trading, can be complex for beginners, but with practice, it can become easier. It involves using computer programs to execute trades based on pre-set parameters. Some coding and programming knowledge is required to develop and implement trading algorithms. Understanding market dynamics and having a clear trading strategy is important. It's essential to backtest algorithms, evaluate results, and make adjustments accordingly. However, there are resources available, such as beginner-friendly algorithmic trading platforms, tutorials, and courses, to help simplify the process and make algo trading more accessible to beginners.
How to make money from blockchain smart contracts?
To make money from blockchain smart contracts, you can start by identifying potential opportunities in the decentralized finance (DeFi) space. Research various DeFi platforms and projects that utilize smart contracts for lending, staking, or yield farming. Invest in established projects or participate in Initial Coin Offerings (ICOs) for promising new projects. Analyze the risks involved and diversify your investments. Stay updated with the latest developments in the blockchain industry and continuously educate yourself about smart contracts. Moreover, consider consulting with financial advisors or experts in the field to make informed decisions and maximize your earning potential.
Conclusion
In conclusion, trading YIQG can be a rewarding endeavor when armed with the right strategies and tools. By understanding the unique characteristics of the asset, implementing risk management practices, and leveraging advanced automation, traders can navigate the market more effectively. Algorithmic trading provides opportunities for automated and data-driven decision-making, while technical analysis aids in identifying trends and patterns. Additionally, diversification and setting stop-loss orders contribute to effective risk management. As you venture into YIQG trading, remember to stay informed, adapt to changing market conditions, and continuously refine your strategies. With diligence and knowledge, you can unlock the potential for success in trading YIQG.