Start earning in 3 easy steps
Create
account

Discover profitable
strategies

Connect exchange
& start earning
Quant Strategies and Backtesting results for TRVL.U
Here are some TRVL.U trading strategies along with their past performance. You can validate these strategies (and many more) for free on Vestinda across thousands of assets and many years of historical data.
Quant Trading Strategy: Lock and keep profits on TRVL.U
Based on the backtesting results statistics for the trading strategy spanning from January 11, 2021, to October 27, 2023, some noteworthy findings emerge. The profit factor stands at 0.31, indicating that, on average, for every dollar risked, only $0.31 was gained. The annualized return on investment (ROI) reflects a negative figure of -10.1%, highlighting that the strategy experienced a loss during this period. The average holding time per trade was approximately 6 weeks and 2 days, suggesting a fairly long-term approach. With an average of 0.06 trades per week, trading activity was fairly low. The strategy resulted in 10 closed trades, with a discouraging overall return on investment of -28.06%. Furthermore, the winning trades percentage was a meager 20%, demonstrating room for improvement in generating profitable outcomes.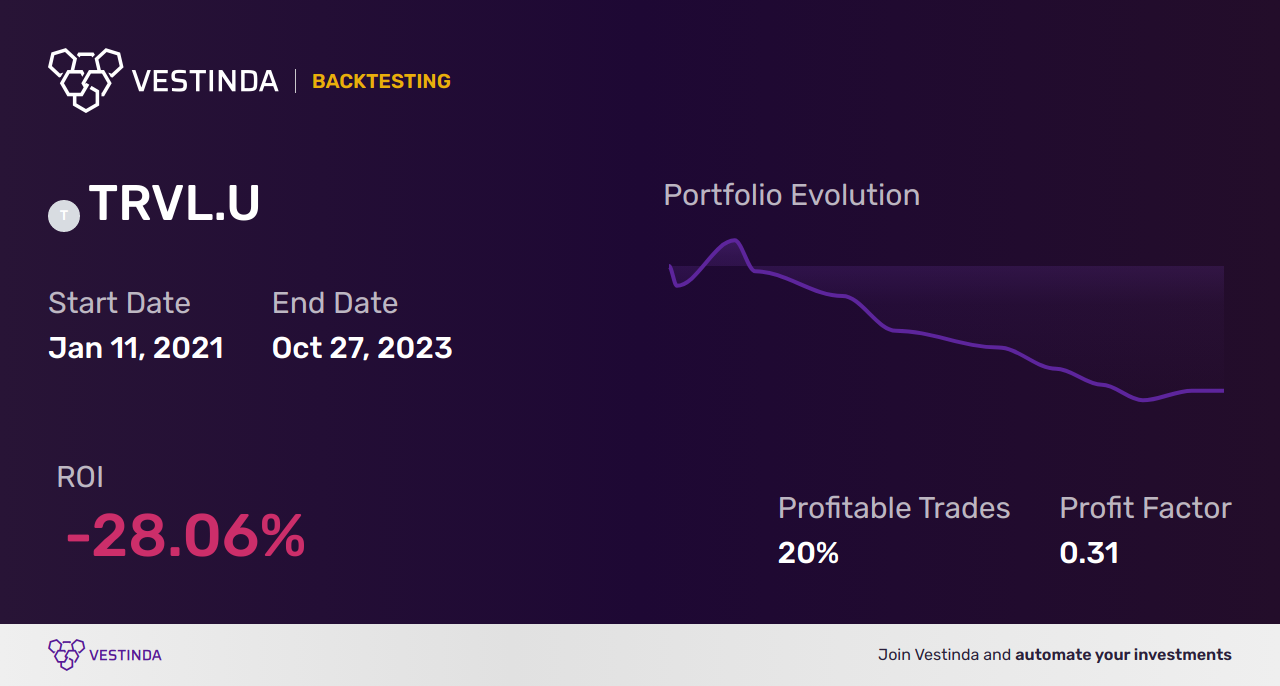 Quant Trading Strategy: MVWAP and VWAP Crossover on TRVL.U
The backtesting results for the trading strategy conducted over the period from January 11, 2021, to October 27, 2023, revealed some noteworthy statistics. The profit factor stood at 0.68, indicating that for every unit of risk taken, the strategy generated only 0.68 units of profit. The annualized return on investment (ROI) was calculated to be -7.9%, implying a negative yield over the analyzed timeframe. On average, positions were held for approximately 3 weeks, and the frequency of trades amounted to 0.16 trades per week. With a total of 24 closed trades, the strategy exhibited a 41.67% success rate for winning trades. Overall, the strategy yielded a return on investment of -21.95%.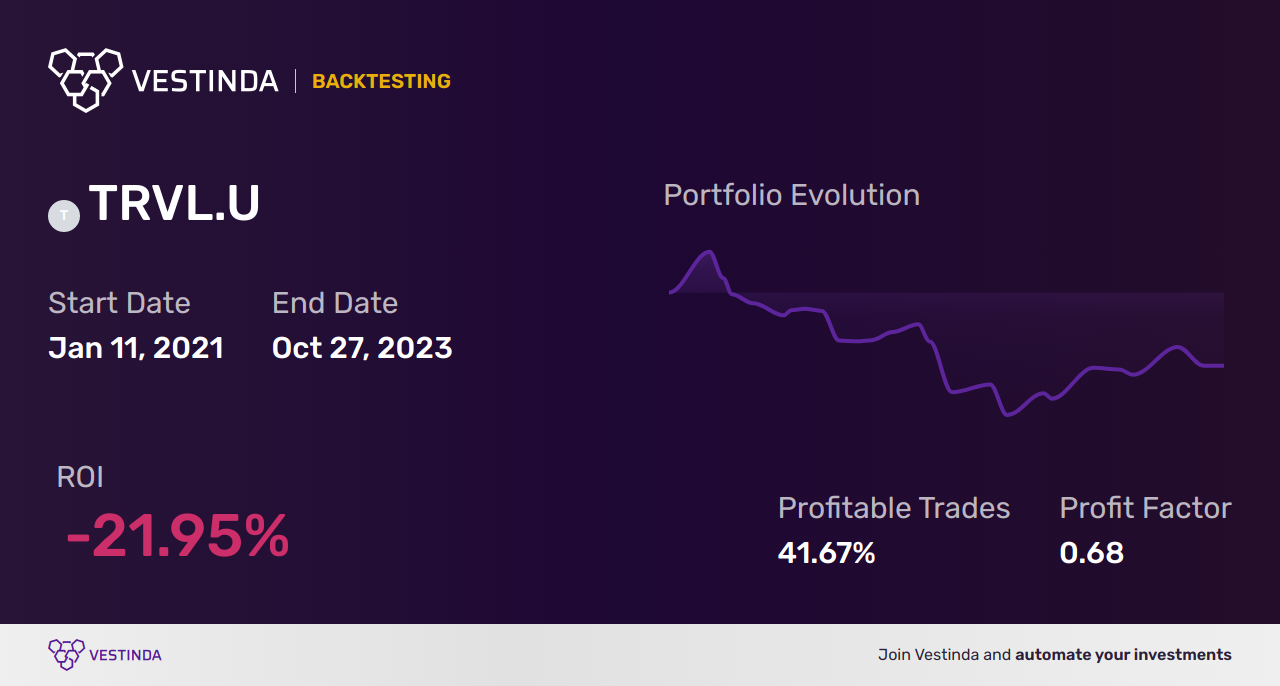 Automated Trading Strategies for TRVL.U
Algorithmic trading can be a valuable tool when trading TRVL.U or any other asset. It involves using computer algorithms to make trading decisions automatically, based on pre-defined rules and parameters. By utilizing algorithmic trading strategies, traders can trade the markets in an automated way, without being tied to their screens all the time. This can help to remove emotions from trading and ensure consistent execution of trades. Algorithmic trading can analyze vast amounts of data and react quickly to market movements, allowing for faster execution and potentially capturing trading opportunities that may be missed by manual traders. It is important, however, to develop and test robust algorithms and to implement proper risk management strategies to protect against potential market risks. Overall, algorithmic trading can enhance trading efficiency, increase speed, and potentially improve overall trading performance when utilized appropriately.
Exploring TRVL.U: Travel & Leisure ETF
TRVL.U is an ETF asset abbreviation that stands for Harvest Travel & Leisure Index ETF. TRVL.U focuses on companies within the travel and leisure sector, allowing investors to gain exposure to this specific industry. The ETF is designed to track the performance of the Harvest Travel & Leisure Index, which consists of various companies involved in sectors such as airlines, hotels, restaurants, cruise lines, and other related businesses. By investing in TRVL.U, traders can participate in the potential growth and performance of the travel and leisure industry. It offers a diversified portfolio of companies within this sector, which can help mitigate risks associated with investing in individual stocks. TRVL.U provides an opportunity for investors to access a specific industry, creating potential for capital appreciation and income generation.
Powerful Tools for TRVL.U Trading Success
Technical analysis tools can be beneficial for traders looking to analyze and make informed decisions about TRVL.U trading. One commonly used tool is moving averages, which help identify trends and potential entry and exit points. Charts with candlestick patterns can provide insights into market sentiment and potential reversals. Support and resistance levels can indicate price levels where TRVL.U is likely to encounter buying or selling pressure. Oscillators like the Relative Strength Index (RSI) can help identify overbought or oversold conditions. Additionally, using indicators such as the MACD or Bollinger Bands can provide further insights into price momentum and volatility. By utilizing these technical analysis tools, traders can better understand market dynamics and potentially enhance their trading strategies when trading TRVL.U.
Tailored Approaches: Crafting Personalized TRVL.U Trading Strategies
Developing customized trading strategies is an essential aspect of successful TRVL.U trading. It involves tailoring a trading plan to fit your specific goals, risk tolerance, and trading style. One approach is to combine technical indicators like moving averages and oscillators to create a strategy that fits your preferences. Fundamental analysis can also be incorporated by evaluating news and financial data, enabling you to make more informed trading decisions. Testing and backtesting your strategies using historical data can help identify strengths and weaknesses, allowing for refinement and optimization. It's important to remember that trading strategies should be adaptive and flexible, capable of adjusting to changing market conditions. By developing customized trading strategies, you can enhance your ability to navigate the intricacies of TRVL.U trading and potentially increase your trading success.
Trusted by Traders Worldwide
Frequently Asked Questions
How to use technical analysis to improve your trading?
To use technical analysis for better trading, start by analyzing price charts and patterns. Look for trends, support, and resistance levels. Use indicators like moving averages or relative strength index (RSI) to confirm signals. Plan your entry and exit points based on these indicators. Set stop-loss orders to limit losses in case the trade goes against you. Continuously monitor the charts and adjust your strategies accordingly. Remember, technical analysis is not a guaranteed method, so always combine it with fundamental analysis for a more comprehensive trading approach.
Where do you trade TRVL.U?
TRVL.U is traded on the Toronto Stock Exchange (TSX). You can buy and sell TRVL.U through a brokerage account. It is important to choose a reputable broker that offers access to the TSX and has the TRVL.U ETF available for trading. Open an account with the chosen broker and fund it with the desired amount. Then, search for the symbol "TRVL.U" on the trading platform, enter the quantity to buy or sell, and place the order. Monitor the market and make informed decisions when trading TRVL.U.
What's the most popular trading strategy?
One of the most popular trading strategies is the trend-following strategy. This strategy involves identifying a trend in the market and trading in the direction of that trend. Traders using this strategy aim to profit from the continued movement of the trend. They use technical analysis tools to identify trends and confirm signals. The idea is to buy when the price is trending upward and sell when the price is trending downward. However, it's important to note that no strategy is foolproof, and it's essential to apply risk management techniques and continuously monitor the market.
Conclusion
In conclusion, trading TRVL.U requires careful planning and the implementation of effective strategies. Whether it's through algorithmic trading, technical analysis tools, or customized approaches, traders can navigate the markets with confidence. By utilizing automated trading strategies, traders can streamline their trading activities and remove emotions from the equation. Technical analysis tools provide valuable insights into market dynamics, helping traders make informed decisions. Developing customized trading strategies allows for a tailored approach that aligns with individual goals and risk tolerance. With a solid understanding of the TRVL.U asset and the implementation of appropriate trading strategies, traders can unlock their potential for success in the ever-changing world of trading.