Trusted by Traders Worldwide
Automated Strategies and Backtesting results for IQD
Here are some IQD trading strategies along with their past performance. You can validate these strategies (and many more) for free on Vestinda across thousands of assets and many years of historical data.
Automated Trading Strategy: Follow the trend on IQD
Based on the backtesting results for the trading strategy during the period from October 25, 2022, to October 25, 2023, it is evident that the strategy faced significant challenges. The annualized return on investment (ROI) for the strategy was a staggering -90.1%, indicating substantial losses compared to the initial investment. The average holding time for trades was approximately 6 weeks and 1 day. Moreover, the strategy had an average of only 0.03 trades per week, demonstrating limited activity. Throughout this period, there were only 2 closed trades. What's concerning is that none of these trades yielded positive results, as the winning trades percentage was 0%. These statistics highlight the need for reconsidering and refining the trading strategy to potentially improve its performance.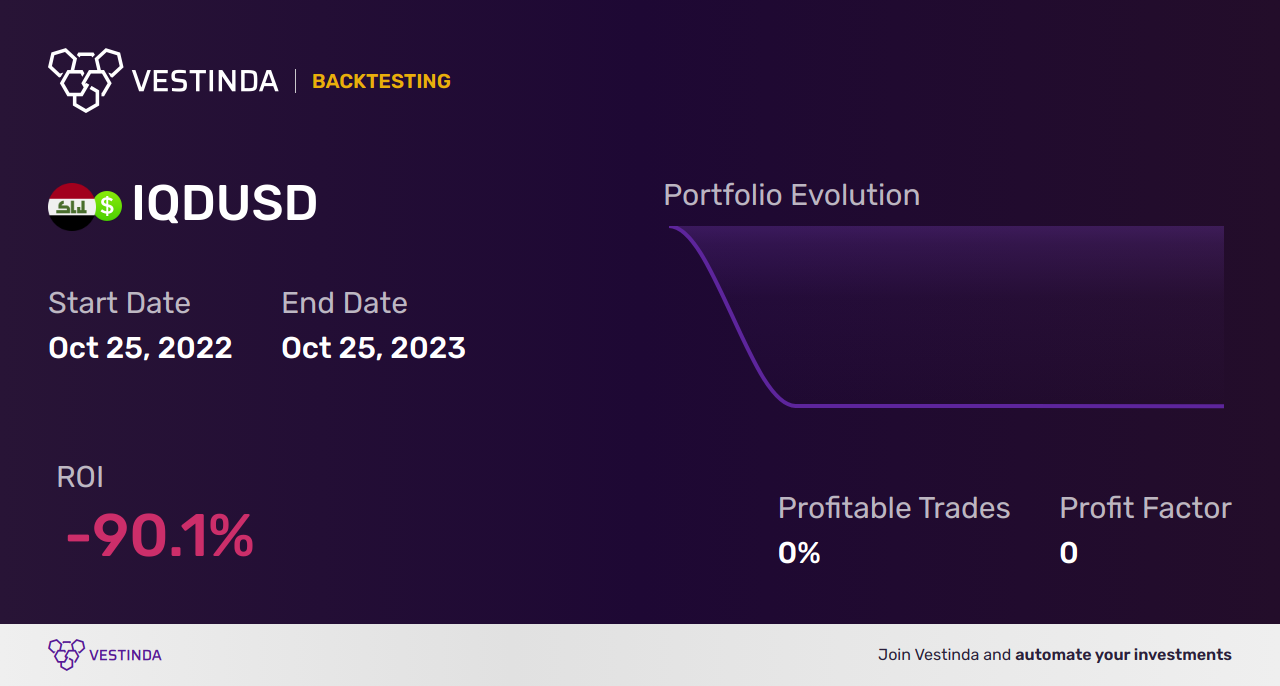 Automated Trading Strategy: Long term invest on IQD
During the backtesting period from July 17, 2017, to October 25, 2023, the trading strategy displayed a negative annualized return on investment of -2.9%. On average, trades were held for one week and six days, with approximately 0.06 trades executed per week. The number of closed trades amounted to 20, while the return on investment for these trades showed a decline of -18.13%. Surprisingly, none of the trades resulted in a positive outcome, with a winning trades percentage of 0%. Nonetheless, the strategy outperformed the simple buy-and-hold strategy, generating excess returns of 825.99%. Despite the overall negative performance, the strategy demonstrated potential for improvement.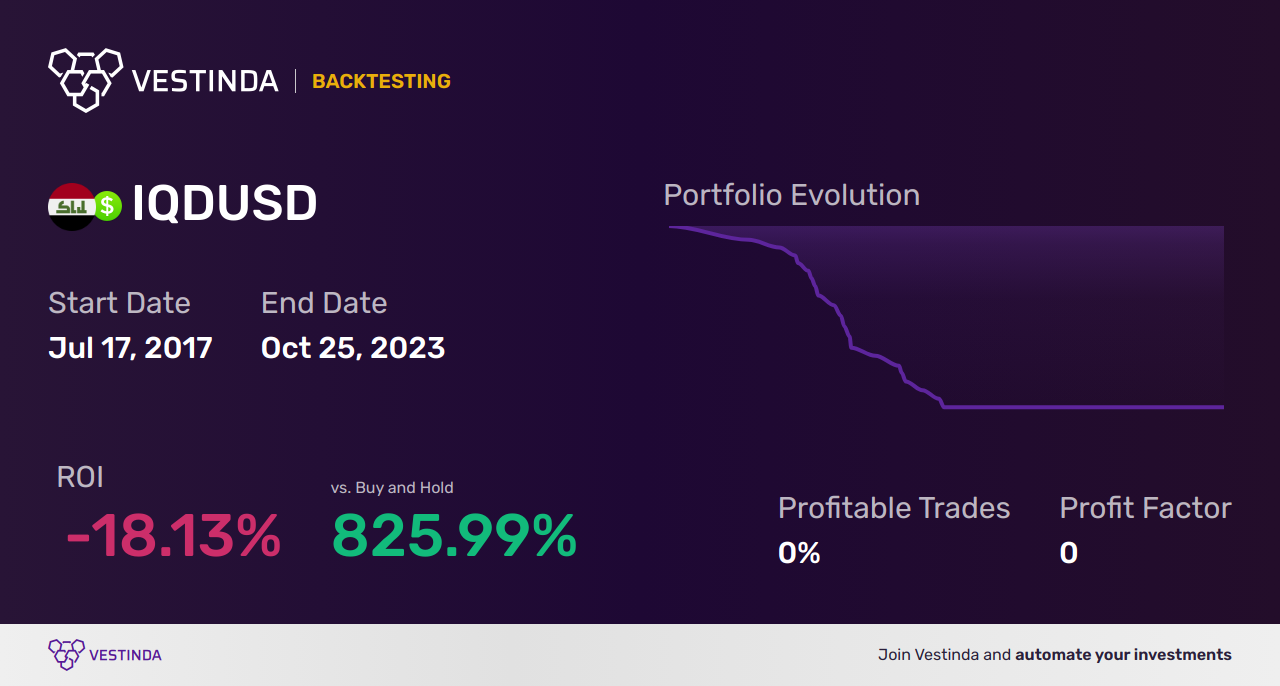 Automated Strategies: Maximizing IQD Trading with Quant
Quantitative trading, also known as quant trading, utilizes mathematical models and algorithms to analyze market data and make trading decisions. In the context of trading the IQD, quantitative trading can be a valuable tool in automating the trading process. By utilizing quantitative strategies and algorithms, traders can remove emotional biases and make reliable, data-driven decisions. These algorithms can analyze large amounts of market data, identify patterns, and execute trades automatically, saving time and effort. Quantitative trading allows for faster execution, as the algorithms can quickly analyze and react to market conditions. This approach enhances the efficiency of trading the IQD, providing traders with a systematic and disciplined method. It also assists in risk management by incorporating predetermined rules and parameters. Overall, quantitative trading offers a reliable and objective approach to trading the IQD in an automated and effective way.
IQD: Insights into Iraq's Currency
The IQD, or Iraqi Dinar, is a currency that is used in Iraq. It is listed as IQD in the foreign exchange market and is commonly traded against other major currencies. The IQD has its own exchange rate which fluctuates based on various factors such as political stability, the country's economy, and global events. Traders who are interested in the IQD should be aware that it is a volatile currency, meaning that it can experience rapid changes in value. It is important to closely monitor economic and political developments in Iraq to make informed trading decisions. Due to its unique nature, the IQD can offer potential opportunities for traders seeking to diversify their portfolios and explore different currency markets. However, it is also essential to exercise caution and implement risk management strategies when trading the IQD, as with any other financial asset.
Safeguarding Your IQD: Effective Risk Management
Risk Management for IQD
When trading the IQD, it's crucial to implement effective risk management strategies to protect your investment. One essential approach is to set a predetermined risk tolerance level. This means deciding how much you are willing to risk per trade or overall in your portfolio. It's wise to place stop-loss orders on your trades, which automatically sell your position if it reaches a specific price, limiting potential losses. Diversifying your investments is another risk management technique. By spreading your funds across different assets and markets, you reduce the impact of any single trade or event. Staying informed and up-to-date with news and market analysis related to Iraq is also vital. Political instability or economic shifts can affect the value of the IQD, so monitoring these factors allows you to make informed decisions. Finally, continuously reviewing and adjusting your risk management strategy is essential. As the market conditions and your trading goals evolve, adapt your risk management plan accordingly to stay prepared. By incorporating these risk management techniques, you can minimize potential losses and increase your chances of success when trading the IQD.
Tailored Tactics: Crafting IQD Trading Strategies
Developing Customized Trading Strategies
Creating customized trading strategies can be a powerful tool when trading the IQD. Tailoring your approach to fit your unique trading style and goals can increase your chances of success. One important step is to define your objectives and risk tolerance. Consider the amount of capital you are willing to invest and the level of risk you are comfortable with. This will help guide your strategy development. Next, analyze historical data and price patterns specific to the IQD. Identify trends, support and resistance levels, and market correlations that can inform your decision-making process. Consider utilizing technical indicators such as moving averages or Relative Strength Index (RSI) to gain insights. Additionally, explore fundamental analysis by studying economic indicators and news events relevant to Iraq. Keep a trading journal to review and improve your strategies over time. Finally, backtest your strategies using historical data to assess their performance. This allows you to refine and optimize your approach before implementing it in real-time trading. By developing customized trading strategies, you can adapt to the unique characteristics of the IQD and make informed decisions based on your specific objectives and risk tolerance.
Start earning fast & easy
Create
account

Build trading strategies
with no code

Validate
& Backtest

Automate
& start earning
Frequently Asked Questions
How to grow and trade a small account?
To grow and trade a small account, you should start by setting clear goals for your trading. Develop a solid trading plan that includes risk management strategies. Focus on learning and improving your trading skills. Practice discipline and control your emotions when making trading decisions. Start with small trades and gradually increase your position size as you gain confidence and experience. Stay informed about market trends and economic news that may affect your trades. Continuously monitor and evaluate your trading performance to identify areas of improvement. Regularly review your trading plan and make necessary adjustments. Never risk more than you can afford to lose.
Where do you trade IQD?
IQD, which stands for Iraqi Dinar, is a FOREX asset that can be traded on various online trading platforms. These platforms are known as Forex brokers and they provide access to the currency market where traders can buy and sell different currencies, including IQD. To trade IQD, you need to open an account with a reliable Forex broker that offers IQD as one of its available currency pairs. Once your account is set up, you can use the broker's trading platform to place trades, monitor market prices, and manage your positions in IQD.
What is quantitative trade?
Quantitative trading, also known as algorithmic trading or algo trading, is a trading approach that relies on mathematical models and computer algorithms to make trading decisions. This method involves using computers to automatically execute trades based on pre-defined rules and parameters. Quantitative traders develop and test trading strategies using historical data and statistical analysis to identify patterns and trends in the market. These strategies can be designed to exploit price discrepancies, take advantage of market inefficiencies, or execute trades with high speed and accuracy. Quantitative trading aims to remove the influence of human emotions and make data-driven trading decisions.
Conclusion
In conclusion, trading the IQD can provide unique opportunities for investors seeking exposure to the Iraqi Dinar in the FOREX market. Whether you choose to employ quantitative strategies, develop customized trading approaches, or focus on risk management, it is essential to stay informed and adaptable. By understanding the nature of the IQD and applying effective trading strategies, you can navigate the market with confidence. Remember to set realistic goals, manage your risks, and continually refine your strategies. With patience and discipline, trading the IQD can be a rewarding endeavor. Start exploring the world of IQD trading today and unleash your potential for success.