Why Vestinda
Track your
Crypto Portfolio

Copy Crypto trading
strategies

Build trading strategies
with no code
Backtest trading strategies
on Crypto, Forex, Stocks, etc.

Demo Trading
Risk-free Paper Trading

Automate trading strategies
with Live Trading
Algorithmic Strategies & Backtesting results for HQD U
Here are some HQD U trading strategies along with their past performance. You can validate these strategies (and many more) for free on Vestinda across thousands of assets and many years of historical data.
Algorithmic Trading Strategy: Play the swings and profit when markets are trending up on HQD U
During the backtesting period from October 26, 2022, to October 26, 2023, the trading strategy yielded impressive results. With a profit factor of 2.41, it demonstrated a strong ability to generate profits compared to losses. The strategy also exhibited a remarkable annualized return on investment of 147.86%, outperforming the market substantially. On average, each trade was held for approximately 3 weeks and 6 days, indicating a moderate holding period. With an average of 0.15 trades per week, the strategy followed a conservative approach. The strategy executed a total of 8 closed trades, and despite a winning trades percentage of 37.5%, it managed to outperform the buy and hold strategy by generating excess returns of 1.04%.
Algorithmic Trading Strategy: Algos beat the market on HQD U
Based on the backtesting results for the trading strategy from October 26, 2022, to October 26, 2023, the statistics reveal encouraging performance. The strategy exhibited a profit factor of 2.16, indicating that for every dollar risked, the strategy generated an average profit of $2.16. The annualized return on investment stood impressively at 153.95%, suggesting substantial growth over the evaluated period. With an average holding time of 4 weeks and 1 day, the strategy maintained a consistent approach. Additionally, despite a low average of 0.17 trades per week, the strategy managed to close 9 trades in total. Along with a winning trades percentage of 44.44%, the strategy outweighed the simple buy and hold approach with a 3.53% excess return. These statistics are encouraging for traders seeking fruitful opportunities in the market.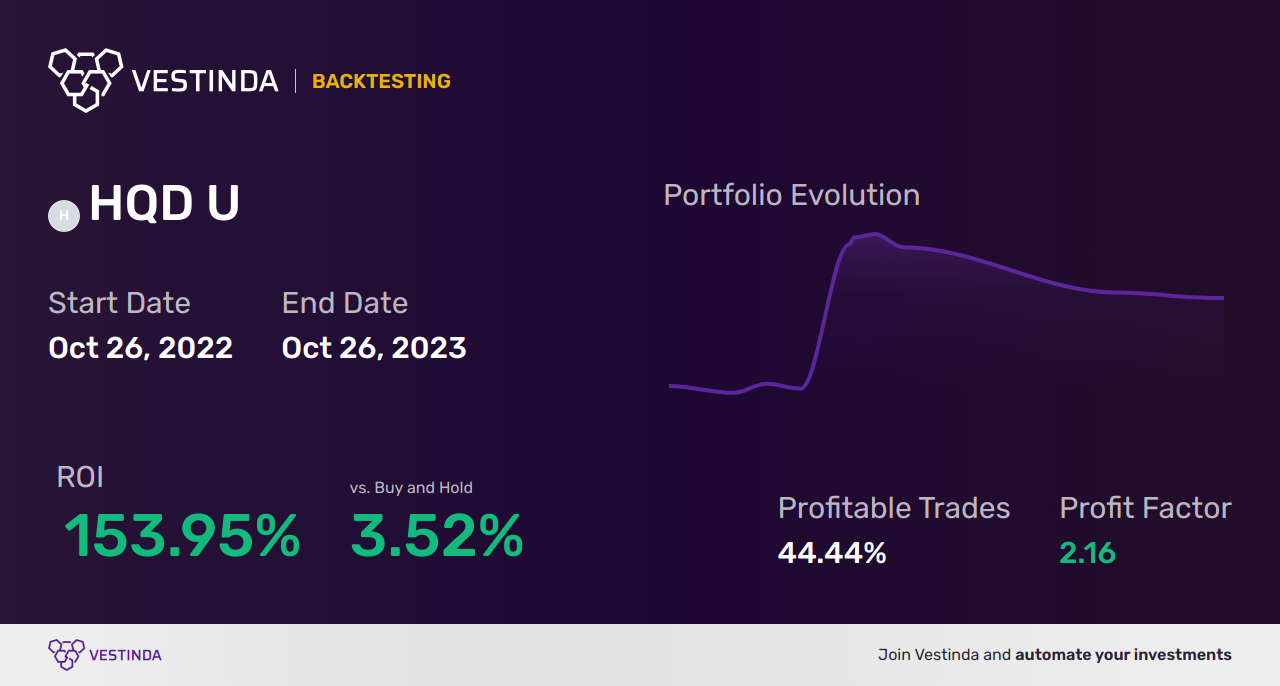 Quant Trading Insights for HQD U: A Guide
Quantitative trading can significantly aid in automating market trading for HQD U. By utilizing algorithms and mathematical models, quantitative trading enables traders to make data-driven decisions in a systematic and objective manner. This approach incorporates multiple factors such as current market trends, historical data, and risk assessments to determine the optimal trading strategies for HQD U. Through the automation of trading processes, quantitative trading enhances efficiency and eliminates human biases, ensuring consistent and disciplined execution. This automated approach also allows for real-time monitoring and adjustments, enabling traders to capitalize on market opportunities swiftly. With its ability to analyze vast amounts of data and execute trades within seconds, quantitative trading is especially useful for managing the complexities and volatility of HQD U, providing traders with a competitive edge in capturing profits.
Understanding HQD U: A Guide to Shorting ETFs
HQD U, also known as BetaPro NASDAQ-100 -2x Daily Bear ETF, is a distinctive asset worth considering for investors looking to capitalize on bearish market trends. This exchange-traded fund offers a unique opportunity for traders to double their gains when the NASDAQ-100 Index experiences a daily decline. With a goal to provide twice the inverse daily performance of the underlying index, HQD U delivers a powerful tool for those seeking to hedge against potential downturns. Combining short, concise sentences with occasional longer ones, this description efficiently captures the essence of HQD U, highlighting its specialized attributes that set it apart from traditional investment options.
Trading Tips for HQD U
Day trading strategies for HQD U, the BetaPro NASDAQ-100 -2x Daily Bear ETF, require careful consideration. Firstly, it is crucial to conduct thorough research on the market and its trends. Examining the performance of the underlying index, the NASDAQ-100, can provide valuable insights. Additionally, closely monitoring news related to key constituents of the index, such as technology giants, is essential. When day trading HQD U, timing is crucial. Identifying potential entry and exit points based on technical analysis indicators can be helpful. Traders should also consider setting stop-loss orders to mitigate risks. It is vital to manage risk exposure effectively and set clear profit targets. Finally, given the leveraged nature of HQD U, it is crucial to be mindful of the inherent volatility and adjust strategies accordingly.
HQD U Swing Trading Tactics
Swing trading strategies for HQD U, or BetaPro NASDAQ-100 -2x Daily Bear ETF, can be effective in capitalizing on short-term market movements. Traders can take advantage of price fluctuations by utilizing technical analysis indicators to identify potential swing trading opportunities. This can include trend lines, moving averages, and momentum oscillators. It is crucial to set clear entry and exit points based on these indicators to minimize risk and maximize profits. Additionally, staying updated on market news and events that impact the NASDAQ-100 index is important for swing traders. While swing trading can be profitable, it carries inherent risks due to volatility. Therefore, proper risk management techniques, such as setting stop-loss orders, are vital to protect against potential losses.
Trusted by Traders Worldwide
Frequently Asked Questions
Is HQD U more volatile and better for day trading than Bitcoin?
HQD U is a stablecoin pegged to the US dollar, making it less volatile than Bitcoin. While HQD U offers stability and price predictability for day trading, Bitcoin's volatility can be an advantage for traders seeking higher potential returns. Day trading requires careful analysis of market conditions, volatility indicators, and risk management strategies. While HQD U offers stability, Bitcoin's volatility can provide more trading opportunities for experienced day traders, although it also brings higher risk. Ultimately, choosing between HQD U and Bitcoin as a day trading asset depends on individual risk tolerance and trading strategy.
How do I start algorithmic trading?
To start algorithmic trading, follow these steps: 1. Acquire a strong understanding of financial markets and trading concepts. 2. Learn programming languages, especially those used in trading systems like Python or C++. 3. Choose a reliable trading platform that offers API access for automated trading. 4. Develop and test your trading strategies using historical data. 5. Monitor and adjust your algorithms based on market conditions. 6. Start with a small capital allocation and gradually increase as you gain confidence. 7. Continuously educate yourself and adapt to market trends to refine your algorithms for successful trading.
Is algorithmic trading profitable?
Algorithmic trading can be profitable for those who have the necessary knowledge, skills, and resources. By utilizing complex mathematical models and analyzing vast amounts of data in real-time, algorithmic trading aims to identify profitable trading opportunities. However, success in algorithmic trading is not guaranteed, as there are various factors that can influence profitability, including market conditions, execution strategies, risk management, and the quality of algorithms used. Additionally, algorithmic trading requires ongoing monitoring, optimization, and adaptation to changing market dynamics. Overall, while algorithmic trading has the potential for profitability, it requires expertise, continuous improvement, and careful risk management to achieve consistent success.
What are some tips for day trading HQD U?
1. Understand the stock: Before day trading HQD U, thoroughly research the company and its industry to understand its strengths, weaknesses, and potential catalysts.
2. Create a strategy: Develop a clear trading plan that outlines your entry and exit points, risk tolerance, and profit targets. Stick to your strategy and avoid impulsive decisions.
3. Monitor market trends: Keep a close eye on market trends and news that can impact HQD U's performance. Stay updated and adjust your strategy accordingly.
4. Set stop-loss orders: Protect your capital by setting stop-loss orders to limit potential losses. This ensures you exit positions if the trade is moving against you.
5. Practice risk management: Use proper position sizing and diversify your portfolio to minimize risk. Never risk more than you can afford to lose.
6. Stay disciplined: Emotions can cloud judgment, so maintain discipline when executing trades. Don't let fear or greed drive your decisions.
7. Continuous learning: Day trading requires constant learning and adaptation. Stay updated with new trading strategies, techniques, and market developments to improve your skills.
What are trading strategy parameters?
Trading strategy parameters are the specific variables or inputs that are defined and adjusted by traders to create and optimize trading strategies. These parameters can include criteria such as entry and exit signals, risk tolerance, position sizing, time frames, and technical indicators used. By setting these parameters, traders aim to establish rules for their trading strategies and adapt them to changing market conditions. The proper selection and adjustment of strategy parameters are crucial for achieving consistent profitability and managing risk effectively in the trading process.
Conclusion
In conclusion, incorporating HQD U into your trading strategies can be a beneficial move for investors looking to enhance their portfolio. Whether you choose to implement day trading or swing trading strategies, careful risk management is essential. Utilizing technical analysis indicators, conducting thorough research, and staying updated on market trends and news are crucial for maximizing profits and mitigating risks. With its inverse exposure to the NASDAQ-100 Index, HQD U provides a unique opportunity to profit from declining prices in the tech-heavy market. Stay ahead of the game and consider including HQD U in your investment toolbox.