Why Vestinda
Track your
Crypto Portfolio

Copy Crypto trading
strategies

Build trading strategies
with no code
Backtest trading strategies
on Crypto, Forex, Stocks, etc.

Demo Trading
Risk-free Paper Trading

Automate trading strategies
with Live Trading
Automated Strategies & Backtesting results for HMXD
Here are some HMXD trading strategies along with their past performance. You can validate these strategies (and many more) for free on Vestinda across thousands of assets and many years of historical data.
Automated Trading Strategy: Following the Volume Indices with VWAP and Shadows on HMXD
Based on the backtesting results for the trading strategy from October 27, 2022, to October 27, 2023, it achieved an annualized return on investment (ROI) of 2.27%. The average holding time for trades was approximately 3 weeks and 6 days, indicating a medium-term approach. The average number of trades executed per week was only 0.01, suggesting a low-frequency trading strategy. During this period, only one trade was closed, but it resulted in a positive return of 2.27%. Remarkably, all the closed trades were winners, translating into a 100% winning trades percentage. Additionally, the strategy's performance surpassed a buy-and-hold approach, generating excess returns of 2.81%.
Backtesting results
Profit Factor
All your trades are profitable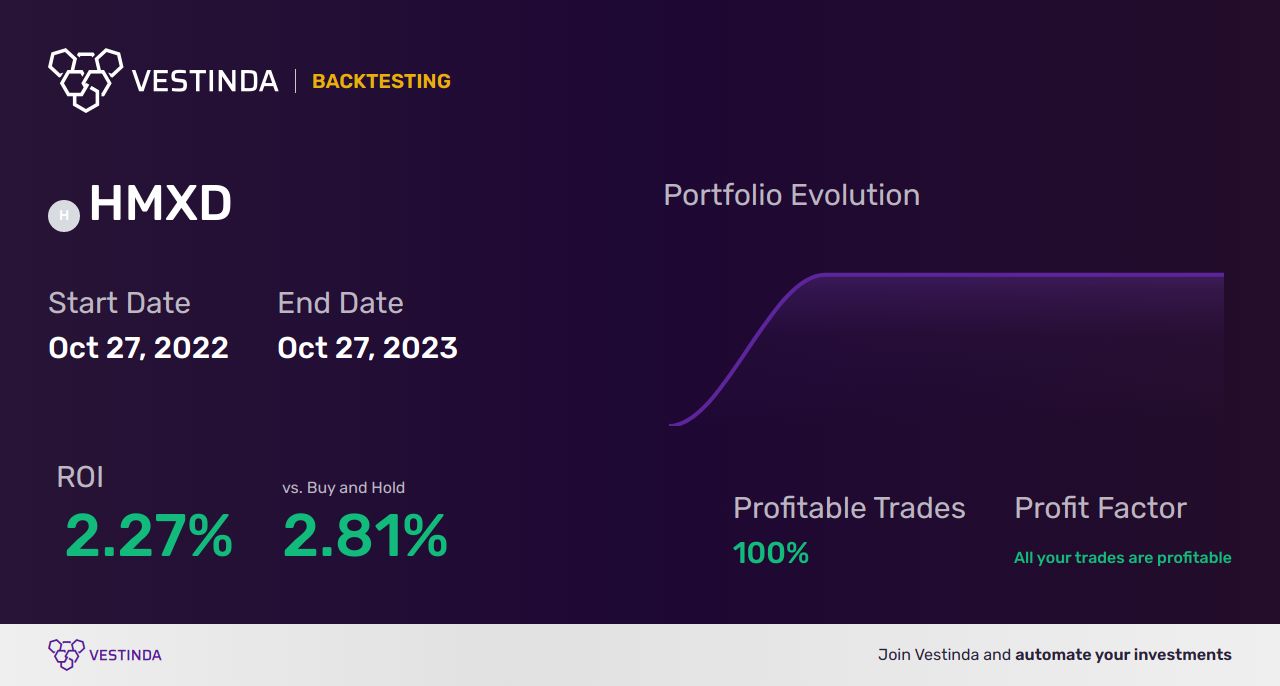 Automated Trading Strategy: Play the swings and profit when markets are trending up on HMXD
During the period from October 27, 2022, to October 27, 2023, a backtesting analysis on a trading strategy revealed a promising performance. The strategy exhibited an annualized ROI of 6.47%, suggesting a steady growth in investments. On average, positions were held for approximately 1 week and 4 days, indicating a relatively short-term approach. The average number of trades per week was 0.03, indicating a cautious and selective trading style. Only 2 trades were closed during the analyzed period, but remarkably, both were winners, resulting in a winning trades percentage of 100%. Additionally, the strategy outperformed the buy and hold strategy, generating excess returns of 7.04%. This performance highlights the potential profitability and superiority of the trading strategy.
Backtesting results
Profit Factor
All your trades are profitable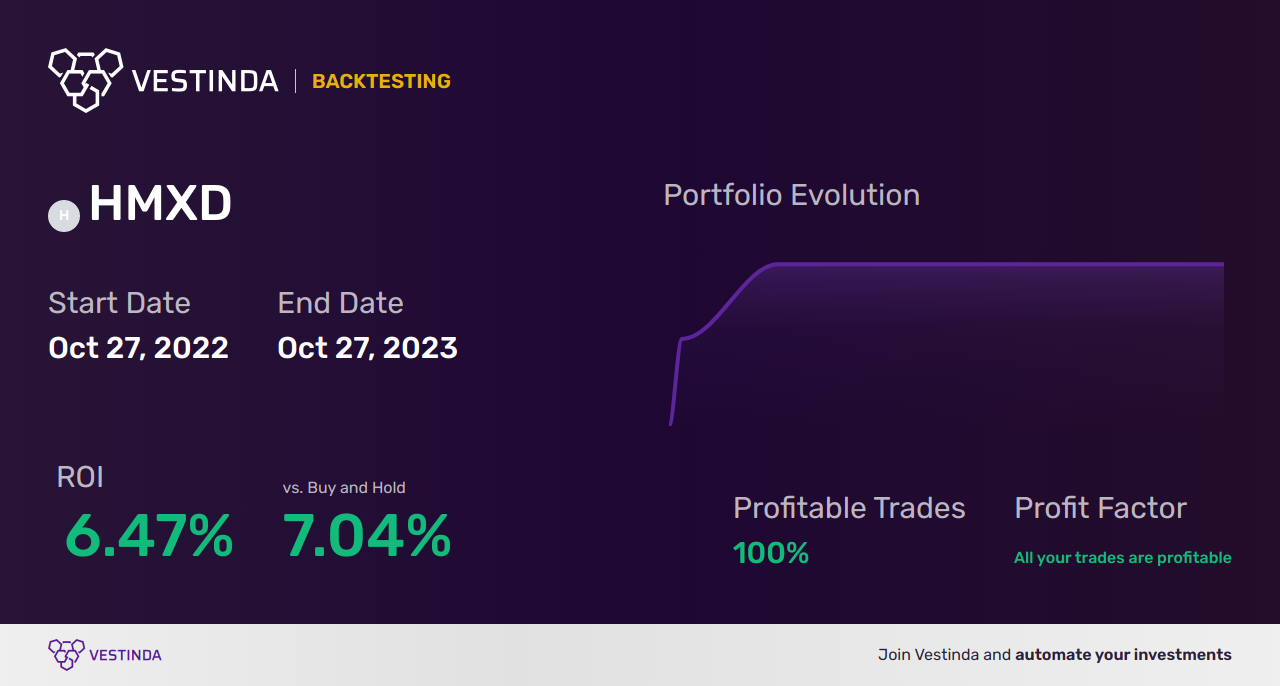 Harnessing Data for HMXD's Quantitative Trading
Quantitative trading is a powerful tool that can automate trading in the markets, including for HMXD. By utilizing mathematical models and data analysis, quantitative trading can identify patterns and trends in the market, enabling traders to make informed decisions quickly. This automated approach eliminates the potential for human error and emotions that can impact trading outcomes. With HMXD, quantitative trading can help traders effectively manage risk and maximize profit potential by executing trades based on predetermined algorithms. By leveraging quantitative strategies, traders can take advantage of market inefficiencies and seize trading opportunities in real-time. Additionally, quantitative trading can also enable traders to backtest their strategies and fine-tune them for optimal performance. Overall, the automated nature of quantitative trading empowers traders to navigate the complex financial landscape efficiently and effectively, driving success in trading HMXD.
Unveiling HMXD: Pacific ex Japan UCITS ETF
HMXD, also known as HSBC MSCI Pacific ex Japan UCITS ETF, is an innovative asset that offers investors exposure to the dynamic Pacific ex Japan equity market. This unique exchange-traded fund aims to replicate the performance of the MSCI Pacific ex Japan Index, a widely recognized benchmark.
With a diverse range of underlying securities, HMXD provides access to companies across various sectors in countries such as Australia, Singapore, South Korea, and Hong Kong. Investors can benefit from the growth potential of these dynamic markets without having to choose individual stocks.
This ETF offers a cost-effective way to diversify a portfolio and gain exposure to the Pacific ex Japan region. It combines the flexibility of buying and selling shares on the stock exchange with the benefits of passive index tracking. With HMXD, investors can take advantage of potential market opportunities and capitalize on the region's economic growth.
Tailored Trading Approaches for HMXD
Developing customized trading strategies is crucial for investors looking to maximize their returns in the stock market. By tailoring a trading strategy to their specific goals and risk tolerance, investors can improve their chances of success. One way to develop a customized trading strategy is by carefully analyzing individual stocks and their historical performance. This can involve identifying patterns, trends, and indicators that can help predict future price movements. Additionally, investors can utilize various technical analysis tools and fundamental analysis to further refine their strategy. It's also important to consider diversification and risk management principles when creating a customized trading strategy. For example, investors may choose to allocate a certain percentage of their portfolio to different asset classes or geographical regions, such as investing in HMXD to gain exposure to the Pacific ex Japan market. Overall, developing customized trading strategies requires thorough research, analysis, and a clear understanding of one's investment objectives.
Managing Risks for HMXD ETF.
Risk management is a critical aspect to consider when investing in HMXD. The ETF, which tracks the MSCI Pacific ex Japan Index, offers exposure to some of the largest companies in the Asia Pacific region. Investors should be aware of both market risks and specific risks associated with the region. Potential market risks include volatility, liquidity issues, and currency fluctuations. Additionally, investors should consider specific risks such as political instability, regulatory changes, and economic developments in the Asia Pacific region. In order to mitigate these risks, it is crucial to diversify your investment portfolio, stay informed about market conditions, and regularly review your investment strategy.
Cutting-edge automation for HMXD trading
Advanced trading automation has revolutionized the trading process for HMXD, the HSBC MSCI Pacific ex Japan UCITS ETF. This innovative technology has significantly improved efficiency by reducing manual intervention and minimizing human error.
Through advanced algorithms and machine learning capabilities, HMXD's trading automation system can quickly analyze market data, identify trading opportunities, and execute trades with precision and speed. This automation ensures that HMXD can react swiftly to market fluctuations and capitalize on profitable opportunities.
Moreover, with trading automation, HMXD can minimize the impact of emotional biases often associated with human decision-making, ensuring a more disciplined and systematic approach to trading.
Overall, advanced trading automation has transformed HMXD into a more efficient and reliable investment option, providing investors with increased convenience and peace of mind.
Trusted by Traders Worldwide
Frequently Asked Questions
Can quants become millionaires?
Yes, quants can become millionaires. Quantitative analysts, or quants, devise mathematical and statistical models to analyze and predict financial markets. Their expertise in risk management and trading strategies can be highly valuable in the finance industry. If they consistently generate profitable investment decisions, employ effective risk management techniques, and leverage their quantitative skills, they can accumulate substantial wealth over time. However, becoming a millionaire is dependent on various factors, including market conditions, personal investment choices, and individual performance.
What's the most popular trading strategy?
There is no single trading strategy that can be labeled as the most popular, as trading strategies vary depending on individual preferences, market conditions, and assets being traded. However, some commonly used trading strategies include trend following, swing trading, momentum trading, and range trading. Traders often combine multiple strategies or develop their own based on analysis and market opportunities. Successful trading requires adapting to changing market dynamics and having a well-defined strategy that aligns with individual risk tolerance and trading goals.
Is algo trading easy?
Algo trading, also known as algorithmic trading, is not inherently easy. It involves the use of programming and complex algorithms to automate trading decisions. While it offers benefits such as speed and efficiency, successfully implementing algo trading requires knowledge of financial markets, data analysis, and programming skills. Traders must devise effective strategies, constantly monitor and optimize them, and manage risk. Additionally, understanding market dynamics and adapting algorithms to changing conditions are crucial for success. Algo trading can be challenging, but with the right skills, knowledge, and experience, traders can improve their chances of achieving profitable results.
What is the best time to trade HMXD?
The best time to trade HMXD (Horizon Marijuana Life Sciences Index ETF - Inverse ETF) depends on various factors. As an inverse ETF, HMXD aims to provide the opposite performance of its underlying index, which includes marijuana-related stocks. Therefore, the ideal time to trade HMXD is when there is significant volatility and downward movement in the marijuana sector. This could be during periods of negative news, regulatory changes, or market downturns. It is advisable to closely monitor the marijuana industry and consider trading HMXD when there is a high probability of downward pressure on the sector. However, timing the market is challenging, so conducting thorough research and consulting with a financial advisor is essential.
What are some potential uses of smart contracts?
Smart contracts offer numerous potential uses across various industries. In finance, they can automate and streamline processes such as loan issuance, insurance claims, and secure transactions. In supply chain management, smart contracts can enhance transparency, traceability, and efficiency by automating auditing and verification processes. They could also be used in the healthcare sector for securely maintaining patient records and managing consent for medical research. Additionally, smart contracts can enable decentralized marketplaces, voting systems, and intellectual property rights management. Their potential is vast, empowering businesses and individuals to transact securely and efficiently, while reducing the need for intermediaries.
What is the 1% trading strategy?
The 1% trading strategy refers to a risk management approach in which traders limit their exposure per trade to 1% of their total trading capital. This strategy aims to minimize potential losses and preserve capital over the long term. By allocating only a small percentage of their funds to each trade, traders can withstand a series of losing trades without wiping out their entire account. The 1% trading strategy encourages a disciplined and conservative approach to trading, emphasizing the importance of risk control and protecting one's investment.
Conclusion
In conclusion, trading strategies for HMXD (HSBC MSCI Pacific ex Japan UCITS ETF) in 2023 should incorporate technical analysis, automated trading strategies, and risk management. Quantitative trading can automate the trading process, allowing traders to make informed decisions quickly. With its diverse range of underlying securities, HMXD offers exposure to the dynamic Pacific ex Japan equity market. Developing customized trading strategies tailored to individual goals and risk tolerance is crucial for success. Risk management is essential when investing in HMXD, considering both market risks and specific risks associated with the Asia Pacific region. Advanced trading automation has revolutionized the trading process, improving efficiency and minimizing human error. Overall, understanding the fundamentals of HMXD and its price movements is vital for maximizing profits in 2023.