Start earning in 3 easy steps
Create
account

Discover profitable
strategies

Connect exchange
& start earning
Algorithmic Strategies & Backtesting results for HAI
Here are some HAI trading strategies along with their past performance. You can validate these strategies (and many more) for free on Vestinda across thousands of assets and many years of historical data.
Algorithmic Trading Strategy: RAVI Reversals with KCM and Shadows on HAI
Based on the backtesting results from October 24, 2022, to October 24, 2023, the trading strategy displayed a profit factor of 1.02, indicating a slight positive return. The annualized ROI stood at 2.92%, suggesting a modest growth of the investment over the given period. On average, the strategy held positions for approximately 1 day and 9 hours, indicating a relatively short-term approach. Moreover, the strategy executed an average of 1.43 trades per week, indicating a moderate level of activity. The total number of closed trades amounted to 75, highlighting a consistent approach. The return on investment aligned with the annualized ROI at 2.92%, while the winning trades percentage reached 22.67%.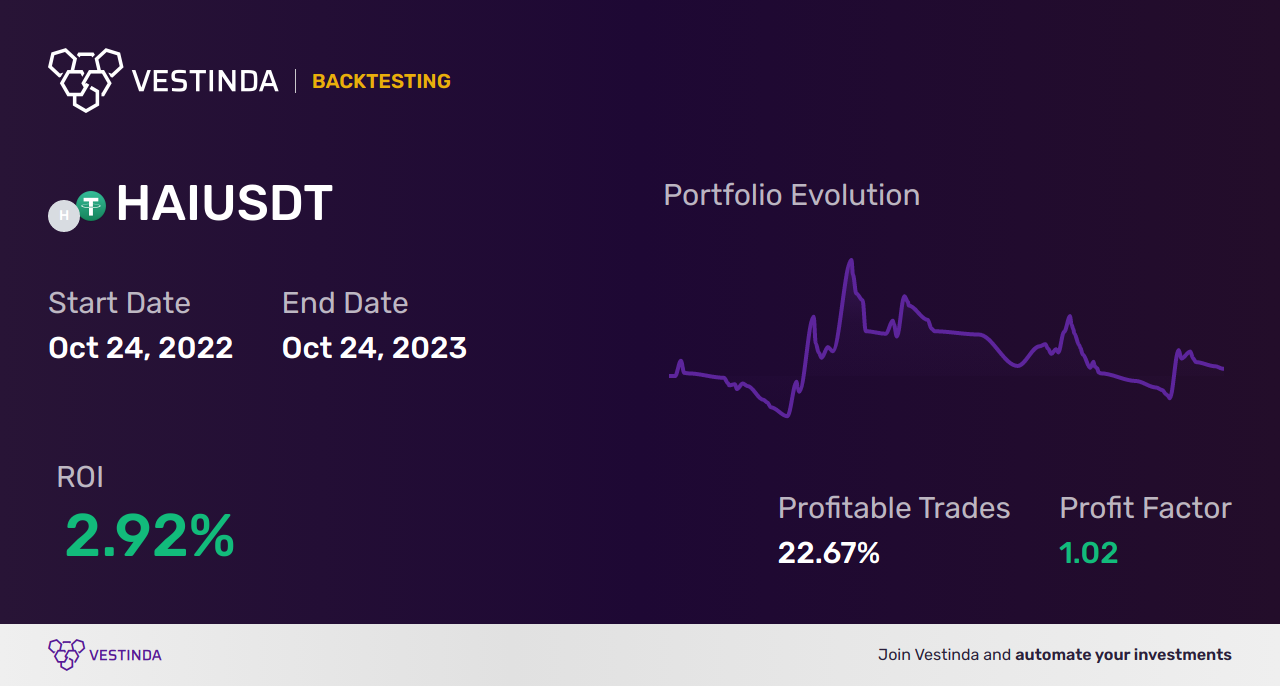 Algorithmic Trading Strategy: Lagging Span and Ichimoku Cloud Crossover on HAI
The backtesting results statistics for the trading strategy from April 22, 2021, to October 24, 2023, are quite impressive. The profit factor is reported as 5.19, indicating a strong potential for profitable trades. The annualized return on investment (ROI) stands at a remarkable 150.29%, which denotes a highly profitable and efficient strategy. On average, the holding time for trades is around 2 weeks and 4 days, indicating a relatively short-term approach. With an average of 0.07 trades per week and a total of 10 closed trades, the frequency of trading seems moderate. The strategy has yielded a remarkable return on investment of 375.72%. Additionally, 60% of the trades were successful, further solidifying the strategy's efficacy. Comparing it to a standard buy and hold approach, this strategy outperforms significantly, generating excess returns of 4746.49%.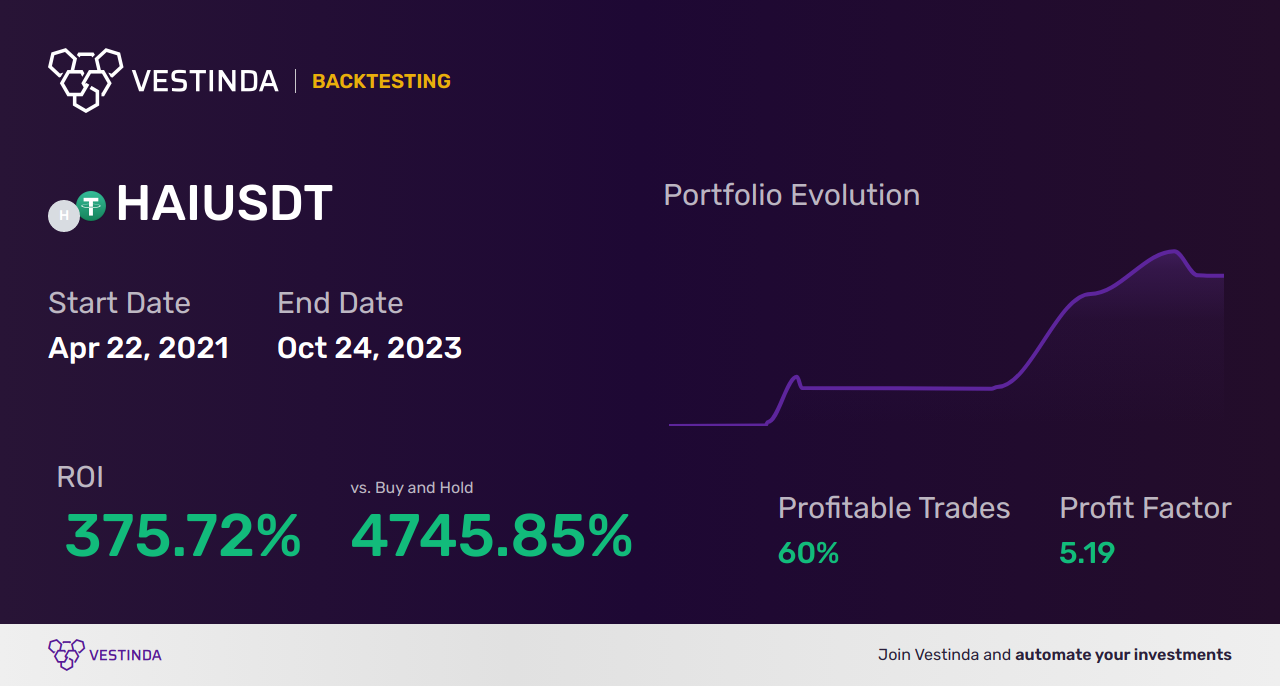 Automated Strategies for HAI Trading
Quantitative trading, also known as algorithmic trading, can be a valuable tool for trading the markets, including HAI, in an automated way. With quantitative trading, traders can use mathematical models and statistical analysis to make trading decisions without relying on human emotions. This approach involves developing and implementing trading strategies based on predefined rules and algorithms. By utilizing quantitative trading, traders can execute trades quickly and efficiently, taking advantage of market opportunities and minimizing risks. This method also allows for backtesting strategies on historical data to evaluate their performance and make necessary adjustments. With the ability to process large amounts of data and execute trades automatically, quantitative trading provides a systematic approach that can enhance trading outcomes and potentially increase profitability in the context of HAI trading.
Exploring the Unique Aspects of HAI
HAI is a unique cryptocurrency asset that holds promise in the trading market. Built on advanced blockchain technology, HAI offers secure and decentralized transactions. It stands out due to its efficient scalability and low transaction fees, making it an attractive choice for traders. Additionally, HAI aims to revolutionize the finance industry through its innovative features like smart contracts and tokenization. With a growing community and strong development team, HAI presents a promising investment opportunity. Traders can take advantage of its potential price movements and liquidity to capitalize on profitable trading opportunities. As with any investment, it's important to conduct thorough research and stay updated with market trends when trading HAI. By understanding the unique characteristics and advantages of HAI, traders can make informed decisions and potentially maximize their trading success in this exciting digital asset market.
Effective HAI Trading Approaches
When it comes to trading HAI, there are several common trading strategies that traders can consider. One popular strategy is trend following, which involves identifying and trading in the direction of the prevailing trend. Another approach is mean reversion, where traders take advantage of price deviations from the average and aim to profit from the market returning to its mean. Breakout trading strategy is also commonly used, focusing on trading when the price breaks through a significant level of support or resistance. Additionally, range trading strategy is employed in markets with well-defined price ranges, allowing traders to buy near support and sell near resistance. These are just a few examples of trading strategies that can be applied to HAI trading. It's important for traders to study and test different strategies to find the ones that suit their trading style and align with their risk tolerance. Successful trading with HAI requires a combination of understanding market dynamics, applying sound technical analysis, and implementing effective risk management strategies.
Protecting Your HAI Investments with Stop Loss
Utilizing a stop loss strategy is crucial when trading HAI or any other asset. A stop loss order is a predetermined price level at which traders automatically exit a trade to limit potential losses. By setting a stop loss, traders can protect their capital and minimize the impact of adverse market movements. When trading HAI, it's important to determine an appropriate stop loss level based on factors like risk tolerance, volatility, and market conditions. By combining a stop loss order with proper risk management techniques, traders can protect their investments and maintain discipline in their trading approach. It's worth noting that stop loss orders should be placed strategically, accounting for potential price fluctuations and avoiding setting them too tight, which could trigger premature exits. Successful traders understand the importance of managing risk and use stop losses as a valuable tool to safeguard their HAI trading positions.
Backtest HAI & Stocks, Forex, Indices, ETFs, Commodities
100,000 available assets New

years of historical data

practice without risking money

Frequently Asked Questions
Is HAI more volatile and better for day trading than Bitcoin?
No, HAI is not necessarily more volatile or better for day trading than Bitcoin. Both HAI and Bitcoin are crypto assets, and their volatility can vary based on market conditions. Volatility refers to the price fluctuations of an asset, and it is difficult to predict which asset will be more volatile in any given timeframe. Day trading involves buying and selling assets within a short period, taking advantage of price fluctuations. While both HAI and Bitcoin can be used for day trading, it ultimately depends on the market conditions and individual trading strategies.
What are some of the best automated trading strategies for crypto in general?
Some of the best automated trading strategies for crypto in general include trend following, mean reversion, and momentum strategies. Trend following involves identifying and trading in the direction of the prevailing market trend. Mean reversion strategy focuses on buying when the price is below the average and selling when it is above the average to profit from price reversals. Momentum strategy involves buying assets that are already showing upward momentum and selling assets that are showing downward momentum. These strategies can be implemented through algorithmic trading bots or custom trading algorithms to automate the trading process.
Can technical analysis be used in crypto trading, why?
Yes, technical analysis can be used in crypto trading. Technical analysis involves studying historical price and volume data to identify patterns and trends. It helps traders make predictions about future price movements and make informed trading decisions. This approach assumes that historical price patterns tend to repeat themselves in the future. By using technical analysis, traders can analyze chart patterns, indicators, and other tools to identify potential entry and exit points for trades. However, it's important to note that technical analysis is not foolproof and should be used in combination with other forms of analysis and risk management techniques.
What is the easiest strategy to profit from crypto trading?
There is no definitive answer to the easiest strategy to profit from crypto trading, as it depends on individual preferences and market conditions. However, some beginner-friendly strategies include long-term investing, dollar-cost averaging, and diversification. Long-term investing involves buying and holding crypto assets over an extended period, taking advantage of potential price appreciation. Dollar-cost averaging entails regularly investing a fixed amount regardless of price fluctuations, reducing the impact of market volatility. Diversification involves spreading investments across various cryptocurrencies, reducing the risk of being solely dependent on a single asset's performance. It's essential to conduct thorough research and consider personal risk tolerance when choosing a strategy.
What is position trading in cryptocurrency?
Position trading in cryptocurrency refers to a trading strategy where traders hold their positions for an extended period, typically ranging from weeks to months. It involves identifying and taking advantage of longer-term trends in the crypto market. Position traders aim to profit from significant price movements by entering positions and staying invested for a considerable duration. This approach requires patience and the ability to withstand short-term volatility. Traders may use technical analysis, fundamental analysis, and market research to identify potential opportunities and determine optimal entry and exit points for their trades.
Conclusion
In conclusion, developing effective trading strategies for HAI can be a rewarding endeavor. Whether you choose to explore quantitative trading, trend following, mean reversion, breakout trading, or other approaches, it's crucial to conduct thorough research and tailor your strategies to fit your trading style and risk tolerance. Additionally, incorporating risk management techniques, such as setting stop loss orders, is vital for protecting your investments. With the unique characteristics of HAI and the potential for market volatility, staying informed, adapting your strategies, and continually evaluating your performance are key. By employing sound trading strategies and proactive risk management, you can navigate the HAI market with confidence and increase your chances of success.