Trusted by Traders Worldwide
Automated Strategies & Backtesting results for GOOGL
Here are some GOOGL trading strategies along with their past performance. You can validate these strategies (and many more) for free on Vestinda across thousands of assets and many years of historical data.
Automated Trading Strategy: SMA Golden Cross: Capturing Market Momentum on GOOGL
Based on the backtesting results statistics for a trading strategy from November 3, 2016, to November 3, 2023, the strategy demonstrated promising performance. The profit factor stands at an impressive 27.39, indicating a considerable return on investment. Over this period, the average holding time per trade was approximately 47 weeks and 3 days, suggesting a long-term approach. Although no specific trades were executed per week, the strategy closed a total of 3 trades. The annualized ROI of 11.99% demonstrates consistent profitability throughout the period, culminating in an overall return on investment of 85.66%. Moreover, the strategy achieved a commendable winning trades percentage of 66.67%, further boosting its credibility.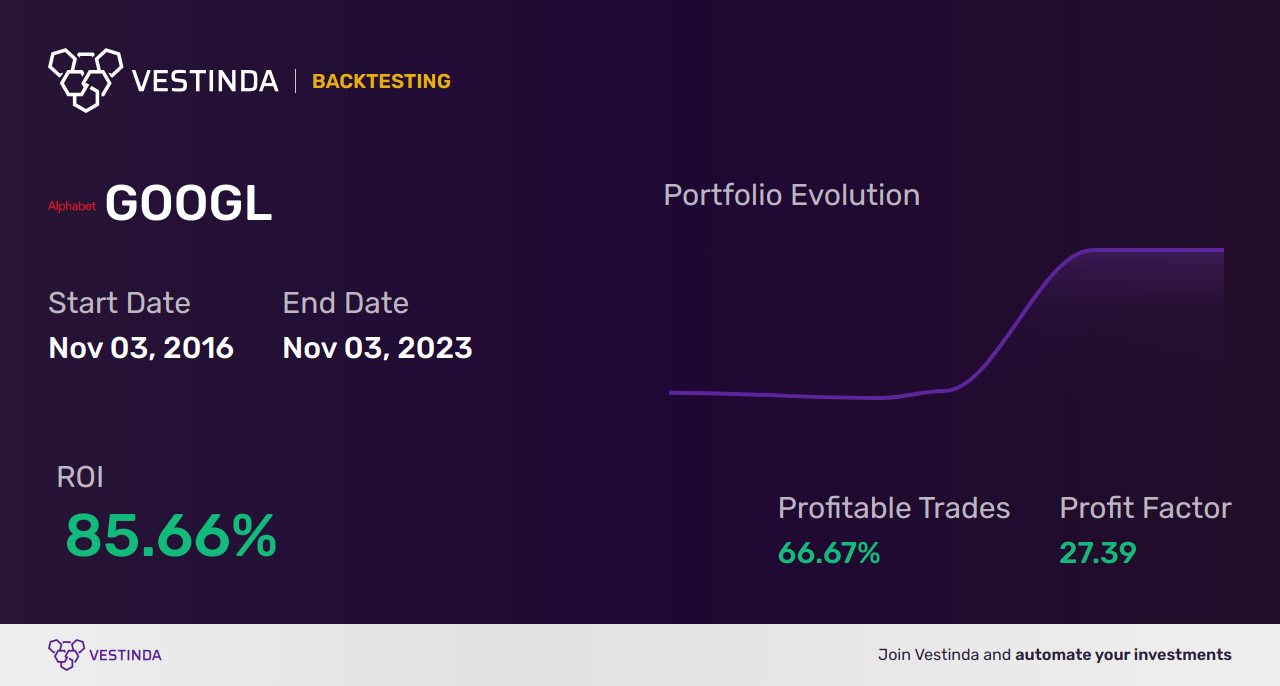 Automated Trading Strategy: CCI Trend-trading with Ichimoku Base and Shadows on GOOGL
Based on the backtesting results statistics for the trading strategy during the period of November 3, 2022, to November 3, 2023, several key insights can be derived. The strategy showcased a profit factor of 1.21, indicating a moderately positive outcome. The annualized return on investment (ROI) stood at 8.12%, suggesting a satisfactory performance. On average, trades were held for approximately 2 days and 17 hours, and the strategy generated an average of 0.67 trades per week. Out of a total of 35 closed trades, winning trades accounted for 40%, indicating room for improvement in terms of overall success rate. These statistics provide valuable information to assess the performance and potential enhancements of the trading strategy.
GOOGL: Quantitative Trading Insights
Quant trading can be highly beneficial in automating the trading process for GOOGL. Using algorithms and statistical models, Quant trading analyzes large amounts of data to make informed decisions in the market. By automating the trading process, Quant trading eliminates emotional biases and makes timely trades based on predetermined rules. This allows for efficient and accurate execution of trades, reducing human errors and maximizing profit potential. With the ability to process vast amounts of data, Quant trading can quickly identify patterns and trends in the market, enabling traders to make well-informed decisions in a timely manner. Additionally, by leveraging advanced mathematical models and complex algorithms, Quant trading can detect and exploit arbitrage opportunities, further enhancing profitability. Overall, Quant trading provides a systematic and disciplined approach to trading GOOGL, improving precision, efficiency, and profitability.
Demystifying Alphabet's GOOGL: A Brief Introduction
GOOGL, also known as Alphabet Inc., is a tech giant that revolutionizes our digital world. With its cutting-edge innovations, GOOGL has positioned itself as a leader in various sectors, including search engines, advertising, and cloud computing. From the launch of Google Search, the company's flagship product, to the introduction of Android and Chrome OS, GOOGL continues to redefine our digital experiences. Through strategic acquisitions like YouTube and Nest, GOOGL has expanded its portfolio and remains at the forefront of technological advancements. The company's commitment to excellence is evident in its constant drive to push boundaries and its dedication to providing innovative solutions to global challenges. As an investment asset, GOOGL's consistent growth and strong financial performance make it an attractive option for investors seeking long-term success. With its vast reach and diversified revenue streams, GOOGL stands as a pillar of innovation in the tech industry.
GOOGL: Harnessing Automation in Advanced Trading
Advanced trading automation has become a crucial tool for traders looking to maximize their profits on GOOGL. With the volatile nature of the stock market, manual trading can be time-consuming and prone to human error. By leveraging advanced algorithms and artificial intelligence, traders can automate the entire trading process, from market research and analysis to executing trades. This allows them to react quickly to market movements and take advantage of potential opportunities without the need for constant monitoring. Moreover, advanced trading automation can help traders implement complex strategies and execute trades at optimal prices, further enhancing their profitability. Alphabet Inc., the parent company of Google, has seen a surge in interest from traders utilizing these advanced trading automation tools to navigate the dynamic stock market landscape.
GOOGL Trading Toolbox
Technical analysis tools can be useful for trading Alphabet Inc. (GOOGL) stock. These tools help traders analyze past price movements to predict future price trends. One popular tool is moving averages, which average out price data over a specific time frame to identify trends. Another commonly used tool is the relative strength index (RSI), which indicates whether a stock is overbought or oversold. Bollinger Bands, on the other hand, show volatility levels and potential price reversals. Traders can also use Fibonacci retracement levels to identify key support and resistance levels. These tools, when used together, can provide valuable insights for profitable GOOGL trading strategies.
Start earning fast & easy
Create
account

Build trading strategies
with no code

Validate
& Backtest

Automate
& start earning
Frequently Asked Questions
What are trading strategy parameters?
Trading strategy parameters are specific variables or inputs that are used to define and adjust the rules and conditions of a trading strategy. These parameters determine the entry and exit points, position sizing, risk management, and other key aspects of the strategy. They can include indicators, timeframes, levels of support and resistance, and other technical or fundamental factors. By adjusting these parameters, traders can customize their strategy to fit different market conditions and objectives. Proper selection and optimization of trading strategy parameters are crucial for achieving consistent and profitable trading results.
What is a smart contract?
A smart contract is a self-executing agreement coded on a blockchain that automatically executes predefined terms and conditions once the agreed-upon conditions are met. These contracts eliminate the need for intermediaries, ensuring transparency, security, and efficiency. They are built with computer code and are immutable, meaning they cannot be altered once deployed. Smart contracts enable a wide range of applications, from facilitating financial transactions to managing supply chains, and have the potential to revolutionize various industries by automating processes and reducing reliance on traditional intermediaries.
What are some potential uses of smart contracts?
Some potential uses of smart contracts include streamlining and automating business processes, such as supply chain management, financial transactions, and legal agreements. They can eliminate the need for intermediaries, reduce costs, enhance transparency, and improve efficiency. Additionally, smart contracts can enable decentralized applications, tokenizing assets, and implementing governance mechanisms. They have the potential to revolutionize various industries, including banking, insurance, real estate, and healthcare, by facilitating secure and trustworthy interactions between parties without the need for traditional intermediaries.
What are the best automated trading strategies for GOOGL?
There are several effective automated trading strategies for GOOGL (Alphabet Inc.). Among them, trend following and mean reversion strategies have proven to be successful. Trend following strategies involve identifying and trading in the direction of the prevailing trend, taking advantage of price momentum. Mean reversion strategies, on the other hand, focus on buying when prices are low and selling when they are high, assuming that prices will eventually revert to their mean. Ultimately, the best strategy for GOOGL will depend on various factors such as market conditions and risk tolerance, and it is recommended to thoroughly backtest and optimize any chosen strategy.
Conclusion
In conclusion, implementing effective trading strategies is crucial when trading GOOGL (Alphabet Inc). Whether you prefer technical analysis or automated trading strategies, incorporating risk management is key. There are various types of trading strategies to consider, each with its own advantages and risks. Trading automation tools, such as advanced algorithms and artificial intelligence, can help navigate the dynamic stock market landscape. Additionally, technical analysis tools, such as moving averages and Bollinger Bands, can provide valuable insights for profitable GOOGL trading strategies. By understanding the price of GOOGL and utilizing these strategies, traders can maximize their potential profits in the market.