Start earning in 3 easy steps
Create
account

Discover profitable
strategies

Connect exchange
& start earning
Quantitative Strategies & Backtesting results for GOLF
Here are some GOLF trading strategies along with their past performance. You can validate these strategies (and many more) for free on Vestinda across thousands of assets and many years of historical data.
Quantitative Trading Strategy: Trend-trading with Ichimoku Conversion, Stochastic Oscillator, and Shadows on GOLF
Based on the backtesting results from November 2, 2022, to November 2, 2023, the trading strategy displayed promising statistics. The profit factor stood at 1.33, indicating a positive return on investment. The annualized ROI achieved an impressive 12.85%, demonstrating the strategy's ability to generate consistent profits over the specified period. On average, trades were held for approximately 1 day and 22 hours, highlighting quick turnaround times. With an average of 0.99 trades per week, the strategy displayed a measured approach. Out of 52 trades, 40.38% were successful, contributing to the strategy's profitability. Importantly, when compared to a passive buy-and-hold approach, this strategy outperformed, generating excess returns of 3.98%.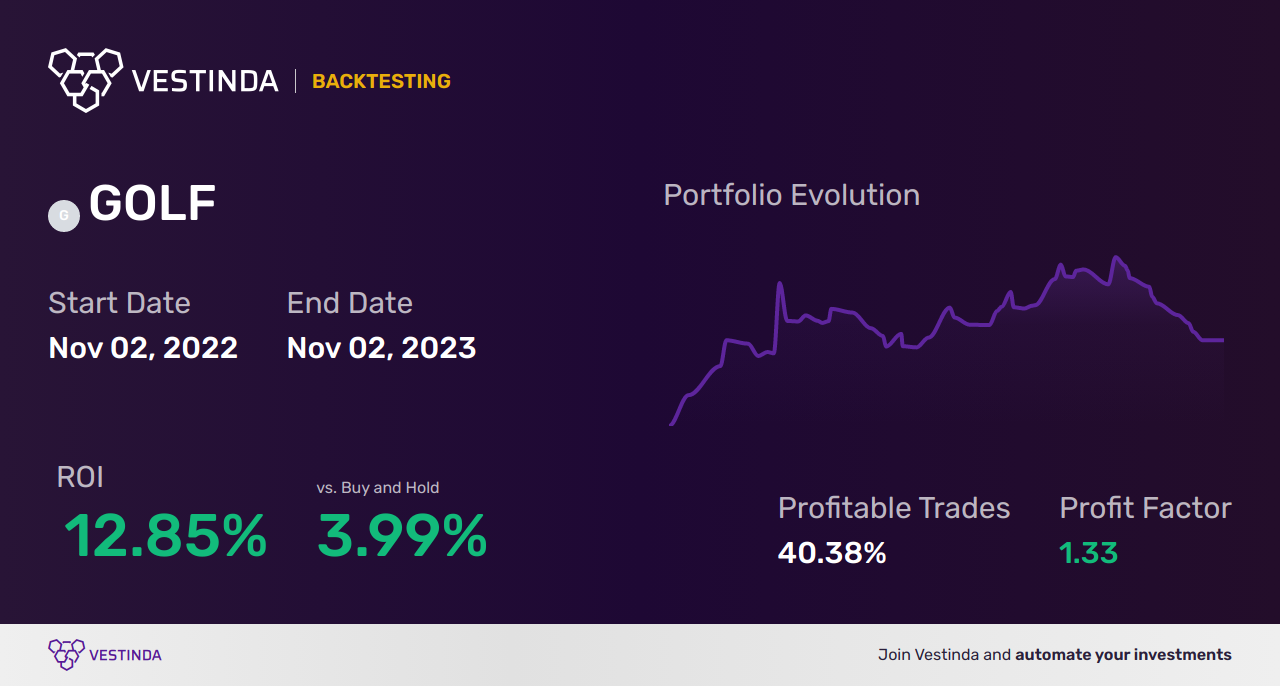 Quantitative Trading Strategy: RAVI Crossover on GOLF
Based on the backtesting results for the trading strategy conducted over a period of seven years (from November 2, 2016, to November 2, 2023), several key statistics can be observed. The profit factor stands at 1.41, indicating that for every dollar risked, a profit of $1.41 was generated. The strategy yielded an annualized return on investment (ROI) of 5.5%, resulting in a total return of 39.29% over the testing period. On average, trades were held for approximately 8 weeks and 2 days, with an overall 52% winning trades percentage. With an average of 0.06 trades per week and a total of 25 closed trades, these results suggest a moderately successful trading strategy.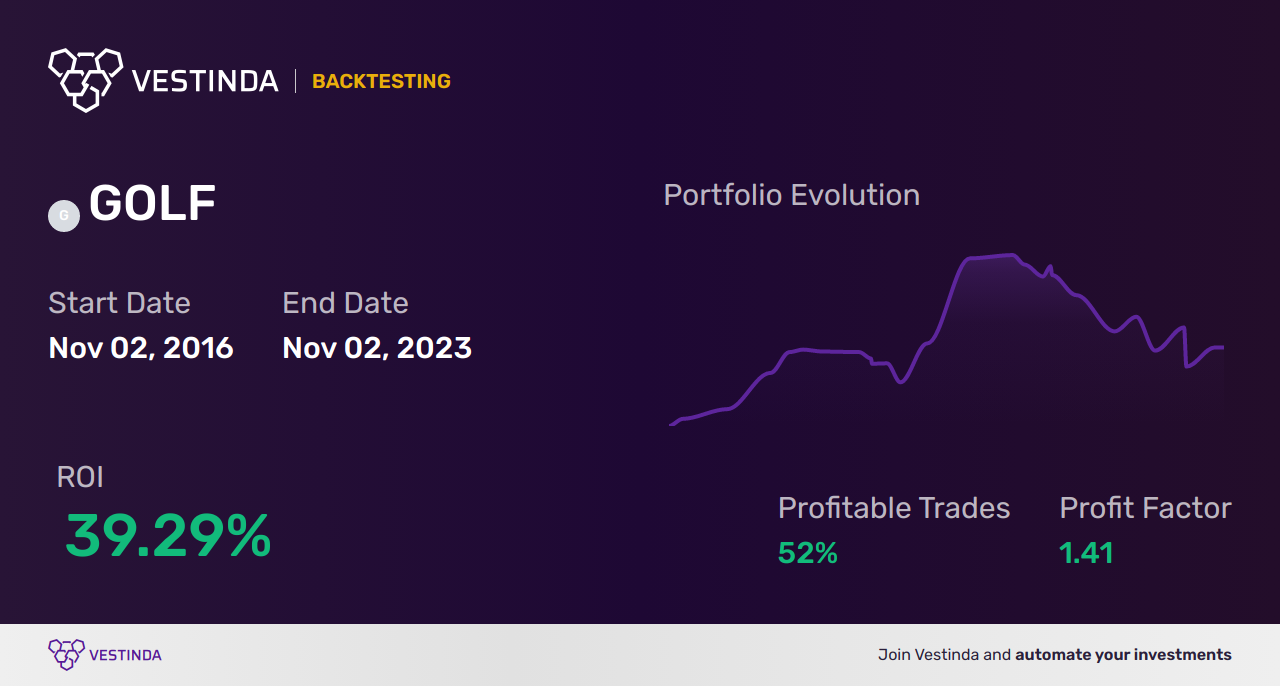 GOLF Trading: Mastering Algorithmic Strategies
Algorithmic trading can greatly benefit trading in the GOLF market by enabling an automated approach. Algorithmic trading, also known as algo trading, uses computer programs and algorithms to execute trades, eliminating human emotions and biases. With its ability to process large amounts of data quickly, algorithmic trading can analyze market trends, identify patterns, and execute trades at optimal times, maximizing profits and minimizing losses. By automating the trading process, algorithmic trading ensures efficiency and accuracy, resulting in faster trade executions and reduced errors. The algorithms can be customized to specific parameters and can be backtested to evaluate their effectiveness. In the GOLF market, where timing and precision are crucial, algorithmic trading provides a competitive advantage, enhancing trading strategies and decision-making.
Decoding the Game: The Essence of GOLF
GOLF is the ticker symbol for Acushnet Holdings Corp., a publicly-traded company. Acushnet Holdings Corp. operates in the golf industry, specializing in the design, development, manufacture, and distribution of golf products. With a rich history dating back to 1910, the company's brands include Titleist, Pinnacle, FootJoy, and Vokey Design. These iconic brands are renowned for their innovation, quality, and performance, making them favorites among professional and amateur golfers worldwide. Acushnet Holdings Corp. is committed to delivering exceptional products that enhance the golfing experience, whether it's through cutting-edge golf clubs, high-performance golf balls, comfortable footwear, or stylish golf apparel. As the global leader in the golf industry, GOLF's success is driven by its dedication to providing golfers with the tools they need to excel on the course.
GOLF Trading Strategies: Unleashing Profit Potential
Backtesting trading strategies for GOLF can provide valuable insights into the stock's performance. By analyzing historical data and applying different trading approaches, investors can evaluate the efficacy of their strategies. Backtesting allows traders to observe how different methods, such as moving averages or relative strength indicators, would have performed in past market conditions. By conducting these tests, investors can assess the potential profitability and risk of their strategies. Additionally, backtesting can help traders identify patterns and trends specific to GOLF that might not be apparent on a surface level. However, it is important to note that past performance does not guarantee future success, and market conditions can change over time. Therefore, while backtesting is a useful tool, it should be used in conjunction with other factors for informed investment decisions.
GOLF Risk Control and Mitigation Strategies
GOLF, the acronym for Acushnet Holdings Corp., is a company that specializes in golf equipment and apparel. With a focus on risk management, GOLF ensures a safe and secure environment for its customers and employees. The company implements a comprehensive risk management strategy that includes identifying potential hazards, assessing their impact, and implementing necessary controls. GOLF places a strong emphasis on player safety, providing guidelines for safe play and constantly monitoring the conditions of its golf courses. This proactive approach minimizes the risk of accidents and injuries. Additionally, GOLF has effective contingency plans in place to address unforeseen events, such as severe weather conditions or equipment failures. This commitment to risk management enables GOLF to provide an enjoyable and worry-free golfing experience for its customers.
Trusted by Traders Worldwide
Frequently Asked Questions
What are some potential uses of smart contracts?
Smart contracts have the potential to revolutionize various industries and processes. They can be utilized in supply chain management to automate and secure transactions, reducing fraud and ensuring transparency. Smart contracts can streamline the real estate sector by automating property transfers and eliminating intermediaries. They can also enable peer-to-peer lending platforms by automating loan agreements and removing the need for traditional banks. Additionally, smart contracts can be applied in healthcare to securely manage patient data and facilitate efficient insurance claims processing. Overall, smart contracts have the potential to enhance security, reduce costs, and simplify complex transactions across multiple domains.
What are the best automated trading strategies for GOLF?
There are several automated trading strategies for GOLF that can be effective. One approach is trend following, where the system identifies and trades in the direction of prevailing market trends. Another strategy is mean reversion, which capitalizes on price deviations by expecting them to eventually revert to their mean. Additionally, using technical indicators like moving averages or Bollinger Bands can help identify potential entry and exit points. It is important to backtest and continuously refine these strategies to suit the specific market dynamics of GOLF. Ultimately, the best strategy will depend on individual preferences, risk tolerance, and market conditions.
Which trading strategy is best for beginners?
For beginners, a long-term trading strategy known as "buy and hold" is often recommended. This approach involves purchasing stocks or other assets and holding onto them for an extended period. It allows beginners to avoid the complexities of short-term trading and the stress of making frequent decisions. Buying and holding gives them time to study and understand the markets while benefiting from long-term growth and compound interest. It is important to conduct thorough research, diversify investments, and have a clear understanding of risk tolerance and investment goals before implementing any trading strategy.
Where do you trade GOLF?
GOLF is primarily traded on cryptocurrency exchanges that offer trading pairs for the Gemini dollar (GUSD). Some popular exchanges where GOLF can be traded include Binance, Huobi, and KuCoin. These exchanges allow users to buy, sell, and trade GOLF with other cryptocurrencies or fiat currencies. It is recommended to sign up for an account on one of these exchanges, deposit funds, and then execute trades using the available trading tools and features provided by the platform. However, it is important to conduct thorough research and consider factors such as fees, liquidity, and security before choosing an exchange to trade GOLF.
What's the most popular trading strategy?
There is no singular trading strategy that can be considered the most popular among traders. Different strategies cater to different trading styles and risk appetites. Some commonly used strategies include trend following, range trading, momentum trading, and mean reversion. Each strategy has its own set of rules and indicators that traders use to make investment decisions. The choice of a trading strategy depends on individual preferences, market conditions, and the trader's level of expertise. It is crucial for traders to thoroughly understand and test a strategy before implementing it, considering its suitability to their goals and risk tolerance.
Conclusion
In conclusion, incorporating GOLF (Acushnet Holdings Corp) into your trading strategy can provide opportunities for traders to buy and sell based on market developments and price fluctuations. Whether you prefer manual trading or automated trading strategies, understanding the fundamentals and trends of GOLF, conducting backtesting, and implementing risk management techniques can help enhance your trading strategies. With its strong brand presence and commitment to risk management, GOLF offers a safe and secure environment for both investors and golf enthusiasts, making it an asset worth considering for your trading portfolio.