Why Vestinda
Track your
Crypto Portfolio

Copy Crypto trading
strategies

Build trading strategies
with no code
Backtest trading strategies
on Crypto, Forex, Stocks, etc.

Demo Trading
Risk-free Paper Trading

Automate trading strategies
with Live Trading
Quant Strategies & Backtesting results for ENVG
Here are some ENVG trading strategies along with their past performance. You can validate these strategies (and many more) for free on Vestinda across thousands of assets and many years of historical data.
Quant Trading Strategy: Invest for the long term on ENVG
Based on the backtesting results statistics for the trading strategy from June 2, 2020, to October 28, 2023, the overall performance appears to be modest. The profit factor sits at 1.13, indicating a meager profit margin compared to the risk taken. The annualized return on investment stands at 1.29%, a relatively conservative figure considering the period analyzed. The average holding time for each trade is approximately 8 weeks and 3 days, implying a longer-term approach. With an average of 0.07 trades per week, the strategy seems to be relatively inactive. Furthermore, out of 14 closed trades, only 35.71% were profitable, resulting in a total return on investment of 4.44%. Overall, these results suggest room for improvement in order to generate more substantial returns.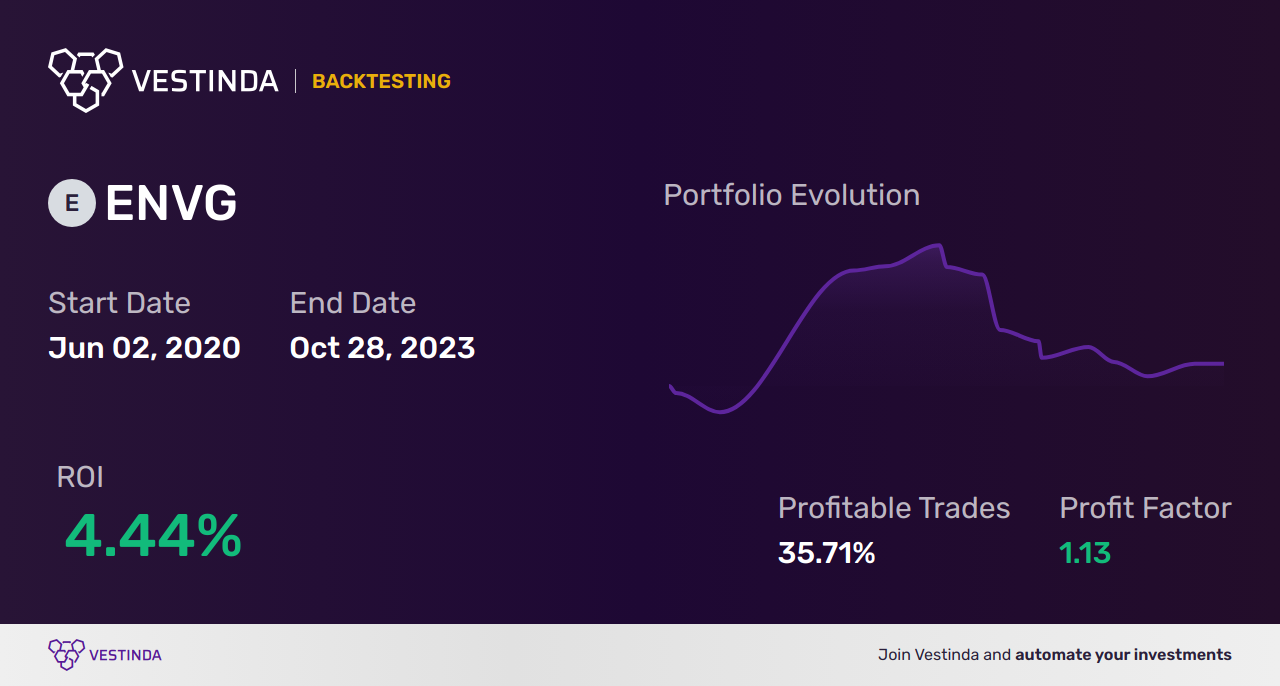 Quant Trading Strategy: Follow the trend on ENVG
The backtesting results for the trading strategy from October 28, 2022, to October 28, 2023, reveal promising statistics. The profit factor of 2.02 indicates that for every dollar risked, the strategy generated $2.02 in profit. The annualized ROI stands at 6.87%, showcasing a consistent return on investment. On average, trades were held for approximately 3 weeks and 3 days, indicating a medium-term approach. With an average of 0.13 trades per week, the strategy maintains a cautious frequency. The strategy executed 7 closed trades in total, with a winning trades percentage of 57.14%. Notably, it outperformed the buy and hold strategy by generating excess returns of 5.96%. Overall, these results demonstrate the strategy's potential for generating profits and beating the market.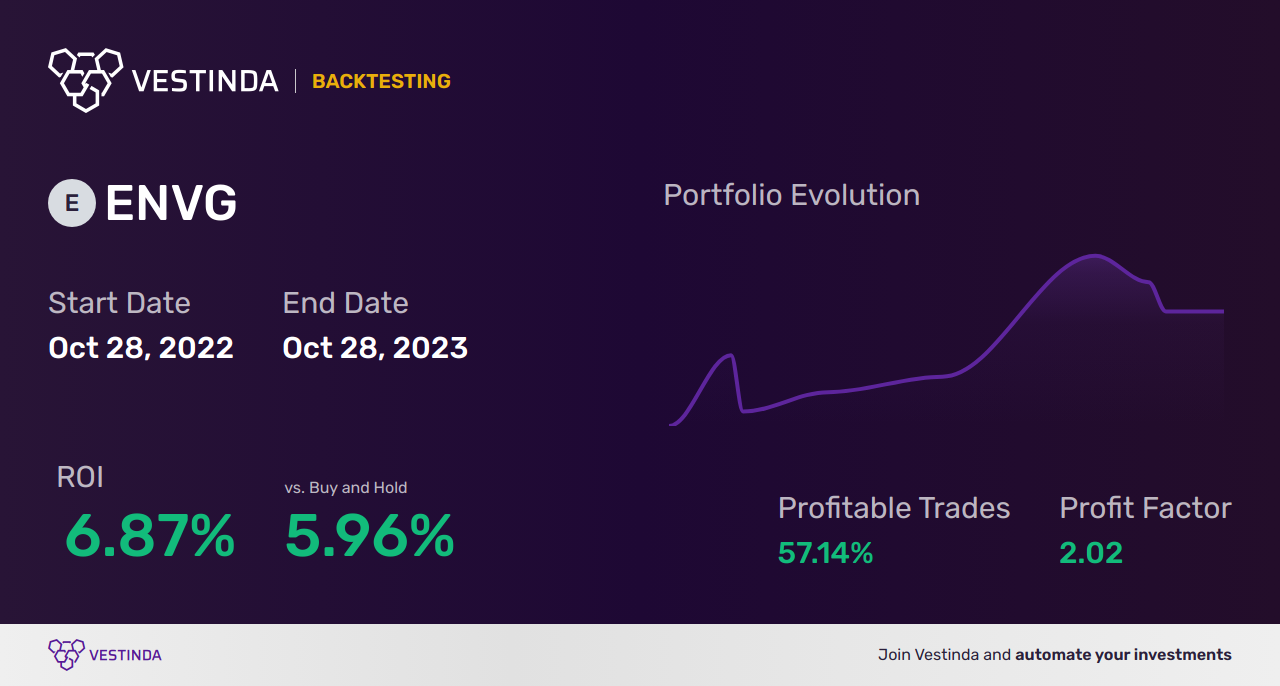 Quant Trading Strategy: Follow the trend on ENVG
Based on the backtesting results for the trading strategy conducted from October 28, 2022, to October 28, 2023, several key statistics have been derived. The profit factor of the strategy stands at 2.02, indicating a favorable outcome. The annualized return on investment (ROI) calculates to be 6.87%, showcasing a decent profit margin over the given period. The average holding time for trades is approximately 3 weeks and 3 days, implying a medium-term approach. With an average of 0.13 trades per week and a total number of 7 closed trades, the strategy appears to be moderately active. Furthermore, the winning trades percentage stands at 57.14%, suggesting a satisfactory success rate. Importantly, when compared to a buy-and-hold strategy, this particular strategy outperformed by generating excess returns of 5.96%.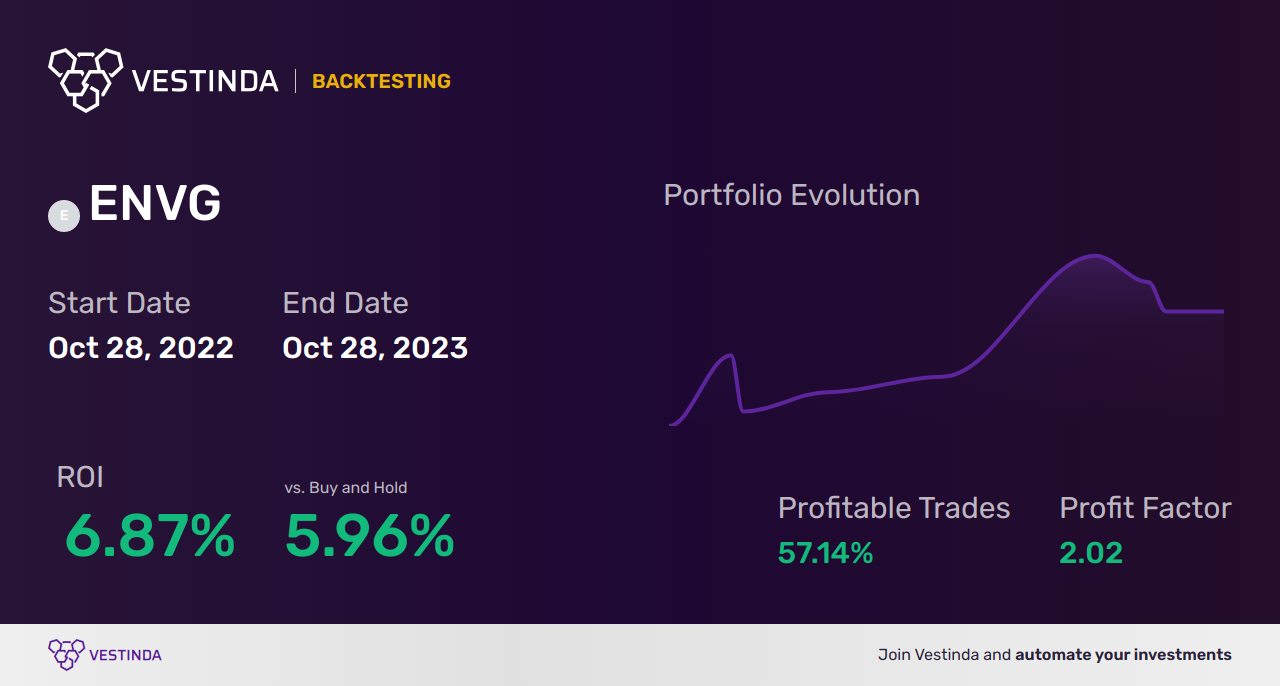 ENVG Quant Trading Insights
Quant trading is a technique that utilizes mathematical models and algorithms to make trading decisions automatically. It can greatly benefit ENVG trading by providing a systematic and efficient approach. By analyzing large amounts of data in real-time, quant trading algorithms can identify patterns and trends that human traders might overlook. This allows for faster and more accurate decision-making, leading to improved trading strategies and increased profits. Quant trading also removes emotional biases from the trading process, as it relies solely on data and predefined rules. Additionally, it can consider multiple factors simultaneously and execute trades at high speeds, ensuring timely and efficient market participation. Overall, quant trading offers a way to optimize trading activities for ENVG in an automated manner, enhancing performance and reducing risks.
Introducing ENVG: Vision Enhancement for Optimal Performance
The ENVG is a cutting-edge asset that is revolutionizing military surveillance technology. Providing a significant advantage in low-light environments, it combines thermal imaging and augmented reality capabilities. ENVG allows soldiers to accurately identify targets, day or night, enhancing situational awareness and mission effectiveness. Through its integration with the modern battle network, it enables seamless communication and coordination among units. This asset aids in the detection of hidden threats, offering a tactical edge on the battlefield. With its lightweight design and easy-to-use interface, the ENVG ensures comfort and efficiency for soldiers in the field. Equipped with rapid target acquisition capabilities, it assists in efficient decision-making and reduces the risk of friendly fire incidents. ENVG is the culmination of advanced technology and training, empowering soldiers with enhanced visibility and operational superiority.
Price Determinants of ENVG Technology
Several factors influence the price of ENVG. Firstly, the demand for ENVG in the market affects its price. If the demand is high, the price tends to be higher. On the other hand, if the demand is low, the price may decrease. Additionally, the cost of manufacturing ENVG plays a significant role in determining its price. Factors such as raw material costs, labor expenses, and technological advancements impact the manufacturing cost and, subsequently, the price of ENVG. Furthermore, any changes in government regulations or policies can also affect the price of ENVG. Finally, competition in the market can influence the price as companies may adjust their prices to attract customers and gain a competitive edge.
Customized Trading Strategies with ENVG
Developing customized trading strategies is essential for successful traders looking to optimize their returns on investment. By tailoring strategies to their individual risk tolerance, goals, and market knowledge, traders can increase their chances of making profitable trades. A customized trading strategy considers factors such as time horizon, asset class, and market conditions, enabling traders to make informed decisions. Some traders prefer a passive approach, investing in low-cost index funds, while others may opt for a more active strategy, seeking out individual stocks or sectors. A well-developed trading plan also takes into account diversification to minimize risk and volatility. Using tools like technical analysis and fundamental research, traders can identify potential entry and exit points for specific investments. It is important to regularly review and adjust trading strategies as market conditions change to maintain profitability. Traders should consider seeking professional advice or utilizing trading platforms that offer customizable features to ensure their strategies suit their unique needs and preferences.
ENVG Day Trading Strategies Simplified
ENVG, or EN VIGEO US 50 GR, is an attractive stock for day traders due to its high liquidity and volatility. Short-term traders can employ several strategies to maximize their returns. One popular approach is the breakout strategy, which involves buying the stock when it breaks through a significant resistance level, with a stop-loss order placed just below the breakout point. Another strategy is momentum trading, where traders capitalize on the stock's price moving in a specific direction, seeking quick profits. Furthermore, swing trading can be effective, with traders taking advantage of short-term price fluctuations to enter and exit positions. Stop-loss orders are crucial, as they limit potential losses during volatile trading periods. Successful day trading requires careful monitoring of price movements and staying updated on market news and trends. Ultimately, traders must develop a strategy that aligns with their risk tolerance and trading preferences.
Start earning fast & easy
Create
account

Build trading strategies
with no code

Validate
& Backtest

Connect exchange
& start earning
Frequently Asked Questions
How do smart contracts work?
Smart contracts are self-executing agreements written in code that automatically enforce contractual terms. They operate on decentralized blockchain platforms to eliminate the need for intermediaries. Contracts are encoded with predefined conditions and actions, which are securely stored on the blockchain. Once the predetermined conditions are met, the contract automatically executes the specified actions, ensuring transparency, immutability, and trust. Smart contracts can facilitate various applications ranging from financial transactions, supply chain management, to digital identity verification. By leveraging blockchain's distributed nature and cryptographic protocols, smart contracts revolutionize traditional contract processes, making them efficient, cost-effective, and resistant to fraud.
How to use technical analysis to improve your trading?
To effectively use technical analysis to enhance your trading, begin by studying chart patterns, trends, and indicators to identify potential entry and exit points. Use popular tools like moving averages, Fibonacci retracements, and support/resistance levels to guide your decision-making process. Combine multiple indicators to validate signals and reduce false readings. Regularly monitor and analyze your trades to fine-tune your strategy and identify patterns or behaviors that lead to successful trades. Consistently practice discipline, risk management, and emotional control to maximize the benefits of technical analysis and improve your trading performance.
How do I start algorithmic trading?
To start algorithmic trading, follow these steps:
1. Begin by learning programming languages such as Python or R, as they are commonly used in algorithmic trading.
2. Gain a deep understanding of financial markets, including market data, trading rules, and strategies.
3. Use algorithmic trading platforms like MetaTrader or Interactive Brokers to execute trades automatically.
4. Develop and test algorithms using historical data to ensure profitability and risk management.
5. Continuously monitor and adjust your algorithms to adapt to changing market conditions. Seek guidance from experts or enroll in online courses to enhance your skills.
What is the best time to trade ENVG?
The best time to trade ENVG (Envision Healthcare Corporation) can vary depending on market conditions and individual trading strategies. However, several factors can influence the optimal trading time for this stock. Firstly, monitoring the overall market sentiment and volatility is crucial. ENVG may see increased trading activity and liquidity during regular market hours, making it more favorable for day traders. Additionally, paying attention to any company-specific news, earnings releases, or industry developments can help identify potential trading opportunities. Short-term traders might also consider pre- and post-market sessions for potential price swings. Ultimately, conducting thorough research, assessing market conditions, and tailoring the trading strategy accordingly can improve the chances of success when trading ENVG.
Where do you trade ENVG?
The ENVG (Enhanced Night Vision Goggle) is primarily utilized by military personnel and is not available for public trading or purchase. It is exclusively procured and distributed by government defense agencies, such as the United States military. Therefore, as a civilian, it is not possible to trade ENVG on any public or commercial platforms. The ENVG is a specialized piece of equipment specifically designed for military operations and is not accessible for trading purposes.
Conclusion
In conclusion, trading ENVG (EN VIGEO US 50 GR) can offer both growth and stability, making it an appealing asset for traders. From technical analysis to automated trading strategies, there are various approaches to consider when trading ENVG. Risk management is essential in achieving successful trading outcomes. Quant trading, utilizing mathematical models and algorithms, can optimize trading activities by analyzing data in real-time and removing emotional biases. ENVG, with its advanced military surveillance technology, provides soldiers with enhanced visibility and operational superiority. The price of ENVG is influenced by factors such as demand, manufacturing costs, government regulations, and competition. Developing customized trading strategies based on risk tolerance, goals, and market knowledge is crucial for optimizing returns. Day traders can employ breakout, momentum, and swing trading strategies to maximize profits when trading ENVG.