Backtest ATSG & Stocks, Forex, Indices, ETFs, Commodities
100,000 available assets New

years of historical data

practice without risking money

Automated Strategies and Backtesting results for ATSG
Here are some ATSG trading strategies along with their past performance. You can validate these strategies (and many more) for free on Vestinda across thousands of assets and many years of historical data.
Automated Trading Strategy: Fisher Transform Oscillations with SuperTrend and Shadows on ATSG
According to the backtesting results for the trading strategy from November 2, 2022, to November 2, 2023, the statistics reveal a promising performance. The strategy yielded a profit factor of 1.96, indicating a strong success rate. The annualized return on investment stands at an impressive 14.45%. On average, each position was held for around 5 days and 4 hours, while the strategy executed an average of 0.21 trades per week. A total of 11 trades were closed during this period. Winning trades accounted for 54.55% of the total, showcasing a positive track record. Notably, this strategy outperformed the buy-and-hold approach, generating excess returns of 68.15%.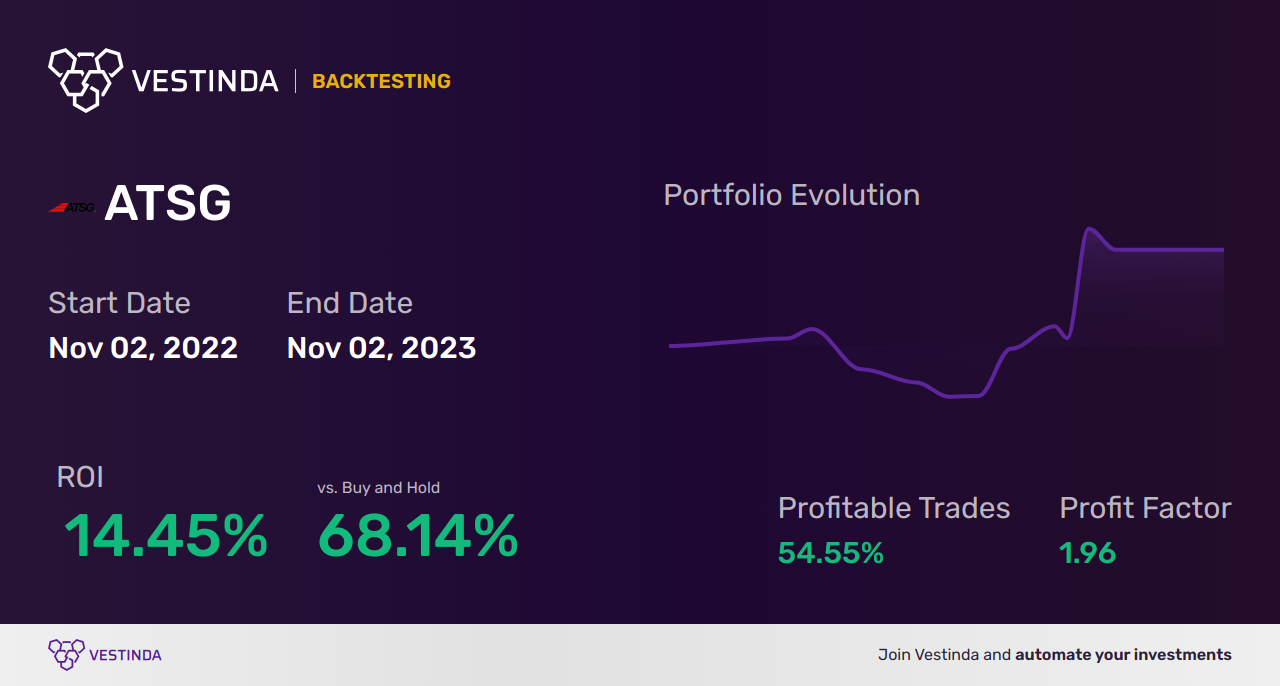 Automated Trading Strategy: ZLEMA Crossover with CMO on ATSG
The backtesting results for the trading strategy from November 2, 2016 to November 2, 2023 reveal some impressive statistics. The profit factor stands at an impressive 20.28, indicating that the strategy has generated substantial profits compared to the losses. The annualized return on investment (ROI) calculated over this period amounts to 4.77%, which is commendable. On average, each trade is held for approximately 3 weeks and 3 days, suggesting a strategic approach to maximizing gains. With an average of just 0.01 trades per week, it is evident that the strategy focuses on quality rather than quantity. Out of a total of 5 closed trades, a substantial 80% were successful, leading to an impressive return on investment of 34.07%.
Quantitative Trading for Air Transport Services Group
Quantitative trading, also known as algorithmic trading, can greatly benefit ATSG in automating their market trading activities. By employing quantitative trading strategies, ATSG can use computer algorithms to analyze market data and execute trades at high speeds. This can lead to improved efficiency and profitability for the company. Quantitative trading relies on mathematical models and statistical analysis to identify trading opportunities and manage risk. With its ability to process large amounts of data in real-time, quantitative trading can help ATSG react swiftly to market conditions and capitalize on profitable opportunities. Moreover, by removing human emotions and biases from the trading process, quantitative trading ensures consistent and disciplined decision-making. Overall, implementing quantitative trading systems can enhance ATSG's trading capabilities and give them a competitive edge in the market.
ATSG: Unlocking Air Transportation Services Excellence
ATSG, or Air Transport Services Group Inc., is an exceptional asset in the transportation industry. With their extensive fleet of aircraft, they are able to provide air cargo services worldwide. The company specializes in leasing and operating cargo aircraft, making it a vital player in the market. ATSG also offers various support services like aircraft maintenance and logistics solutions to meet the diverse needs of their clients. Their commitment to safety is evident through their strong track record and compliance with industry regulations. ATSG's impeccable reputation and strong financial performance make it an attractive investment opportunity. With their global reach and commitment to excellence, ATSG continues to be a formidable force in the air transportation sector.
Analyzing ATSG's Trading Strategies: Backtesting Results
Backtesting trading strategies for ATSG can provide valuable insights into its potential performance. A thorough backtest involves analyzing historical data to simulate strategy performance. By doing so, investors can assess the effectiveness of their trading strategies and evaluate their profitability. The process involves applying trading rules to past data and calculating hypothetical trades' profits or losses. Backtesting aims to identify patterns, correlations, and potential risks associated with the securities. Additionally, it enables investors to adjust and optimize their strategies before implementing them in live trading. Therefore, traders who want to analyze the performance of their ATSG trading strategies should consider conducting a rigorous and accurate backtest.
Streamlined Automated Trading Solutions for ATSG
Automated trading strategies offer several benefits for ATSG. They provide efficient execution and minimize emotional decision-making. By leveraging algorithms and historical data, these strategies can automatically place trades and adjust positions. With automated trading, ATSG can take advantage of market opportunities in real-time. Additionally, these strategies can help reduce the impact of human error, improving overall trading efficiency and accuracy. By analyzing large sets of data, they can identify patterns and trends that humans might miss. This allows ATSG to make informed trading decisions and optimize profitability. Overall, automated trading strategies enable ATSG to streamline its trading process and maximize returns.
Influential Factors Affecting ATSG Stock Prices
There are several factors that can influence the price of Air Transport Services Group Inc. (ATSG) stock.
Firstly, the overall performance of the air cargo industry can have a significant impact on ATSG's price. If the industry is booming and demand for air freight services is high, it can drive up the price of ATSG stock.
Secondly, economic conditions and global trade trends play a crucial role in ATSG's stock price. A strong economy and increasing international trade can create more business opportunities for ATSG, resulting in higher stock prices.
Furthermore, the company's financial performance, including revenue growth, profitability, and debt levels, can also impact the stock price. In addition, any news or developments related to ATSG's key clients or competitors can influence investor perception and subsequently affect the stock price.
Finally, factors specific to the company itself, such as management changes, new contracts, or technological advancements, can also impact ATSG's stock price.
Trusted by Traders Worldwide
Frequently Asked Questions
What is leverage trading?
Leverage trading, also known as margin trading, is a practice in which an investor borrows funds to amplify their trading positions. It allows traders to control larger positions in the market with a smaller initial investment. By using borrowed capital, traders can potentially increase both their profits and losses. The borrowed funds act as leverage, enabling traders to access higher-risk, higher-reward opportunities. However, it is important to note that leverage trading carries a significant risk, as losses can exceed the initial investment. Proper risk management and understanding of leverage are crucial to successful trading.
What is the 1% trading strategy?
The 1% trading strategy is a risk management approach where traders limit their exposure by only risking 1% of their trading capital on any single trade. This strategy aims to protect against significant losses and maintain a sustainable approach to trading. By limiting risk to a small percentage of their overall capital, traders can effectively manage their losses and preserve their account balance. This strategy emphasizes consistency and discipline in trading, helping traders avoid large drawdowns and potential ruin.
Where do you trade ATSG?
ATSG, the stock symbol for Air Transport Services Group, can be traded on various stock exchanges. The primary exchange where ATSG shares are listed is the NASDAQ (National Association of Securities Dealers Automated Quotations) in the United States. As a publicly traded company, ATSG can be bought and sold through brokerage accounts that offer access to the NASDAQ exchange. Investors can choose from a range of online brokerage platforms or work with a traditional brokerage firm to trade ATSG. Remember to conduct thorough research and consult a financial advisor before making any investment decisions.
Is ATSG more volatile and better for day trading than Bitcoin?
ATSG, or Air Transport Services Group, is a company involved in air cargo transportation. It tends to have less volatility compared to Bitcoin, which is a highly speculative cryptocurrency. While ATSG might experience fluctuations influenced by market conditions, the swings are generally smaller and more predictable. Bitcoin, on the other hand, is notorious for its extreme volatility due to factors like market sentiment and regulatory developments. Therefore, for day trading, ATSG may be considered less volatile and potentially a better option than Bitcoin, as it offers a relatively more stable trading environment.
Conclusion
In conclusion, understanding the price dynamics of ATSG and implementing effective trading strategies can greatly maximize potential gains for investors. By incorporating quantitative trading strategies, such as algorithmic trading, ATSG can automate market trading activities and react swiftly to market conditions. Backtesting trading strategies for ATSG also provides valuable insights into potential performance and allows for adjustments and optimization. Additionally, utilizing automated trading strategies can streamline the trading process and minimize human error, thereby improving overall efficiency and accuracy. Considering these factors and staying informed about industry and global trends can help investors make informed trading decisions and capitalize on the opportunities presented by ATSG.