Start earning in 3 easy steps
Create
account

Discover profitable
strategies

Connect exchange
& start earning
Quant Strategies and Backtesting results for ALPS.U
Here are some ALPS.U trading strategies along with their past performance. You can validate these strategies (and many more) for free on Vestinda across thousands of assets and many years of historical data.
Quant Trading Strategy: CCI Trend Reversal Strategy on ALPS.U
During the backtesting analysis for a trading strategy that was conducted from September 14, 2021, to October 25, 2023, promising results were observed. The strategy showed an impressive annualized Return on Investment (ROI) of 38.76%. On average, the holding time for trades was approximately 5 weeks and 1 day, while the average number of trades executed per week stood at 0.02. A total of 3 trades were closed during the testing period. Notably, all closed trades were successful, resulting in a winning trades percentage of 100%. Furthermore, the trading strategy outperformed the buy and hold strategy, generating excess returns of 1233.53%. These statistics highlight the potential profitability and effectiveness of the tested trading strategy.
Backtesting results
Profit Factor
All your trades are profitable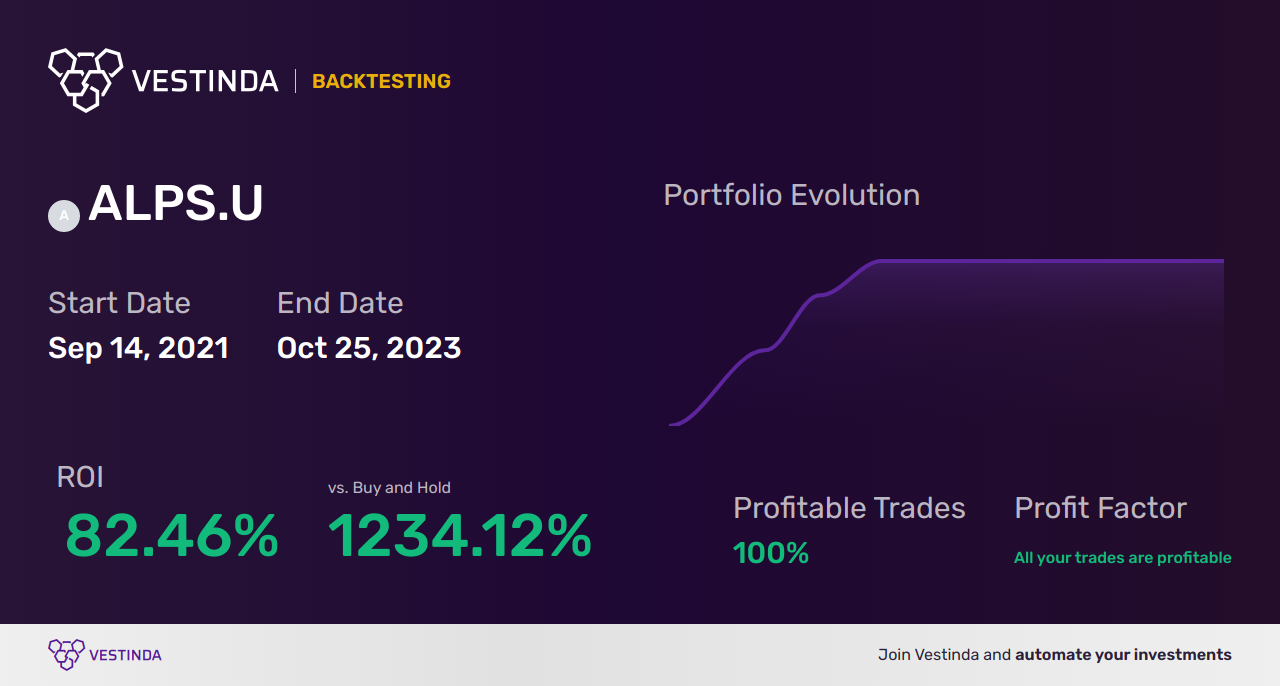 Quant Trading Strategy: RAVI Reversals with SuperTrend and Shadows on ALPS.U
During the period from October 25, 2022, to October 25, 2023, the backtesting results for a trading strategy revealed an annualized return on investment (ROI) of -7.76%. On average, the strategy held positions for approximately 3 days and 22 hours. With an average of 0.05 trades per week, a total of 3 closed trades were executed. Disappointingly, none of these trades resulted in a positive outcome, leading to a winning trades percentage of 0%. However, despite the negative ROI, the strategy performed better than a simple buy-and-hold approach, generating excess returns of 1016.44%. This suggests that although the strategy suffered losses, it outperformed a passive investment strategy over the given period.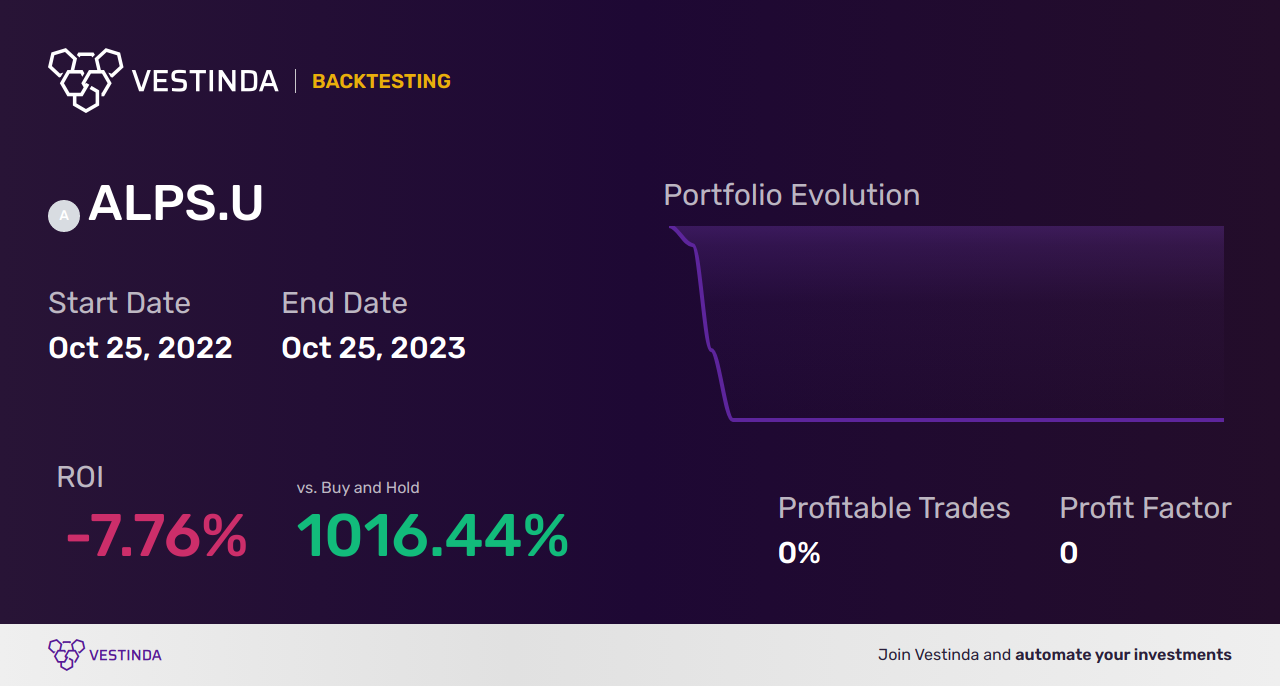 Automating ALPS.U Trading with Quant Strategies
Quantitative trading, also known as quant trading, can revolutionize the way we trade the markets, including assets like ALPS.U. By utilizing mathematical models, statistical analysis, and algorithms, quant trading allows for automated decision-making in the trading process. With the help of quant trading strategies, traders can identify and exploit patterns and market inefficiencies, making trading more efficient and potentially more profitable. These strategies can be backtested using historical data, which helps validate their effectiveness. By employing quant trading techniques, traders can reduce the impact of emotions and human biases on their decision-making. This automated approach enables trading to be executed swiftly and accurately, reacting to market conditions in real-time. With the power of quant trading, traders can harness the potential of ALPS.U and navigate the markets with a systematic and analytical approach.
Exploring ALPS.U: A Unique Stocks Asset
ALPS.U, or Alpine Summit Energy Partners, Inc., is an attractive asset that offers trading opportunities in the market. This stocks asset represents the interests of Alpine Summit Energy Partners, a company involved in the energy sector. Investing in ALPS.U allows traders to participate in the growth and performance of this company. With a focus on the energy industry, ALPS.U provides exposure to market trends and developments in this sector. By understanding the dynamics and factors that influence the energy market, traders can make informed decisions about ALPS.U. It is essential to stay updated on news and events that impact the energy industry, as they can influence the value and performance of ALPS.U. Whether you are a seasoned investor or just starting in the trading world, ALPS.U presents an intriguing opportunity to explore the energy market and potentially earn profits through strategic trading strategies.
Maximizing ALPS.U with Swing Trading Tactics
Swing trading can be an effective strategy for trading ALPS.U. This approach involves capturing short-term price movements within the overall trend of the asset. One popular swing trading strategy is the use of support and resistance levels. Traders can buy ALPS.U when it bounces off a support level and sell when it reaches a resistance level. Another strategy is to utilize technical indicators like moving averages to identify potential entry and exit points. By combining these strategies with proper risk management techniques, swing traders can take advantage of the price fluctuations in ALPS.U and potentially generate profits. It's important to keep an eye on market trends, news, and the overall performance of the energy sector to ensure the success of swing trading with ALPS.U.
Protecting Your Investment: ALPS.U Stop Loss Strategy
Implementing a stop loss strategy in trading ALPS.U can be beneficial for risk management. A stop loss is a predetermined price level at which a trade will be automatically exited to limit potential losses. By setting a stop loss order, traders can protect their investments in case the price of ALPS.U moves against their desired direction. This strategy helps to mitigate the impact of market volatility and unexpected price movements. Traders need to determine an appropriate stop loss level based on their risk tolerance and analysis of ALPS.U's price trends. It's crucial to regularly review and adjust the stop loss levels as market conditions change. By incorporating a stop loss strategy, traders can minimize potential losses and protect their capital when trading ALPS.U.
Driving ALPS.U: Price Influencers
The price of ALPS.U is influenced by various factors that traders should consider. One significant factor is the overall performance of the energy sector. If the energy industry is experiencing growth and positive market conditions, it can have a positive impact on ALPS.U's price. Additionally, news and events related to the energy sector, such as changes in government policies, environmental regulations, or geopolitical tensions, can also impact the price of ALPS.U. Economic indicators, like oil prices and supply-demand dynamics, play a crucial role in determining the value of ALPS.U as well. Traders should also keep an eye on company-specific factors, such as financial performance and strategic decisions made by Alpine Summit Energy Partners. By analyzing and staying informed about these influencing factors, traders can make more informed decisions when trading ALPS.U.
Trusted by Traders Worldwide
Frequently Asked Questions
Where do you trade ALPS.U?
ALPS.U can be traded on the stock exchange. One of the popular platforms where you can trade ALPS.U is the New York Stock Exchange (NYSE). At NYSE, investors can buy and sell shares of ALPS.U through their brokerage accounts. By placing an order through their broker, investors can participate in the trading of ALPS.U shares, taking advantage of price fluctuations in the market. The NYSE provides a secure and regulated environment for trading stocks like ALPS.U. It is important to research and work with a reputable broker to ensure a smooth trading experience.
Which trading strategy is best for beginners?
For beginners, a long-term investing strategy is often recommended. This strategy involves buying stocks and holding onto them for an extended period, typically years. Long-term investing allows beginners to benefit from the compounding of returns over time. It also reduces the need for constant monitoring of the market, making it less overwhelming. Another strategy suitable for beginners is dollar-cost averaging. With this approach, investors regularly invest a fixed amount of money into a stock, regardless of its price. This helps to mitigate the impact of short-term market fluctuations and promotes disciplined investing.
What is quantitative trade?
Quantitative trading, also known as algorithmic trading or algo trading, involves using computer programs to make trading decisions. These programs analyze large amounts of data and use mathematical models to identify trading opportunities. Quantitative traders aim to take advantage of short-term price movements and inefficiencies in the market. They rely on complex algorithms and statistical analysis to execute trades automatically and at high speeds. This approach is popular among institutional investors and hedge funds. Quantitative trading requires advanced programming skills and a deep understanding of market dynamics, making it more suitable for experienced traders.
Conclusion
In conclusion, trading ALPS.U can be optimized through various strategies and techniques. Whether it's employing automated quant trading, utilizing swing trading tactics, implementing stop loss orders, or staying informed about factors influencing ALPS.U's price, there are opportunities to maximize profits and manage risks. By understanding the unique characteristics of ALPS.U and applying effective trading strategies, traders can navigate the market with confidence and potentially achieve their financial goals. Remember to adapt and fine-tune your strategies as market conditions evolve and always prioritize risk management. With the right approach, trading ALPS.U can be a rewarding and profitable endeavor.