Start earning in 3 easy steps
Create
account

Discover profitable
strategies

Connect exchange
& start earning
Quant Strategies and Backtesting results for ALEX
Here are some ALEX trading strategies along with their past performance. You can validate these strategies (and many more) for free on Vestinda across thousands of assets and many years of historical data.
Quant Trading Strategy: Follow the trend on ALEX
Based on the backtesting results for a trading strategy from November 3, 2022, to November 3, 2023, several key statistics have been obtained. The profit factor is recorded at 0.13, indicating a potential lack of profitability. The annualized return on investment (ROI) stands at -8.9%, indicating a negative return over the specified period. The average holding time for trades is 4 weeks and 2 days, while the average number of trades executed per week is 0.09, suggesting a relatively low trading frequency. A total of 5 trades were closed during this period. Moreover, the winning trades percentage stands at 20%, indicating a relatively low success rate. However, the strategy outperformed the buy and hold approach with excess returns of 5.81%.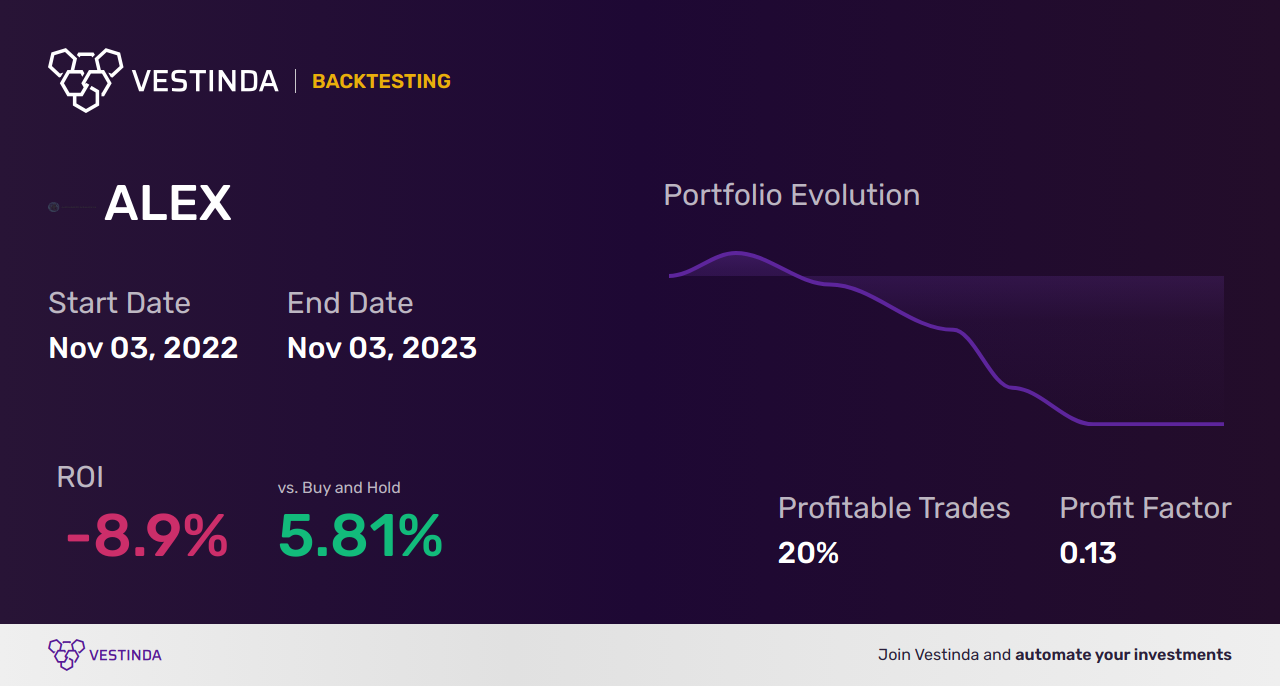 Quant Trading Strategy: ROC Reversals with VWAP and Engulfing Patterns on ALEX
The backtesting results for the trading strategy from November 3, 2022, to November 3, 2023, reveal some key statistics. The strategy produced an annualized return on investment (ROI) of -5.58%, indicating a negative performance. On average, the holding time for trades was 2 days and 7 hours. Throughout the year, only 6 trades were closed, with an average of 0.11 trades per week. Unfortunately, none of the trades resulted in a winning outcome, yielding a 0% winning trades percentage. However, despite the negative ROI, the strategy outperformed the buy and hold strategy by generating excess returns of 9.67%. Overall, the results suggest room for improvement in the trading strategy's performance.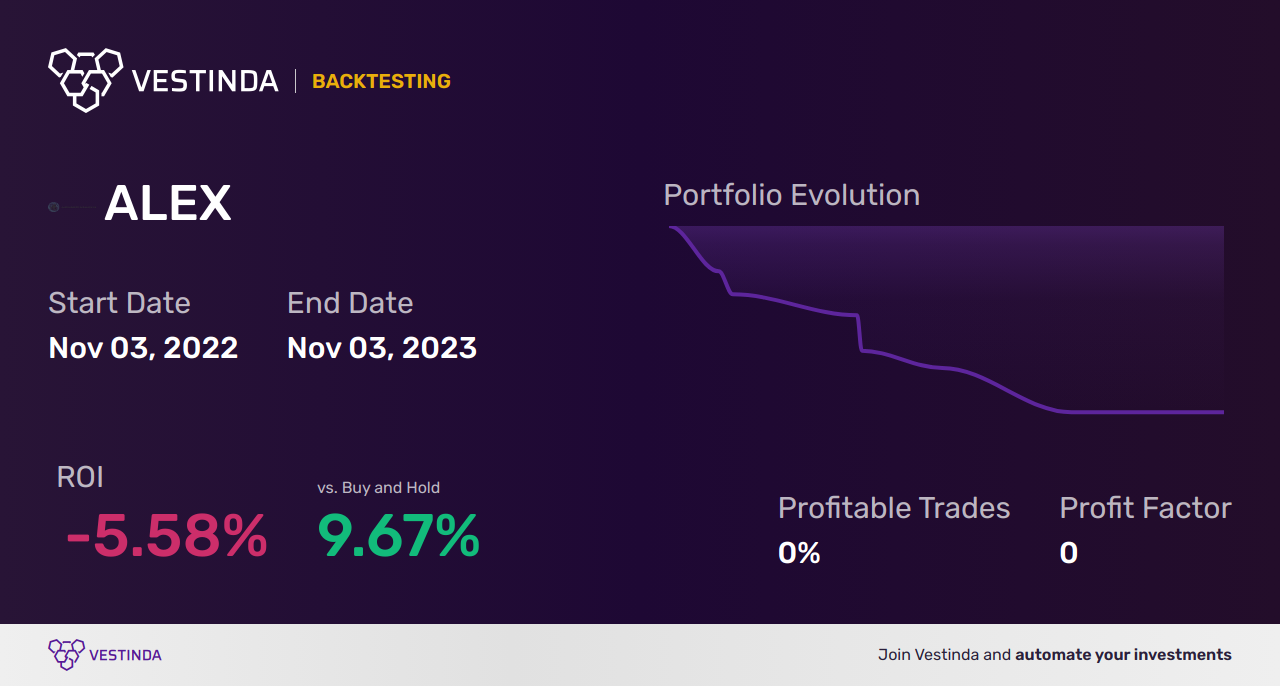 Quantitative Trading Strategies: ALEX's Advantage Unleashed
Quantitative trading is an automated approach that can greatly assist ALEX in trading the markets. By utilizing mathematical models, statistical analysis, and algorithmic trading strategies, quantitative trading enables ALEX to make data-driven decisions quickly and efficiently. With the help of computer programs, ALEX can automatically execute trades, monitor market conditions, and identify profitable trading opportunities. By removing human emotions and biases from the decision-making process, quantitative trading ensures a disciplined and systematic approach to trading. With access to vast amounts of historical and real-time market data, ALEX can build sophisticated trading algorithms that can capitalize on market inefficiencies and generate consistent returns. Overall, quantitative trading provides ALEX with a powerful tool to navigate the markets in an automated and efficient manner.
Unveiling ALEX: The Alpha Exploration Story
ALEX, acronym for Alpha Exploration Ltd., is a remarkable asset in today's market. With its cutting-edge technology and forward-thinking approach, ALEX sets itself apart from the competition. Its adaptability and swift decision-making keep investors on the edge, maximizing returns. ALEX's robust network provides a solid foundation, fostering unparalleled growth opportunities. By constantly seeking innovation and utilizing data-driven insights, ALEX positions itself as a trailblazer in the industry. With a team of talented professionals, ALEX makes strategic investments that yield exceptional results. It consistently outperforms expectations, attracting savvy investors seeking high returns on their investments. A true pioneer, ALEX continues to shape and redefine the investment landscape, propelling the industry forward. Rest assured, ALEX is the asset that stands out from the crowd, ready to seize every opportunity.
Trading Strategies for ALEX's Day Traders
Day trading strategies for ALEX should focus on maximizing short-term profit potential. Utilize technical analysis indicators such as moving averages, MACD, and RSI to identify entry and exit points. Place tight stop-loss orders to limit potential losses. Keep an eye on the overall market trends and news that may impact ALEX's stock. Develop a disciplined approach by setting clear profit targets and stop-loss levels. Implement risk management techniques to protect capital and avoid excessive losses. Utilize limit orders to take advantage of price fluctuations and avoid impulsive trading decisions. Constantly monitor and adjust the trading strategy based on market conditions for optimal results. Stay updated on the latest development and earnings reports of ALEX to make informed trading decisions.
ALERT: Empowering ALEX with Advanced Trading Automation
Advanced Trading Automation for ALEX is a game-changer in the finance industry. With cutting-edge algorithms and real-time data analysis, this system revolutionizes how investments are made. Through the use of AI and machine learning, ALEX is able to analyze vast amounts of information, identify patterns, and execute trades with precision. The automation feature ensures that trades are executed swiftly and accurately, eliminating human error. This technology allows investors to take advantage of opportunities in the market instantaneously, making it a valuable tool for both beginners and experienced traders. With its ability to adapt and learn from market trends, ALEX continuously improves its strategies, maximizing profitability for its users. Say goodbye to manual trading and welcome the era of advanced trading automation with ALEX.
Analyzing ALEX Trading with Technical Tools
There are various technical analysis tools available for ALEX trading. These tools help traders analyze price trends and make informed decisions. One commonly used tool is moving averages, which helps identify potential support and resistance levels. Another tool is the MACD (Moving Average Convergence Divergence), which indicates trend direction and potential buying or selling signals. Bollinger Bands are also popular for determining overbought or oversold conditions. Fibonacci retracements can help identify potential areas of support or resistance based on mathematical ratios. Additionally, RSI (Relative Strength Index) can indicate whether a stock is overbought or oversold. These tools can be used individually or in combination to enhance trading strategies and improve decision-making for ALEX trading.
Trusted by Traders Worldwide
Frequently Asked Questions
How to use technical analysis to improve your trading?
To use technical analysis effectively in trading, start by understanding the key principles and concepts involved. Learn to identify patterns, trends, and indicators in price charts, as they provide useful insights into future price movements. Utilize tools like moving averages, support and resistance levels, and oscillators to make informed trading decisions. Additionally, stay updated on market news and events to understand the broader context impacting price movements. Practice and refine your technical analysis skills to gain a deeper understanding of market dynamics, and always remember to combine technical analysis with risk management strategies for successful trading.
Can I start trading under $100?
Yes, you can start trading with less than $100. Many online brokerage platforms allow you to open an account with a small deposit. However, it's crucial to manage your funds wisely and be mindful of transaction fees and minimum order amounts. Consider starting with low-cost stocks or exchange-traded funds (ETFs) to maximize your investment potential. It's also wise to educate yourself about investment strategies and risk management before diving into trading. Remember, while starting with a small amount is possible, success in trading often requires careful planning and continuous learning.
Is ALEX more volatile and better for day trading than Bitcoin?
It is challenging to determine if ALEX is more volatile and better for day trading than Bitcoin without comprehensive data analysis. Both assets are subject to price fluctuations and market volatility. Bitcoin's larger market cap and wider adoption could potentially make it more stable compared to ALEX. However, day trading success relies on various factors like liquidity, trading volumes, and market conditions. Conducting thorough research and analysis is crucial before concluding which asset might be more suitable for day trading.
Where do you trade ALEX?
ALEX is primarily traded on various cryptocurrency exchanges. Some popular exchanges where ALEX can be traded include Binance, Coinbase Pro, Kraken, and KuCoin. These exchanges provide a platform for users to buy, sell, and trade ALEX tokens. It is important to note that availability and trading pairs may vary across different exchanges, so it is recommended to check the specific exchanges' listings and markets to find the most suitable platform for trading ALEX.
Conclusion
In conclusion, implementing effective trading strategies for ALEX (Alpha Exploration Ltd.) is crucial for maximizing profits and navigating the markets. Whether it be through quantitative trading, day trading, or advanced trading automation, ALEX offers a range of options for traders to capitalize on market opportunities. Technical analysis tools such as moving averages, MACD, Bollinger Bands, Fibonacci retracements, and RSI can further enhance trading strategies and aid in decision-making. By staying informed and adapting to market conditions, investors can make well-informed trading decisions and achieve higher returns with ALEX.