Start earning fast & easy
Create
account

Build trading strategies
with no code

Validate
& Backtest

Connect exchange
& start earning
Automated Strategies and Backtesting results for ADADOWN
Here are some ADADOWN trading strategies along with their past performance. You can validate these strategies (and many more) for free on Vestinda across thousands of assets and many years of historical data.
Automated Trading Strategy: OBV Reversals with KAMA and Candlesticks on ADADOWN
Based on the backtesting results statistics for the trading strategy from October 15, 2022, to October 15, 2023, it is evident that the strategy has shown promising performance. The profit factor stands at 1.37, indicating that for every dollar invested, a profit of $1.37 was generated. The annualized ROI of 27.35% signifies a remarkable return on investment over the given period. On average, the strategy held trades for approximately 15 hours and 17 minutes, exhibiting a relatively short-term approach. With an average of 1.07 trades per week, it showcases a conservative trading frequency. The strategy closed 56 trades during this period, with 37.5% of them being profitable. Notably, it outperformed the buy and hold strategy, generating excess returns of 323.43%.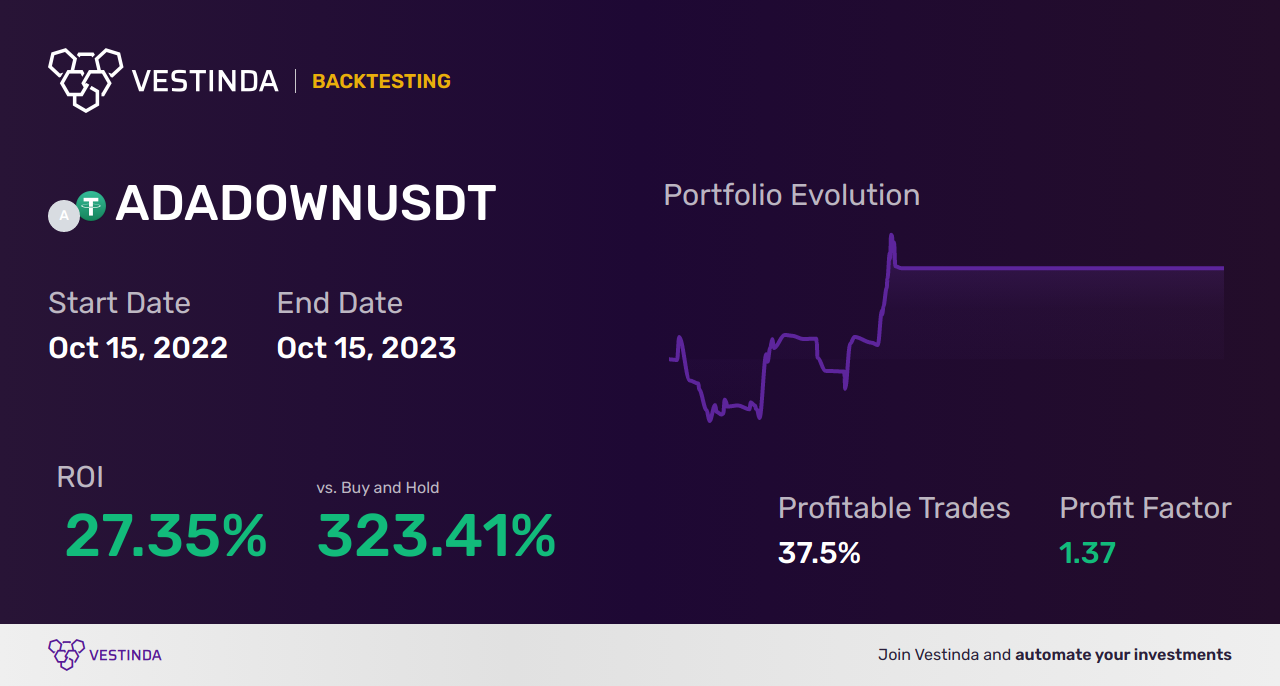 Automated Trading Strategy: Ride the RSI Trend with Ichimoku Conversion and Engulfing Candles on ADADOWN
During the period from October 15, 2022, to October 15, 2023, the backtesting results of a trading strategy revealed promising statistics. The strategy exhibited a profit factor of 1.23, indicating a favorable ratio between the gross profit and gross loss. Additionally, an impressive annualized ROI of 28.89% was achieved, signifying substantial returns on investment over the year. On average, trades were held for a single day, suggesting a relatively short-term approach. With an average of 0.72 trades per week and a total of 38 closed trades, the strategy demonstrated consistent activity. Although the winning trades percentage stood at 36.84%, the strategy outperformed the buy-and-hold approach, generating excess returns of 328.62%.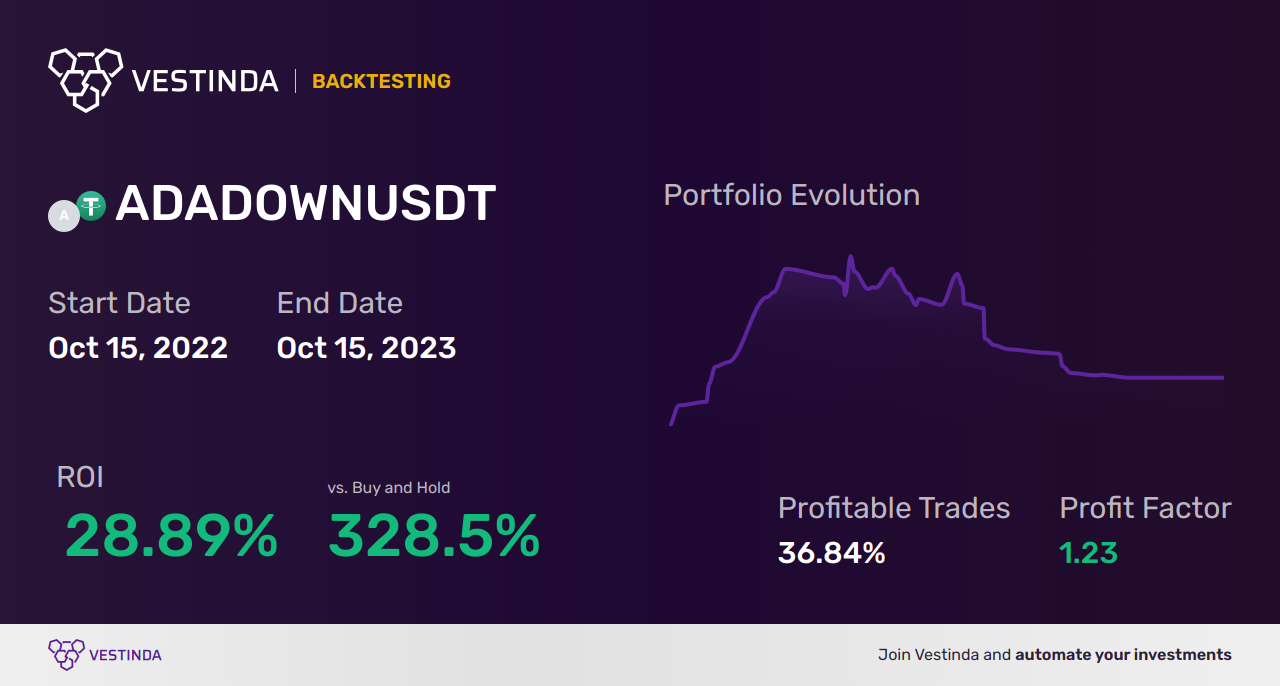 Automated Trading Strategy: CMO and MACD Trend-Following Strategy on ADADOWN
The backtesting results for the trading strategy from July 16, 2020, to October 15, 2023, showcase favorable statistics. The strategy exhibits a profit factor of 5.36, indicating decent profitability. The annualized return on investment is an impressive 909.17%, reflecting substantial growth over the tested period. On average, each trade is held for approximately 3 weeks and 3 days, resulting in a manageable holding time. The strategy exhibits a low trading frequency with only 0.07 trades per week. Despite this, it still manages to generate a remarkable return on investment of 2932.81%. Winning trades comprise 50% of the closed trades, demonstrating balanced performance. Moreover, the strategy outperforms the buy and hold approach, generating excess returns of 21490703.25%.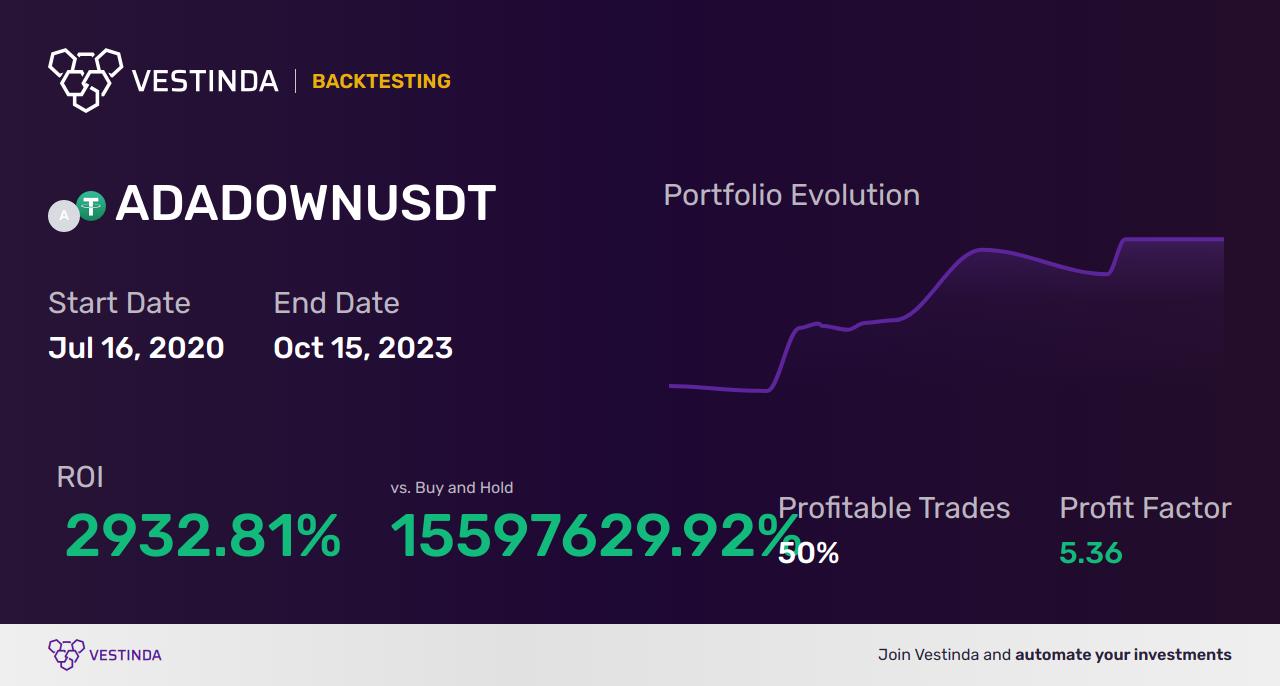 Understanding ADADOWN: A Unique Crypto Asset
ADADOWN is a distinctive asset in the crypto market known for its potential to generate profits. It is a cryptocurrency that operates on a decentralized network, providing users with a secure and transparent trading experience. The price of ADADOWN can fluctuate rapidly due to market demand and investor sentiment. This volatility creates opportunities for traders to buy ADADOWN at a lower price and sell it at a higher price, capitalizing on market movements. To navigate the ADADOWN trading landscape successfully, it is crucial to develop effective trading strategies that align with the asset's unique characteristics.
Maximizing ADADOWN: Automated Trading Strategies
Automated trading strategies can be highly effective when trading ADADOWN. These strategies involve the use of specialized software or algorithms that automatically execute trades based on predefined rules and criteria. With automated trading, you can take advantage of market opportunities without the need for constant monitoring. One common strategy is the use of trading bots that analyze market data and execute trades accordingly. These bots can be programmed to follow specific indicators or signals, allowing you to maximize your trading potential. However, it's essential to choose a reliable and reputable trading bot and regularly monitor its performance. Additionally, it's crucial to set clear risk management parameters to protect your investments. With automated trading strategies, you can take advantage of ADADOWN's market movements more efficiently and potentially increase your profits.
Enhanced ADADOWN Trading: Advanced Automation Strategies
ADADOWN, being a cryptocurrency asset, offers opportunities for advanced crypto trading automation. By leveraging sophisticated tools and strategies, traders can enhance their ADADOWN trading experience. One such tool is the use of advanced trading bots capable of executing complex algorithms and strategies. These bots can autonomously monitor ADADOWN price movements, analyze market indicators, and place trades accordingly. Additionally, advanced traders can employ techniques like algorithmic trading, which involves creating custom trading algorithms to automate their strategies. Such automation allows for faster trade execution and the ability to take advantage of even the slightest market fluctuations. However, it's important to note that advanced crypto trading automation requires meticulous planning, testing, and continuous monitoring to ensure optimal results. Traders should carefully select reputable automation platforms and regularly assess and fine-tune their automated strategies to adapt to market conditions. With the right tools and strategies, advanced traders can harness the power of automation to optimize their ADADOWN trading activities and potentially increase their profits.
Limiting Losses: Effective ADADOWN Stop Loss Strategy
Implementing a stop loss strategy can be a valuable approach when trading ADADOWN. A stop loss is an order placed to sell ADADOWN when it reaches a specific price level, limiting potential losses. By setting a stop loss, you protect yourself from significant downturns in the market. It helps you define your risk tolerance and ensures that losses are controlled. When setting a stop loss, it's crucial to consider the volatility of ADADOWN and set the level at a reasonable distance from the entry price. Regularly monitor the market and make adjustments to your stop loss orders as needed. Utilizing stop loss orders is a key element of risk management and can contribute to the long-term success of your ADADOWN trading strategy.
Automate & Backtest ADADOWN strategies on...
Frequently Asked Questions
How to make money from blockchain smart contracts?
To make money from blockchain smart contracts, you can participate in various ways. First, you can become a smart contract developer and offer your services to clients who want to create their own contracts. Another option is to invest in cryptocurrencies that are built on blockchain platforms with smart contract functionality, such as Ethereum. By buying and holding these digital currencies, you can potentially benefit from their value appreciation. Additionally, you can also engage in decentralized finance (DeFi) protocols that use smart contracts to lend, borrow, or invest your funds, generating potential returns.
What is the best indicator for crypto technical analysis?
The best indicator for crypto technical analysis depends on individual preferences and trading strategies. However, some commonly used indicators include moving averages, relative strength index (RSI), and MACD (Moving Average Convergence Divergence). Moving averages can help identify trends, RSI indicates if an asset is overbought or oversold, while MACD shows potential trend reversals. It's important to understand that indicators should be used in combination, not relied upon solely. It's also necessary to study and practice with these indicators before using them effectively for making crypto trading decisions.
Is ADADOWN more volatile and better for day trading than Bitcoin?
ADADOWN is a fictional term, and it is not possible to provide specific information about its volatility or suitability for day trading. Bitcoin, on the other hand, is a well-known cryptocurrency that has historically exhibited high volatility, making it attractive for day traders. Bitcoin's liquidity and market size also make it a preferred choice for many traders. When engaging in day trading, it is advisable to evaluate the volatility, liquidity, and trading volume of any cryptocurrency before making decisions to manage risks effectively.
Where do you trade ADADOWN and other crypto?
ADADOWN is a fictional term, and it is not traded on any exchanges since it does not exist. However, there are numerous crypto exchanges where you can trade actual cryptocurrencies, like Bitcoin, Ethereum, and others. Popular exchanges include Binance, Coinbase, Kraken, and Bitfinex. These platforms allow users to create accounts, deposit funds, and buy or sell cryptocurrencies. It is essential to research and choose a reputable exchange with strong security measures, user-friendly interface, and a wide range of available cryptocurrencies for trading.
What are the best automated trading strategies for crypto in general?
The best automated trading strategies for crypto vary depending on individual goals and risk tolerance. Some popular strategies include trend following, mean reversion, and breakout trading. Trend following strategies aim to identify and ride the prevailing market trend. Mean reversion strategies seek to capitalize on price reversals. Breakout trading strategies focus on identifying and trading breakouts from key price levels. It is important to thoroughly test and backtest automated trading strategies before implementing them with real funds. Additionally, considering factors such as market conditions, asset liquidity, and risk management is crucial for successful automated trading.
How to trade cryptocurrency daily with 100 dollars?
To trade cryptocurrency daily with $100, it is important to follow a few key steps. Firstly, choose a reputable exchange that allows trading with small amounts. Next, conduct thorough research on various cryptocurrencies and select a few that align with your trading objectives. Use technical analysis tools, like moving averages and RSI, to identify potential entry and exit points. Start with small trades and gradually increase your position as you gain experience and confidence. Set realistic profit targets and implement stop-loss orders to manage risks. Lastly, continuously monitor the market and stay updated with industry news to make informed trading decisions.
Conclusion
In conclusion, implementing effective trading strategies for ADADOWN can greatly enhance your potential for profits in the dynamic world of cryptocurrency trading. Understanding the unique characteristics of ADADOWN, such as its price volatility and market demand, is crucial for making informed trading decisions. Whether you choose to utilize automated trading strategies, advanced automation tools, or employ risk management techniques like stop loss orders, it's essential to adapt your approach to the ever-changing market conditions. With the right combination of knowledge, analysis, and strategy, you can navigate the ADADOWN trading landscape with confidence and increase your chances of achieving success in the crypto market.