Automate & Backtest TUSD strategies on...
Quantitative Strategies and Backtesting results for TUSD
Here are some TUSD trading strategies along with their past performance. You can validate these strategies (and many more) for free on Vestinda across thousands of assets and many years of historical data.
Quantitative Trading Strategy: CMO Reversals with KAMA and Engulfing Patterns on TUSD
According to the backtesting results, the trading strategy implemented from October 21, 2022, to October 21, 2023, showcased an annualized return on investment (ROI) of -0.68%. The average holding time for trades was recorded at 8 hours, indicating relatively short-term positions. The strategy executed an average of 0.05 trades per week, suggesting a relatively low trading frequency. Throughout the specified period, there were three closed trades. The return on investment aligns with the annualized ROI at -0.68%, implying no significant gains or losses. Notably, the winning trades percentage stood at 0%, signifying that all closed trades resulted in losses during this time frame.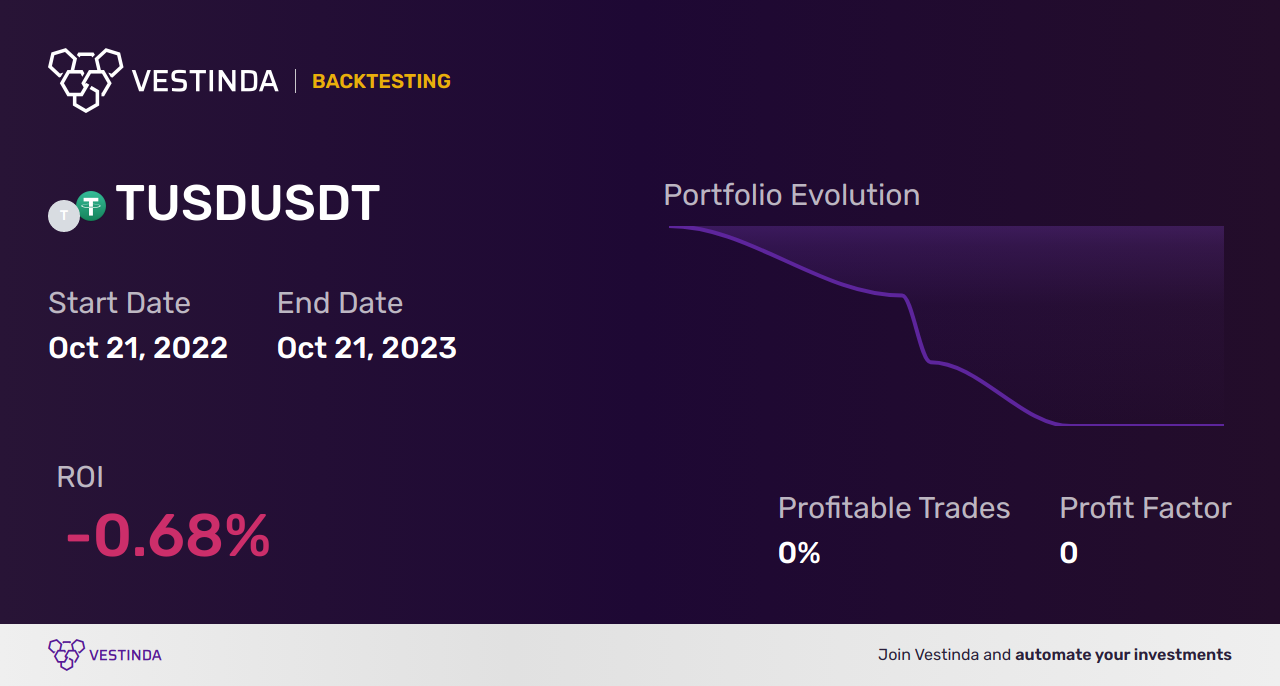 Quantitative Trading Strategy: ROC Reversals with PSAR and Engulfing Patterns on TUSD
Based on the backtesting results for the trading strategy, covering a period from October 21, 2022, to October 21, 2023, the annualized return on investment (ROI) was -0.69%. This indicates that the strategy experienced a slight loss during the testing period. On average, the holding time for each trade was 16 hours, suggesting that positions were typically held for a relatively short duration. The strategy resulted in a low number of trades per week, with an average of 0.05 trades. Out of the three closed trades, none were profitable, resulting in a winning trades percentage of 0%. These statistics reflect a lack of success for the trading strategy during the tested period.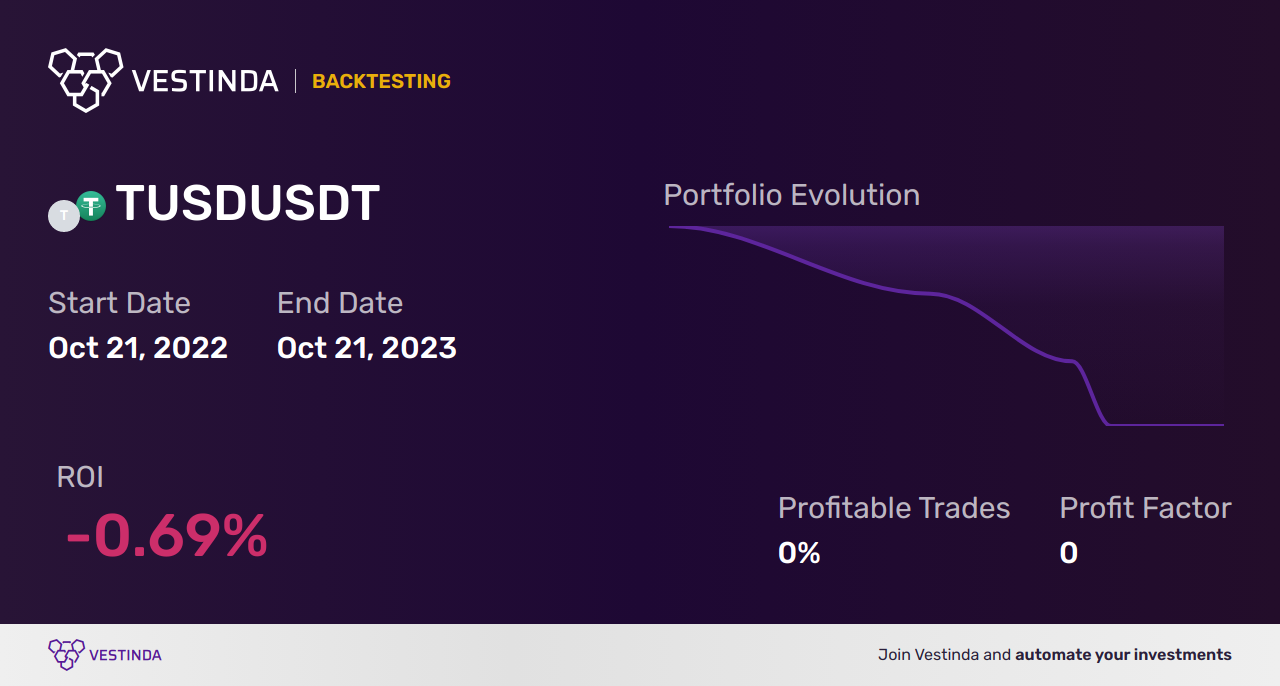 Automated Strategies for TUSD Trading
Algorithmic trading, also known as automated trading, is a powerful tool that can greatly assist in trading the markets, including TUSD. By using pre-set rules and parameters, algorithmic trading software can execute trades automatically, without the need for constant manual monitoring. This method relies on sophisticated algorithms to analyze market data and make quick decisions based on predefined strategies. Algorithmic trading eliminates the emotional aspect of trading and allows for faster execution of trades. It can help traders take advantage of market opportunities and react to price movements in a timely manner. With the ability to process vast amounts of data and execute trades at high speeds, algorithmic trading provides a systematic and disciplined approach to trading TUSD, enhancing the potential for profitability and reducing the impact of human error.
Stability in the Cryptocurrency Market: Introducing TUSD
TUSD, or TrueUSD, is a cryptocurrency that aims to provide stability within the volatile crypto market. It is a stablecoin, meaning its value is pegged to a fiat currency, such as the US dollar. This ensures that 1 TUSD will always be equal to 1 USD, creating a reliable digital asset for trading and investing. TUSD is built on the Ethereum blockchain, offering fast and secure transactions. As a stablecoin, it provides a safe haven for traders looking to mitigate the risks associated with price fluctuations in other cryptocurrencies. TUSD is widely used for arbitrage trading, liquidity provision, and as a means for trading pairs with other digital assets. By offering stability, transparency, and ease of use, TUSD has become a popular choice for investors seeking a more stable alternative in the ever-evolving world of cryptocurrencies.
Analyzing TUSD Strategies with Historical Testing
Backtesting trading strategies for TUSD is an essential step in evaluating the effectiveness of different approaches before implementing them in real-time trading. By simulating trades on historical market data, backtesting allows traders to analyze the potential profitability and risk of a given strategy. It involves testing strategies under various market conditions and assessing their performance metrics, such as returns, drawdowns, and win rates. Backtesting provides valuable insights into the viability of a trading strategy, helping traders make informed decisions. It can also highlight areas for improvement and allow for iterative refinement of strategies. With the aid of backtesting tools and platforms, traders can optimize their trading strategies, identify trends, and gain confidence in their approach. It is crucial to remember that although backtesting can provide valuable information, it does not guarantee future performance. Therefore, combining backtesting with ongoing market analysis and adaptability is key to successful trading with TUSD.
Safeguarding TUSD: Effective Risk Management Strategies
Effective risk management is crucial when trading TUSD, as it helps protect against potential losses and ensures long-term profitability. One key aspect of risk management is setting appropriate stop-loss orders, which automatically close positions if the market moves against you. This helps limit potential losses and preserves capital. Another important strategy is diversifying your portfolio by not putting all your eggs in one basket. By spreading your investments across different assets, you can mitigate the impact of individual asset performance on your overall portfolio. Additionally, it's important to allocate a reasonable portion of your capital to TUSD, considering your risk tolerance and financial goals. Implementing proper risk management techniques helps protect your investments and ensures a balanced approach to trading TUSD. Remember, risk management is an ongoing process that requires periodic assessment and adjustment as market conditions change. By prioritizing risk management, you can navigate the challenges of trading TUSD with greater confidence and protect your hard-earned capital in the process.
Understanding TUSD: Price Influencers Unveiled
Several factors can influence the price of TUSD, which traders should consider when analyzing the market. First, the overall volatility of the cryptocurrency market can impact TUSD's price as it is closely linked to other digital assets. Additionally, the supply and demand dynamics of TUSD within the market can exert significant influence. External events, such as regulatory changes or technological advancements, can also impact TUSD's price. Moreover, investor sentiment and market sentiment towards cryptocurrencies as a whole can affect TUSD's value. It's important to stay updated on relevant news, market trends, and developments to better understand the factors driving TUSD's price and make informed trading decisions. By closely monitoring and analyzing these influencing factors, traders can gain valuable insight into TUSD's price movements, enabling them to identify potential trading opportunities and manage risk effectively.
Start earning in 3 easy steps
Create
account

Discover profitable
strategies

Connect exchange
& start earning
Frequently Asked Questions
What are some of the best automated trading strategies for crypto in general?
Some of the best automated trading strategies for crypto in general include trend following, mean reversion, and momentum strategies. Trend following involves analyzing the direction in which prices are moving and placing trades accordingly. Mean reversion focuses on the idea that prices will return to their average value over time, thereby identifying opportunities to buy low and sell high. Momentum strategies capitalize on the momentum in the market, buying assets that are performing well and selling those that are underperforming. These strategies can be implemented using various technical indicators like moving averages or oscillators.
What is the best time to trade TUSD?
The best time to trade TUSD, a crypto asset, depends on market conditions and individual trading goals. Generally, it is advisable to trade when the market has higher liquidity and volatility, which typically occurs during peak trading hours. These hours often coincide with the overlap of major global financial markets, such as the New York and London trading sessions. Monitoring market trends and news can also help identify potential trading opportunities. Ultimately, it is important to research and analyze market data to make informed decisions about the best time to trade TUSD.
What is the best cryptocurrency trading toolset?
The best cryptocurrency trading toolset depends on individual preferences and trading goals. However, some popular and effective tools for beginners and intermediate traders include cryptocurrency exchanges with user-friendly interfaces and robust features, such as Binance or Coinbase. These platforms provide easy access to various cryptocurrencies for buying, selling, and monitoring price movements. Additionally, using trading bots or automated trading software can help streamline trading activities. Technical analysis tools like charting platforms and indicators, such as TradingView or Coinigy, can assist in analyzing market trends and making informed trading decisions. It is important to research and choose tools that align with specific trading needs.
Can technical analysis be used in crypto trading, why?
Yes, technical analysis can be used in crypto trading. It involves analyzing historical price and volume data to identify patterns and trends in the market. By using charts and various technical indicators, such as moving averages or oscillators, traders can try to anticipate future price movements. Technical analysis is based on the belief that historical price patterns can repeat themselves, providing insights into potential future price movements. However, it is important to note that technical analysis is not foolproof and should be used in conjunction with other factors like fundamental analysis and market news for a well-rounded trading approach.
How to get new and profitable strategies in crypto trading?
To discover new and profitable strategies in crypto trading, there are several approaches you can take. Firstly, research and stay updated on market trends, news, and developments in the cryptocurrency space. Learn from experienced traders, join online communities or forums, and participate in discussions to gain insights. Additionally, backtesting historical data can help evaluate the performance of different strategies. Experiment with different trading techniques and indicators to find what works best for you. It's essential to keep learning and adapting your strategies as the market evolves to increase your chances of success.
Conclusion
In conclusion, trading TUSD can be a rewarding endeavor when armed with the right strategies and techniques. By implementing algorithmic trading, conducting backtesting, and practicing effective risk management, traders can increase their chances of success in the cryptocurrency market. Understanding the factors that influence TUSD's price and staying informed about market trends further enhances trading decisions. Whether you're a beginner or seasoned trader, the insights and tools shared in this article can empower you to navigate the ever-changing landscape of TUSD trading. Remember to continuously adapt your strategies and stay disciplined in your approach. With dedication and knowledge, you can unlock the potential of TUSD trading and achieve your financial goals.