Start earning fast & easy
Create
account

Build trading strategies
with no code

Validate
& Backtest

Connect exchange
& start earning
Quantitative Strategies and Backtesting results for MHC.U
Here are some MHC.U trading strategies along with their past performance. You can validate these strategies (and many more) for free on Vestinda across thousands of assets and many years of historical data.
Quantitative Trading Strategy: CMO and RAVI Momentum and Trend Confirmation Strategy on MHC.U
Based on the backtesting results for the trading strategy conducted from October 7, 2020, to October 26, 2023, certain statistics have been derived. The annualized return on investment (ROI) stands at -1.32%. On average, the strategy held trades for one week before closing them. The frequency of trades was relatively low, with an average of 0.01 trades per week and a total of three closed trades during the given period. Unfortunately, the return on investment for this strategy resulted in a negative value of -3.99%. The winning trades percentage was 0%, indicating that none of the trades were profitable. However, the strategy performed better than the buy and hold approach, generating excess returns of 1.49%.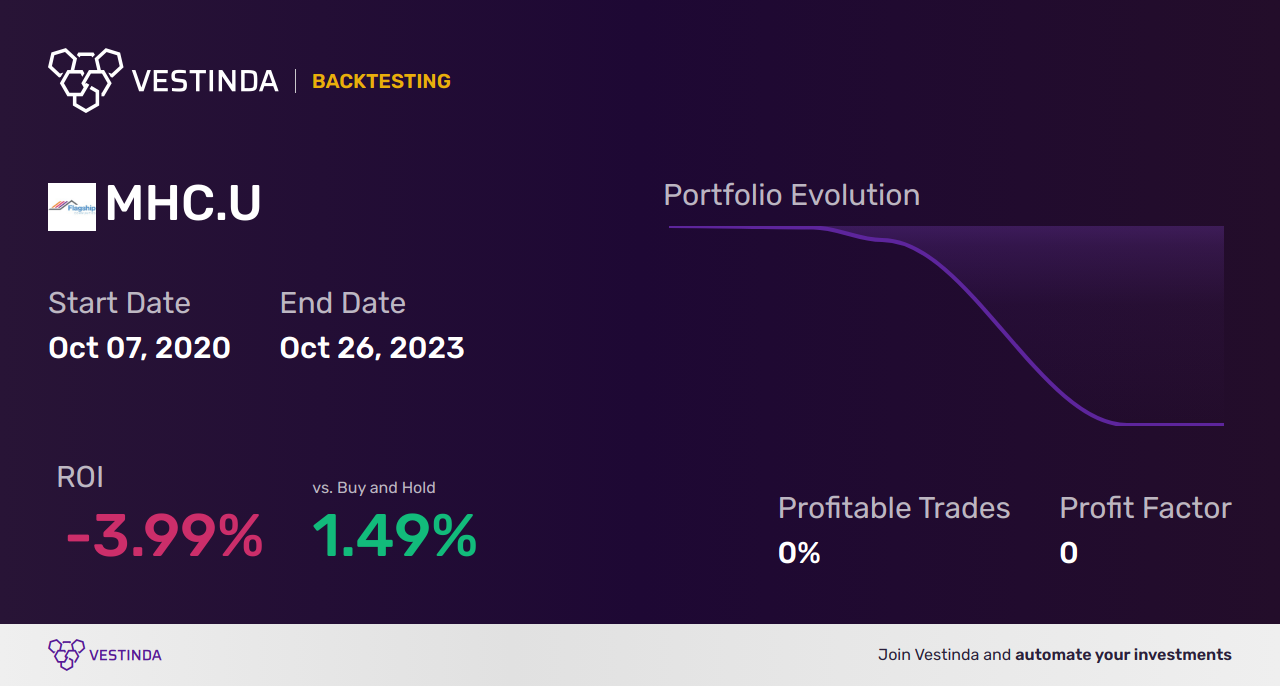 Quantitative Trading Strategy: Play the breakout on MHC.U
The backtesting results for the trading strategy during the period from October 26, 2022, to October 26, 2023, indicate a negative annualized Return on Investment (ROI) of -0.68%. The average holding time for trades was 10 weeks and 5 days, suggesting a relatively long-term approach. The strategy generated an average of 0.01 trades per week, indicating a low trading frequency. Only 1 trade was closed during the entire period. Unfortunately, none of the trades resulted in a profit, as the winning trades percentage stands at 0%. These results suggest that the strategy was not successful in producing positive returns during this specific time period.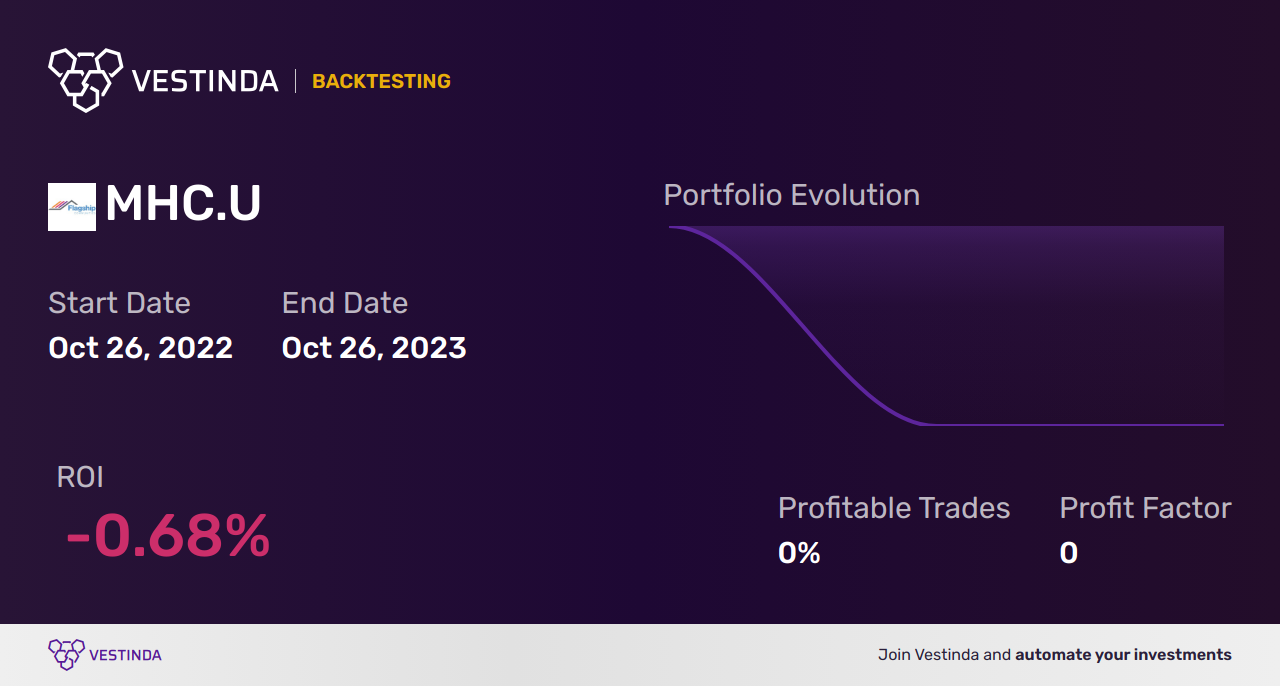 Automated Trading Strategies for MHC.U
Algorithmic trading is a powerful tool that can greatly assist in trading the markets, including assets like MHC.U, in an automated and efficient manner. With algorithmic trading, trading decisions are executed based on a predetermined set of rules or algorithms. These algorithms are designed to analyze a wide range of market data, including price movements, volume, and historical patterns, to identify potential trading opportunities. The advantage of algorithmic trading is that it removes emotional bias from the decision-making process, as trades are executed automatically according to predefined strategies. It allows for faster trade execution and can efficiently manage multiple trading positions simultaneously. Algorithms can be tailored to specific trading objectives, such as momentum trading, mean reversion, or breakout strategies. By utilizing algorithmic trading, investors can make informed decisions based on data-driven analysis, enhancing the potential for successful trading outcomes.
Exploring MHC.U: Affordable Housing Investment
MHC.U, an abbreviation for Flagship Communities Real Estate Investment Trust, is a unique asset worth exploring. It represents an opportunity to invest in the real estate market through a trust structure. MHC.U focuses on acquiring and operating manufactured housing communities across the United States. These communities offer affordable housing options for individuals and families. By investing in MHC.U, individuals can gain exposure to the potential financial benefits of real estate without the need for direct property ownership. This asset allows investors to participate in a portfolio of manufactured housing communities that generate income through rental payments. With MHC.U, investors can take advantage of the demand for affordable housing and enjoy potential long-term growth while diversifying their investment portfolio. It is important for traders to understand the fundamentals of MHC.U and its performance indicators to make informed trading decisions.
Enhancing MHC.U Trading: Automated Strategies
Automated Trading Strategies for MHC.U
Automated trading strategies can offer significant advantages when trading MHC.U stocks. By utilizing automated trading systems, investors can take advantage of real-time market data, execute trades with precision, and manage risk more efficiently. One common approach is to use algorithmic trading, where predefined rules and parameters are set to capture specific trading opportunities. These strategies can range from momentum-based approaches, where trades are triggered by price movements, to mean reversion strategies that aim to capitalize on price reversals. Additionally, automated trading strategies can incorporate technical indicators to identify trends or patterns for entry and exit points. By automating the trading process, emotions play less of a role, ensuring consistency in decision-making. It also allows for continuous monitoring of the market, enabling faster execution and the ability to capitalize on sudden market movements. However, it is important to consider risk management strategies and continually analyze the performance of automated trading strategies. With the right combination of automated trading strategies tailored to MHC.U, investors can potentially enhance their trading outcomes and take advantage of opportunities the market presents.
Mastering Swing Trading for MHC.U
Swing Trading Strategies for MHC.U
Swing trading can be an effective approach when trading MHC.U stocks. This strategy involves capturing short-term price movements within a broader trend. Traders aim to identify swings or price fluctuations during a specific time frame, typically days to weeks. One popular swing trading strategy is trend following, where traders look for stocks that are trending upward or downward and enter trades in the direction of the trend. Another strategy is counter-trend trading, where traders anticipate reversals and enter trades against the prevailing trend. To increase the probability of success, swing traders often use technical indicators such as moving averages, MACD, or RSI to identify potential entry and exit points. Risk management is crucial in swing trading, with traders setting stop-loss orders to limit potential losses. By focusing on short-term price movements and monitoring key indicators, swing traders can potentially capitalize on profitable opportunities in the MHC.U market.
Backtest MHC.U & Stocks, Forex, Indices, ETFs, Commodities
100,000 available assets New

years of historical data

practice without risking money

Frequently Asked Questions
What are some tips for day trading MHC.U?
When day trading MHC.U, it is crucial to have a solid plan. Start by setting realistic profit targets and stop-loss levels. Stay informed about the latest news and events that could impact the stock's price. Keep an eye on the stock's volume and liquidity, as this can affect your ability to enter or exit positions. Utilize technical analysis tools to identify patterns and trends. Use limit orders to control your entry and exit points. Finally, always adhere to proper risk management by only risking a small percentage of your trading capital on each trade.
How do I start algorithmic trading?
To start algorithmic trading, you should begin by learning programming and gaining knowledge of financial markets. Choose a programming language like Python and get familiar with it. Study different trading strategies and understand how they can be implemented in code. Utilize historical data to test and optimize your strategies. Open a brokerage account that supports algorithmic trading, and ensure you have secure, reliable internet access. Begin with small investments and gradually increase as you gain experience. Continuously monitor and evaluate your algorithms to make necessary adjustments and improvements.
Conclusion
In conclusion, trading MHC.U requires a thoughtful and well-informed approach. Whether you choose to employ algorithmic trading, automated strategies, swing trading, or other techniques, it is crucial to understand the market dynamics and implement effective risk-management strategies. By staying updated on market trends, conducting technical analysis, and utilizing the right trading strategies, you can enhance your trading outcomes in the MHC.U market. Remember to continuously evaluate and adapt your strategies as the market evolves. With careful planning, discipline, and the right knowledge, you can navigate the intricacies of trading MHC.U successfully and potentially achieve your financial goals.