Start earning fast & easy
Create
account

Build trading strategies
with no code

Validate
& Backtest

Connect exchange
& start earning
Quant Strategies & Backtesting results for ETHH.U
Here are some ETHH.U trading strategies along with their past performance. You can validate these strategies (and many more) for free on Vestinda across thousands of assets and many years of historical data.
Quant Trading Strategy: Smart Money Concept LuxAlgo - Demand and Supply zones on ETHH.U
Based on the backtesting results of a trading strategy for the period from April 19, 2021, to October 25, 2023, several key statistics have been calculated. The strategy exhibited a profit factor of 1.99, indicating the potential for generating profitable trades. The annualized return on investment (ROI) stood at 5.09%, reflecting a moderate but consistent growth over time. The average holding time for trades was approximately 5 weeks and 1 day, showcasing a longer-term approach. With an average of 0.02 trades per week and a total of 3 closed trades during the period, trading activity remained relatively low. The strategy yielded a return on investment of 12.72%, with a winning trades percentage of 66.67%. Furthermore, the strategy outperformed the "buy and hold" approach by generating excess returns of 54.66%. These results suggest that the trading strategy implemented during this period performed well, offering potential for profitable trades and outperforming a passive investment strategy.
Quant Trading Strategy: VWAP Trend Continuations with Doji on ETHH.U
The backtesting results for the trading strategy during the period from April 19, 2021 to October 25, 2023 reveal some interesting statistics. The profit factor stands at 0.96, indicating that the strategy generated slightly less profit compared to the losses incurred. The annualized return on investment (ROI) is marked at -2.43%, portraying a negative growth rate for the investment over the testing period. The average holding time for trades is recorded as 1 week and 5 days, indicating a relatively short-term trading approach. With an average of 0.23 trades per week, the strategy was relatively inactive. The total number of closed trades amounted to 31. The return on investment stands at -6.08%, indicating a negative overall performance of the strategy. The percentage of winning trades is relatively low at 25.81%, suggesting that the strategy had difficulty in generating profitable trades. However, the strategy outperformed the buy and hold approach by producing excess returns of 28.87%. Despite the negative ROI, this result suggests some potential for generating higher returns than simply holding onto the investment.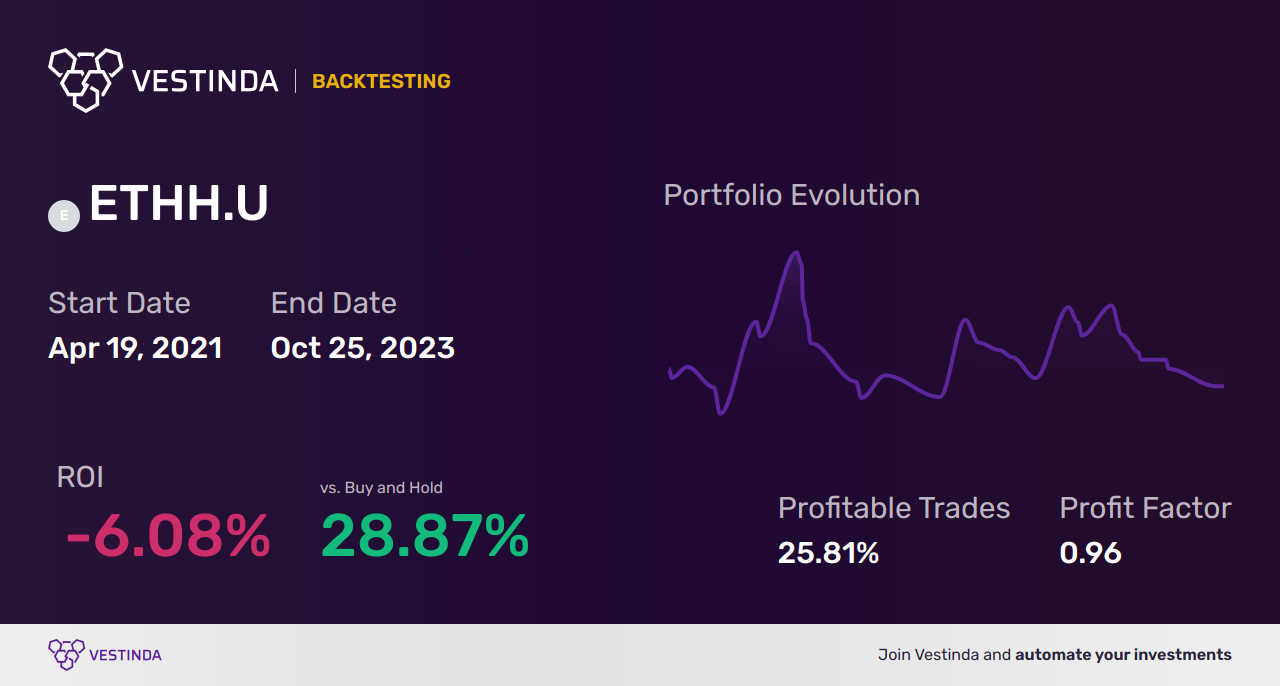 Automating ETHH.U Trading with Quant Strategies
Quantitative trading, also known as algorithmic trading, can be a valuable tool when trading ETHH.U or any other asset. This approach involves using mathematical models and statistical analysis to identify trading opportunities and make informed decisions. By leveraging quantitative strategies, traders can automate their trading processes, allowing them to execute trades more efficiently and effectively. These strategies can analyze various market data, such as price movements and trading volumes, to generate buy and sell signals. Additionally, quantitative trading can help traders manage risks through the implementation of risk management frameworks and predefined rules. This automated approach to trading can help remove emotional biases from decision-making and improve consistency. Ultimately, by utilizing quantitative strategies in trading ETHH.U, traders have the potential to enhance their trading performance and overall profitability.
Exploring ETHH.U: Understanding Purpose Ether ETF
ETHH.U is a unique asset that stands for Purpose Ether ETF. It is designed to track the performance of Ether (ETH), the native cryptocurrency of the Ethereum network. As an ETF (Exchange-Traded Fund), ETHH.U offers investors exposure to the price movements of Ether without the need to directly purchase and store the cryptocurrency. This provides a convenient way for traders to participate in the growing popularity and potential of the Ethereum ecosystem. With ETHH.U, investors can gain access to the price fluctuations of Ether, allowing them to capitalize on both upwards and downwards trends. It offers a diversified and regulated investment option for those interested in the digital asset market. By trading ETHH.U, individuals can take advantage of the dynamic nature of the cryptocurrency market, potentially benefiting from its volatility and the technological advancements associated with Ethereum.
Mastering ETHH.U with Automated Strategies
Automated trading strategies can be incredibly powerful when it comes to trading ETHH.U, the Purpose Ether ETF. By utilizing automation, traders can implement predefined rules and algorithms to execute trades automatically, without the need for constant monitoring. One popular automated strategy is the trend-following strategy. This approach involves analyzing price trends and entering trades in the direction of the prevailing trend. Another commonly used strategy is mean reversion, which seeks to take advantage of price reversals after periods of overbought or oversold conditions. Additionally, traders can employ breakout strategies, which aim to capitalize on price movements when the asset breaks through key levels of support or resistance. Moreover, traders can combine various indicators, such as moving averages or the Relative Strength Index (RSI), to create custom automated strategies. By automating their trading with these strategies, traders can potentially improve efficiency, reduce emotional biases, and increase the likelihood of consistent profits in trading ETHH.U.
Unraveling ETHH.U: Price Influencers
The price of ETHH.U, the Purpose Ether ETF, is influenced by a range of factors. One key factor is the price movement of the underlying asset, Ether (ETH). As ETH experiences changes in demand and supply, it can impact the price of ETHH.U. Market sentiment also plays a role, as positive or negative news surrounding Ethereum and cryptocurrencies can influence investor confidence. Additionally, broader market conditions, such as overall economic indicators and geopolitical events, can impact the price. Regulatory developments and government policies related to cryptocurrencies can also have an effect. Moreover, the level of trading activity and liquidity in the market can contribute to price fluctuations. It is important for traders to stay informed and consider these factors when analyzing the potential movements of ETHH.U.
Crafting Personalized ETHH.U Trading Strategies
Developing customized trading strategies for ETHH.U, the Purpose Ether ETF, can provide traders with a competitive edge. One approach is to combine different technical indicators, such as moving averages or the Relative Strength Index (RSI), to create a strategy tailored to individual preferences and risk tolerance. Traders can also consider incorporating fundamental analysis, examining factors such as market trends, news events, and the overall health of the Ethereum ecosystem. Additionally, backtesting strategies using historical data is essential to evaluate their effectiveness. By refining and adapting trading strategies to fit specific market conditions and personal objectives, traders have the opportunity to optimize their trading performance and potentially increase the likelihood of successful trades in the dynamic world of ETHH.U trading.
Trusted by Traders Worldwide
Frequently Asked Questions
Can quants become millionaires?
Yes, quants can become millionaires. Quants, or quantitative analysts, use their skills in math and statistics to develop trading strategies. Through their knowledge of analyzing data and making informed decisions, quants can generate significant profits. By successfully implementing their strategies in the financial markets, quants have the potential to earn substantial returns. Their ability to identify patterns and trends can lead to lucrative opportunities. With dedication and a strong understanding of market dynamics, quants can accumulate wealth and achieve millionaire status. It requires hard work, continuous learning, and a deep understanding of the financial industry.
Can I start trading under $100?
Yes, you can start trading with less than $100. Many online brokers offer the option to open accounts with small initial deposits. With a smaller account, however, it's important to manage risk effectively since trading fees and commissions can quickly eat into your capital. It's advisable to choose platforms with low fees or commission-free trades. Additionally, consider starting with low-cost investments like exchange-traded funds (ETFs) or fractional shares, which allow you to invest in stocks with smaller amounts of money. As you learn and grow your account, you can gradually increase your investments.
Is algo trading easy?
Algo trading, short for algorithmic trading, is not necessarily easy. It involves designing and implementing computer programs to automatically execute trades based on predetermined rules. While the concept may sound simple, the actual development and implementation can be complex. It requires programming skills and knowledge of financial markets. Additionally, effective strategies need to be developed, tested, and refined. Algo trading also comes with risks like any form of trading. It's essential to have a deep understanding of market dynamics and continuously monitor and adjust the algorithms to ensure their effectiveness in different market conditions.
Which trading strategy is best for beginners?
For beginners, a simple trading strategy called "buy and hold" can be a good starting point. This strategy involves buying shares of a company or an exchange-traded fund (ETF) and holding onto them for a long period, typically years. It is considered less complex because it doesn't require active trading or frequent decision-making. Instead, it takes advantage of the long-term growth potential of the chosen investment. This approach allows beginners to focus on developing their understanding of the stock market, learning about different investment options, and getting familiar with the principles of investing before venturing into more advanced strategies.
What is the 1% trading strategy?
The 1% trading strategy refers to the practice of risking only 1% of your trading capital on any single trade. This strategy aims to manage risk by limiting potential losses. It involves calculating 1% of your total trading capital and using that amount as the maximum amount of money you are willing to lose on a trade. By adhering to this strategy, traders aim to preserve their capital and avoid significant drawdowns. It is a prudent approach that helps maintain discipline and prevents excessive risk-taking, especially for beginners who are learning to navigate the world of trading.
Conclusion
In conclusion, trading ETHH.U, the Purpose Ether ETF, offers a range of opportunities for traders. By exploring different trading strategies, such as quantitative approaches or automated systems, traders can enhance their trading performance and potentially maximize profits. Understanding the factors that influence the price of ETHH.U is crucial for making informed trading decisions. Additionally, developing customized strategies allows traders to tailor their approach to fit their individual preferences and risk tolerance. It is important to stay informed, adapt strategies to changing market conditions, and practice risk management. With the right knowledge and strategies, traders can navigate the world of ETHH.U trading with confidence and aim for success.