Why Vestinda
Track your
Crypto Portfolio

Copy Crypto trading
strategies

Build trading strategies
with no code
Backtest trading strategies
on Crypto, Forex, Stocks, etc.

Demo Trading
Risk-free Paper Trading

Automate trading strategies
with Live Trading
Algorithmic Strategies & Backtesting results for ENB.PR.V
Here are some ENB.PR.V trading strategies along with their past performance. You can validate these strategies (and many more) for free on Vestinda across thousands of assets and many years of historical data.
Algorithmic Trading Strategy: PSAR and FT Reversals on ENB.PR.V
Based on the backtesting conducted from October 25, 2016, to October 25, 2023, the trading strategy exhibited promising results. The profit factor was calculated at 1.82, indicating a positive return on investment. The annualized ROI stood at 1.82%, implying a consistent growth rate for the strategy. On average, trades were held for approximately 2 weeks and 4 days, indicating a medium-term approach. With an average of 0.03 trades per week, this strategy focused on high-quality opportunities. The number of closed trades amounted to 14, demonstrating a cautious approach. The return on investment stood at 13.02%, while the winning trades percentage measured 35.71%. Importantly, the strategy outperformed buy-and-hold with excess returns of 15.14%, demonstrating its effectiveness and potential for generating superior gains.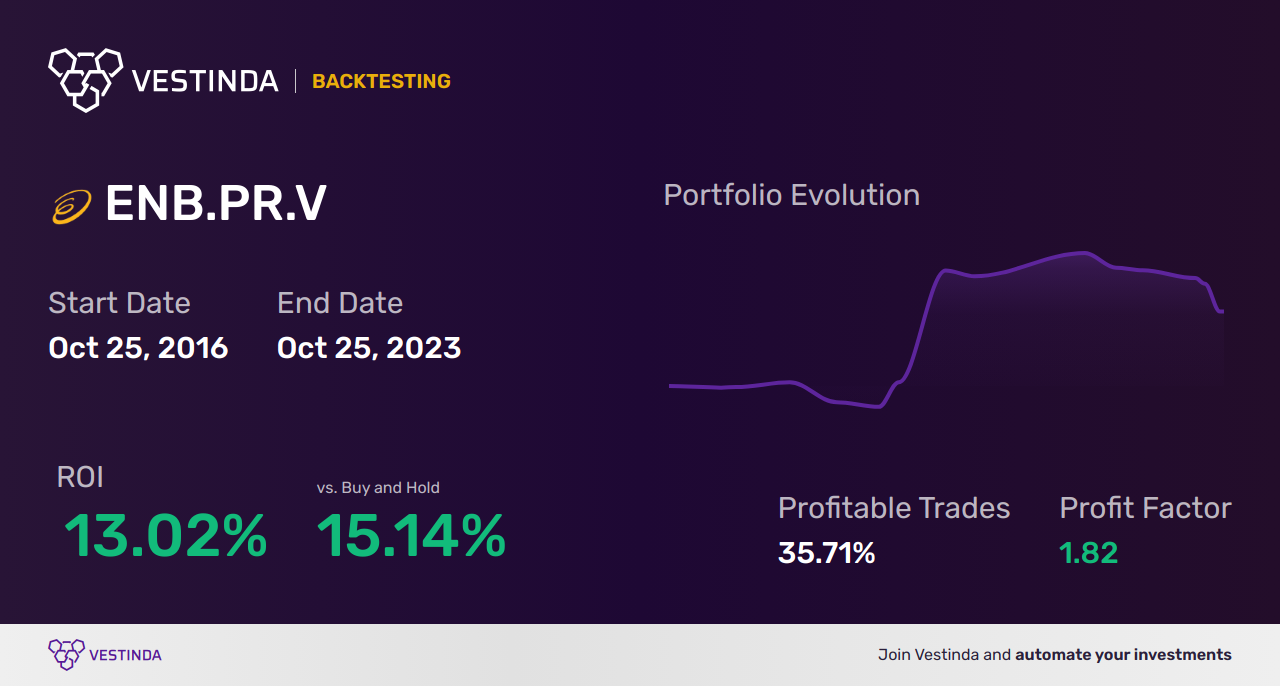 Algorithmic Trading Strategy: Lock and keep profits on ENB.PR.V
During the seven-year backtesting period from October 25, 2016, to October 25, 2023, a trading strategy showcased promising results. The strategy exhibited a profit factor of 1.23, indicating a slightly positive outcome. The annualized return on investment (ROI) stood at 1.91%, indicating steady growth. On average, positions were held for approximately 9 weeks and 2 days, demonstrating a longer-term approach. With an average of 0.05 trades per week, the strategy maintained a cautious approach. Over the course of 20 closed trades, the overall return on investment amounted to 13.64%. Winning trades accounted for 30% of the total trades conducted. Comparatively, the strategy outperformed the buy-and-hold approach, generating excess returns of 15.77%.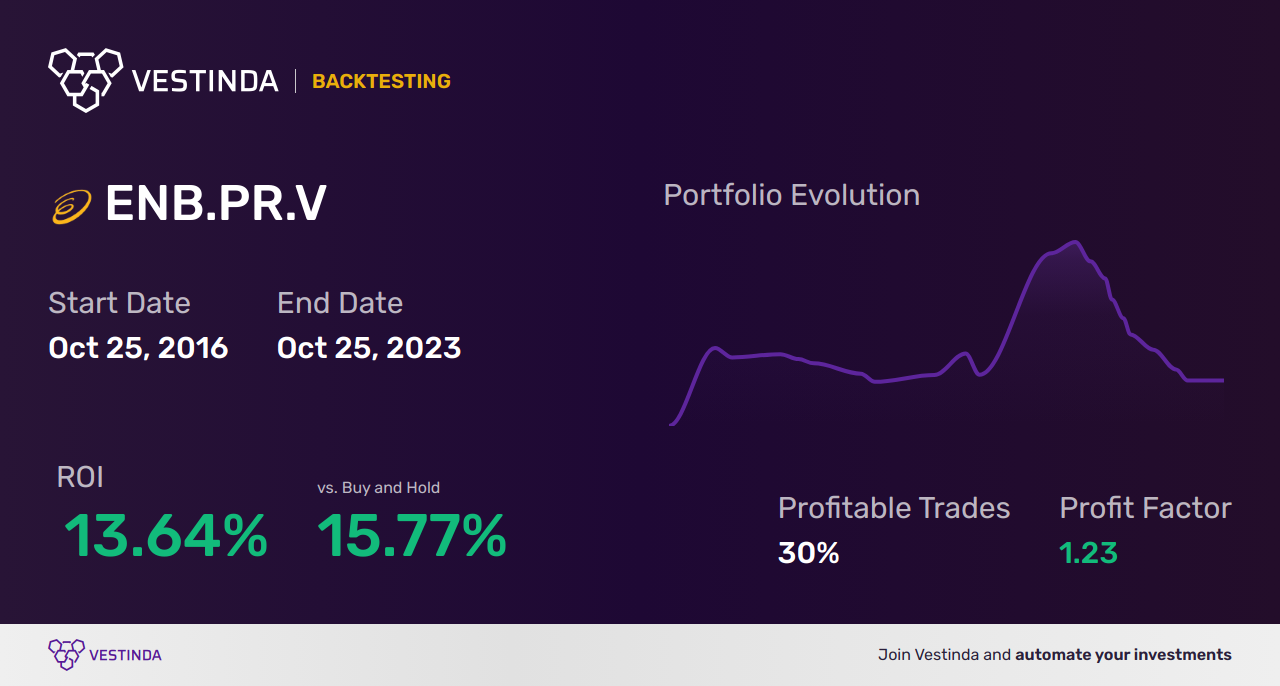 Automating ENB.PR.V Trading with Quantitative Strategies
Quantitative trading, also known as algorithmic trading, can be a valuable approach for trading the markets, including assets like ENB.PR.V, in an automated way. With quantitative trading, traders use mathematical models and computer algorithms to analyze large amounts of data and make trading decisions. By leveraging these models, traders can identify patterns, trends, and indicators that may signal potential market movements. This strategy allows for systematic and efficient trading, eliminating emotional biases and human errors. Quantitative trading can help traders execute trades quickly, take advantage of short-term market inefficiencies, and continuously monitor the market for trading opportunities. By automating the process, traders can make data-driven decisions and potentially achieve consistent returns over time. However, it's important to note that quantitative trading strategies require rigorous testing, risk management, and ongoing refinement to ensure their effectiveness and adaptability to changing market conditions.
Understanding ENB.PR.V: A Unique Stock Asset
ENB.PR.V is a stock asset that represents Enbridge Inc, a renowned energy company. Enbridge Inc is involved in the transportation and distribution of energy, primarily crude oil and natural gas, across North America. The ENB.PR.V asset offers investors an opportunity to participate in the growth and stability of the energy sector. With a diverse portfolio of assets and a strong market presence, Enbridge Inc has established itself as a significant player in the industry. This asset provides investors with exposure to the company's performance, dividends, and potential capital appreciation. It is important to note that ENB.PR.V should be analyzed in the context of the broader energy market and the company's financial health. Monitoring industry trends, regulatory changes, and company-specific developments can help inform trading strategies and optimize investment decisions with ENB.PR.V.
Creating Personalized Trading Approaches
Developing customized trading strategies allows traders to tailor their approach to fit their unique goals and risk tolerance. By creating personalized strategies, traders can adapt to changing market conditions and maximize their opportunities for success. To develop a customized trading strategy, it is important to consider factors such as time horizon, asset class, and trading style. Conducting thorough research, analyzing historical data, and utilizing technical analysis tools can help traders identify patterns and trends specific to their chosen asset, such as ENB.PR.V. Additionally, risk management techniques, such as setting stop-loss orders and diversifying portfolios, should be incorporated to mitigate potential losses. Regular evaluation and adjustment of the trading strategy will help ensure its effectiveness over time. Remember that no single strategy guarantees success, and it is essential to monitor market developments and seek professional advice if needed. By taking a systematic approach and developing strategies tailored to individual circumstances, traders can enhance their chances of achieving consistent profits in the dynamic world of trading.
Profitable Day Trading with ENB.PR.V
Day trading strategies for ENB.PR.V can be employed to take advantage of short-term market fluctuations and capitalize on intraday price movements. One common strategy is momentum trading, where traders look for stocks with significant upward or downward price momentum. By analyzing volume, price trends, and technical indicators, traders can identify potential entry and exit points. Another approach is breakout trading, where traders aim to profit from stocks breaking through key levels of support or resistance. Keeping a close eye on market news and developments specific to ENB.PR.V can provide valuable insights for informed decision-making. It is important to have a solid risk management plan in place, including setting proper stop-loss orders and position sizing. Regularly monitoring trades and being disciplined with profit-taking or cutting losses are essential elements for successful day trading with ENB.PR.V. It is recommended to stay updated on market conditions, continuously learn and refine strategies, and adjust tactics as needed to adapt to changing market dynamics.
Start earning fast & easy
Create
account

Build trading strategies
with no code

Validate
& Backtest

Automate
& start earning
Frequently Asked Questions
Is algorithmic trading profitable?
Algorithmic trading can be profitable, but it is not guaranteed. This type of trading involves using computer programs or algorithms to automate trading decisions. With algorithmic trading, it is possible to execute trades at high speeds and take advantage of market inefficiencies. However, profitability depends on various factors, such as the quality of the algorithm, market conditions, and risk management strategies. It is important to develop a robust algorithm with a proven track record, adapt it continuously, and implement proper risk controls to increase the likelihood of profitability in algorithmic trading.
Is ENB.PR.V more volatile and better for day trading than Bitcoin?
ENB.PR.V, being a stocks asset, is generally considered to be less volatile than Bitcoin. Stocks tend to have more stable price movements compared to cryptocurrencies like Bitcoin, which are known for their high volatility. Day trading involves taking advantage of short-term price movements, and higher volatility can provide more trading opportunities. Therefore, for day trading purposes, Bitcoin may be more suitable due to its higher volatility. However, it's important to note that both ENB.PR.V and Bitcoin carry their own risks, and day trading involves significant risks and requires a thorough understanding of the market dynamics.
What is the best time to trade ENB.PR.V?
The best time to trade ENB.PR.V is when there is high liquidity and market activity. Generally, the stock market is most active during regular trading hours, which are typically between 9:30 AM and 4:00 PM Eastern Time. It is advisable to trade when the market is open and there is sufficient volume and price movement in ENB.PR.V. Additionally, keeping an eye on relevant news or corporate announcements that may impact the stock's price can help identify potential trading opportunities. It is important to conduct thorough research and analysis before making any trading decisions.
Where do you trade ENB.PR.V?
ENB.PR.V, being a stocks asset, can be traded on various platforms that offer access to stock markets. You can trade ENB.PR.V on popular online brokerage platforms such as TD Ameritrade, E-Trade, Interactive Brokers, or Schwab. These platforms provide access to stock markets where ENB.PR.V is listed, such as the Toronto Stock Exchange (TSX) or other major stock exchanges. Through these platforms, you can place buy or sell orders for ENB.PR.V shares, monitor the stock's performance, and manage your portfolio. It is important to choose a reputable brokerage platform that suits your trading needs and offers a user-friendly interface.
Conclusion
In conclusion, developing effective trading strategies for ENB.PR.V can greatly enhance your trading experience. Whether you opt for quantitative trading, customized approaches, or day trading strategies, it is crucial to stay informed, monitor market trends, and implement risk management techniques. By understanding the unique characteristics of ENB.PR.V and using appropriate strategies, you can make informed trading decisions and increase your chances of success. Remember to continuously adapt and refine your strategies as market conditions evolve. Trading ENB.PR.V requires patience, discipline, and a deep understanding of the factors influencing the energy sector. With the right strategies in place, you can navigate the markets confidently and achieve your investment goals.