Unraveling DOCK: A Unique Cryptocurrency Protocol
DOCK is a cryptocurrency that aims to revolutionize the way decentralized applications (dApps) are built and managed. With its unique approach, DOCK focuses on streamlining the process of user authentication and data management, providing a secure and efficient ecosystem for dApp developers and users alike. The project stands out for its emphasis on user privacy, data ownership, and scalability. By leveraging blockchain technology, DOCK creates a more trustworthy and transparent environment for decentralized applications, making it an attractive asset for traders in the crypto market. Let's explore some trading strategies specifically tailored to DOCK.
Safe Trading with DOCK: Stop Loss Strategy
Using Stop Loss for Trading DOCK
When it comes to trading DOCK or any other cryptocurrency, implementing a stop loss strategy can be a beneficial tool for risk management. A stop loss order allows traders to automatically sell DOCK when its price reaches a predetermined level, limiting potential losses. This strategy helps protect traders from significant downturns in the market and ensures that losses are minimized.
To use a stop loss effectively, it is crucial to determine the appropriate price level at which to set it. This decision should be informed by careful analysis of DOCK's price movement, support and resistance levels, and market trends. Traders can utilize technical analysis indicators or seek guidance from expert sources to identify optimal stop loss points.
Once the stop loss level is set, it is important to stick to the strategy and not let emotions interfere with the decision-making process. By automating the stop loss order, traders can remove the need for constant monitoring and reduce the impact of human error.
It is worth noting that while stop loss orders can help mitigate losses, they are not foolproof. In highly volatile markets, rapid price movements can trigger stop loss orders and result in a sale at a worse price than intended. Therefore, it is essential to assess the market conditions and adjust the stop loss level accordingly.
In conclusion, incorporating a stop loss strategy into DOCK trading can provide traders with an effective means of managing risk. By setting a predetermined exit point, traders can protect their investments and potentially maximize profits. However, it is important to carefully analyze market conditions and adjust the stop loss level as needed to adapt to changing circumstances.
Testing DOCK: Evaluating Trading Strategies
Backtesting Trading Strategies for DOCK
Before implementing a trading strategy for DOCK or any other cryptocurrency, it is often beneficial to perform backtesting. Backtesting involves analyzing historical data to assess the viability and profitability of a trading strategy. By simulating trades and evaluating performance based on past market conditions, traders can gain valuable insights into the effectiveness of their strategies.
To begin backtesting a trading strategy for DOCK, traders should first define the specific rules and parameters of the strategy. This could include entry and exit points, indicators, profit targets, and stop loss levels. Once the strategy is clearly defined, historical price data for DOCK can be utilized to simulate trades and evaluate the strategy's performance.
Traders can use various tools and platforms to conduct backtesting, including specialized software specifically designed for this purpose. These tools often provide access to a wide range of historical price data and allow for customization of trading strategies. By running simulations and analyzing the results, traders can identify potential strengths and weaknesses in their strategies.
It is important to note that while backtesting can provide valuable insights, it is not a guarantee of future success. Market conditions can change, and historical data may not fully reflect current or future market trends. Therefore, it is crucial to regularly evaluate and adjust trading strategies based on real-time market analysis and conditions.
In conclusion, backtesting trading strategies for DOCK can help traders assess the viability and potential profitability of their approaches. By utilizing historical data and simulating trades, traders can gain valuable insights into the performance of their strategies and make informed decisions for their DOCK trading endeavors.
Backtesting results for DOCK
Here are some examples of strategies on DOCK with the backtesting results. You can always try out for FREE all these strategies on thousands of assets and many years of historical data.
Strategy 1: Algos beat the market
Based on the backtesting results from March 15, 2020, to March 15, 2021, the trading strategy showcased promising performance. The strategy generated a profit factor of 3.07, indicating a successful risk-reward ratio. The annualized return on investment stood at an impressive 1646.28%, signifying substantial growth over the tested period. On average, positions were held for approximately 1 day and 7 hours, suggesting a short-term approach. With an average of 1.99 trades per week, the strategy maintained a consistent level of activity. Throughout the period, 104 trades were executed and closed. Notably, the winning trades accounted for 78.85% of the total, highlighting a high success rate for this strategy.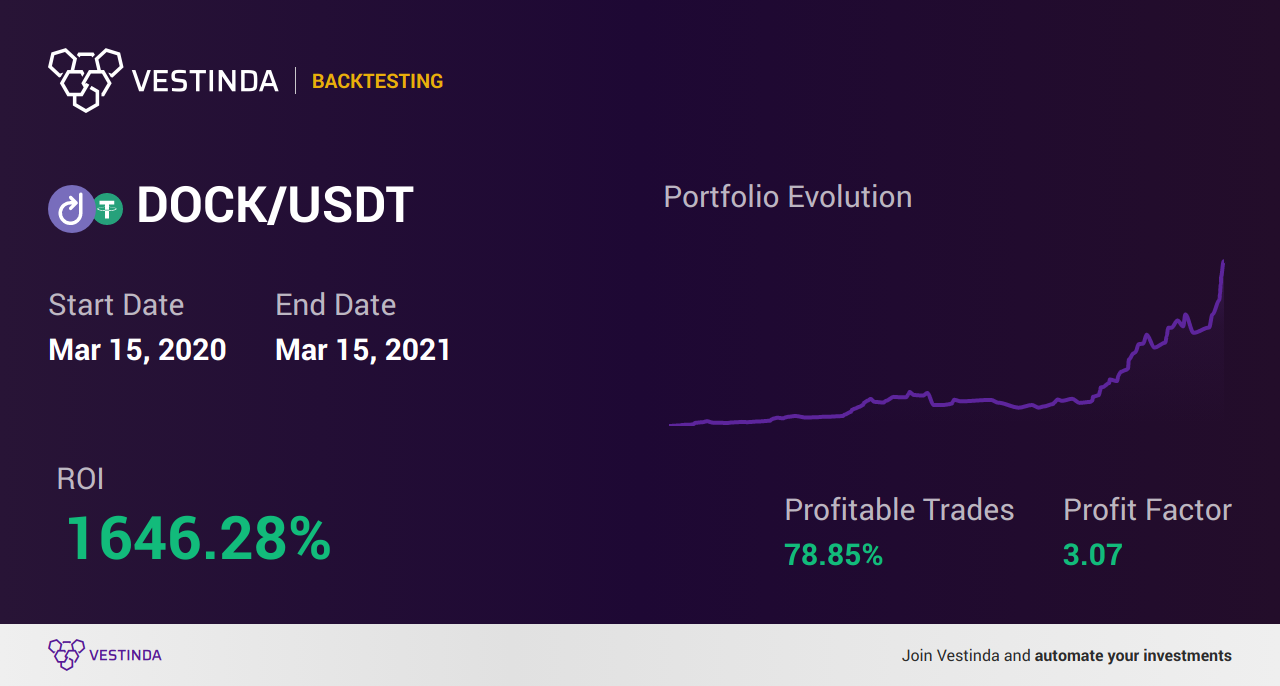 Strategy 2: Long Term Investment
Based on the backtesting results statistics for the trading strategy conducted from March 15, 2020, to March 15, 2021, several notable observations can be made. The profit factor stands at an impressive 3.77, indicating a healthy profit margin compared to the trading capital. The annualized return on investment (ROI) is reported at an impressive 68.65%, highlighting the strategy's ability to generate consistent profits over the analyzed period. On average, positions were held for approximately 5 days, suggesting a short-term trading approach. With an average of 0.13 trades per week, this strategy focuses on quality rather than quantity. 71.43% of the closed trades were successful, further exemplifying the strategy's effectiveness.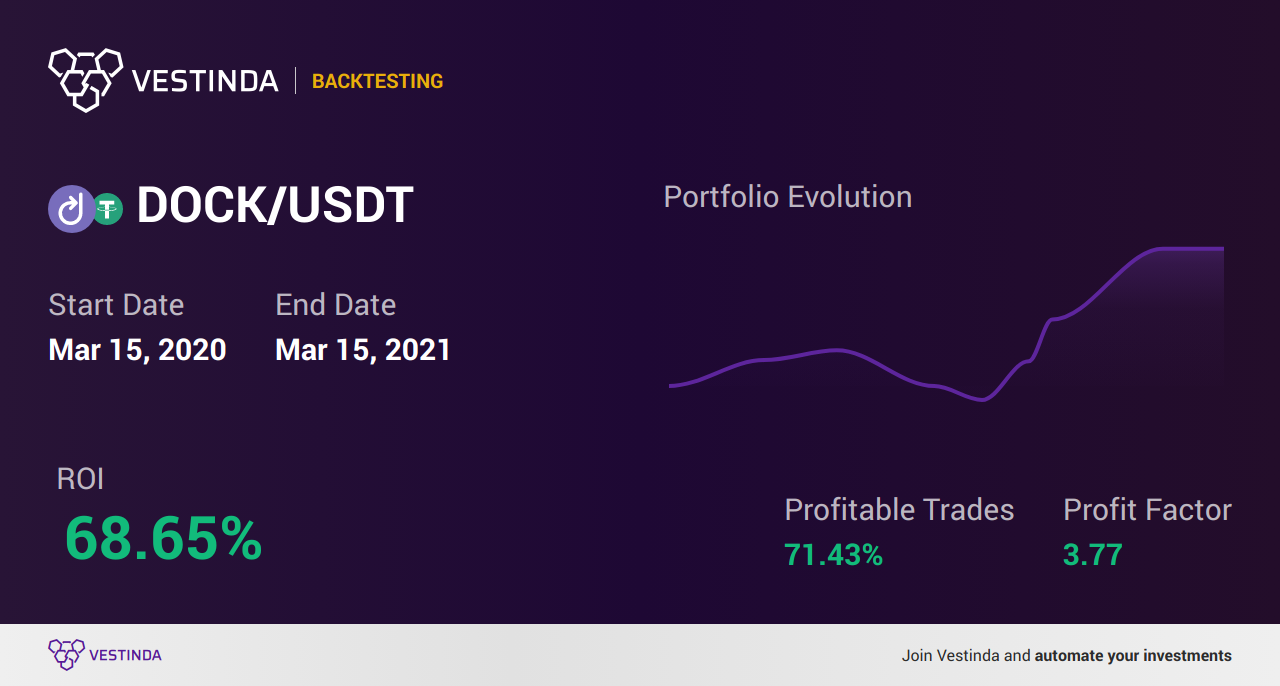 Strategy 3: Play the breakout
The backtesting results for the trading strategy from March 15, 2020, to March 15, 2021, reveal some interesting statistics. The strategy shows a profit factor of 0, indicating that the profits earned equal the losses incurred. However, the annualized return on investment (ROI) is an impressive 394.58%, suggesting that the strategy has yielded substantial returns over the year. The average holding time for trades is approximately 6 weeks and 3 days, indicating a longer-term approach. With an average of 0.07 trades per week, the strategy appears to be relatively conservative in terms of frequency. Out of the 4 closed trades, all have been winners, resulting in a winning trades percentage of 100%. Overall, the strategy has demonstrated a remarkable performance, delivering significant profits during the given period.
Backtesting results
Profit Factor
All your trades are profitable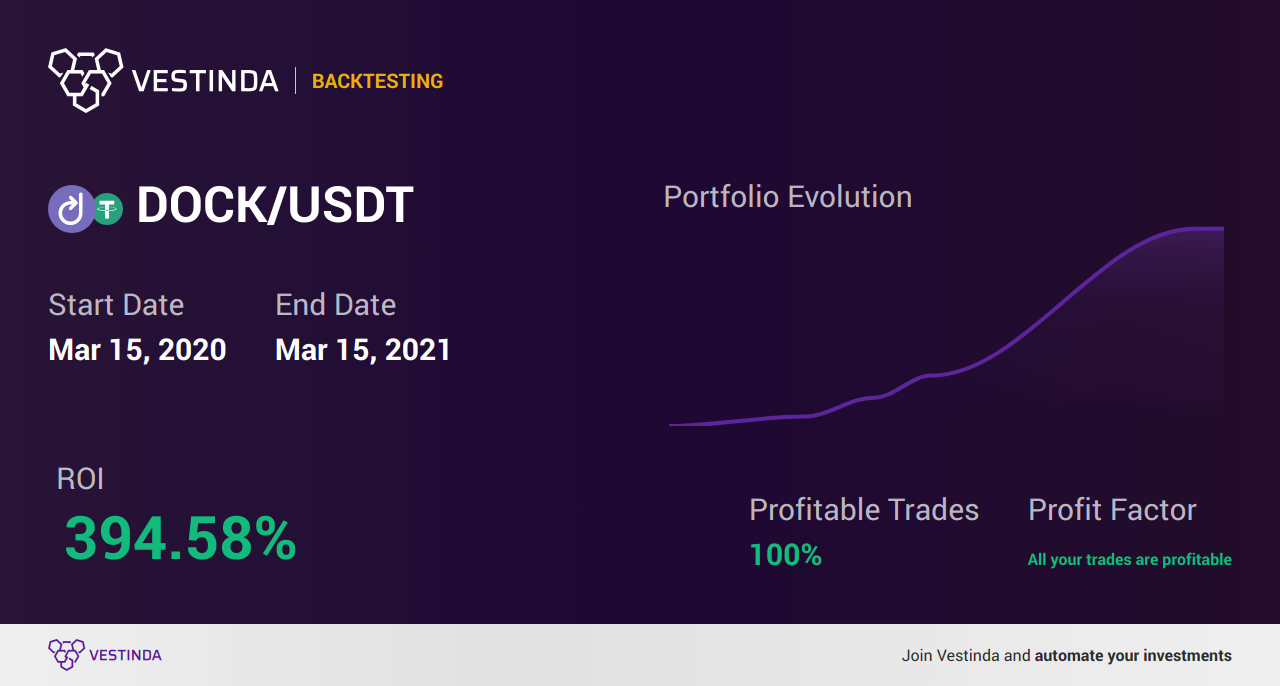 Frequently Asked Questions
How to make money from blockchain smart contracts?
To make money from blockchain smart contracts, you can participate in Initial Coin Offerings (ICOs) by buying tokens at a lower price and selling them when the value rises. Another way is to develop and sell your own smart contracts to interested parties. You can also provide consulting and advisory services to individuals or businesses looking to utilize smart contracts. Additionally, you can earn money by becoming a validator on a blockchain network and earning rewards for validating transactions. Smart contract development and auditing are other potential avenues to earn income. Explore these opportunities to leverage blockchain technology for financial gains.
What are trading strategy parameters?
Trading strategy parameters are the specific settings and variables that traders use to define their trading approach. These parameters can include indicators, such as moving averages or relative strength index, that help identify potential buying or selling opportunities. They also involve setting rules for entry and exit points, risk management, and position sizing. By adjusting these parameters, traders can customize their strategies to match their preferences and market conditions. It's important to regularly review and adapt these parameters to optimize trading performance and meet individual goals. Experimenting and refining strategy parameters can help improve trading outcomes.
How to get new and profitable strategies in crypto trading?
To discover new and profitable strategies in crypto trading, you can start by researching and studying different technical indicators and chart patterns. Examine historical price data and identify trends or patterns that have proven successful in the past. Additionally, it's beneficial to keep an eye on market news and developments to spot potential opportunities. Engage with the crypto trading community, join forums or social media groups, and exchange ideas with fellow traders. Testing and backtesting different strategies using demo accounts can also provide valuable insights. Continuous learning and adapting strategies based on market conditions are key to finding profitable trading approaches.
What are some tips for day trading DOCK?
When day trading DOCK, there are a few tips to keep in mind. Firstly, conduct thorough research on DOCK's price history, market trends, and news to make informed decisions. Use technical analysis tools to identify support and resistance levels for potential entry and exit points. Setting profit targets and stop-loss orders can help manage risk and protect your investments. Keep an eye on trading volume, as it can indicate market liquidity. Stay disciplined, follow your trading plan, and avoid making impulsive decisions based on emotions. Regularly review and adjust your strategies based on market conditions and performance.
What is a smart contract?
A smart contract is a self-executing computer program that automatically executes predefined actions when specific conditions are met. It resides on a blockchain network and operates without the need for intermediaries. Smart contracts are designed to facilitate, verify, and enforce the performance of contractual agreements. They can be used for various purposes such as transferring ownership of digital assets, executing financial transactions, or automating business processes. Smart contracts are transparent, tamper-proof, and provide security and efficiency in conducting transactions. They eliminate the need for trust in traditional contract enforcement and offer a decentralized solution for executing agreements.
Conclusion
In conclusion, trading DOCK can be a rewarding endeavor when armed with effective strategies. By understanding the unique qualities of DOCK and implementing techniques such as stop loss orders and backtesting, traders can navigate the market with confidence. Remember to conduct thorough research, analyze market trends, and adapt your strategies as needed. While risks are inherent in trading, proper risk management and informed decision-making can increase the chances of achieving profitable outcomes. Keep refining your trading approach, stay up-to-date with market developments, and always remember to manage your risks diligently. With the right knowledge and strategies, successful trading in DOCK is within reach.