Start earning in 3 easy steps
Create
account

Discover profitable
strategies

Connect exchange
& start earning
Automated Strategies and Backtesting results for DKK
Here are some DKK trading strategies along with their past performance. You can validate these strategies (and many more) for free on Vestinda across thousands of assets and many years of historical data.
Automated Trading Strategy: Follow the trend on DKK
The backtesting results statistics for the trading strategy between October 25, 2022, and October 25, 2023, reveal promising outcomes. The strategy showcases a profit factor of 1.61, indicating a favorable ratio between the strategy's gross profit and gross loss. The annualized return on investment (ROI) stands at 3.21%, translating to a respectable growth rate over the testing period. On average, holdings lasted around 1 week and 6 days, suggesting that the strategy tends to capture relatively short-term opportunities. With an average of 0.24 trades per week, the approach maintains a prudent and calculated trading frequency. From a total of 13 closed trades, approximately 53.85% were profitable, further emphasizing the strategy's competence.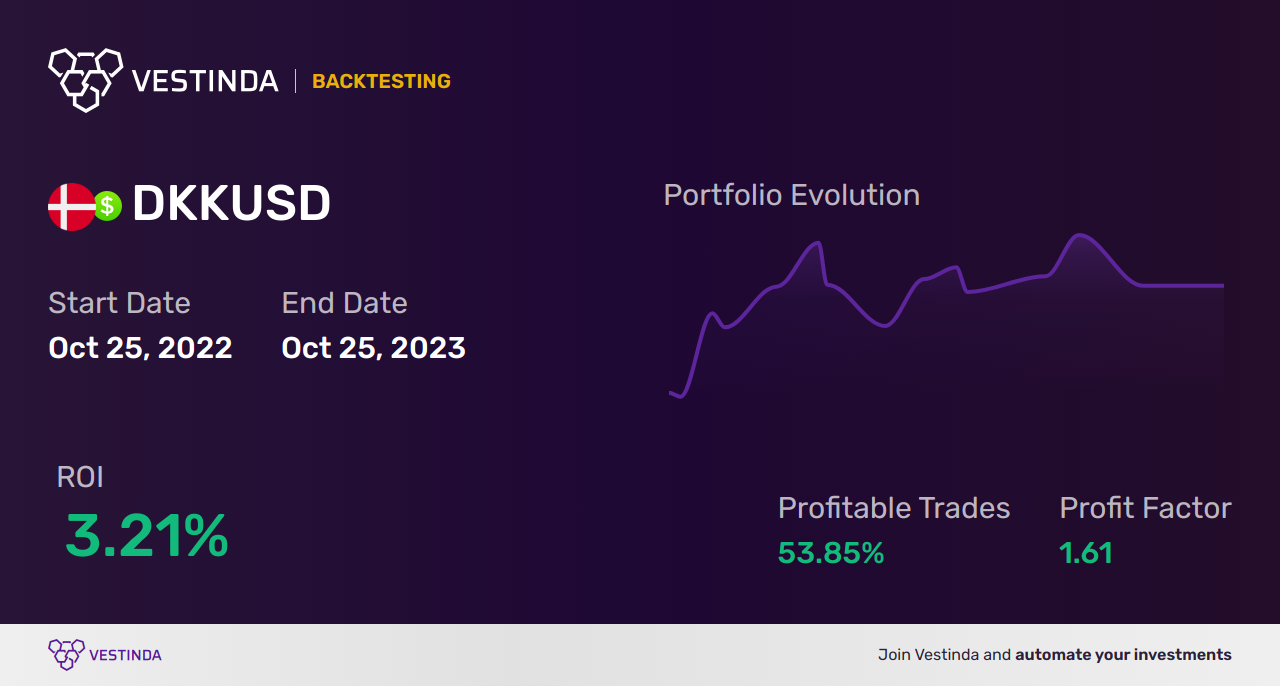 Automated Trading Strategy: The breakout strategy on DKK
Based on the backtesting results statistics for the trading strategy implemented over the period from October 25, 2022, to October 25, 2023, several key insights can be derived. The strategy exhibits a high level of profitability, with a commendable profit factor of 9.88. Furthermore, the annualized return on investment (ROI) stands at 4.63%, indicating consistent and respectable gains. On average, trades are held for approximately 5 weeks and 5 days, showcasing a patient approach towards capturing optimal market opportunities. Although the frequency of trades is relatively low at 0.07 per week, it is worth noting that a remarkable 75% of the total number of closed trades resulted in winning positions. Overall, these results suggest a robust and successful trading strategy.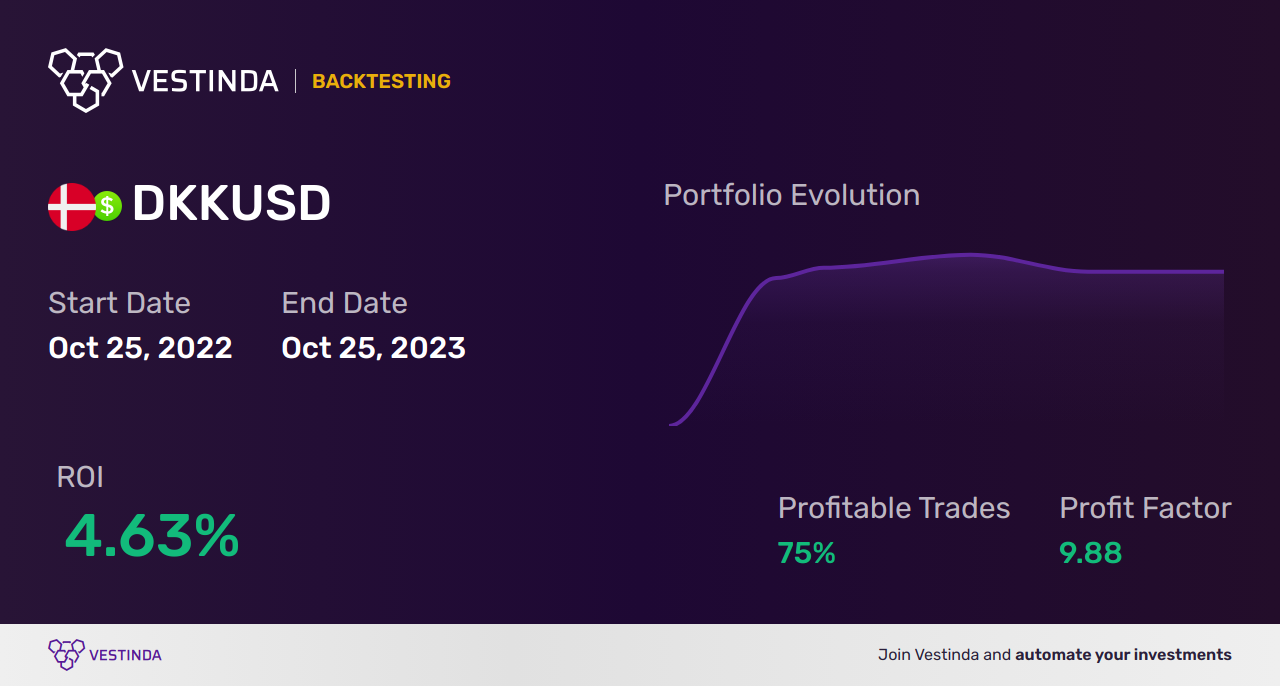 Automated Strategies: Boosting DKK Trading Efficiency
Quant trading, also known as algorithmic trading, can be a powerful tool when trading the markets, including the Danish Krone (DKK). With Quant trading, traders can develop automated trading strategies by utilizing mathematical models and statistical analysis. Through this approach, traders can analyze vast amounts of data, identify market patterns, and execute trades automatically based on predefined rules. By removing human emotions and subjective decisions from the equation, Quant trading helps to eliminate potential biases and improve trading efficiency. It allows traders to take advantage of market opportunities swiftly, making split-second decisions based on predefined criteria. With Quant trading, traders can backtest their strategies, optimize their parameters, and implement risk management measures, enhancing their chances of success in DKK trading. This automated approach streamlines the trading process and enables traders to capitalize on market movements more effectively.
Unveiling the Danish Krone (DKK) Mystery
The Danish Krone (DKK) is the official currency of Denmark. It holds a unique position in the global currency market due to Denmark's membership in the European Union (EU) but maintaining its own independent currency. The DKK is widely traded and has a strong presence in the foreign exchange (FOREX) market. It is known for its stability and is often considered a safe haven currency. The DKK's value is influenced by various factors, including economic indicators, interest rates, and global market conditions. Traders often analyze these factors to make informed decisions when trading DKK. As a liquid and accessible currency, DKK offers trading opportunities to investors and traders seeking exposure to the Danish economy. Understanding the dynamics and characteristics of DKK is essential for formulating effective trading strategies and maximizing potential returns in the FOREX market.
Securing Your DKK Investments: Effective Risk Management
When trading the Danish Krone (DKK), implementing effective risk management strategies is essential to protect your investments. Here are some key principles to consider:
1. Set Stop Loss Orders: Determine a predetermined exit point for your trades. This helps limit potential losses if the market moves against your position.
2. Use Proper Position Sizing: Calculate the appropriate trade size based on your risk tolerance and account balance. Avoid overexposure by not risking too much on a single trade.
3. Diversify Your Portfolio: Spread your investments across different assets or currency pairs to mitigate the impact of any single trade or market event.
4. Stay Informed: Stay updated on geopolitical events, economic indicators, and central bank announcements that can influence DKK's value. Knowing the risks helps you make more informed decisions.
5. Regularly Review and Adjust: Continuously assess your risk management strategies and adapt them accordingly. Markets can change rapidly, and adjustments may be necessary to align with the evolving conditions.
By implementing robust risk management practices, you can navigate the DKK market with greater confidence and protect your trading capital. Remember, managing risk is an essential aspect of long-term success in trading.
Analyzing DKK Strategies: Historical Performance Assessment
Backtesting your trading strategies is a crucial step in trading the Danish Krone (DKK). It involves testing your trading ideas and strategies using historical data to evaluate their performance. Here's how you can effectively backtest your strategies for DKK trading:
1. Define Your Strategy: Clearly outline your trading rules, including entry and exit criteria, indicators used, and risk management parameters.
2. Gather Historical Data: Obtain reliable historical data for DKK, including price charts and relevant market indicators, spanning a significant period.
3. Set Up a Testing Environment: Utilize trading platforms or software that allow you to simulate trades and analyze performance using historical data.
4. Implement Your Strategy: Apply your defined trading strategy to the historical data, executing trades based on the predetermined rules.
5. Analyze the Results: Evaluate the performance of your strategy by reviewing key metrics such as profitability, drawdowns, and win-to-loss ratio.
6. Adjust and Refine: Based on the results, identify areas for improvement and make necessary adjustments to your strategy before implementing it in live trading.
By conducting thorough backtesting, you can gain valuable insights into the potential effectiveness of your trading strategies for DKK. It helps refine your approach, identify strengths and weaknesses, and provides confidence in your trading decisions moving forward.
Backtest DKK & Stocks, Forex, Indices, ETFs, Commodities
100,000 available assets New

years of historical data

practice without risking money

Frequently Asked Questions
Which trading strategy is best for beginners?
A simple and effective trading strategy for beginners is the trend following strategy. This strategy involves identifying the direction of the market trend and then trading in the same direction. By following the trend, beginners can ride the momentum and increase their chances of making profitable trades. It is important to use technical indicators, such as moving averages, to confirm the trend and determine entry and exit points. Beginners should also practice proper risk management and start with small trade sizes to minimize potential losses. Overall, this strategy helps beginners focus on the most important aspect of trading – the trend.
What's the most popular trading strategy?
One of the most popular trading strategies is the trend trading strategy. It involves identifying and following the direction of the market trend. Traders using this strategy aim to enter trades in the same direction as the prevailing trend to increase their chances of making profitable trades. This strategy is widely used because it capitalizes on the momentum of the market, allowing traders to ride the trend for potential gains. Technical indicators, such as moving averages, are often used to confirm the trend and help traders identify suitable entry and exit points. Overall, trend trading is favored for its simplicity and potential profitability.
Is algorithmic trading profitable?
Algorithmic trading has the potential to be profitable if implemented correctly. This type of trading involves using predefined rules and algorithms to execute trades automatically. By eliminating human emotions and biases, algorithmic trading aims to capitalize on market inefficiencies and exploit opportunities with speed and precision. However, profitability depends on various factors, such as the quality of the algorithm, market conditions, and risk management strategies. It is important to note that algorithmic trading requires continuous monitoring and adjustment to remain profitable, as market conditions can change. Overall, with proper development and monitoring, algorithmic trading has the potential to be a profitable strategy.
Conclusion
In conclusion, trading the Danish Krone (DKK) requires a well-defined approach and effective strategies. Whether you choose to utilize quantitative trading, backtesting, or other techniques, it's crucial to understand the dynamics of DKK and implement risk management measures. By staying informed about market conditions, diversifying your portfolio, and constantly reviewing and adjusting your strategies, you can enhance your chances of success in DKK trading. Remember, trading is a continuous learning process, and it's important to adapt and refine your strategies based on market developments. With the right tools and mindset, you can navigate the DKK market with confidence and potentially achieve profitable outcomes.