Start earning fast & easy
Create
account

Build trading strategies
with no code

Validate
& Backtest

Automate
& start earning
Quant Strategies & Backtesting results for DJI
Here are some DJI trading strategies along with their past performance. You can validate these strategies (and many more) for free on Vestinda across thousands of assets and many years of historical data.
Quant Trading Strategy: Follow the trend on DJI
The backtesting results for the trading strategy from November 2, 2022, to November 2, 2023, demonstrate promising statistics. The strategy yielded a profit factor of 2.96, indicating a significant potential for generating profits. The annualized return on investment (ROI) stood at 2.45%, offering stable returns over the testing period. The average holding time per trade was approximately 7 weeks, implying a patient and strategic approach. With an average of 0.07 trades per week, the frequency was relatively low, ensuring a carefully selected set of opportunities. Out of 4 closed trades, 75% were successful, showcasing a high win rate. Additionally, this strategy outperformed the buy and hold strategy by generating excess returns of 0.3%. These results present a compelling case for implementing this trading strategy.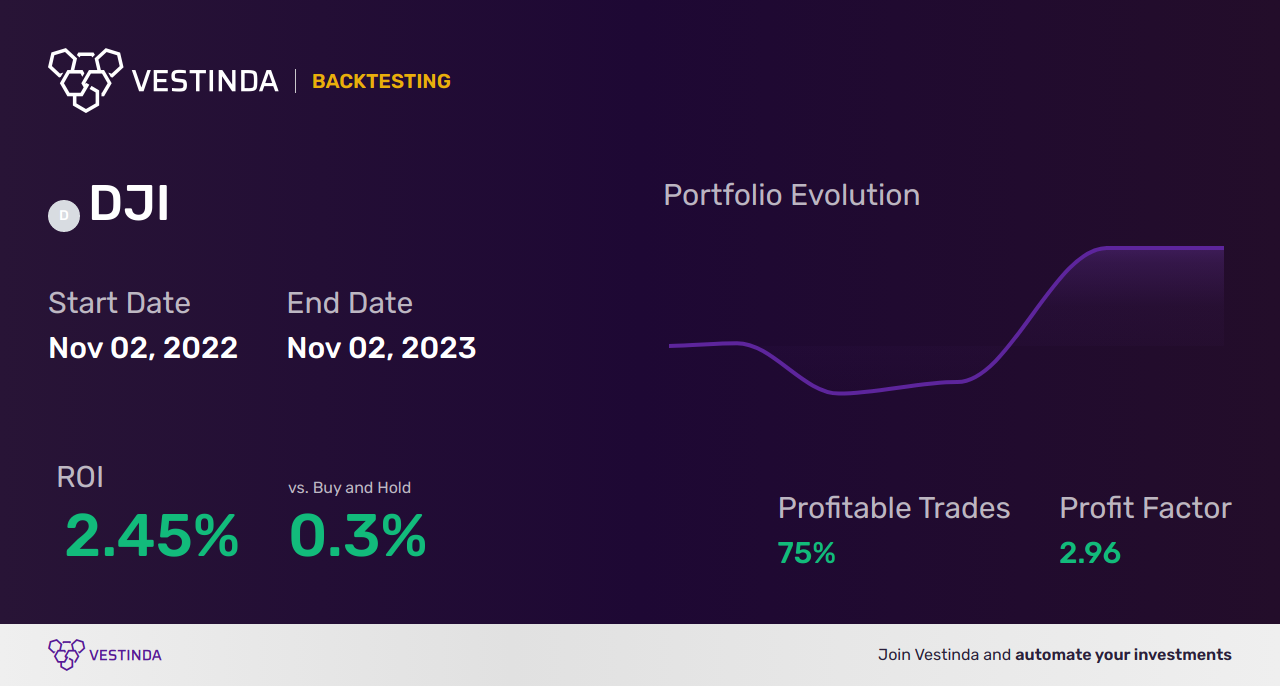 Quant Trading Strategy: Medium Term Investment on DJI
During the backtesting period from October 2, 2023, to November 2, 2023, this trading strategy demonstrated promising performance. With an annualized return on investment (ROI) of 15.4%, it outperformed traditional buy and hold strategies. The strategy had an average holding time of one week and executed an average of 0.22 trades per week. Though there were only one closed trade during this period, it resulted in a 1.31% ROI. Notably, all trades made by the strategy were winners, signifying a 100% success rate. Compared to the buy and hold approach, this strategy generated excess returns of 1.87%, emphasizing its potential for generating superior results.
Backtesting results
Profit Factor
All your trades are profitable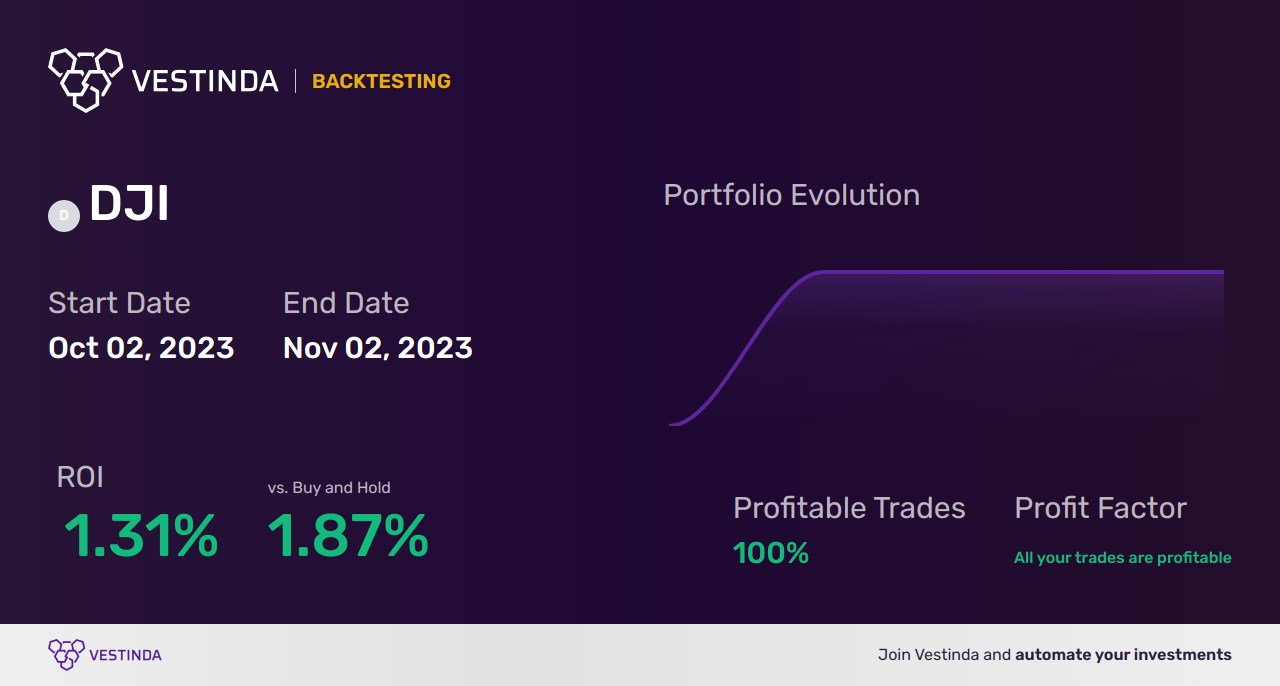 DJI Algorithmic Trading Strategies: Maximizing Market Potential
Algorithmic trading has revolutionized the way markets are traded, including the Dow Jones Industrial Average (DJI). With the help of sophisticated algorithms, traders can now execute trades automatically and at high speeds, improving efficiency and reducing human error. Algorithmic trading allows for the analysis of large amounts of data in real-time, enabling traders to identify and react to market opportunities quicker than ever before. By utilizing complex mathematical models, algorithms can make decisions based on predefined rules and parameters, optimizing trading strategies for maximum profit. This approach eliminates emotional biases and can take advantage of even the smallest price fluctuations. Additionally, algorithmic trading ensures consistent execution, minimizes transaction costs, and provides traders with the ability to back-test strategies using historical data. Ultimately, algorithmic trading helps traders navigate the complex financial markets with precision, speed, and accuracy.
DJI: Unraveling the Essence of Modern Tech
DJI is not short for Dow Jones Industrial Average - that is a common misconception. DJI actually stands for DJI Innovations, a leading company in the drone technology industry. Established in 2006, DJI has revolutionized the way aerial photography and videography are approached, providing high-quality and versatile drones for both professional and recreational use. With cutting-edge technology, DJI drones offer exceptional stability, unmatched camera quality, and intelligent flight features. From capturing breathtaking landscapes to assisting in search and rescue operations, DJI drones have become an essential tool for photographers, filmmakers, and various industries worldwide. Renowned for their reliability and innovation, DJI continues to push the boundaries of drone technology, creating new possibilities in the skies.
DJI: Elevating Trading Efficiency with Advanced Automation
Advanced Trading Automation For DJI
Trading automation has become increasingly popular in the world of DJI trading. With the rapid growth of technology, traders are turning to advanced software systems to enhance their trading strategies. These systems, powered by algorithms, allow traders to execute trades automatically based on predetermined rules and market conditions. This automation removes the need for manual intervention, saving both time and effort. Traders can set parameters for entry and exit points, risk management, and profit targets, giving them greater control over their trades. Additionally, advanced trading automation can analyze large volumes of historical data in real-time, identifying patterns and trends that may go unnoticed by human traders. This can provide valuable insights and predictive capabilities, improving overall trading performance. With advanced trading automation, DJI traders can increase their efficiency and gain a competitive edge in the market.
DJI Risk Management: Safeguarding Your Investments
Risk management is essential for DJI to protect its investments and assets. DJI should establish a robust risk management framework that includes identifying potential risks, assessing their potential impacts, and implementing strategies to mitigate them. By conducting regular risk assessments and continuously monitoring the market conditions, DJI can proactively identify and address potential risks. This will help DJI make informed decisions and reduce the likelihood of significant financial losses. Additionally, DJI should diversify its investments across various industries and geographical regions to spread the risk. By incorporating risk management practices into its overall business strategy, DJI can improve its chances of long-term success in the ever-changing market.
Diversified Techniques for Maximizing DJI Trading
There are several common DJI trading strategies that investors use to navigate the market. One popular strategy is called trend trading, where investors make trades based on the direction of the overall market. They buy when the market is in an uptrend and sell when it is in a downtrend. Another strategy is called swing trading, which involves buying and selling stocks over shorter time frames, typically a few days to a few weeks. This strategy aims to take advantage of short-term price movements. Additionally, some investors use a strategy called value investing. This involves identifying stocks that are undervalued and buying them in the hopes that their price will rise over time. Lastly, there is a strategy called momentum trading, where investors buy stocks that have shown strong upward momentum and sell those that have shown weak or negative momentum. Overall, these strategies help investors make informed decisions based on market trends and individual stock performances.
Why Vestinda
Track your
Crypto Portfolio

Copy Crypto trading
strategies

Build trading strategies
with no code
Backtest trading strategies
on Crypto, Forex, Stocks, etc.

Demo Trading
Risk-free Paper Trading

Automate trading strategies
with Live Trading
Frequently Asked Questions
What is leverage trading?
Leverage trading refers to the practice of borrowing funds to amplify potential profits from trading positions. Traders can enter large positions with a relatively modest amount of capital, as they borrow additional funds from a brokerage or exchange. Leverage is typically presented as a ratio, such as 1:10, indicating that for every dollar of the trader's capital, they can control $10 of trading volume. While leverage can magnify potential gains, it also heightens the risk of significant losses. Successful leverage trading requires careful risk management and understanding of the associated risks, as markets can move against the trader, resulting in significant financial losses.
Is algo trading easy?
Algo trading, or algorithmic trading, is the use of computer programs to execute trading strategies. While the concept may seem appealing, algo trading is far from easy. It requires a deep understanding of financial markets, programming skills, and data analysis expertise. Developing and fine-tuning profitable algorithms involves extensive research and testing, which can be time-consuming and challenging. Additionally, market conditions are dynamic, making it essential to continuously monitor and adapt algorithms to remain successful. Algo trading requires dedication, technical knowledge, and a disciplined approach, making it a complex endeavor rather than an easy one.
What are the best automated trading strategies for DJI?
There are various effective automated trading strategies for the DJI. Trend following strategies, such as using moving averages or breakout techniques, can prove successful in capturing market trends. Mean reversion strategies, aiming to take advantage of price reversals, can also be profitable. Additionally, implementing momentum strategies based on price strength indicators or relative strength can be advantageous. However, it is important to note that market conditions can influence strategy performance, and risk management must be carefully considered to ensure long-term success. It is recommended to thoroughly backtest and evaluate strategies before deploying them in live trading.
How do smart contracts work?
Smart contracts are self-executing agreements written in code and stored on a blockchain. They automatically execute when certain predefined conditions are met. These contracts eliminate the need for intermediaries and ensure transparency, security, and efficiency in transactions. Smart contracts work by storing and verifying data on a decentralized network, where all participants have a copy of the blockchain. When the conditions specified in the contract are fulfilled, the contract is automatically executed, and the agreed-upon outcomes are carried out, offering trust and reliability without relying on a central authority.
Conclusion
In conclusion, mastering DJI trading strategies is essential for maximizing profits in the ever-changing market. Utilizing techniques such as technical analysis, automated trading strategies, and risk management can help traders navigate the price fluctuations of DJI with precision and efficiency. Algorithmic trading has revolutionized the trading landscape, offering real-time analysis and eliminating emotional biases. Additionally, risk management practices and the use of common trading strategies like trend trading, swing trading, value investing, and momentum trading can provide valuable insights and improve overall trading performance. Stay tuned and uncover the keys to successful trading with DJI (Dow Jones Industrial Average).