Unveiling CTXC: Blending AI and Blockchain
CTXC, or Cortex, is a cryptocurrency that aims to blend artificial intelligence (AI) technology with blockchain. What sets CTXC apart is its innovative approach to AI integration, utilizing a decentralized platform. This allows developers to create AI models and deploy them on the Cortex network. CTXC is designed to enhance data privacy, increase scalability, and enable smart contracts. With its focus on AI technologies, CTXC has gained attention in the crypto market. Understanding the unique features of CTXC is vital when formulating effective trading strategies in the ever-evolving cryptocurrency landscape.
Automated CTXC Trading: Winning with Algorithms
Algorithmic Trading Strategies for CTXC
Algorithmic trading, also known as automated trading, has gained popularity in the cryptocurrency market, including CTXC trading. It involves using pre-defined rules and mathematical models to execute trades automatically. Here are a few algorithmic trading strategies to consider when trading CTXC.
1. Trend following: This strategy aims to identify and capitalize on the prevailing trend in CTXC's price. It involves analyzing historical price data to determine the direction of the market and initiating trades accordingly.
2. Mean reversion: This strategy assumes that CTXC's price will eventually revert to its average value after experiencing upward or downward price movements. Traders using this strategy aim to buy when the price is below the average and sell when it is above.
3. Arbitrage: This strategy involves taking advantage of price discrepancies in CTXC across different exchanges. Traders can execute simultaneous trades, buying at a lower price on one exchange and selling at a higher price on another.
4. Breakout trading: Traders employing this strategy look for significant price movements in CTXC. Once the price breaks through a key resistance or support level, traders enter trades to capitalize on the momentum.
It is essential to remember that algorithmic trading strategies come with risks. Proper risk management techniques, such as setting stop-loss orders and diversifying your trading portfolio, should be implemented to minimize potential losses. As with any trading strategy, thorough research and continuous monitoring are crucial for successful implementation of algorithmic trading strategies in the CTXC market.
Unraveling CTXC Price Dynamics
Factors Influencing CTXC Price
The price of CTXC, like any other cryptocurrency, is influenced by various factors. Understanding these factors can help traders make more informed decisions. Here are some key factors that can influence the price of CTXC:
1. Market Demand: The demand for CTXC among investors and users can have a significant impact on its price. Increased demand typically leads to a higher price, while decreased demand can result in a price decline.
2. Market Sentiment: Market sentiment refers to the overall attitude and perception of traders and investors towards CTXC. Positive news, partnerships, or regulatory developments can boost sentiment and drive the price up, whereas negative news or market uncertainty can have the opposite effect.
3. Technological Developments: Advancements in the underlying technology of CTXC, such as improvements in AI integration or platform upgrades, can positively affect its price. These developments enhance the project's potential and can attract more interest from investors.
4. Overall Cryptocurrency Market: CTXC's price can also be influenced by broader trends and movements in the cryptocurrency market. Market-wide factors like Bitcoin's performance or regulatory changes impacting the crypto industry can impact CTXC's price alongside other cryptocurrencies.
5. Investor Behavior: The actions and trading decisions of individual investors can create price fluctuations. Large buy or sell orders, as well as market speculation or panic selling, can impact CTXC's price.
It is important to note that the cryptocurrency market is highly volatile, and prices can be influenced by a multitude of factors. Traders should conduct thorough research, stay updated with market news and trends, and employ risk management strategies to navigate the dynamic nature of CTXC's price.
Backtesting results for CTXC
Here are some examples of strategies on CTXC with the backtesting results. You can always try out for FREE all these strategies on thousands of assets and many years of historical data.
Strategy 1: Template - Buying the dips
The backtesting results for a trading strategy from March 15, 2020, to March 15, 2021, indicate a profit factor of 1.01. Although the annualized ROI is relatively low at 0.84%, it suggests a positive return on investment. The average holding time for trades was approximately 2 days and 14 hours, indicating a moderately short-term approach. With an average of 0.49 trades per week, it suggests a relatively low frequency of trading activity. The strategy executed a total of 26 closed trades during this period. The winning trades percentage stood at 30.77%, implying that the strategy performed best in a lower proportion of trades.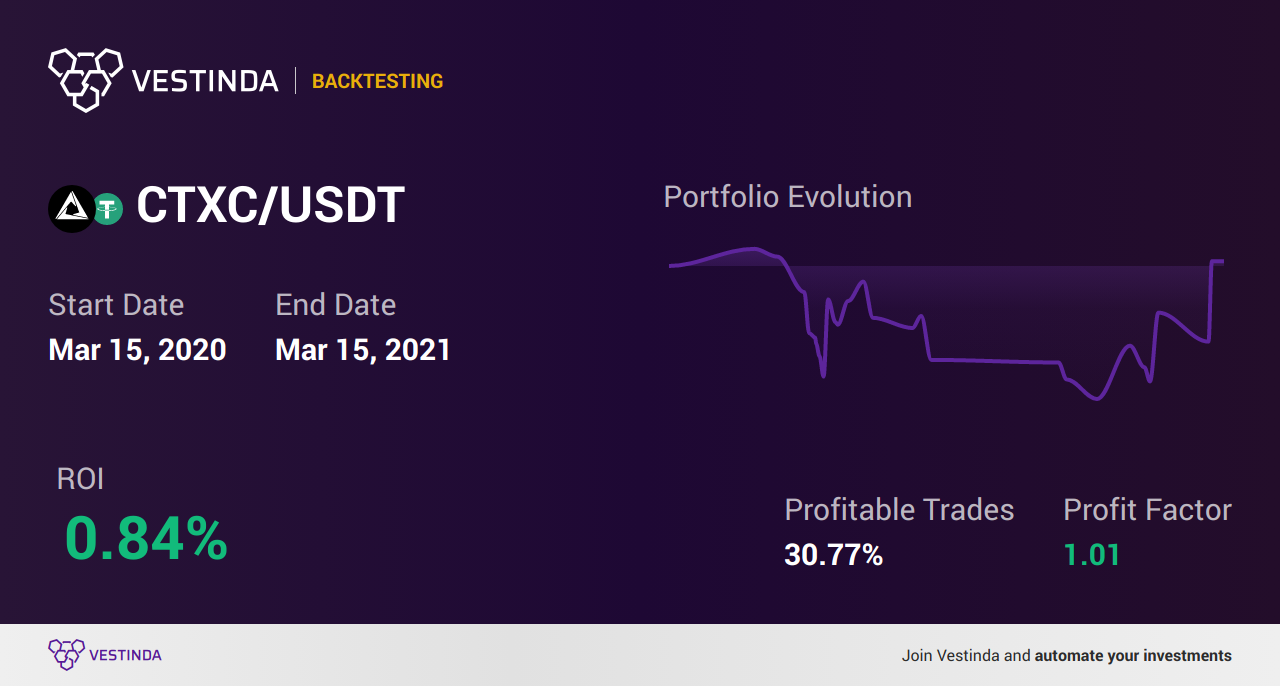 Strategy 2: Math vs. the market
Based on the backtesting results for the trading strategy conducted from March 15, 2020, to March 15, 2021, the statistics reveal encouraging outcomes. The profit factor of the strategy stands at 1.73, indicating a favorable ratio between profits and losses. The annualized ROI (Return on Investment) is an impressive 202.38%, highlighting the profitability of the strategy over the examined period. On average, the holding time for trades was roughly 2 days and 2 hours. With an average of 1.18 trades per week, the strategy showcases moderate trading frequency. There were a total of 62 closed trades, with approximately 67.74% of them being successful, demonstrating a reliable win-rate.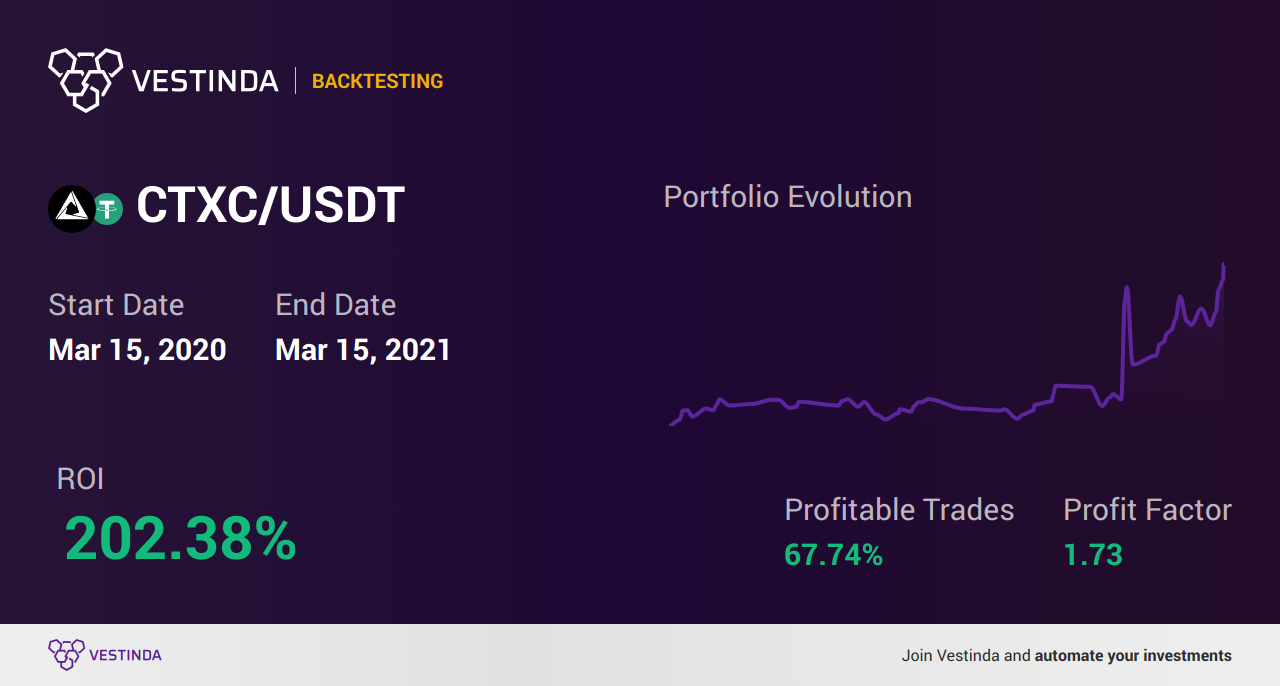 Frequently Asked Questions
How to trade cryptocurrency daily with 100 dollars?
To trade cryptocurrency daily with $100, follow these steps. Firstly, choose a reliable cryptocurrency exchange platform. Next, create an account and deposit your $100. Then, analyze the market using basic indicators like price charts and trading volume. After identifying a potential cryptocurrency, place a buy order with your available funds. Set a stop loss to limit potential losses. Once the cryptocurrency's price increases, sell it, and take profits. Repeat this process daily, continuously analyzing the market and adjusting your trading strategy as needed. Remember to manage your risk wisely and never invest more than you can afford to lose.
What is position trading in cryptocurrency?
Position trading in cryptocurrency refers to a long-term trading strategy where traders hold their positions for an extended period, often weeks to months. This approach aims to benefit from significant price movements over time instead of short-term fluctuations. Traders carefully analyze fundamental and technical factors to identify promising cryptocurrencies. Once a position is taken, the trader limits their activity and does not frequently buy or sell. This strategy requires patience and discipline, as traders must withstand temporary price dips and swings, with the goal of capturing larger gains in the long run.
What is the best time to trade CTXC?
The best time to trade CTXC, or Cortex, is when there is high trading volume and strong market activity. It is advisable to monitor the market during peak hours, when there is increased liquidity and participation. Additionally, it can be beneficial to keep an eye on any news or developments related to CTXC that may impact its price. Conducting technical analysis using price charts and indicators can help identify potential entry and exit points. However, it is important to note that successful trading also requires considering one's own risk tolerance and investment goals.
Where do you trade CTXC and other crypto?
You can trade CTXC and other cryptocurrencies on various cryptocurrency exchanges. Popular exchanges such as Binance, Coinbase, and Kraken offer trading pairs with CTXC. These platforms allow you to create an account, deposit funds, and trade cryptocurrencies. It is important to choose a reputable exchange with good security measures and liquidity. Before selecting an exchange, it is recommended to research and compare fees, available trading pairs, user interface, and customer support. Always exercise caution and do thorough research before trading on any platform to ensure a safe and reliable trading experience.
Conclusion
In conclusion, mastering trading strategies for CTXC can be a rewarding endeavor in the cryptocurrency market. By understanding CTXC's unique features, such as its integration of AI and blockchain, and considering the factors influencing its price, traders can make informed decisions. Whether you choose to implement algorithmic trading strategies, capitalize on market trends, or analyze fundamental factors, it is important to stay disciplined and employ proper risk management techniques. As the CTXC market continues to evolve, continuous learning and adaptation are key to stay ahead. By utilizing the knowledge and strategies discussed in this article, you are well-equipped to navigate the exciting world of CTXC trading.