Start earning in 3 easy steps
Create
account

Discover profitable
strategies

Connect exchange
& start earning
Quant Strategies and Backtesting results for BOB
Here are some BOB trading strategies along with their past performance. You can validate these strategies (and many more) for free on Vestinda across thousands of assets and many years of historical data.
Quant Trading Strategy: Strategy for the long term portfolio on BOB
The backtesting results for the trading strategy from May 19, 2023, to October 23, 2023, reveal a disappointing annualized ROI of -65.64%. Traders held their positions for an average of 2 days, resulting in an average of only 0.04 trades per week. Throughout the period, only one trade was closed, and it generated a return on investment of -28.29%. It is worth noting that none of the trades were deemed successful, with a winning trades percentage of 0%. However, despite these poor results, the strategy outperformed buy and hold investing, producing excess returns of 864.78%. This indicates the potential for improvement and optimization, even in the face of overall negative performance.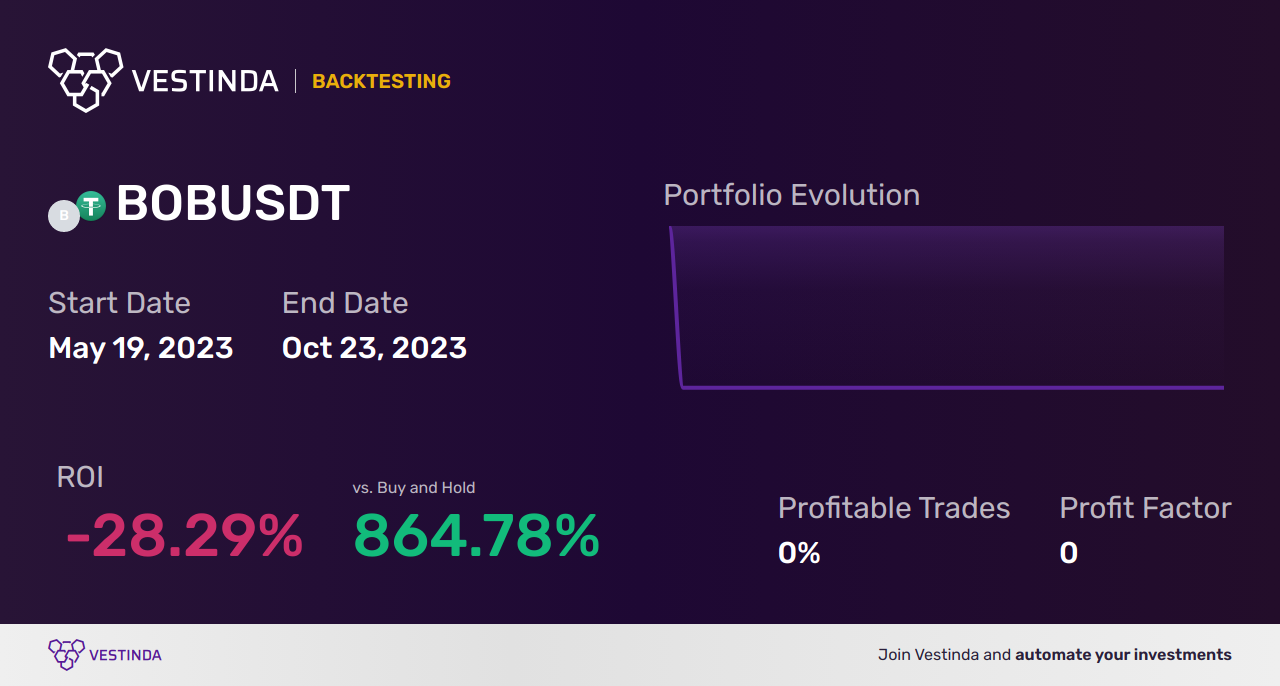 Quant Trading Strategy: Long term invest on BOB
The backtesting results for the trading strategy, based on the period from May 19, 2023, to October 23, 2023, reveal some significant statistics. The strategy exhibited an annualized ROI of -65.64%. On average, the holding time for trades was just 2 days, indicating a relatively short-term approach. The strategy resulted in a low average of 0.04 trades per week. The number of closed trades was only 1, suggesting limited trading activity during the period. The return on investment stood at -28.29%. Surprisingly, there were no winning trades, with a winning trades percentage of 0%. However, the strategy outperformed the buy-and-hold approach, generating excess returns of 864.78%.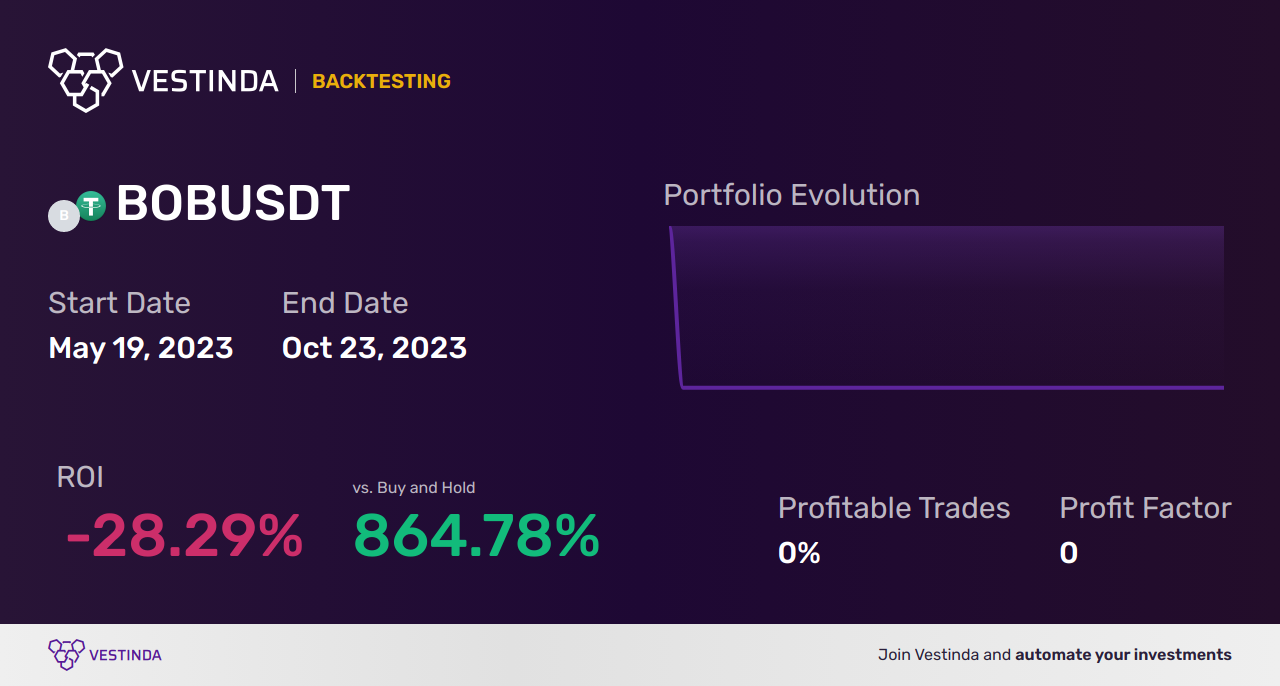 Automated BOB Trading Strategies
Quantitative trading, also known as algorithmic trading, is a method that uses mathematical models and computer algorithms to make trading decisions. This approach can be particularly beneficial when trading the BOB market. Quantitative trading allows traders to automate their strategies, eliminating the need for constant monitoring. By utilizing quantitative models, traders can analyze historical data and market trends to identify potential profitable opportunities. These models can consider various factors such as price movements, volume, and market liquidity. With the ability to execute trades automatically, quantitative trading reduces the element of human emotion and bias, resulting in a more disciplined and objective approach to trading. It also enables traders to react quickly to market changes, as algorithms can execute trades within milliseconds. Incorporating quantitative trading strategies into your BOB trading endeavors can enhance your potential for success and streamline your trading process.
The Bolivian Boliviano: An Introduction
The BOB, also known as the Bolivian Boliviano, is the official currency of Bolivia. It is an essential asset in the foreign exchange (forex) market, where currency pairs are traded. The BOB is distinctive for its cultural and historical significance, representing Bolivia's economy and its people. With a flexible exchange rate, the BOB is influenced by various factors such as economic indicators, political events, and global market trends. Traders interested in BOB trading should familiarize themselves with the fundamental and technical aspects of this currency. Understanding the key drivers of the BOB's value can help traders make informed decisions and devise effective trading strategies. Whether you are a beginner or experienced trader, recognizing the unique characteristics of the BOB is crucial for navigating the forex market successfully.
Streamlined BOB Trading Automation
In the fast-paced world of trading, having advanced automation tools can be a game-changer when it comes to trading the BOB. By employing sophisticated algorithms and automated trading strategies, traders can gain a competitive edge in the market. These advanced automation tools offer features such as real-time market data analysis, instant trade execution, and risk management functionalities. With the ability to set predefined criteria, traders can generate automatic trade signals and execute trades without manual intervention. This not only saves time but also eliminates human emotions that can sometimes cloud judgment. Furthermore, advanced automation tools provide the flexibility to backtest trading strategies, ensuring that traders can fine-tune their approach based on historical data. By combining the power of automation with the unique characteristics of the BOB market, traders can unlock new opportunities and optimize their trading results. So, why not explore the world of advanced trading automation for BOB and take your trading journey to the next level?
Analyzing BOB Strategies: Backtesting for Success
Backtesting is an essential tool for traders looking to optimize their trading strategies for the BOB. It involves testing a strategy using historical data to evaluate its performance. By backtesting, traders can assess how their strategies would have performed in different market conditions. This allows for fine-tuning and optimization of trading parameters. Through backtesting, traders can gain valuable insights into the profitability and risk associated with their strategies. By analyzing past data and simulating trades, traders can make informed decisions based on historical performance. It's important to note that while backtesting provides valuable information, it does not guarantee future results. Therefore, it's crucial to combine backtesting with ongoing monitoring and adjustment of strategies. By leveraging the power of backtesting, traders can refine their trading strategies and increase their chances of success in the ever-changing BOB market. So, don't overlook the importance of backtesting when it comes to trading the BOB effectively.
Trusted by Traders Worldwide
Frequently Asked Questions
What are the best automated trading strategies for BOB?
Some of the best automated trading strategies for BOB include trend following, mean reversion, and breakout strategies. Trend following strategies involve identifying and trading in the direction of the prevailing market trend. Mean reversion strategies aim to profit from price moves that deviate from their long-term average by taking trades opposite to the current trend. Breakout strategies seek to profit from price breakouts above or below key support or resistance levels. These strategies can be implemented using various technical indicators such as moving averages, stochastic oscillators, and Bollinger Bands. Successful implementation of these strategies requires proper risk management and continuously monitoring market conditions.
How do I start algorithmic trading?
To start algorithmic trading, follow these steps:
1. Learn the basics of algorithmic trading and familiarize yourself with concepts like backtesting and risk management.
2. Choose a suitable trading platform or API that supports algorithmic trading.
3. Develop your trading strategy by setting rules and conditions for buying or selling assets.
4. Backtest your strategy using historical data to assess its performance.
5. Optimize and refine your strategy based on backtesting results.
6. Deploy your algorithmic trading system on a live account and monitor its performance closely.
7. Continuously evaluate and adjust your strategy as market conditions change. Remember to always practice proper risk management.
What is the best technical analysis indicator for Stocks?
Determining the best technical analysis indicator for stocks can depend on various factors and personal preferences. However, some commonly used indicators include moving averages, relative strength index (RSI), and MACD (moving average convergence divergence). Moving averages help identify trends and support/resistance levels. RSI measures overbought or oversold conditions, indicating potential reversals. MACD shows momentum and crossovers. These indicators are widely available on trading platforms and can be used to generate buy/sell signals or confirm market trends. It's crucial to experiment with different indicators and find what works best for your trading style and the specific stock you are analyzing.
What are some potential uses of smart contracts?
Smart contracts have various potential uses, including:
1. Supply chain management: Automating and tracking transactions and shipments in a transparent and efficient manner.
2. Financial services: Facilitating secure and quick transactions, loan agreements, and insurance claims.
3. Real estate: Simplifying property transactions, title transfers, and rental agreements.
4. Voting systems: Increasing transparency and eliminating fraud in elections by securely recording and validating votes.
5. Intellectual property: Enforcing copyrights and distributing royalties automatically.
6. Decentralized applications (DApps): Building decentralized applications that run on blockchain platforms, ensuring trust and security.
Conclusion
In conclusion, trading the BOB requires a thoughtful approach and the implementation of effective trading strategies. Whether you are a beginner or an experienced trader, it's crucial to understand the unique characteristics of the BOB market and adapt your trading techniques accordingly. From quantitative trading and advanced automation tools to backtesting strategies, there are various approaches to explore. By staying informed, employing sound risk management practices, and continuously evaluating and refining your strategies, you can enhance your chances of success in the BOB market. So, embark on your trading journey with confidence, armed with a solid understanding of BOB trading strategies, and maximize your potential profits.