Exploring BNB: A Unique Cryptocurrency
Binance Coin (BNB) is a cryptocurrency that was created by the Binance exchange. It serves as the native token of the Binance platform and offers multiple benefits to its users. BNB can be used to pay for transaction fees on the Binance exchange, participate in token sales, and access various services within the Binance ecosystem. It has gained significant popularity due to its utility and the growing adoption of the Binance exchange. As a result, the price of BNB has experienced notable fluctuations, presenting both opportunities and risks for traders in the crypto market.
Leveraging Algorithms: Trading Strategies for BNB
Algorithmic trading strategies for BNB can be a powerful tool in maximizing trading efficiency and profitability. These strategies involve the use of pre-programmed instructions that automatically execute trades based on specific criteria. By leveraging technical indicators and market data, algorithmic trading can quickly identify opportunities and execute trades with precision and speed. It eliminates the emotional biases and human errors often associated with manual trading. Some popular algorithmic trading strategies for BNB include trend following, mean reversion, and statistical arbitrage. Trend following strategies aim to capitalize on sustained price movements, while mean reversion strategies detect and exploit price deviations from their average. Statistical arbitrage strategies involve exploiting pricing inefficiencies between correlated assets. Implementing algorithmic trading requires understanding coding, technical analysis, and risk management. Consulting with professionals or utilizing platforms that provide automated trading strategies can be beneficial for beginners. Remember, proper backtesting and continuous evaluation are critical to ensure the effectiveness and adaptability of algorithmic trading strategies for BNB.
Mastering BNB Trading with Technical Analysis
Technical analysis tools can greatly enhance your BNB trading endeavors by providing insights into market trends and potential price movements. These tools are designed to analyze historical price data and assist traders in making informed decisions. Popular technical analysis tools for BNB trading include moving averages, relative strength index (RSI), and MACD (Moving Average Convergence Divergence). Moving averages help identify trend directions, while RSI assesses overbought or oversold conditions. MACD indicates potential trend reversals. By using these tools, traders can gain a better understanding of BNB's market dynamics and make more accurate predictions. It is essential to combine technical analysis tools with risk management strategies and consider other factors such as market news and sentiment. Additionally, learning how to interpret and apply these tools correctly is crucial for effective decision-making. Whether you're a beginner or an experienced trader, incorporating technical analysis tools into your BNB trading strategy can provide valuable insights to help optimize your trading outcomes.
Unveiling BNB: Price Influencers
Several factors can influence the price of BNB in the crypto market. Understanding these factors is crucial for making informed trading decisions. Market sentiment, overall crypto market trends, and Binance platform developments can all impact BNB's price. Additionally, regulatory changes, technological advancements, and adoption by major exchanges can have a significant influence. News and announcements related to BNB, such as partnerships, token burns, and tokenomics adjustments, also play a crucial role. Moreover, macroeconomic factors like inflation, global economic conditions, and investor sentiment towards cryptocurrencies can affect BNB's value. It's important to stay updated with the latest news and market trends to assess the potential impact on BNB's price. Keeping an eye on market indicators and conducting thorough analysis can help traders navigate the dynamic nature of BNB's price movements effectively. By considering these factors and conducting comprehensive research, traders can enhance their ability to anticipate and adapt to price fluctuations in the BNB market.
Backtesting results for BNB
Here are some examples of strategies on BNB with the backtesting results. You can always try out for FREE all these strategies on thousands of assets and many years of historical data.
Strategy 1: Template Parabolic SAR EMA
During the period from March 15, 2020, to March 15, 2021, backtesting results indicate a promising trading strategy with a profit factor of 1.55, reflecting a favorable risk-reward ratio. The annualized return on investment was an impressive 32.67%, demonstrating the strategy's potential for generating consistent profits. The average holding time for trades was approximately 12 hours and 45 minutes, suggesting that the strategy relies on short to medium-term positions. With an average of 1.4 trades per week, the strategy displayed a measured and selective approach. Out of 73 closed trades, the winning trades accounted for 46.58%, indicating a slightly higher proportion of successful trades.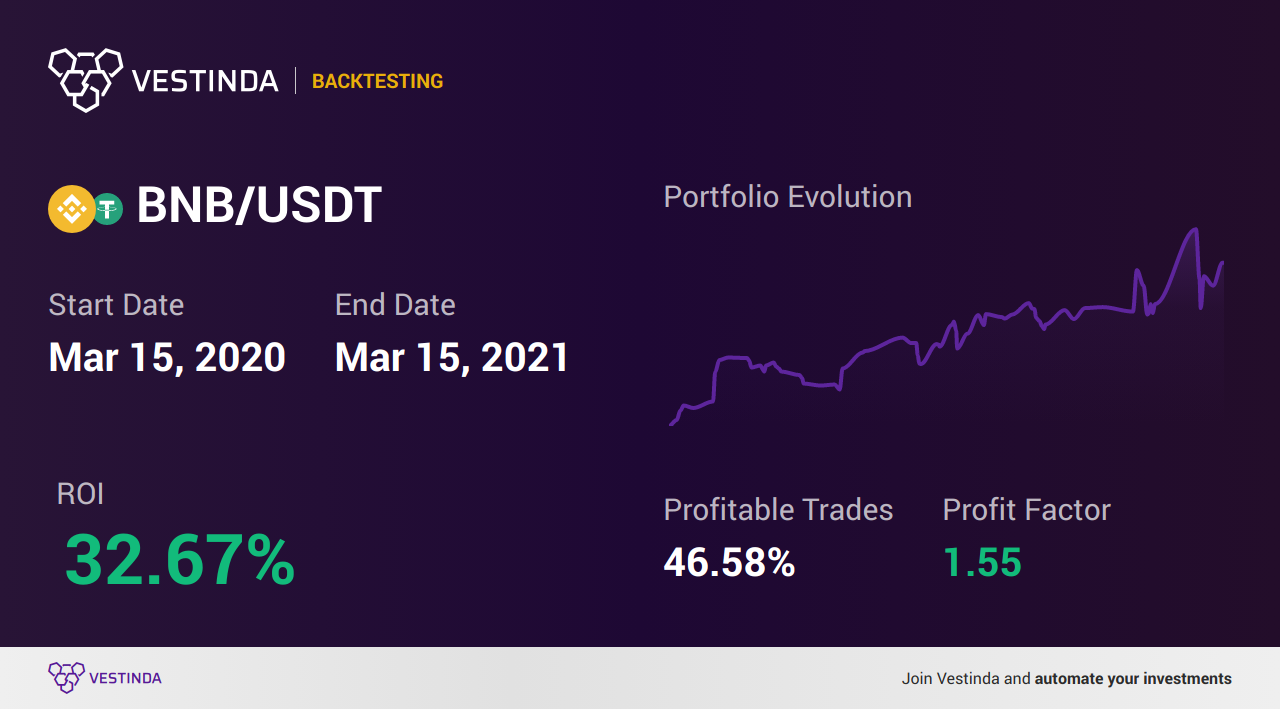 Strategy 2: Template CCI EMA
Over the period from March 15, 2020, to March 15, 2021, the backtesting results of this trading strategy exhibit promising statistics. The strategy generated a profit factor of 1.66, implying that for every unit of loss encountered, it produced 1.66 units of profit. The annualized return on investment (ROI) stands at an impressive 104.2%, indicating a significant growth in the investment within the given timeframe. On average, each trade was held for approximately 1 day and 15 hours, suggesting a relatively short-term approach. The strategy yielded an average of 1.01 trades weekly, totaling 53 closed trades throughout the period. Moreover, the strategy achieved a winning trades percentage of 52.83%, solidifying its overall effectiveness.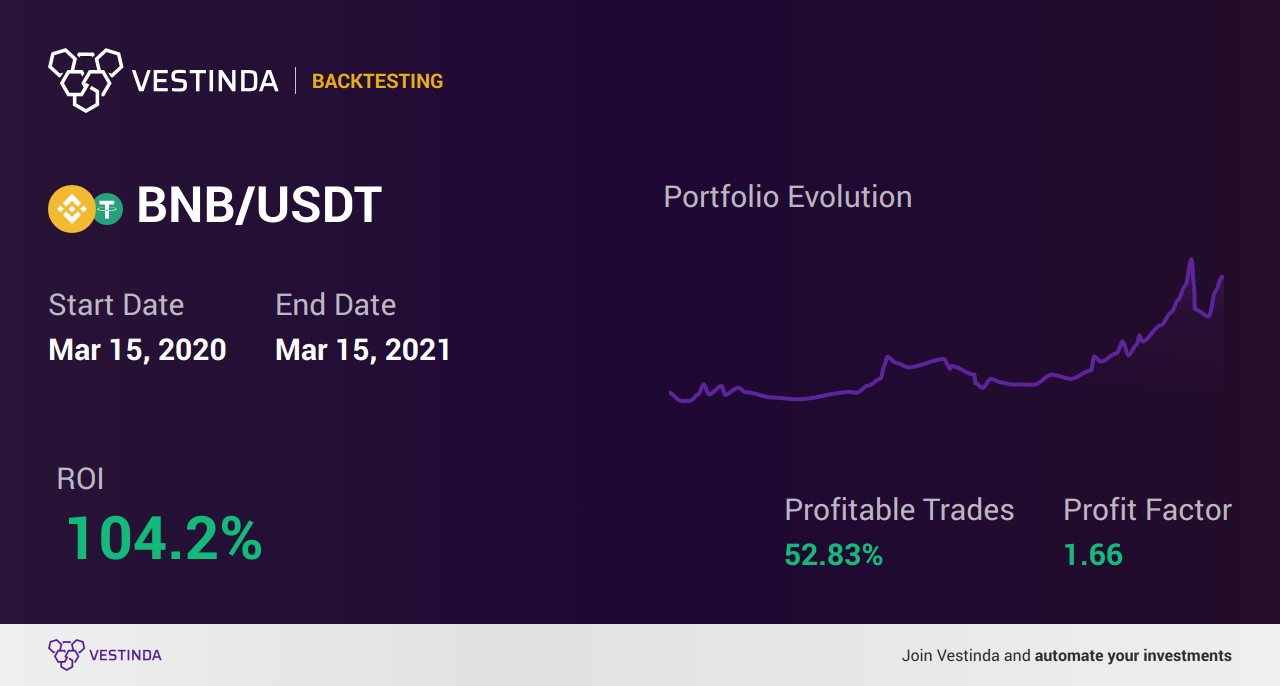 Frequently Asked Questions
What is the lack of crypto trading strategy?
The lack of a crypto trading strategy refers to not having a plan or approach when buying and selling cryptocurrencies. Without a strategy, traders may make impulsive decisions based on emotions or rumors, leading to potential losses. It is essential to have a clear plan that specifies when to enter or exit trades, risk management techniques, and indicators to analyze market trends. A lack of strategy can result in inconsistent decision-making and missed opportunities to maximize profits or minimize losses. Developing a well-defined trading strategy is crucial for success in the crypto market.
Which crypto trading strategy is best for beginners?
For beginners in crypto trading, it is recommended to start with a simple and straightforward strategy like the buy-and-hold approach. This strategy involves buying cryptocurrencies and holding onto them for a long-term period, typically years, regardless of short-term price fluctuations. By investing in established and reputable cryptocurrencies with potential for growth, beginners can mitigate the risks associated with short-term volatility. This strategy allows beginners to learn and gain exposure to the crypto market while avoiding the complexities of frequent trading and technical analysis. As beginners gain experience and knowledge, they can explore more advanced trading strategies.
Where do you trade BNB and other crypto?
You can trade BNB and other cryptocurrencies on various cryptocurrency exchanges. Some popular exchanges where you can trade BNB include Binance, Coinbase, and Kraken. These exchanges provide a platform for buying, selling, and trading cryptocurrencies. To trade, you need to create an account on the exchange, complete the necessary verification process, deposit funds, and then you can start trading. It's important to choose a reputable and secure exchange that offers a wide selection of cryptocurrencies and has good liquidity. Conducting thorough research and reading reviews can help you find a suitable exchange for trading BNB and other cryptocurrencies.
What are the best-automated trading strategies for BNB?
When it comes to automated trading strategies for BNB, there are a few popular options. One such strategy is the trend-following approach, which uses technical indicators to identify and capitalize on market trends. Another strategy is mean-reversion, where the bot looks for deviations from the average price and trades accordingly. Additionally, some traders utilize arbitrage, taking advantage of price differences between different exchanges. It's important to note that automated trading strategies should be thoroughly tested and adjusted to suit individual preferences and risk tolerance. Consulting with experienced traders or utilizing pre-built trading bots can also be helpful.
How to grow and trade a small crypto account?
To grow and trade a small crypto account, there are a few key strategies you can employ. Firstly, it's important to start with thorough research and education to understand the market. Next, focus on risk management by never investing more than you can afford to lose. Diversify your portfolio by investing in a variety of cryptocurrencies. Take advantage of dollar-cost averaging by investing a fixed amount regularly, regardless of market conditions. Finally, stay updated with market news and trends, utilize stop-loss orders, and consider using trading tools and indicators to make informed trading decisions.
Conclusion
In conclusion, Binance Coin (BNB) offers numerous opportunities for traders in the cryptocurrency market. By understanding the fundamentals of BNB, implementing effective trading strategies, utilizing technical analysis tools, and considering the various factors that influence its price, traders can navigate the BNB market with confidence. Whether you choose to engage in manual trading or leverage algorithmic strategies, it's important to conduct thorough research, practice risk management, and stay updated with the latest news and trends. Remember, successful trading with BNB requires a combination of knowledge, strategy, and continuous learning. With dedication and the right approach, you can unlock the potential for profitable trading with BNB.