Start earning fast & easy
Create
account

Build trading strategies
with no code

Validate
& Backtest

Connect exchange
& start earning
Automated Strategies and Backtesting results for AMN
Here are some AMN trading strategies along with their past performance. You can validate these strategies (and many more) for free on Vestinda across thousands of assets and many years of historical data.
Automated Trading Strategy: Accumulation Distribution Crossover on AMN
The backtesting results for the trading strategy from November 3, 2016, to November 3, 2023, reveal some interesting statistics. The profit factor is 1.1, indicating that for every unit of risk taken, the strategy generated a slight profit. The annualized return on investment (ROI) stands at 2.45%, suggesting a steady but conservative growth over the testing period. On average, positions were held for approximately 3 weeks and 6 days, indicating a medium-term trading approach. With an average of 0.15 trades per week, the strategy's trading frequency was relatively low. The total number of closed trades was 57, while the win rate was modest at 24.56%. Despite this, the overall return on investment reached 17.49%, showcasing the strategy's ability to capture profitable opportunities.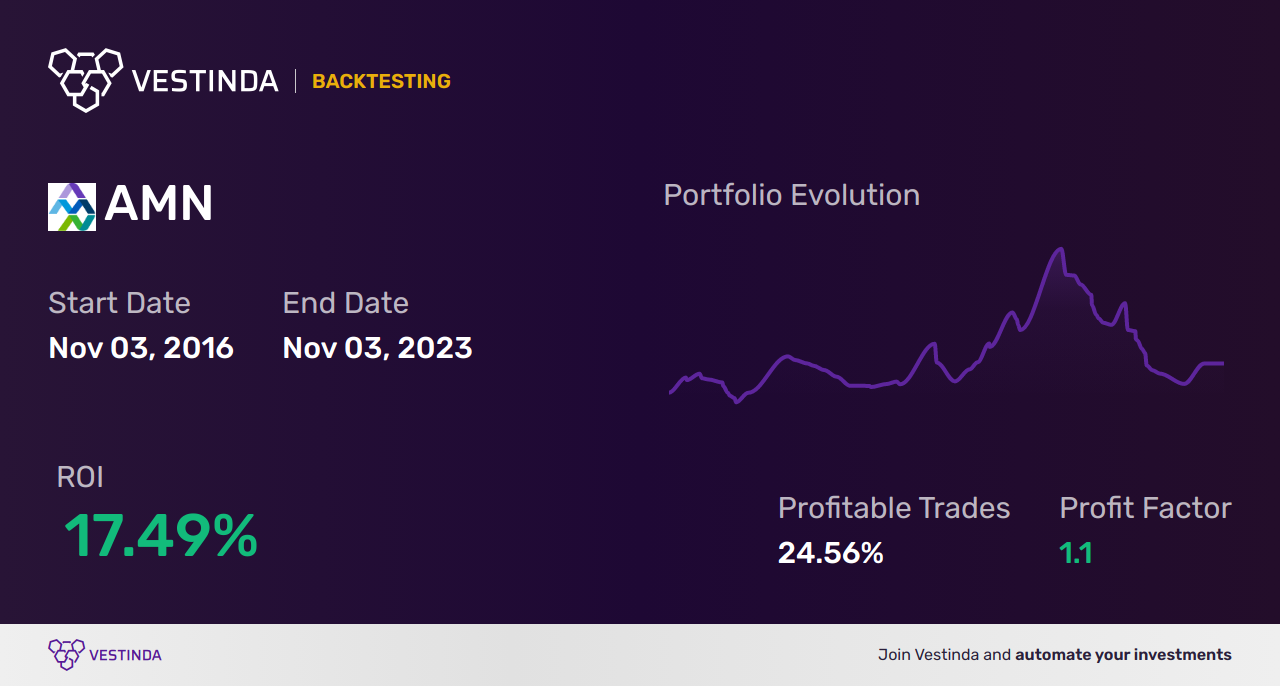 Automated Trading Strategy: MACD and EMA Reversals with Confirmation on AMN
Based on the backtesting results for the trading strategy from November 3, 2016, to November 3, 2023, certain statistics provide insight into its performance. The strategy yielded a profit factor of 1.06, indicating that, on average, the total profits earned were 1.06 times the total losses incurred. The annualized ROI stood at 1.77%, suggesting a relatively modest return on investment over the evaluated period. With an average holding time of 2 weeks and 2 days, the strategy held positions for a moderate duration. It executed an average of 0.17 trades per week, resulting in a total of 63 closed trades. The overall return on investment reached 12.65%, while the winning trades accounted for 44.44% of the total trades.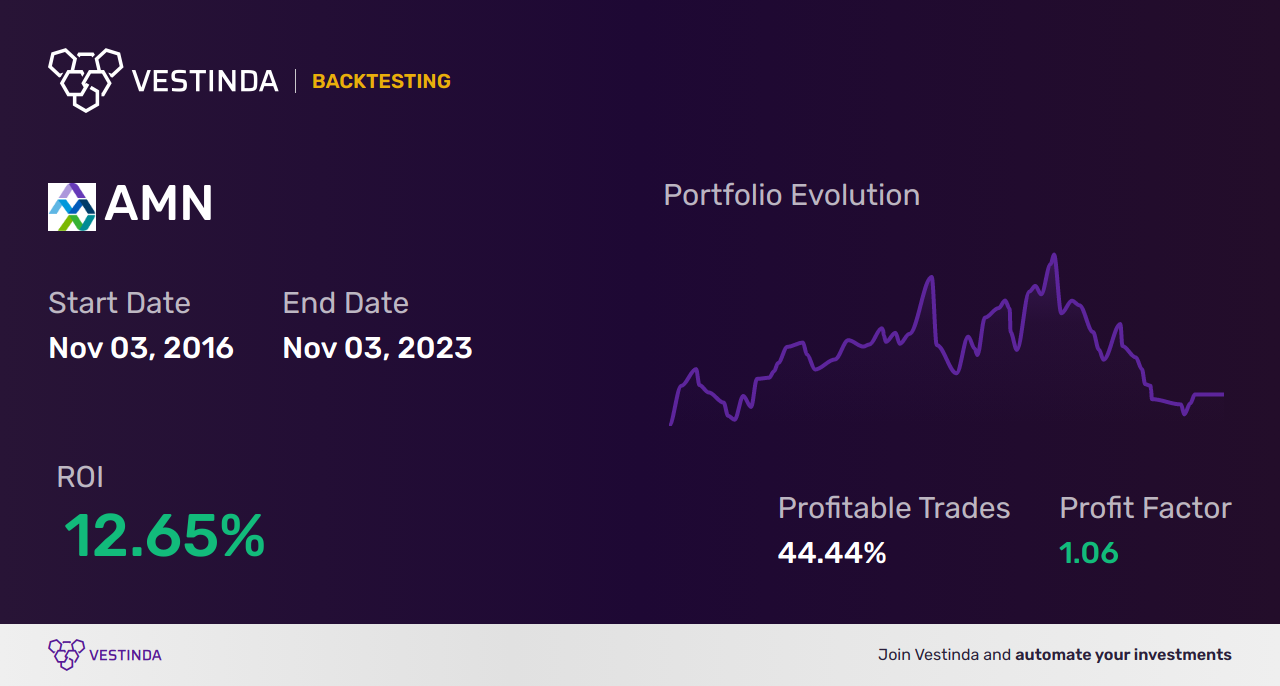 Maximizing Returns: Quantitative Trading Strategies for AMN
Quant trading can greatly assist in automating the trading process for AMN, ensuring efficient market participation and decision-making. Through the use of sophisticated algorithms and computer models, quant trading enables the analysis of large volumes of data and the identification of profitable trading opportunities. By leveraging quantitative techniques, such as statistical analysis and machine learning, quant trading can generate trading signals and execute trades at high speeds. This automated approach eliminates emotional biases and allows for faster execution, benefiting AMN by optimizing trading strategies and achieving better results. Additionally, quant trading provides the ability to diversify portfolios and manage risk more effectively, enhancing the overall performance of AMN in the markets.
An Introduction to AMN Healthcare
AMN Healthcare Services Inc., commonly referred to as AMN, is a leading provider of healthcare workforce solutions. With its vast range of services, AMN connects healthcare facilities with skilled professionals, offering solutions for staffing and management challenges. The company boasts an impressive network of highly qualified clinicians, clinicians who specialize in various fields, including nursing, allied health, and physician executives. AMN's expertise and dedication are evident in their ability to match the right professionals with the right opportunities, ensuring quality patient care is always prioritized. By leveraging their extensive resources and technology, AMN enables healthcare organizations to meet their staffing needs efficiently and effectively. As a trusted partner in the industry, AMN continues to drive innovation in healthcare staffing, setting new standards for success.
Driving Forces: AMN Price Factors
There are several factors that can influence the price of AMN Healthcare Services Inc. (AMN) stock. Firstly, the overall performance of the healthcare industry plays a significant role. Positive trends and growth in the industry can drive up the price of AMN stock, while negative trends can have the opposite effect. AMN's financial performance is another key factor. Strong revenue growth, profitability, and positive earnings reports are likely to boost the stock price. Additionally, market sentiment and investor confidence can greatly impact the price of AMN stock. News, analyst reports, and market sentiment regarding the company can cause fluctuations. Lastly, macroeconomic factors such as interest rates, inflation, and global economic conditions can also influence the stock price. Overall, these various factors combine to determine the price of AMN stock.
AMN Trading Strategies Backtest
Backtest trading strategies for AMN, Healthcare Services Inc., can help investors evaluate their potential returns. By simulating trades using historical data, backtesting allows users to assess the profitability and risks of different strategies. Investors can test parameters such as entry and exit points, position sizes, and stop-loss levels. Through backtesting, investors can gain insights into how their strategies would have performed in the past, enabling them to make informed decisions. Additionally, it can help identify opportunities to refine and optimize trading strategies. However, it is important to note that backtesting cannot guarantee future results and should be used as a tool alongside other analytical methods. It is essential to consider both the strengths and limitations of backtesting when evaluating trading strategies for AMN.
Protective Trading: AMN Stop-Loss Strategies
Using a stop loss when trading AMN can be an effective risk management strategy. It helps limit potential losses and protect against large downward swings in the stock's price. By setting a predetermined stop price, traders can automatically sell their shares if the stock reaches a certain level. This can prevent emotions from clouding judgment and allows for quicker reactions to market fluctuations. However, it's important to note that stop losses are not foolproof and can sometimes result in selling at an undesired price. Traders should carefully consider their risk tolerance and evaluate the market conditions before setting their stop loss levels. Overall, utilizing a stop loss can help safeguard investments and assist in maintaining a disciplined approach to trading AMN.
Why Vestinda
Track your
Crypto Portfolio

Copy Crypto trading
strategies

Build trading strategies
with no code
Backtest trading strategies
on Crypto, Forex, Stocks, etc.

Demo Trading
Risk-free Paper Trading

Automate trading strategies
with Live Trading
Frequently Asked Questions
Where do you trade AMN?
AMN (Ammunition) can be traded on various platforms that support the buying and selling of stocks and securities. Some popular options include online brokerage firms like E*TRADE, Robinhood, Charles Schwab, and TD Ameritrade. These platforms provide individual investors access to a wide range of stocks, including AMN, allowing them to place trades conveniently from their computers or mobile devices. It's important to note that trading requires opening a brokerage account and understanding the associated risks, fees, and regulations. Potential investors should conduct thorough research and consider their investment goals before trading AMN or any other stock.
What are the best automated trading strategies for AMN?
The best automated trading strategies for AMN (Automated Market Maker Network) involve employing sophisticated algorithms that analyze market trends and liquidity conditions to make informed trading decisions. Implementing strategies based on statistical models, such as mean reversion or breakout trading, can be effective. Additionally, utilizing machine learning algorithms that adapt to changing market dynamics can optimize trading strategies for AMN. It is crucial to regularly monitor and update these strategies to ensure their effectiveness in a dynamic market landscape.
What is the 1% trading strategy?
The 1% trading strategy is a risk management approach employed by traders, where they limit their overall exposure to any single trade to 1% of their total trading capital. This strategy aims to prevent large losses that could severely impact a trader's portfolio. By adhering to this rule, traders ensure they can sustain multiple losing trades without significant depletion of their capital. It also promotes discipline and helps control emotions during volatile market conditions. By implementing the 1% trading strategy, traders aim to protect their capital while seeking consistent, long-term profitability.
What's the most popular trading strategy?
There isn't a single trading strategy that can be categorized as the most popular due to the diverse nature of financial markets and individual trading preferences. Various strategies, such as trend following, mean reversion, breakout trading, and momentum trading, are commonly employed by traders. The popularity of a particular strategy also depends on market conditions and the trader's risk tolerance. Ultimately, the most effective strategy differs for each individual, as successful trading requires adapting to market dynamics and combining various techniques to maximize profitability.
What are trading strategy parameters?
Trading strategy parameters refer to the variables and settings that traders use to determine their trading decisions. These parameters may include indicators, technical analysis tools, entry and exit criteria, risk management rules, and asset allocation strategies. Traders customize these parameters based on their trading goals, risk tolerance, and market conditions. By defining and adjusting these parameters, traders aim to optimize their trading strategies and increase the probability of executing successful trades.
What are some tips for day trading AMN?
Some tips for day trading AMN (Amedisys Inc.) include conducting thorough research on the company and its industry, staying updated on relevant news and market trends, setting clear entry and exit points, using stop-loss orders to manage risk, and practicing disciplined trading strategies. It is also important to avoid emotional decision-making, maintain a realistic mindset, and constantly evaluate and learn from trades to improve future performance.
Conclusion
In conclusion, trading strategies for AMN Healthcare Services Inc. (AMN) can greatly enhance your trading experience and potential returns. Utilizing technical analysis, automated trading strategies, and risk management techniques such as backtesting and stop losses can optimize your trading approach. AMN's price is influenced by factors such as industry performance, financial performance, market sentiment, and macroeconomic conditions. By implementing these strategies and considering these factors, you can effectively navigate the world of trading and make informed decisions when trading AMN Healthcare Services Inc.