Start earning in 3 easy steps
Create
account

Discover profitable
strategies

Connect exchange
& start earning
Quantitative Strategies & Backtesting results for AAWH.U
Here are some AAWH.U trading strategies along with their past performance. You can validate these strategies (and many more) for free on Vestinda across thousands of assets and many years of historical data.
Quantitative Trading Strategy: Keltner Breakout Strategy on AAWH.U
The backtesting results statistics for this trading strategy, covering the period from October 25, 2022, to October 25, 2023, reveal a profit factor of 1.07. The annualized return on investment (ROI) stands at 2.18%, indicating a moderate level of profitability. On average, the strategy holds trades for approximately 2 weeks and 5 days. With an average of 0.11 trades per week and a total of 6 closed trades, the trading activity is relatively limited. The winning trades percentage is recorded at 33.33%, suggesting room for improvement. However, it is worth noting that this strategy outperforms the buy-and-hold approach by generating excess returns of 151.8%.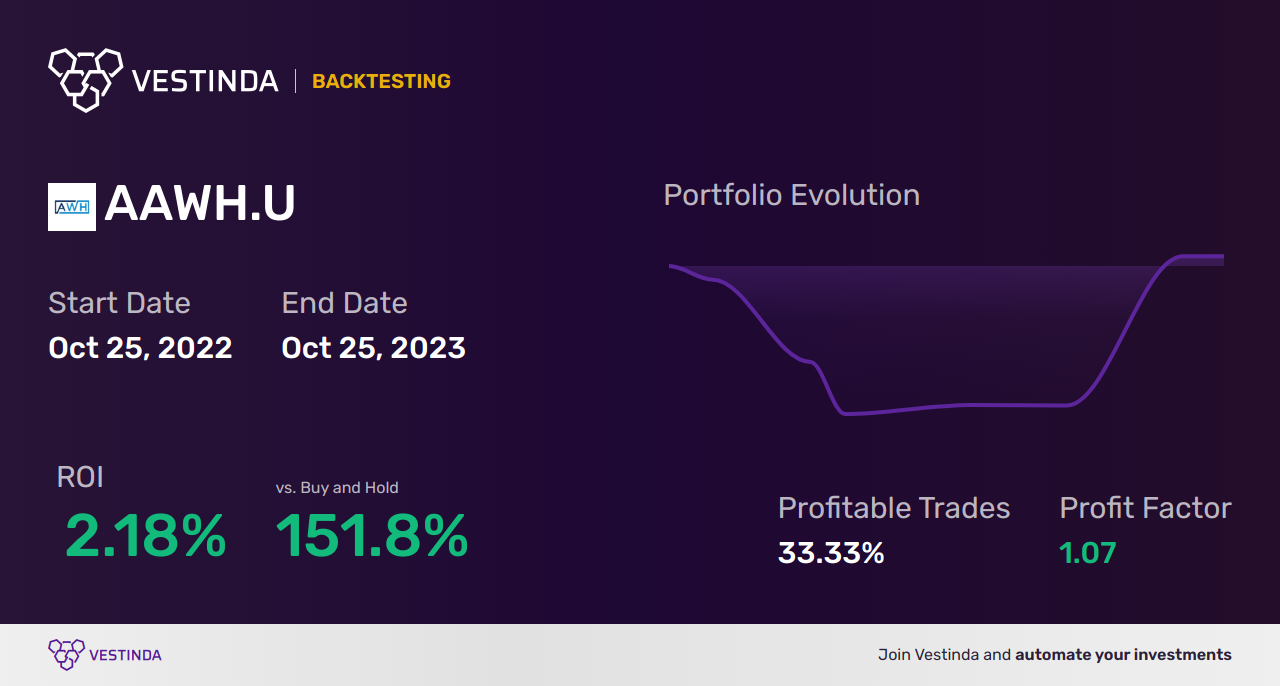 Quantitative Trading Strategy: Ride the RSI Trend with KAMA and Engulfing Candles on AAWH.U
The backtesting results for the trading strategy, covering the period from October 25, 2022, to October 25, 2023, indicate an annualized ROI of -2.16%. The average holding time for trades was found to be 6 days, with an exceedingly low average of 0.01 trades per week. The strategy yielded a total of 1 closed trade during this period. Unfortunately, there were no winning trades, resulting in a winning trade percentage of 0%. However, the backtesting analysis shows that this strategy outperformed the buy and hold approach, generating excess returns of 141.11%. Although the performance was negative, the strategy exhibited potential to outperform a passive investment strategy.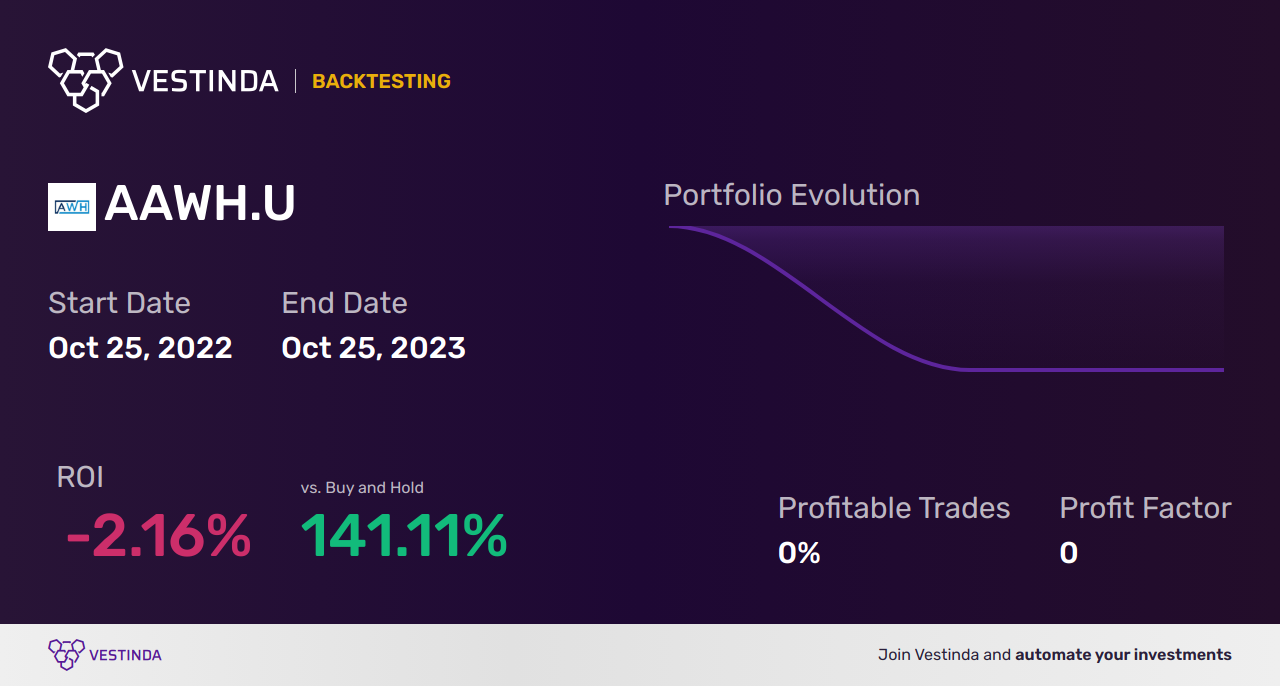 Automating AAWH.U Trading Through Quantitative Strategies.
Quantitative trading can greatly aid in automating trading activities for AAWH.U. This approach involves using mathematical models, statistical techniques, and algorithms to analyze market data and make trading decisions. With quantitative trading, traders can systematically identify potential opportunities, track market trends, and execute trades efficiently. By utilizing historical data and applying complex computations, quantitative trading strategies aim to remove emotional biases and rely on objective analysis. These strategies can help traders manage risks, optimize trade execution, and enhance overall profitability. With the advancement of technology, quantitative trading has become more accessible, allowing both individual and institutional investors to employ automated trading systems for AAWH.U. Ultimately, incorporating quantitative trading techniques can provide traders with a systematic and disciplined approach to capitalize on market opportunities.
Unveiling AAWH.U: Exploring a Cannabis Investment.
AAWH.U, also known as Ascend Wellness Holdings, Inc., is an asset that attracts the attention of traders. This stocks asset offers investors the opportunity to participate in the cannabis industry. Ascend Wellness Holdings, Inc. is a multi-state operator of cannabis cultivation, processing, and dispensary facilities. As the cannabis market continues to evolve and gain traction, AAWH.U presents an enticing investment prospect. Its portfolio includes a diverse range of cannabis products, catering to both medical and recreational consumers. With a focus on quality and customer satisfaction, AAWH.U strives to become a leading player in the cannabis industry. Traders interested in AAWH.U can analyze its financial performance, track market trends, and apply various trading strategies to capitalize on potential opportunities. It's important to stay updated on industry news and regulations that might impact the performance of AAWH.U in the markets.
Profitable Trading Approaches for AAWH.U.
Common AAWH.U Trading Strategies
When it comes to trading AAWH.U, there are several common strategies that traders often employ. One popular strategy is trend following, which involves analyzing past price movements to identify the direction of the current trend. This strategy assumes that trends will continue in the same direction until there is evidence of a reversal. Another strategy is momentum trading, where traders focus on stocks that have shown significant price momentum in either an upward or downward direction. By riding the momentum, traders aim to profit from continued price movement. Additionally, range trading is a strategy often used when the price of AAWH.U is trading within a defined range. Traders buy at the low end of the range and sell at the high end, taking advantage of price fluctuations. Breakout trading is another approach, where traders anticipate a price breakout from a previous trading range. They aim to enter positions early and profit from strong price movements. Lastly, some traders may use a combination of fundamental analysis, which looks at the financial health and prospects of the company, and technical analysis, which examines price charts and patterns. By integrating these strategies, traders can make informed decisions when trading AAWH.U.
Impacting AAWH.U Price: Key Influencing Factors.
Factors Influencing AAWH.U Price
The price of AAWH.U, like any stocks asset, is influenced by various factors. One significant factor is the overall performance of the cannabis industry. Market conditions, such as changes in regulations or legalization efforts, can impact the demand and growth potential for cannabis companies like AAWH.U. Investor sentiment and market trends also play a role in price fluctuations. News and developments specific to AAWH.U, such as earnings reports, new product launches, or acquisitions, can drive the stock's price. Additionally, broader economic factors, such as interest rates, inflation, and geopolitical events, can influence investor behavior and affect the price of AAWH.U. Traders should regularly monitor these factors and stay informed to make informed trading decisions. By understanding the factors that influence AAWH.U's price, traders can better assess the market dynamics and adjust their strategies accordingly.
Why Vestinda
Track your
Crypto Portfolio

Copy Crypto trading
strategies

Build trading strategies
with no code
Backtest trading strategies
on Crypto, Forex, Stocks, etc.

Demo Trading
Risk-free Paper Trading

Automate trading strategies
with Live Trading
Frequently Asked Questions
Where do you trade AAWH.U?
AAWH.U can be traded on various online brokerage platforms and trading apps. These platforms include popular options like TD Ameritrade, E*TRADE, and Robinhood. Simply search for the ticker symbol AAWH.U and you should be able to find it listed. Once you have an account with one of these platforms, you can buy and sell AAWH.U shares just like you would with any other stocks. It's important to remember that trading stocks involves risks, so make sure to do your research and consider your investment goals before trading AAWH.U or any other asset.
What's the most popular trading strategy?
One popular trading strategy among investors is called "buy and hold." In this strategy, an investor buys stocks with the intention of holding onto them for a long period of time, often years. The idea is to invest in strong, stable companies and benefit from their growth over time. This strategy usually involves minimal trading activity and requires patience and a long-term perspective. It is important to research and choose solid companies with good prospects when using the buy and hold strategy in order to potentially see positive returns on investment.
Which trading strategy is best for beginners?
For beginners, a popular trading strategy is the buy and hold approach. This strategy involves purchasing stocks or assets with the intention of holding onto them for a long-term duration. By investing in strong and stable companies or assets, beginners can benefit from potential growth over time. This strategy requires minimal trading activity and allows beginners to develop a long-term investment perspective. It is essential to conduct thorough research and choose fundamentally sound companies or assets to increase the likelihood of favorable returns. However, it's important to remember that trading involves risks, so beginners should exercise caution and consider their investment goals.
Conclusion
In conclusion, trading AAWH.U can be a profitable endeavor when employing effective strategies. By incorporating quantitative trading techniques, traders can automate their trading activities for AAWH.U and enhance their decision-making process. Additionally, understanding the unique characteristics of AAWH.U as a cannabis industry asset can help traders anticipate market trends and capitalize on potential opportunities. It's crucial to stay informed about the factors influencing AAWH.U's price and adjust trading strategies accordingly. With a disciplined approach, risk management, and a combination of common trading strategies, traders can navigate the AAWH.U market and unlock its potential for profitability. Keep exploring and refining your trading strategies to maximize your success in trading AAWH.U.