Backtest STRONG & Stocks, Forex, Indices, ETFs, Commodities
100,000 available assets New

years of historical data

practice without risking money

Automated Strategies & Backtesting results for STRONG
Here are some STRONG trading strategies along with their past performance. You can validate these strategies (and many more) for free on Vestinda across thousands of assets and many years of historical data.
Automated Trading Strategy: VWAP and SuperTrend Confirmation on STRONG
Based on the backtesting results statistics for the trading strategy from February 9, 2021, to October 24, 2023, the strategy has shown promising outcomes. With a profit factor of 1.77 and an annualized return on investment (ROI) of 58.6%, the strategy has demonstrated its potential to generate returns. On average, the holding time for trades was one week and three days, with approximately 0.12 trades executed per week. The strategy closed 18 trades during the given period, with a winning trades percentage of 38.89%. Most notably, the strategy outperformed the buy and hold approach, generating excess returns of 6692.39%. These results indicate the strategy's ability to deliver consistent performance and potentially surpass traditional investment strategies.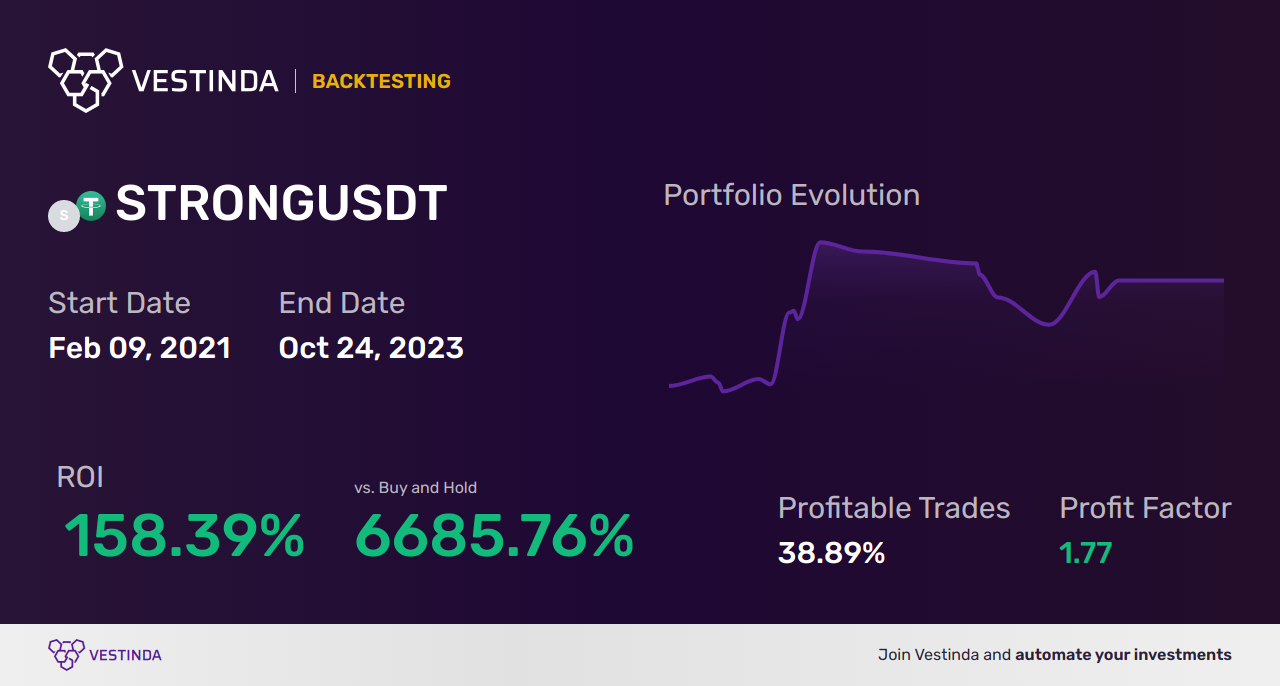 Automated Trading Strategy: Strategy for the long term portfolio on STRONG
Based on the backtesting results statistics for the trading strategy over the period from February 9, 2021, to October 24, 2023, several key metrics provide insights into its performance. The strategy showcased a profit factor of 1.02, indicating marginal profitability. The annualized return on investment (ROI) stood at 4.14%, suggesting a steady growth rate. On average, trades were held for approximately 5 weeks and 6 days, with a relatively low frequency of 0.06 trades per week. With a total of 9 closed trades, the strategy yielded a return on investment of 11.19%. The percentage of winning trades was 33.33%, indicating room for improvement. Notably, the strategy outperformed the buy and hold approach, generating excess returns of 2822.67%.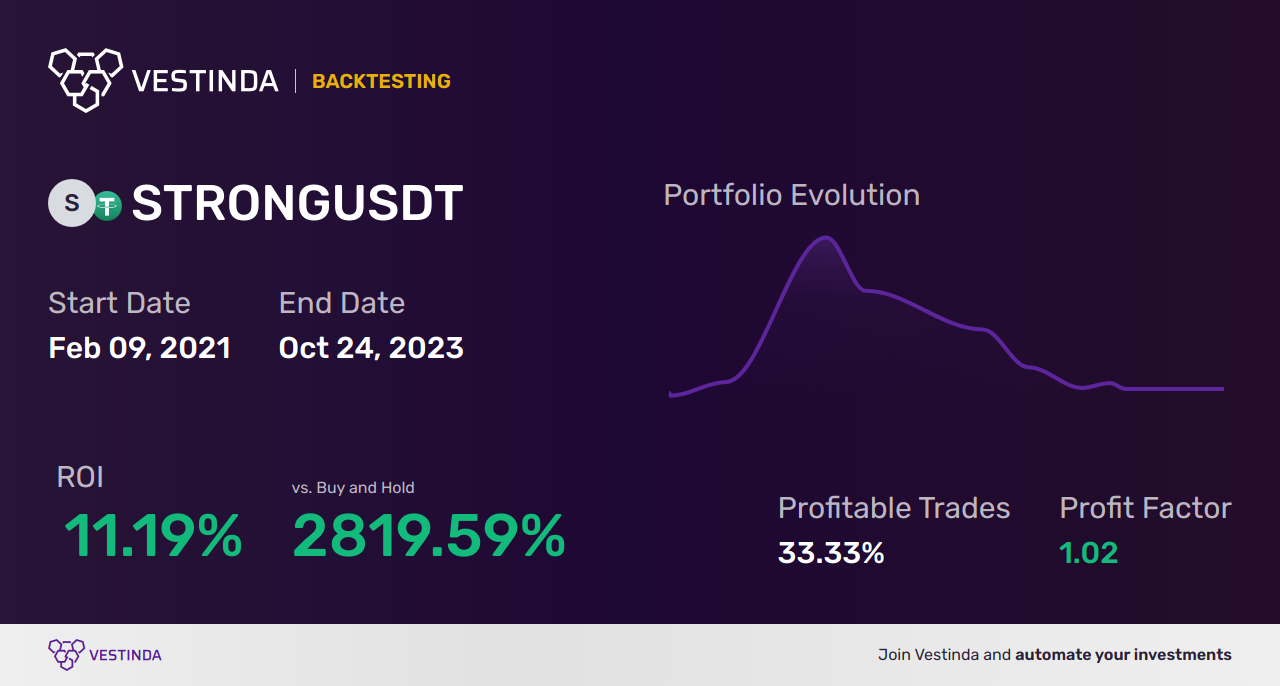 Automated Strategies: Empowering STRONG Trading
Quant trading, also known as quantitative trading, is a powerful approach that utilizes mathematical models and statistical analysis to make trading decisions. For STRONG traders, implementing quant trading strategies can offer significant advantages. Through the use of algorithms and automated systems, quant trading enables traders to execute trades swiftly and efficiently, minimizing the chances of human error. This approach allows traders to analyze vast amounts of data in real-time, identifying patterns and trends that may not be easily recognizable to manual traders. By leveraging sophisticated mathematical models, quant trading strategies can help traders optimize their entry and exit points, manage risk effectively, and maximize profits. With the ability to automate trading decisions, quant trading offers STRONG traders the opportunity to take advantage of market movements 24/7, without the need for constant monitoring. Embracing quant trading methodologies can enhance trading performance and provide a competitive edge in the dynamic and fast-paced world of STRONG trading.
The Intriguing World of STRONG
STRONG is a fascinating crypto asset that has been gaining attention in the trading world. With its unique characteristics, STRONG offers traders a range of opportunities. As a decentralized digital currency, STRONG operates on a blockchain network, providing transparent and secure transactions. It is designed to be resistant to censorship and offers financial freedom to its users. STRONG's value is determined by market demand and supply dynamics, influenced by factors like market sentiment and adoption. Being a digital asset, STRONG can be traded on various cryptocurrency exchanges, allowing traders to participate in its price fluctuations. Traders can take advantage of the volatility in STRONG's price by implementing different trading strategies. Whether it's day trading, swing trading, or long-term investment, STRONG presents opportunities for traders to profit from its price movements. It is important for traders to conduct thorough research and stay updated with market trends to make informed trading decisions when engaging with STRONG. With its intriguing features and potential for growth, STRONG has become an intriguing asset for traders to explore and add to their trading portfolios.
Personalized STRONG Trading Strategies
Developing Customized Trading Strategies
When it comes to trading STRONG, having a customized trading strategy can make a significant difference in your success. Tailoring your strategy to your own goals, risk tolerance, and market analysis is key. One approach is to combine technical analysis with fundamental analysis to identify entry and exit points. Technical analysis involves studying charts and patterns to forecast price movements, while fundamental analysis focuses on evaluating the underlying factors driving an asset's value. By integrating both approaches, you can make more informed decisions. Building a custom strategy also involves considering risk management techniques, such as setting stop-loss and take-profit levels to minimize losses and secure profits. Additionally, you may consider implementing indicators or developing algorithms to automate your trading decisions. It's crucial to backtest and refine your strategy using historical data to ensure its effectiveness. Keep in mind that developing a customized trading strategy requires time, patience, and continuous adjustment as market conditions change. By creating a strategy that aligns with your trading style and objectives, you can enhance your trading experience and potentially improve your STRONG trading outcomes.
Analyzing STRONG: Powerful Trading Tools
Technical Analysis Tools for STRONG Trading
When it comes to trading STRONG, utilizing technical analysis tools can provide valuable insights for making informed decisions. One commonly used tool is the moving average, which helps identify trend directions and potential support and resistance levels. Another tool is the Relative Strength Index (RSI), which measures the momentum of price movements to determine whether an asset is overbought or oversold. Additionally, the use of chart patterns, such as triangles, head and shoulders, or double tops, can assist in predicting potential price movements. Bollinger Bands are another useful tool, providing information about volatility and potential price breakouts. Candlestick charts are popular for their ability to capture price action and provide patterns that indicate market sentiment. It's important to remember that technical analysis tools are not foolproof and should be used in conjunction with other forms of analysis. By combining these tools with fundamental analysis and market research, you can improve your STRONG trading strategy and increase the likelihood of making profitable trades. Remember to practice using these tools and continuously refine your skills to enhance your trading experience.
Start earning in 3 easy steps
Create
account

Discover profitable
strategies

Connect exchange
& start earning
Frequently Asked Questions
Is algo trading easy?
Algo trading is not easy. It requires knowledge of programming and financial markets. Developing trading strategies and optimizing algorithms can be challenging. You need to understand market dynamics and be able to interpret data. Implementing risk management is crucial to prevent losses. Monitoring and adjusting the algorithms is necessary for success. Backtesting strategies helps to evaluate their performance. It takes time and effort to gain proficiency in algo trading. Continuous learning and adaptation are vital. In conclusion, while algo trading offers potential benefits, it requires dedication, skill, and a thorough understanding of the market.
What is stop-loss in crypto trading?
In crypto trading, a stop-loss is a risk management tool used to limit potential losses. It is an order placed by a trader to sell an asset once it reaches a predetermined price level. This is done to minimize the impact of market volatility. When the price falls to the specified level, the stop-loss order is triggered, automatically executing the sale. It helps traders protect their investment by exiting a position before the losses become significant. Setting a stop-loss is a proactive way to manage risk and maintain control over the trading process.
How to use technical analysis to improve your trading?
To use technical analysis for improved trading, begin by analyzing historical price and volume data. Identify patterns and trends in price movements. Use indicators like moving averages, MACD, and RSI to spot potential entry and exit points. Apply support and resistance levels to identify areas of interest. Utilize candlestick patterns for insights into market sentiment. Combine multiple indicators and strategies for more robust analysis. Regularly monitor charts and adjust strategies as per the signals. Finally, it is important to understand that technical analysis is not foolproof and should be used in conjunction with other analysis tools and risk management techniques.
Is STRONG more volatile and better for day trading than Bitcoin?
STRONG and Bitcoin have different levels of volatility and may be suitable for different trading strategies. While STRONG is a relatively new asset and can have greater price swings, Bitcoin has a longer history and higher liquidity. This means that STRONG may offer potential for more rapid gains or losses, which can be appealing for day traders seeking short-term profits. However, this also comes with increased risk. Bitcoin, on the other hand, is considered more stable and widely recognized, making it potentially more suitable for long-term investment. Ultimately, the choice depends on an individual's risk tolerance and trading style.
Why are stop-losses important when trading crypto?
Stop-losses are crucial when trading crypto because they help manage risk and protect capital. Market volatility in crypto can be high, leading to sudden price fluctuations. Setting a stop-loss order specifies a price level at which the trade will automatically be closed, limiting potential losses. It acts as a safety net, ensuring that losses are minimized if the market moves against the trader's position. Without a stop-loss, traders may face significant losses that could have been avoided. Stop-losses provide a disciplined approach to risk management, allowing traders to maintain control over their trading strategies.
Conclusion
In conclusion, developing effective trading strategies for STRONG can greatly enhance your success in the crypto markets. Whether you choose to explore quant trading, utilize technical analysis tools, or customize your own strategy, it's important to adapt and refine your approach based on market conditions. Keep in mind the significance of risk management and continuously educate yourself on evolving market trends. By staying informed, disciplined, and adaptable, you can navigate the volatile nature of STRONG trading and potentially unlock profitable opportunities. Remember, trading is a journey that requires patience, practice, and continuous learning. Best of luck in your STRONG trading endeavors!