Start earning in 3 easy steps
Create
account

Discover profitable
strategies

Connect exchange
& start earning
Quantitative Strategies & Backtesting results for PHP
Here are some PHP trading strategies along with their past performance. You can validate these strategies (and many more) for free on Vestinda across thousands of assets and many years of historical data.
Quantitative Trading Strategy: Play the breakout on PHP
Based on the backtesting results statistics for the trading strategy conducted from October 25, 2022, to October 25, 2023, the overall performance appears to be modest. The profit factor of 1.32 suggests that for every unit of risk, a profit of 1.32 units was achieved. The annualized return on investment is a meager 0.52%, which may not be particularly impressive in comparison to other strategies. On average, positions were held for approximately 4 weeks and 4 days, indicating a longer-term approach. The average number of trades executed per week was only 0.05, indicating a low level of trading activity. Out of the 3 closed trades during this period, a relatively low winning trades percentage of 33.33% was observed.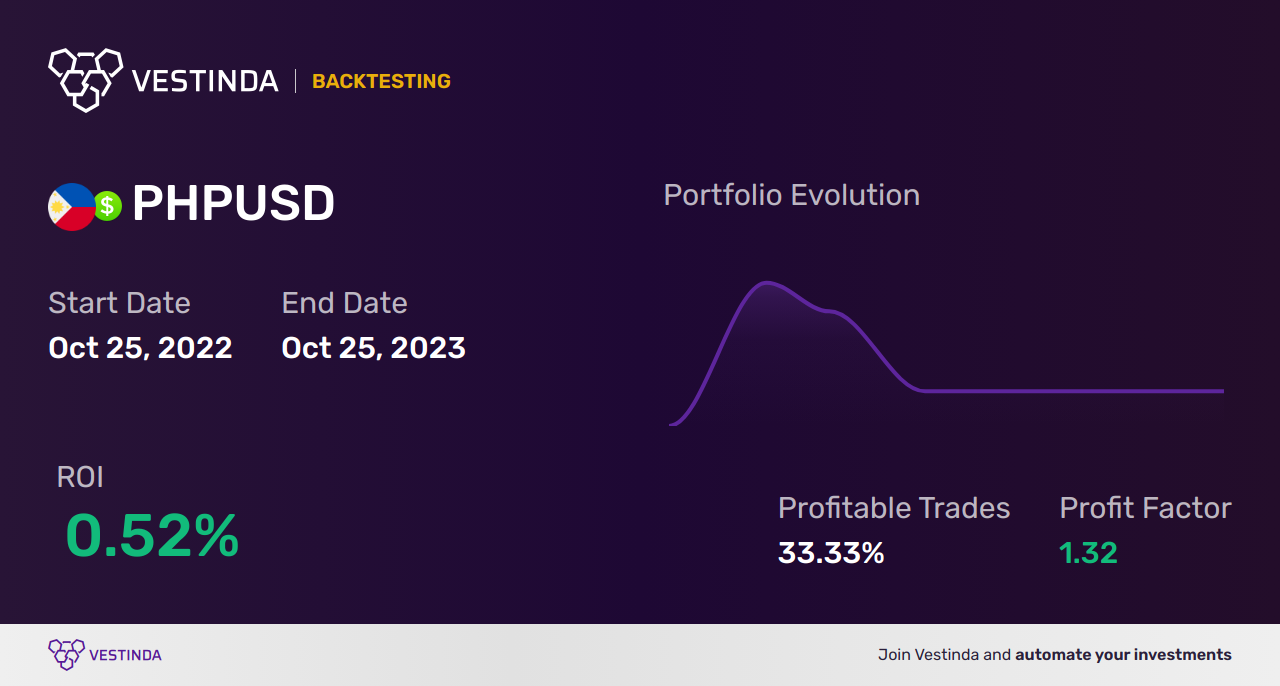 Quantitative Trading Strategy: Lagging Span and Ichimoku Cloud Crossover on PHP
During the period from July 11, 2018 to October 25, 2023, the backtesting results for this trading strategy present promising statistics. The profit factor stands at 1.91, indicating a favorable ratio between gross profit and gross loss. The strategy yielded an annualized return on investment (ROI) of 1.93%, guaranteeing steady growth over time. On average, positions were held for approximately 6 weeks and 4 days, while the average number of trades executed per week was 0.06. With a total of 19 closed trades, the strategy achieved a winning trades percentage of 47.37%. The most noteworthy aspect is its ability to outperform the buy and hold strategy, delivering excess returns of 16.89%.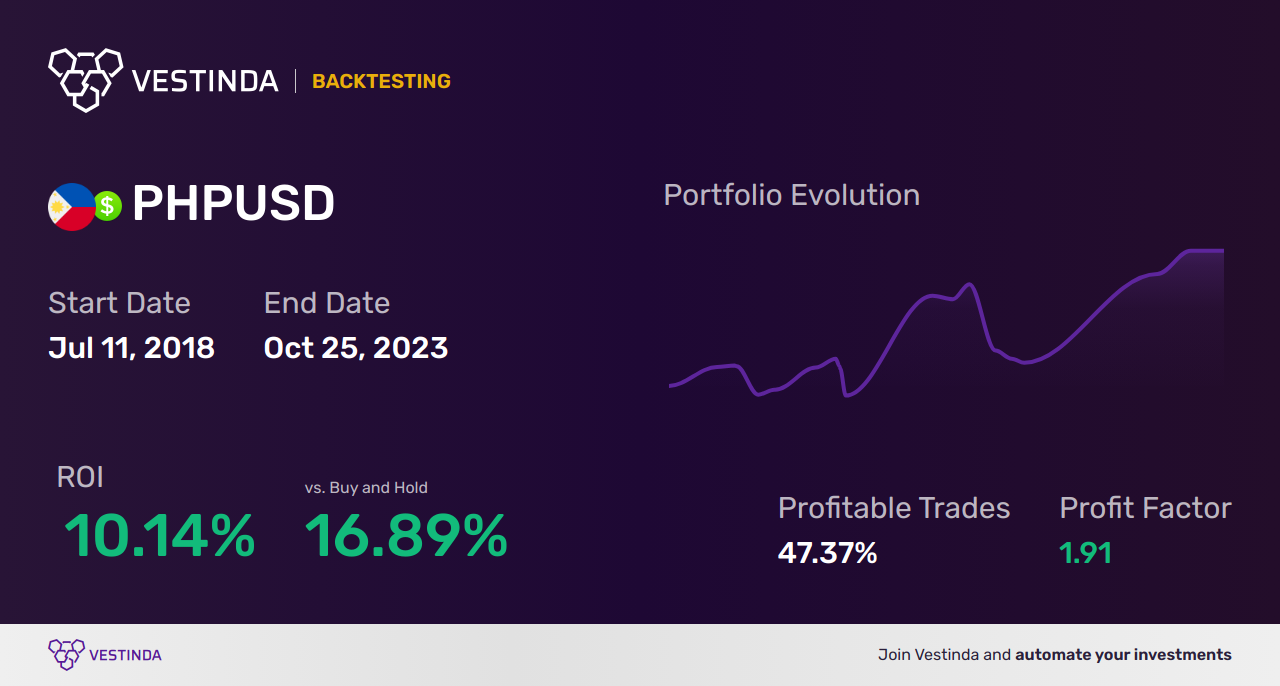 Automating PHP Trading with Quant Models
Quantitative trading can greatly benefit traders looking to automate their strategies in trading the PHP market. By utilizing quantitative models and algorithms, traders can make data-driven decisions in a systematic manner. Quantitative trading involves analyzing vast amounts of historical and real-time data to identify patterns and uncover potential trading opportunities. By implementing automated trading strategies based on these models, traders can execute trades swiftly and efficiently, without the need for constant manual intervention. This approach allows for faster execution, reduced emotional bias, and the ability to capitalize on market movements instantly. Additionally, quantitative trading enables traders to backtest their strategies using historical data, helping them evaluate the performance and potential risks before deploying them in live trading. With its emphasis on statistical analysis and algorithmic execution, quantitative trading provides traders with a systematic and disciplined approach to trading the PHP market.
Understanding the Philippine Peso: An Overview
The PHP (Philippine Peso) is the official currency of the Philippines, representing the country's economic stability and growth. As an asset, PHP is subject to various factors that influence its value, such as economic indicators, government policies, and global market trends. It is predominantly traded against other major currencies, making it an important component of international foreign exchange markets (FOREX). The PHP is known for its liquidity and volatility, providing traders with potential opportunities to profit from price fluctuations. Understanding the unique characteristics of the PHP, such as its relationship with economic indicators and geopolitical events, is crucial for formulating effective trading strategies. By staying informed about market news and conducting comprehensive analysis, traders can make informed decisions and take advantage of potential profit opportunities in the dynamic PHP market.
Driving Forces: Influencing PHP Price
The price of PHP (Philippine Peso) is influenced by several key factors that traders should consider. First, economic indicators play a significant role. Factors such as GDP growth, inflation rate, and interest rates impact the value of PHP. Government policies and political stability are also important considerations, as they can affect investor confidence in the currency. Additionally, global market trends and events, such as changes in commodity prices or shifts in the global economy, can impact the PHP price. Traders should stay updated with relevant news and analysis to anticipate and respond to these influences effectively. By understanding and monitoring these factors, traders can make informed decisions and adjust their trading strategies accordingly, maximizing their potential for success in trading the PHP market.
Mastering PHP Swing Trading Tactics
Swing trading strategies can be an effective approach when trading PHP (Philippine Peso). One popular strategy is identifying swing highs and swing lows in the price movement. Traders can aim to buy at swing lows and sell at swing highs, capitalizing on short-term price fluctuations. Another strategy is using technical indicators like moving averages to determine potential trend reversals. Traders can enter or exit positions based on the crossovers of these indicators. Additionally, implementing stop-loss orders can protect against potential losses. Proper risk management and staying updated with market news are essential for successful swing trading in PHP. By analyzing price patterns and using these strategies, traders can aim to take advantage of short-term swings and potentially generate profits in the PHP market.
Trusted by Traders Worldwide
Frequently Asked Questions
How do smart contracts work?
Smart contracts are self-executing contracts with predefined rules written in code. They work on blockchain technology and eliminate the need for intermediaries in transactions. When certain conditions are met, the contract automatically executes the agreed-upon terms. Each step of the contract is recorded on the blockchain, ensuring transparency and immutability. Smart contracts can be used for various purposes, such as financial transactions, supply chain management, and decentralized applications. They provide security, efficiency, and trust in the digital world, making transactions faster, cheaper, and more reliable.
Can I start trading under $100?
Yes, you can start trading with under $100. Many brokers and platforms offer the option to trade with small amounts of capital. This allows beginners to enter the market and gain trading experience without risking significant funds. Keep in mind that trading with a smaller account size may limit the types of trades you can take and the markets you can access. It's important to manage your risk wisely and start with smaller position sizes. As your account grows, you can gradually increase your trading capital and explore more opportunities in the market.
What is quantitative trade?
Quantitative trading, also known as algorithmic trading or algo trading, involves using computer algorithms to make trading decisions. These algorithms analyze large amounts of data, such as market prices, volume, and historical patterns, to identify trading opportunities. The algorithms automatically execute trades based on predefined rules and parameters. Quantitative trading allows for faster and more efficient trading, as it eliminates human emotions and biases. It is commonly used by institutional investors and professional traders to take advantage of small price discrepancies and execute trades at high speeds. However, it requires advanced programming skills and data analysis expertise to develop and implement effective trading algorithms.
Conclusion
In conclusion, trading PHP (Philippine Peso) requires strategic approaches and a deep understanding of market dynamics. Whether utilizing quantitative models, swing trading techniques, or other strategies, traders can navigate the PHP market effectively. It is important to stay informed about economic indicators, government policies, and global events that influence PHP price movements. By developing robust risk management strategies and incorporating technical analysis, traders can make informed decisions to maximize their potential for success. Remember, trading is inherently risky, so prudent risk management and continuous learning are key. With the right strategies and a disciplined approach, traders can aim to capitalize on the opportunities presented by trading the PHP in 2023.