Start earning fast & easy
Create
account

Build trading strategies
with no code

Validate
& Backtest

Connect exchange
& start earning
Automated Strategies & Backtesting results for FIH.U
Here are some FIH.U trading strategies along with their past performance. You can validate these strategies (and many more) for free on Vestinda across thousands of assets and many years of historical data.
Automated Trading Strategy: Invest for the long term on FIH.U
Based on the backtesting results of a trading strategy conducted from October 25, 2016, to October 25, 2023, the statistics reveal some promising findings. The profit factor stands at 1.48, indicating a favorable ratio of profits to losses. The annualized return on investment (ROI) is recorded at 6.31%, reflecting a steady and satisfactory growth rate. The average holding time for trades is approximately 8 weeks and 6 days. With an average of 0.05 trades per week, the strategy demonstrates a conservative approach. There were 21 closed trades throughout the period, with a winning trades percentage of 33.33%. Importantly, this strategy outperforms the buy and hold approach by generating excess returns of 29.54%.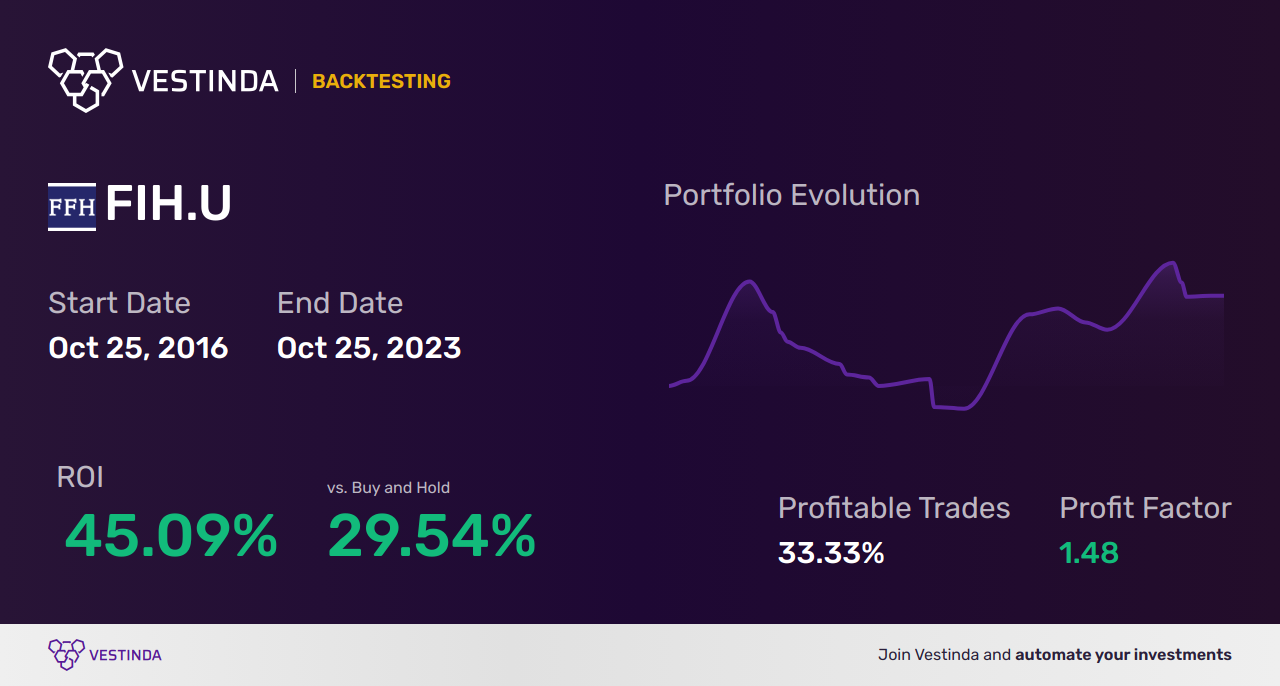 Automated Trading Strategy: Long term invest on FIH.U
The backtesting results for the trading strategy from October 25, 2016, to October 25, 2023, showcase promising statistics. The strategy indicates a profit factor of 2.39, indicating that for every dollar invested, a profit of $2.39 was generated. The annualized return on investment stands at 12.04%, demonstrating consistent growth over time. The average holding time for trades was approximately 11 weeks and 6 days, implying a longer-term approach. With an average of 0.03 trades per week, the strategy's activity level was relatively low in terms of frequency. Out of a total of 14 closed trades, 50% were profitable, leading to an overall return on investment of 86.03%. These results are particularly encouraging as they outperform a buy-and-hold strategy, generating excess returns of 66.1%.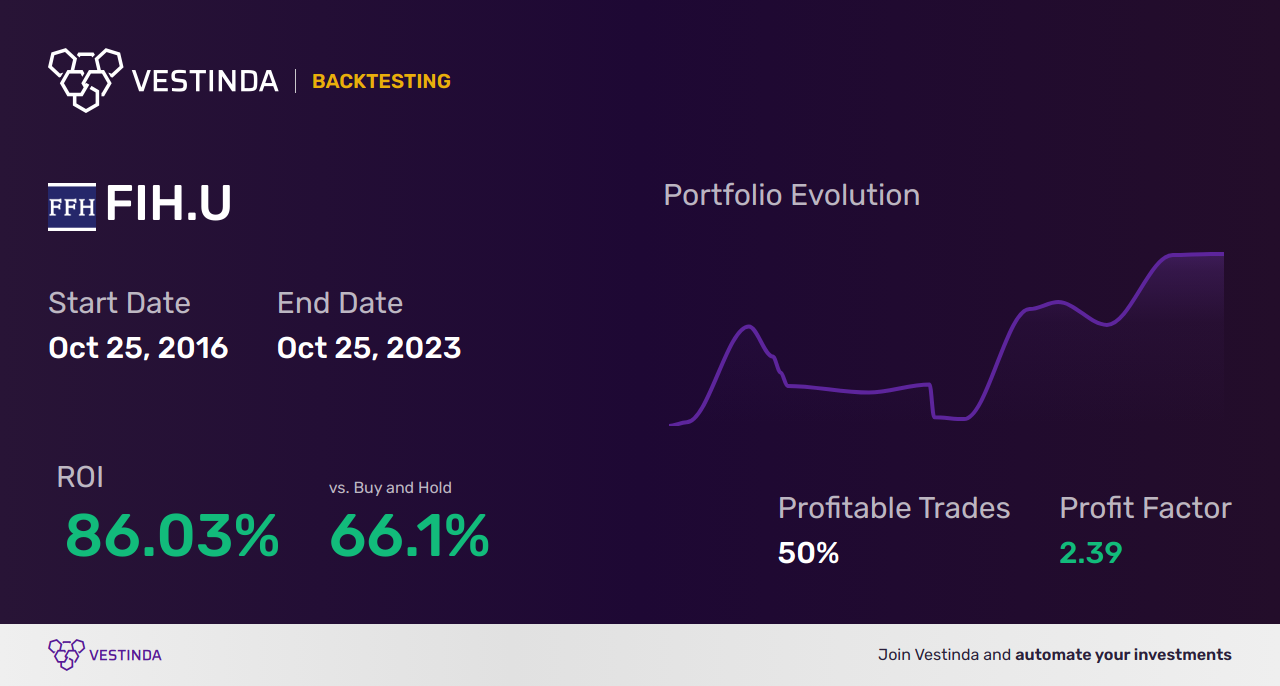 Automated Trading Strategy: Ride the SuperTrend with RSI and Harami Patterns on FIH.U
Based on the backtesting results, the trading strategy implemented from October 25, 2022 to October 25, 2023 demonstrated promising performance. The strategy exhibited a profit factor of 1.71, indicating that the gross profit was 1.71 times larger than the gross loss, which is considered favorable. The annualized return on investment (ROI) stood at 8.19%, suggesting steady growth. On average, trades were held for 1 week and 6 days, reflecting a medium-term approach. The strategy generated an average of 0.07 trades per week, indicating a conservative trading frequency. With 4 closed trades, the overall percentage of winning trades amounted to 25%. Overall, this strategy showed potential for consistent returns with a moderate level of risk.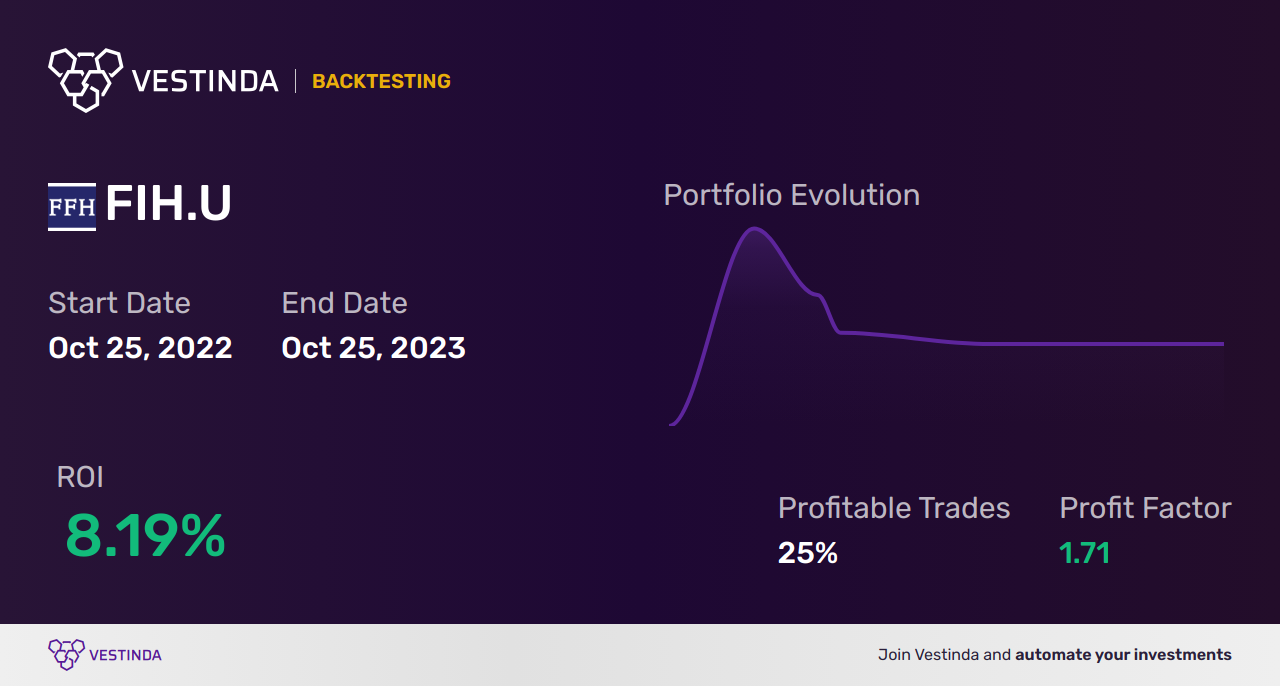 Automated Trading Strategies for FIH.U
Algorithmic trading is a powerful tool that can assist traders in automating their market activities for assets like FIH.U. By utilizing predefined algorithms and computer programs, traders can execute trades at high speeds and with precision. This approach eliminates human emotions and biases from the trading process and can help in making timely and accurate decisions based on market indicators and statistical models. Algorithmic trading involves identifying patterns, analyzing data, and automatically executing trades according to predetermined strategies. It can provide advantages such as increased trading efficiency, reduced transaction costs, and the ability to exploit market opportunities that may occur within milliseconds. By employing algorithmic trading strategies, traders can potentially enhance their trading performance and potentially capitalize on favorable market conditions.
An Introduction to FIH.U: Exploring Growth Opportunities
FIH.U, also known as Fairfax India Holdings Corp, is an asset that offers opportunities for traders in the financial markets. It represents shares of a company that focuses on long-term investments in India. With a diversified portfolio across various sectors, including financial services, infrastructure, and technology, FIH.U provides exposure to the growing Indian economy. As an investor, understanding the dynamics of this asset is essential. FIH.U's performance is influenced by factors such as government policies, economic indicators, and market trends specific to India. By keeping a close eye on these factors, traders can make informed decisions about buying or selling FIH.U shares. This asset's unique characteristics and potential for growth make it an appealing option for those looking to diversify their investment portfolio or take advantage of opportunities in the Indian market.
Enhancing FIH.U Strategies Through Historical Analysis
Backtesting trading strategies for FIH.U can be a valuable tool for traders looking to evaluate the performance of their strategies before risking real capital. By using historical market data, you can simulate trades and assess how your strategies would have performed in the past. This allows you to identify strengths and weaknesses, refine your approach, and gain confidence in your trading decisions. When backtesting, it is important to consider factors such as transaction costs, slippage, and market conditions to ensure realistic results. By conducting rigorous backtesting, you can make data-driven adjustments, optimize your strategies, and increase the probability of success when trading FIH.U. Remember, past performance is not indicative of future results, but backtesting can provide valuable insights to enhance your trading approach.
Price Drivers for FIH.U Trading
Multiple factors can influence the price of FIH.U, providing traders with opportunities to make informed trading decisions. Firstly, economic indicators such as GDP growth, inflation rates, and interest rates in India can impact the performance of FIH.U shares. Additionally, government policies, regulatory changes, and geopolitical events can also affect its price. Industry-specific factors, such as advancements in technology or changes in consumer behavior, may also play a role. Keeping up with these factors and their potential impact on FIH.U can help traders anticipate price movements and adjust their strategies accordingly. By closely monitoring these influential factors, traders can gain a better understanding of the market dynamics surrounding FIH.U and make more informed decisions when it comes to buying or selling shares.
Popular FIH.U Trading Approaches
When it comes to trading FIH.U, there are several common strategies that traders can consider. One approach is trend following, where traders identify and ride the upward or downward trends in FIH.U price. Another strategy is range trading, where traders capitalize on the price oscillations within a defined range. Breakout trading involves entering trades when the price breaks through a key level of support or resistance. Additionally, traders can employ mean reversion strategies, which aim to profit from price reversals after significant movements. It's important to choose a strategy that aligns with your risk tolerance, trading style, and market conditions. Remember to backtest and continuously evaluate the effectiveness of your chosen strategy to refine and adapt it as needed.
Why Vestinda
Track your
Crypto Portfolio

Copy Crypto trading
strategies

Build trading strategies
with no code
Backtest trading strategies
on Crypto, Forex, Stocks, etc.

Demo Trading
Risk-free Paper Trading

Automate trading strategies
with Live Trading
Frequently Asked Questions
Can I start trading under $100?
Yes, you can start trading under $100. Trading platforms like Robinhood and E*TRADE allow you to start with small amounts of money. With these platforms, you can buy stocks, including FIH.U, with as little as $1. This is perfect for beginners who want to start investing but have limited funds. Starting small allows you to learn without risking too much capital. It's important to remember that trading involves risks, so it's essential to do your research and make informed decisions. As you gain experience and confidence, you may choose to increase your trading amount.
What are some tips for day trading FIH.U?
Here are some tips for day trading FIH.U:
1. Study the stock: Before trading, research FIH.U, including its price movements, news, and financial reports. This knowledge will help you make informed decisions.
2. Set a strategy: Develop a clear plan for buying and selling FIH.U. Consider factors like entry and exit points, stop-loss orders, and profit targets.
3. Use technical analysis: Analyze FIH.U's price charts and indicators to identify trends and patterns that may guide your trading decisions.
4. Manage risk: Set a maximum amount you're willing to risk on each trade. Use stop-loss orders to protect against large losses.
5. Stay disciplined: Stick to your strategy and avoid making impulsive decisions based on emotions or short-term market fluctuations.
How to grow and trade a small account?
To grow and trade a small account effectively, consider these steps:
1. Start with a solid plan: Develop a trading strategy based on your risk tolerance, goals, and market research.
2. Practice risk management: Use proper position sizing and set realistic profit targets and stop-loss levels for each trade.
3. Apply disciplined trading: Stick to your plan, avoid impulsive decisions, and control emotions like fear and greed.
4. Focus on high-probability trades: Look for opportunities where the risk-reward ratio is favorable and the chances of success are higher.
5. Continuously learn and adapt: Stay updated with market trends, analyze your trades, and make necessary adjustments to improve your trading approach.
Conclusion
In conclusion, trading FIH.U can be an exciting opportunity for traders looking to capitalize on the growth potential of the Indian market. By understanding the unique characteristics of FIH.U and implementing effective trading strategies, such as algorithmic trading and backtesting, traders can aim to enhance their performance and make informed decisions. Factors influencing the price of FIH.U, along with common trading strategies, play a crucial role in optimizing trading outcomes. Remember to stay informed about economic indicators, government policies, and industry trends. Continuously evaluate and adapt your strategies, and always practice risk management. With a disciplined approach and a focus on market dynamics, traders can navigate the FIH.U market with confidence.