Why Vestinda
Track your
Crypto Portfolio

Copy Crypto trading
strategies

Build trading strategies
with no code
Backtest trading strategies
on Crypto, Forex, Stocks, etc.

Demo Trading
Risk-free Paper Trading

Automate trading strategies
with Live Trading
Algorithmic Strategies & Backtesting results for RID.U
Here are some RID.U trading strategies along with their past performance. You can validate these strategies (and many more) for free on Vestinda across thousands of assets and many years of historical data.
Algorithmic Trading Strategy: Invest for the long term on RID.U
The backtesting results for the trading strategy from October 26, 2016, to October 26, 2023, indicate a profit factor of 1.03, implying that for every dollar risked, $1.03 was gained. The annualized return on investment (ROI) for this period is a modest 0.19%, suggesting a slow but steady growth of capital. The average holding time for trades is 10 weeks and 6 days, indicating a longer-term approach. With an average of 0.05 trades per week, the strategy is relatively infrequent. The total number of closed trades is 19, and the return on investment has been 1.33%. However, the winning trades percentage is relatively low at 31.58%, highlighting room for improvement in trade selection or risk management.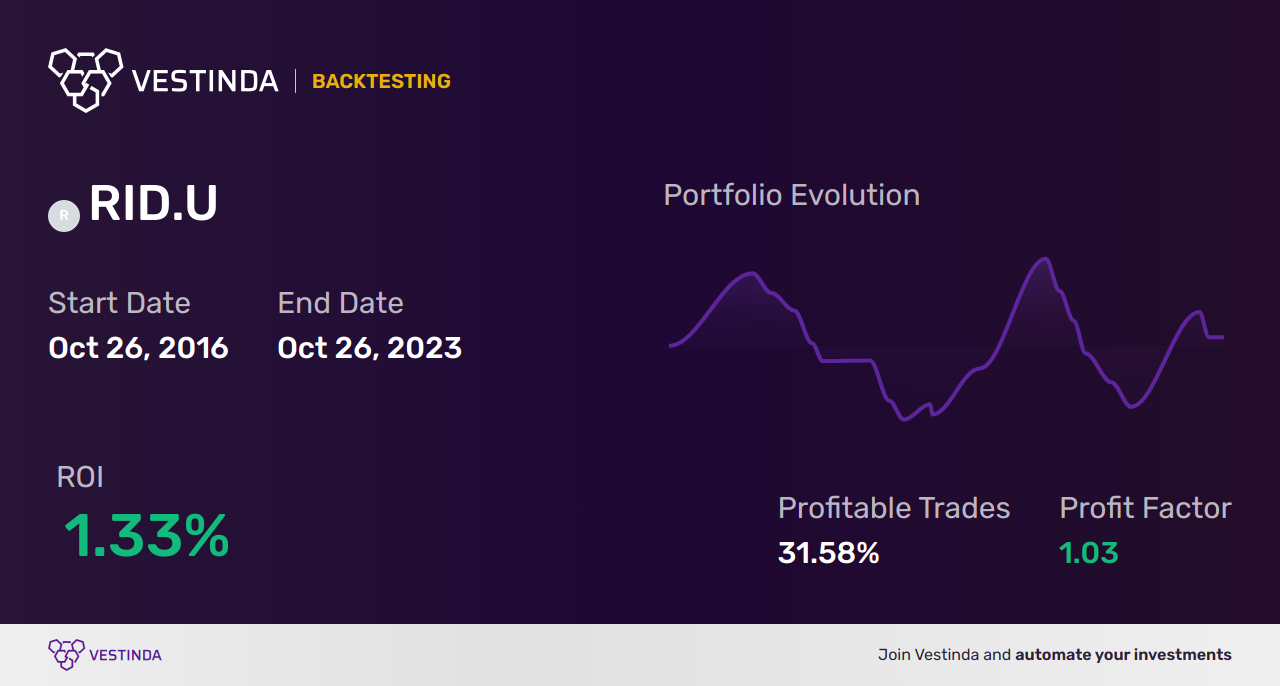 Algorithmic Trading Strategy: Long term invest on RID.U
Based on backtesting results, the trading strategy implemented from October 26, 2016 to October 26, 2023 yielded a profit factor of 0.95, indicating that on average, the strategy generated slightly more losing trades than winning ones. The annualized return on investment (ROI) stands at -0.33%, implying a slight overall loss over the period. The average holding time for trades was approximately 11 weeks and 2 days, suggesting a relatively long-term approach. With an average of only 0.04 trades per week, the strategy was not particularly active. A total of 18 trades were closed, with only 27.78% of them resulting in profits. Overall, the strategy experienced a return on investment of -2.35%.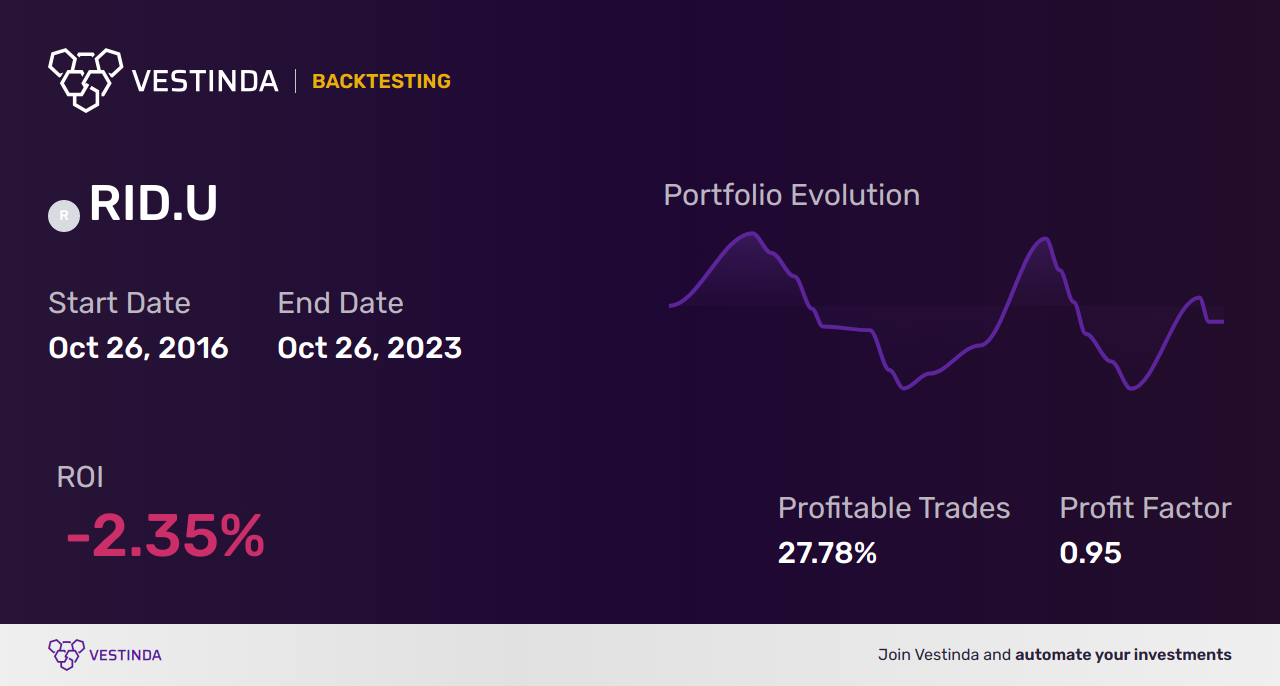 Automate Your RID.U Trading with Algorithms
Algorithmic trading is a powerful tool that can automate trading processes for assets like RID.U. With algorithmic trading, traders can use pre-defined rules and parameters to automatically execute trades. By utilizing algorithms, traders can save time and remove the emotional bias that often affects manual trading decisions. Algorithms can analyze market data, identify patterns, and execute trades at high speeds. This automated approach can help traders take advantage of market opportunities and manage risks more efficiently. With algorithmic trading, investors can set up specific strategies, such as trend following or mean reversion, to suit their trading goals. By relying on algorithms, traders can ensure consistency in their trading decisions and potentially improve their results when trading RID.U.
Exploring RID.U: A Diversified Dividend ETF
RID.U, also known as the RBC Quant EAFE Dividend Leaders ETF, is a notable asset for investors seeking exposure to developed international markets. This exchange-traded fund (ETF) focuses on companies with a strong track record of dividend payments. By investing in RID.U, investors can potentially benefit from both capital appreciation and dividend income. The fund offers a diversified portfolio of stocks from countries in Europe, Asia, and the Far East, providing a broad exposure to international markets. With its emphasis on dividend leaders, RID.U aims to capture the performance of companies known for consistent dividend payments and strong financial fundamentals. This asset's unique approach offers investors an opportunity to tap into the potential growth of international markets while also enjoying the benefits of regular dividend income. Whether you're a seasoned investor or new to the world of trading, RID.U presents an intriguing option for diversifying your portfolio and potentially earning income from dividend-paying stocks.
Crafting Personalized Trading Approaches
Developing Customized Trading Strategies
When it comes to trading RID.U or any other asset, having a customized trading strategy can be a game-changer. It allows you to tailor your approach to match your risk tolerance, investment goals, and personal preferences. Developing a customized trading strategy starts with assessing your financial objectives and determining the time frame you want to trade within. Do you prefer short-term trades that capitalize on market volatility, or are you more inclined towards long-term investments? Once you have a clear understanding of what you want to achieve, you can start exploring different trading techniques and methodologies.
One popular approach is technical analysis, which involves analyzing historical price patterns and market indicators to make trading decisions. By identifying trends, support and resistance levels, and other technical signals, you can make more informed choices about when to buy or sell RID.U. Another approach is fundamental analysis, where you analyze financial statements, industry trends, and economic data to evaluate the intrinsic value of the asset. This method focuses on understanding the underlying fundamentals of the companies included in RID.U and their potential for future growth.
You can also consider combining different strategies or developing a hybrid approach that suits your trading style. Ultimately, the goal is to find a customized trading strategy that aligns with your risk appetite, time commitment, and financial goals. Keep in mind that trading strategies should always include a risk management plan to protect your capital and limit potential losses. As you gain experience and adapt your strategy based on market conditions, you can refine and optimize your approach to achieve better results. Developing a customized trading strategy is an ongoing process that requires continuous learning, adaptation, and careful analysis.
Safeguarding Your RID.U Investments: Risk Management
Risk Management for RID.U
Effectively managing risk is crucial when trading assets like RID.U. By implementing proper risk management strategies, you can protect your capital and minimize potential losses. One key principle is diversification, which involves spreading your investments across different assets or sectors. This helps to reduce the impact of individual stock performance on your overall portfolio. Additionally, setting stop-loss orders can help limit losses by automatically selling a position if it reaches a predetermined price level. Another way to manage risk is by using position sizing techniques. This involves determining the appropriate amount of capital to allocate to each trade based on factors like risk tolerance and portfolio size. Furthermore, regularly monitoring and adjusting your risk exposure can help you stay in control of your trading activities. Remember to stay disciplined and avoid emotional decision-making. By adhering to a well-defined risk management plan, you can trade RID.U with confidence and minimize the potential impact of adverse market conditions. Keep in mind that risk is an inherent part of trading, and no strategy can eliminate it entirely. However, with sound risk management practices in place, you can better navigate the ups and downs of the market and safeguard your investments.
Start earning fast & easy
Create
account

Build trading strategies
with no code

Validate
& Backtest

Automate
& start earning
Frequently Asked Questions
What are the best automated trading strategies for RID.U?
There are various automated trading strategies that can be beneficial for RID.U. One effective strategy is the trend-following system. This strategy involves identifying and following the prevailing trends in the market, buying when the price is rising and selling when the price is falling. Another strategy is mean reversion, which takes advantage of price swings by buying when the price is low and selling when it is high. Additionally, a momentum strategy can be employed, where stocks with strong positive price momentum are purchased and held until their momentum weakens. These strategies can help maximize returns and minimize risks for investors in RID.U.
Is algo trading easy?
Algo trading, or automated trading, is not necessarily easy for beginners. It involves the use of computer programs to execute trades based on predefined instructions. While the concept may be straightforward, the implementation can be complex. Developing a profitable algorithm requires advanced knowledge of programming, finance, and market analysis. Additionally, monitoring and adjusting the algorithms are necessary to ensure their effectiveness. It is essential for individuals interested in algo trading to invest time and effort in learning and practicing before attempting to execute automated trading strategies successfully.
What's the most popular trading strategy?
It is difficult to determine the single most popular trading strategy as it varies depending on market conditions and individual preferences. However, some widely used strategies include trend following, where investors aim to ride the prevailing trends in the market, and mean reversion, where traders assume that prices will revert to their average. Momentum trading, fundamental analysis, and breakout trading are also popular strategies. Ultimately, the most successful strategy will depend on a trader's risk tolerance, investment goals, and market analysis. Selecting the right strategy requires careful consideration and often involves experimentation and refinement.
What are trading strategy parameters?
Trading strategy parameters are the specific variables or settings that traders define to guide their trading decisions. These parameters help determine when to enter or exit a trade, how much to invest, and how to manage risk. Examples of trading strategy parameters include timeframes for analyzing price data, indicators used to identify trends or reversals, thresholds for triggering buy or sell signals, and stop-loss and take-profit levels. Choosing appropriate parameters requires careful consideration and often involves backtesting and analysis to determine their effectiveness. Adjusting and optimizing these parameters is an ongoing process as market conditions change.
Is RID.U more volatile and better for day trading than Bitcoin?
RID.U, being an ETF asset, generally tends to have lower volatility compared to Bitcoin. ETFs like RID.U are designed to provide exposure to a diversified basket of securities, aiming to reduce individual stock risk. Bitcoin, on the other hand, is a highly volatile cryptocurrency known for its price fluctuations. Due to the lower volatility of RID.U, it may not be as suitable for day trading as Bitcoin, which is favored by traders seeking short-term profit opportunities from its price movements. Day trading requires careful consideration of volatility levels and risk management strategies.
Conclusion
In conclusion, trading RID.U can be approached in various ways, from algorithmic trading to developing customized strategies. It's important to understand the unique characteristics of the asset and consider risk management techniques to protect your investments. By utilizing common trading strategies such as trend following, mean reversion, range trading, and breakout trading, you can make more informed decisions. Remember to stay disciplined, continuously evaluate your strategies, and adapt to changing market conditions. With a solid understanding of trading strategies for RID.U, you can enhance your trading approach and potentially improve your outcomes in the dynamic world of financial markets. Happy trading!