Unveiling COS: Empowering Content Creators
COS, also known as Contentos, is a blockchain-based content ecosystem that aims to revolutionize the digital content industry. It provides a decentralized platform where creators, consumers, and investors can interact and transact directly. What sets COS apart is its focus on empowering creators and rewarding them for their content. By leveraging blockchain technology, COS ensures transparency and immutability, allowing users to trust the platform. As the demand for quality digital content grows, COS presents a unique opportunity for investors and content creators to participate in the thriving digital content economy.
Automated Trading: Maximizing COS Trading Potential
Algorithmic Trading Strategies for COS
Algorithmic trading has gained popularity in the cryptocurrency market, including for assets like COS. By utilizing computer programs to analyze market data and execute trades, algorithmic trading strategies offer various benefits to traders.
One effective algorithmic trading strategy is trend following. It involves identifying and following the overall trend of COS's price movements. By analyzing historical data and indicators, traders can create algorithms that automatically buy or sell COS based on the direction of the trend.
Another popular strategy is mean reversion. This strategy assumes that prices will eventually revert to their mean or average value. Traders using this approach can set up algorithms that automatically buy COS when the price is below the mean and sell when it goes above it.
Additionally, arbitrage trading can be employed for COS. This strategy takes advantage of price differences on different exchanges or trading platforms. Algorithms can scan multiple markets simultaneously, allowing traders to buy COS at a lower price and sell it at a higher price, profiting from the price discrepancy.
However, it's important to remember that algorithmic trading strategies come with risks. Market conditions can change rapidly, and algorithms need to be regularly monitored and adjusted. Risk management, setting stop-loss orders, and implementing strict risk controls are crucial to mitigate potential losses.
By exploring algorithmic trading strategies for COS, traders can capitalize on market opportunities and potentially enhance their trading performance. It's essential to thoroughly research and understand different strategies before implementing them, as each approach has its own advantages and limitations.
Putting Strategies to the Test: COS Backtesting
Backtesting Trading Strategies for COS
Backtesting is a crucial step in developing and evaluating trading strategies for assets like COS. It allows traders to test their strategies using historical data to assess their performance and potential profitability.
To backtest a trading strategy for COS, traders can start by defining their entry and exit rules based on various technical indicators or market conditions. They can then apply these rules to past data to simulate how their strategy would have performed in real-time trading.
Backtesting provides valuable insights into the effectiveness of a trading strategy. It helps traders understand the frequency and profitability of trades, as well as potential risks and drawdowns. This information can be used to optimize and refine the strategy, making it more robust and adaptive to changing market conditions.
When conducting backtests, it's important to use a large and representative dataset to ensure accurate results. Traders should also consider transaction costs, slippage, and other practical factors that might affect real trading outcomes.
While backtesting can provide valuable guidance, it's essential to note that past performance is not indicative of future results. Real-time market conditions can differ from historical data, and unexpected events can impact the performance of trading strategies.
By diligently backtesting trading strategies, traders can gain confidence in their approach and make more informed decisions when trading COS. It's a valuable tool for identifying strengths and weaknesses in a strategy and striving for consistent profitability.
Backtesting results for COS
Here are some examples of strategies on COS with the backtesting results. You can always try out for FREE all these strategies on thousands of assets and many years of historical data.
Strategy 1: Template - Moving Momentum Trend following and MACD Cross
The backtesting results of this trading strategy for the period from March 15, 2020, to March 15, 2021, indicate promising statistics. The strategy exhibits a high profit factor of 6.36, suggesting a strong overall profitability. The annualized return on investment (ROI) is impressive, standing at 54.95%, indicating a potential significant return over the given time frame. On average, trades were held for around 1 week and 4 days, implying a relatively short-term trading approach. The average number of trades executed per week is low at 0.11, indicating a more selective trading style. With 83.33% winning trades, the strategy demonstrates a consistent track record of success.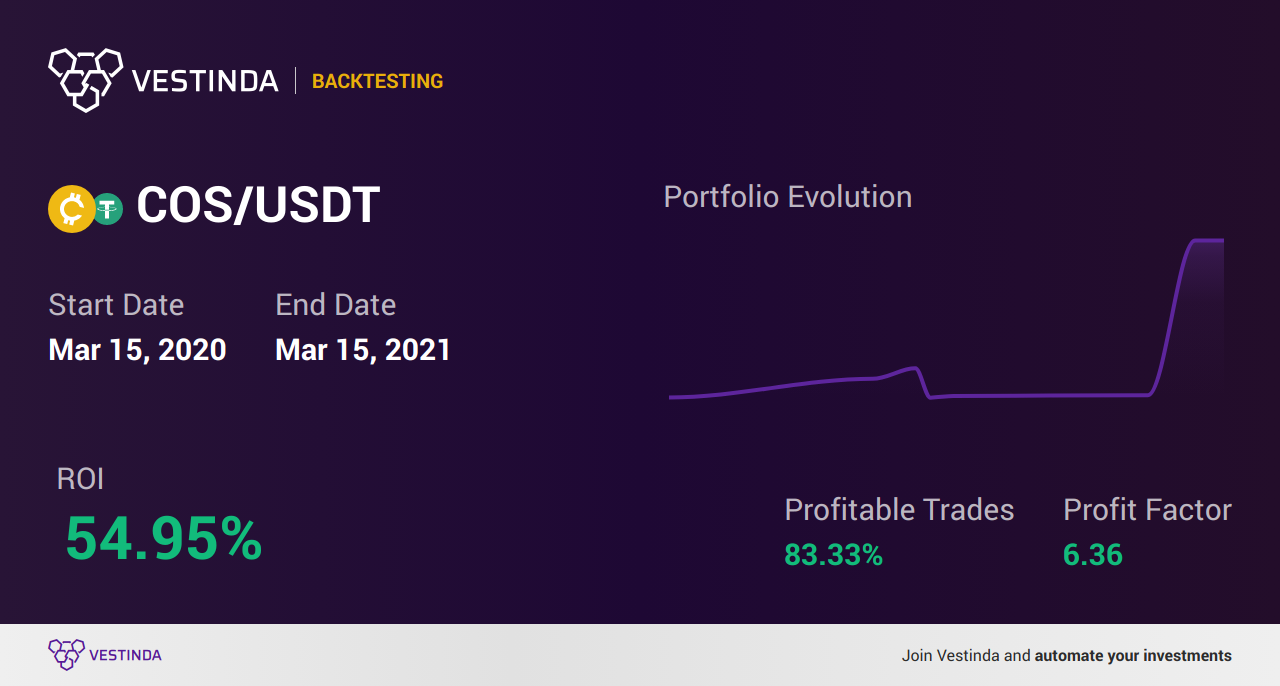 Strategy 2: Math vs. the market
The backtesting results for the trading strategy conducted from March 15, 2020, to March 15, 2021, showcase impressive outcomes. With a profit factor of 3.78 and an annualized return on investment (ROI) of 1860.82%, this strategy has showcased its potential for generating substantial gains. On average, trades were held for approximately 1 day and 15 hours, with an average of 2.41 trades per week. A total of 126 trades were closed during this period, out of which 74.6% were winning trades. Furthermore, compared to a buy and hold strategy, this trading strategy outperformed significantly, generating excess returns of 255.22%. These results highlight the effectiveness and profitability of this trading strategy.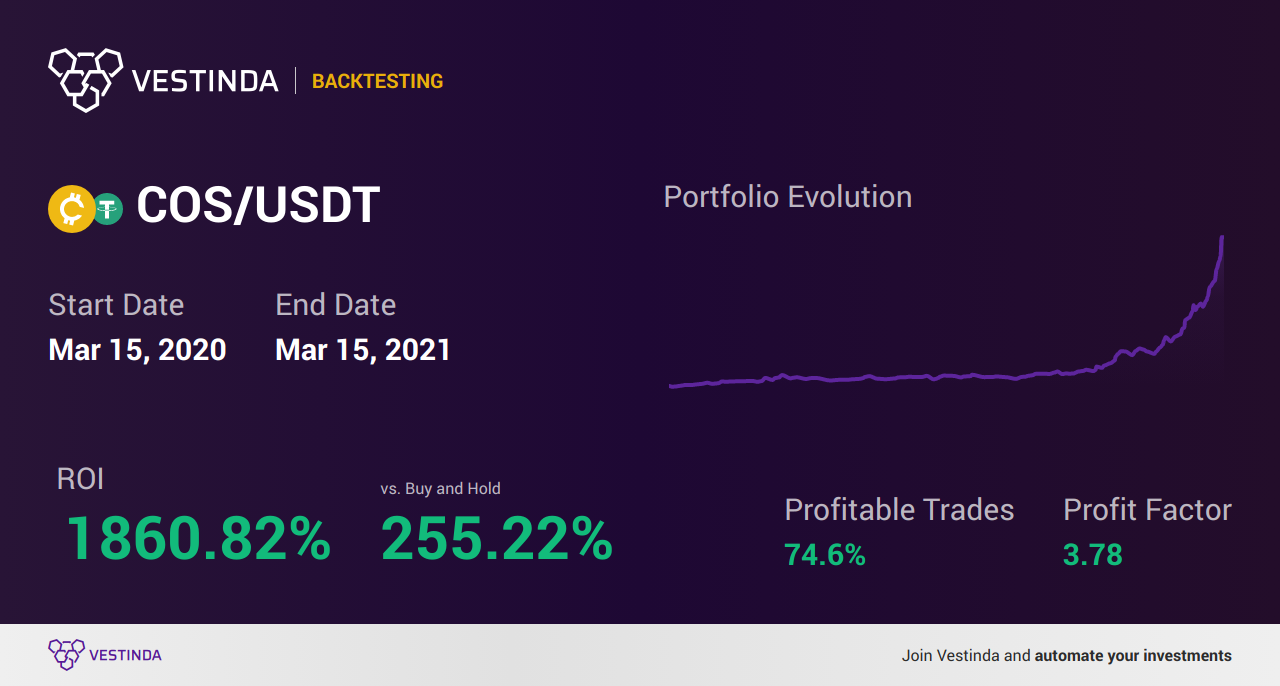 Frequently Asked Questions
What is the best indicator for crypto technical analysis?
The best indicator for crypto technical analysis is subjective and depends on individual preferences. Some commonly used indicators include moving averages, relative strength index (RSI), and Bollinger Bands. Moving averages track the average price over a specified period to show trends. RSI measures the speed and change of price movements to determine overbought or oversold conditions. Bollinger Bands indicate volatility and potential price reversals using standard deviations. It's important to note that no single indicator guarantees accurate predictions, as market conditions can be influenced by various factors impacting cryptocurrency prices. Therefore, it's advisable to use multiple indicators and consider additional factors when conducting technical analysis.
Can technical analysis be used on crypto trading, why?
Yes, technical analysis can be used in crypto trading. It involves analyzing historical price and volume data to predict future price movements. Technical analysis assumes that historical patterns and trends tend to repeat, allowing traders to make informed decisions. By using indicators, charts, and patterns, traders can identify potential entry and exit points. However, it's important to note that technical analysis is not foolproof and should be used in conjunction with other forms of analysis. Crypto markets can be volatile, and other factors like news events and regulations can also affect prices.
Is COS more volatile and better for day trading than Bitcoin?
Whether COS (the specific altcoin) is more volatile and better for day trading than Bitcoin depends on various factors. Altcoins, including COS, tend to be more volatile than Bitcoin due to their smaller market capitalization and lower liquidity. This volatility can present opportunities for day traders seeking short-term price fluctuations. However, it also comes with higher risks. Bitcoin, being the most established cryptocurrency, may offer more stability and liquidity. Ultimately, the choice depends on the trader's risk tolerance, experience, and understanding of the specific altcoin's dynamics. Traders should conduct thorough research and analysis before engaging in any day trading activities.
What is position trading in cryptocurrency?
Position trading in cryptocurrency refers to a long-term trading strategy where traders hold their positions for an extended period, usually weeks, months, or even years. The goal is to profit from significant price movements over time rather than short-term fluctuations. Position traders typically analyze macroeconomic trends, fundamental factors, and market sentiment to make informed decisions. They seek to capture larger price trends and ride out market volatility. This strategy requires patience, discipline, and the ability to withstand potential fluctuations, but it allows traders to take advantage of long-term growth potential in the cryptocurrency market.
How to make money from blockchain smart contracts?
To make money from blockchain smart contracts, you can consider the following options. Firstly, you can develop your own smart contract and offer it as a service to businesses or individuals. Secondly, you can invest in existing blockchain projects that utilize smart contracts and benefit from their success. Thirdly, you can participate in decentralized finance (DeFi) platforms that offer opportunities for lending, borrowing, and earning interest on cryptocurrencies through smart contracts. Lastly, you can provide liquidity to decentralized exchanges (DEXs) and earn fees for facilitating trades. However, it's important to thoroughly research each opportunity and understand the associated risks before engaging in any financial activities.
Conclusion
In conclusion, exploring trading strategies for COS can be a rewarding endeavor for both novice and experienced traders. Whether it's utilizing algorithmic trading strategies to take advantage of market trends, backtesting and refining strategies to increase profitability, or leveraging the unique features of COS to empower content creators, there are abundant opportunities in the crypto market. However, it's essential to approach trading with caution, implementing risk management strategies and staying informed about market conditions. By continuously learning and adapting, traders can navigate the world of COS trading effectively and strive for success in this dynamic and evolving landscape.